Grain-free, refined sugar-free Deep Dish Paleo Salted Chocolate Chip Cookie made in a cast iron skillet using tiger nut flour. Basically the most epic display of goo you've ever laid mouth on.
When pressed to divulge my all-time favorite dessert preference, the answer has been (and likely will be forevermore) the same ever since I had the ability to speak words: chocolate chip cookies.
A simpleton's dessert? Nay.
There's so much to the zen and the art of cookie maintenance, it is, in a word: complex.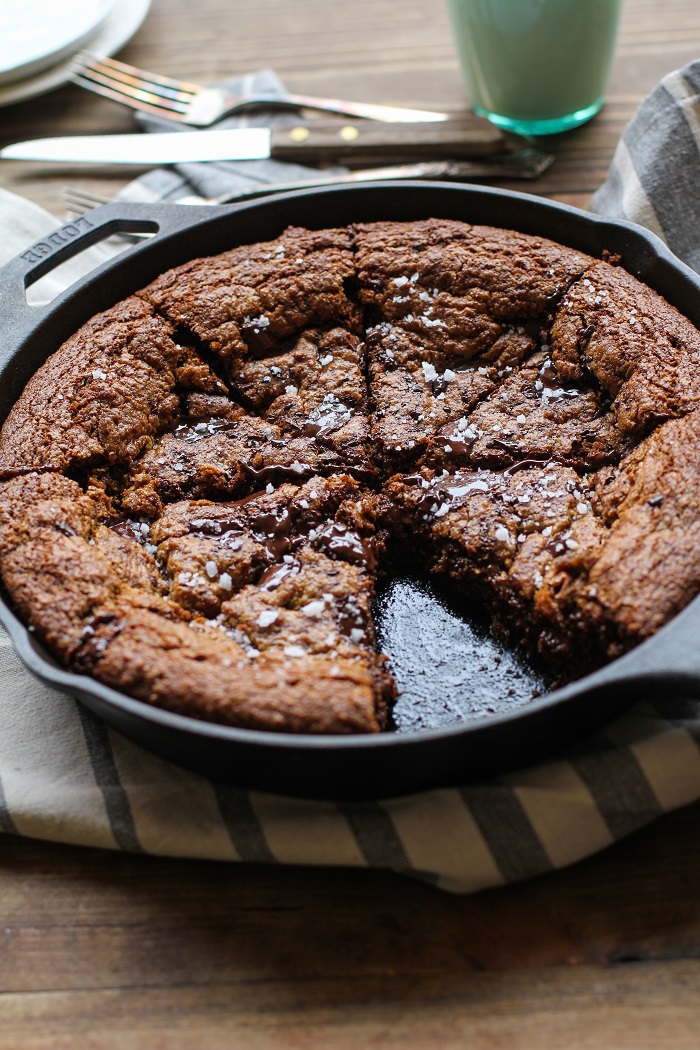 While I've never been one to ooh and aah over deep dish pizza, a deep dish cookie? I can dig.
The deep dish feature contains the cookie goo so that you can leave the dessert slightly under-cooked.
Plus, you can hand your friends and family forks and let everyone go to town, OR serve slices all nice and pretty – whatever's your style.
Here's what defines the ideal chocolate chip cookie in my opinion:
Recipe Highlights:
Crispy edge.

Molten splooge on the inside.

Just the right amount of chocolate. Preferably super dark chocolate – we're talking 80% or more.

Nuts are okay, but pretty unnecessary.

The butter content must be detectable with your mouth and eyes. As in, after the cookies have cooled and you pick one up to bring it to your mouth trap, you must be able to see butter grease on your fingers. Basically, butter must be seeping out of the thing.

Bonus points if the cookie requires a fork to consume.

MUST be salted. Sugar without salt is just so one-dimensional.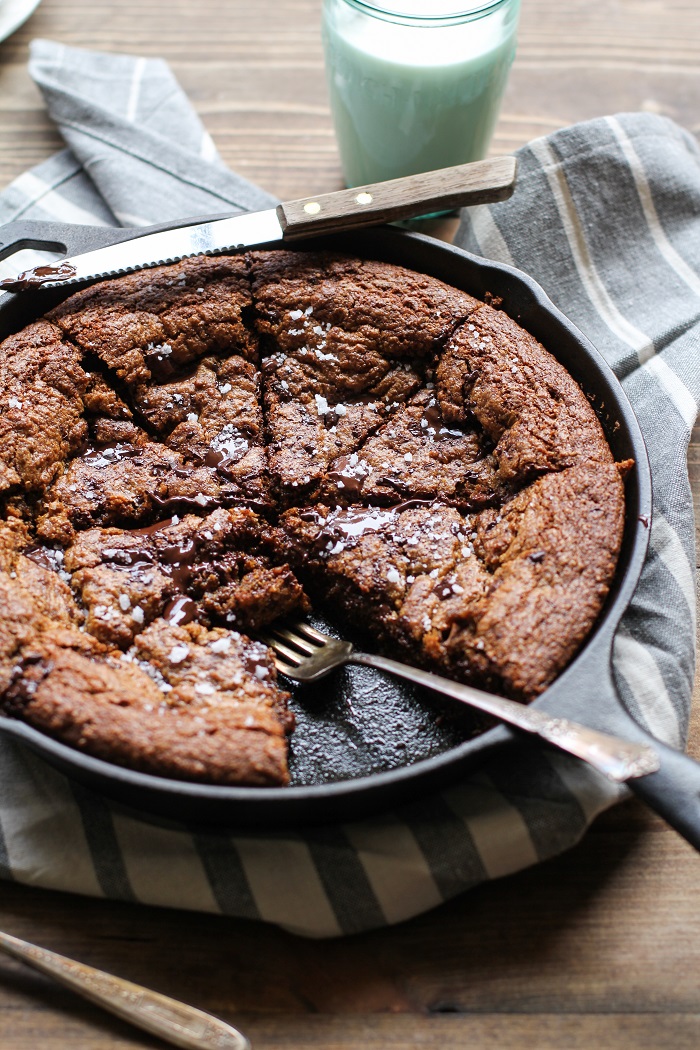 COOKIE COMPONENTRY. What is this insane-o perfecto cookie made out of? Here we go:
For the flour: I used Tiger Nut Flour (if you're unfamiliar with Tiger Nut flour, read my Tiger Nut Pancakes post for more info) to keep the cookie grain-free.
You may remember from my Grain-Free Chocolate Chip Cookies with Walnuts that I do adore using almond flour in my cookies as well. If you prefer using almond flour, feel free to make the swap!
As you can see in the photos, the cookie does sink in the middle when you use tiger nut flour, but it doesn't compromise the consistency whatsoever.
Essentially, you're left with a nice rim of crisp on the outside with a super soft, chewy, and gooey center – a real something-for-everyone situation.
NOTE!: You can totally make this exact cookie using gluten-free all-purpose flour! To do so, substitute the Tiger Nut Flour for 2-2/3 cups gluten-free all-purpose (or regular AP flour), following all the same instructions.
For the sweet: I used and coconut sugar to keep the treat naturally sweetened. You can also use a combination of cane sugar and brown sugar if you're fine with the dessert not being refined sugar-free.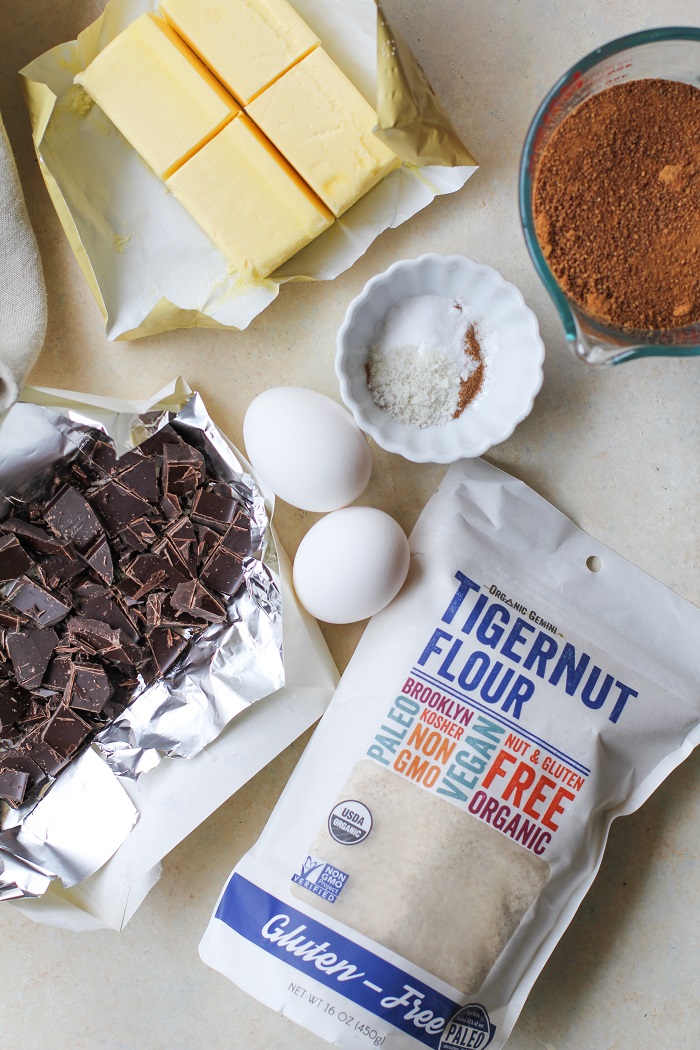 Can we just address the star of the cookie? The fat.
The butter content in this cookie is REAL. So much butter. Seventeen tablespoons to be exact. That's two sticks plus one additional tablespoon.
So much yum. The goo factor on this dessert is so epic, I can barely contain my elation.
I recommend a quality selection when it comes to your butter choice by virtue of the fact it comprises so much of the recipe.
I use grass-fed German-style butter that I pick up from my local grocery store. You can also use coconut oil in place of butter, just be sure it's softened, not melted or solid.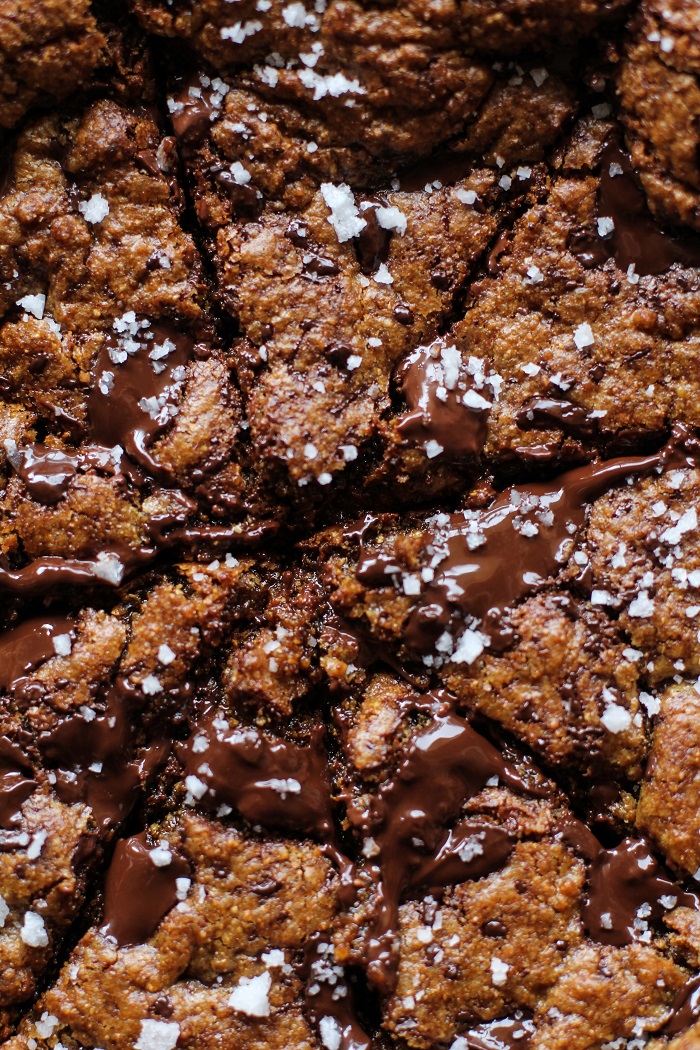 Because my body is void of self-control, I ate approximately a quarter of the whole skillet fresh out of the oven…and the only reason why I stopped was because I had company over and I was trying to shield them from my lunacy.
It was a Friday. If you do the math, that's 4.25 tablespoons of butter…not to mention the sugar and hunk of chocolate intake.
In my defense, I was feeling particularly swole from a workout I had done earlier on in the day, so I saw it as a.) Friday, day to feast on skillet cookies, b.) A wash considering my aforementioned super swole workout got me super jacked and in need of a carb treat. c.) my butter vitamin.
Crispy edge, gooey, soft center…this deep dish paleo salted chocolate chip cookie is basically my idea of the perfect treat.
Deep Dish Paleo Salted Chocolate Chip Cookie
Deep Dish Paleo Salted Chocolate Chip Cookie is incredibly rich, gooey, and delicious. Perfect for sharing with friends and family!
Servings:
1
10-inch deep dish cookie
Ingredients
17

tablespoons

unsalted grass-fed butter

softened* - 2 sticks + 1 Tbsp

1 ½

cups

coconut sugar

2

tsp

pure vanilla extract

2

Tbsp

pure maple syrup

2

large eggs

4

cups

Tiger Nut flour*

½

tsp

ground cinnamon

1

tsp

baking soda

½

tsp

sea salt

1 ½

cups

dark chocolate chunks or chips

1

Tbsp

coarse sea salt for sprinkling
Instructions
Preheat the oven to 350 degrees Fahrenheit.

Combine the softened butter, coconut sugar, vanilla extract, and pure maple syrup in a stand mixer fitted with the paddle attachment (or in a mixing bowl with a hand mixer). Beat until creamed and well combined. Leaving the mixer on low speed, add the eggs one at a time and beat just until combined (Note: you may need to stop the mixer to scrape the sides so that all ingredients get incorporated).

In a bowl, stir together the tiger nut flour, ground cinnamon, baking soda and sea salt. Slowly add the dry mixture to the mixer, leaving the mixer on. Beat just until combined, stopping the mixer to scrape the sides of the bowl as necessary.

Add in the chocolate chunks and beat until combined.

Grease a 10-inch cast iron skillet with butter or coconut oil. Turn the cookie dough out into the skillet and use your hands to press the dough into an even layer. Sprinkle with 1 to 2 tablespoons of coarse sea salt and place on the center rack of the preheated oven.

Bake for 25 to 30 minutes, or until the edges crisp up and the cookie reaches desired doneness (NOTE: if you're using gluten-free all-purpose flour instead of tiger nut flour, the bake time may be a little less - try 15 to 25 minutes).

Remove from the oven and allow cookie to sit for 1 hour to allow it to set up before cutting slices and serving.
Notes
*You can substitute the Tiger Nut Flour with almond flour or cassava flour (the same amount - 4 cups) OR 2 2/3 cups gluten-free all-purpose flour.
Nutrition
Serving:
1
Serving
|
Calories:
393
kcal
|
Carbohydrates:
49
g
|
Protein:
2
g
|
Fat:
22
g
|
Fiber:
10
g
|
Sugar:
35
g