Crock pot parsnip and lamb curry with spinach can be made on any weekday! Simply throw everything in your slow cooker and allow it to cook uuuuuber slowly while you work (or sleep)!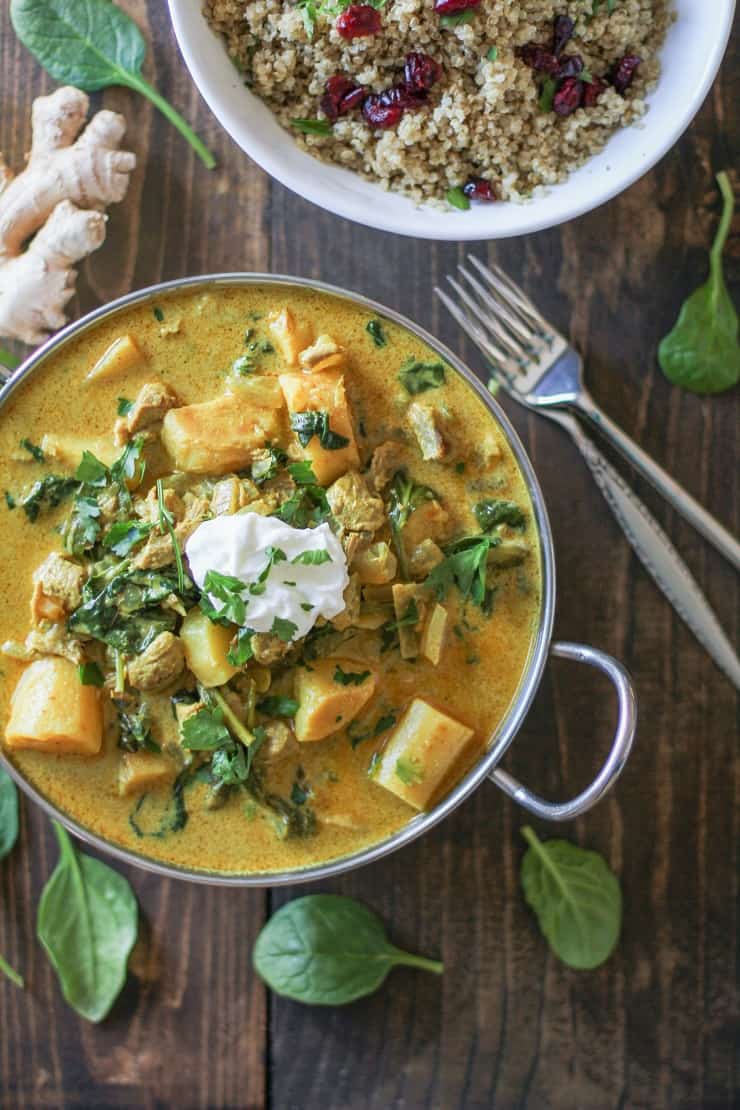 This curry threw me for a real loop.
Sometimes I like to do my crock potting at night versus first thing in the morning, which is what I did in this very case. Excited to wake up to curry, I set my slow cooker up before going to bed, and as a result, I had these cuh-ray-zee curry-induced dreams (probably on account of the fact that I was literally subconsciously smelling curry aaaaaall night long.duh.licious.).
Anyhoo, I dreamt I was hiking the entirety of the Himalaya, and of course, I mosied my way to Base Camp, because when in the Himalaya, do as Jon Krakauer does, right?
Once at the ol' BC, I met some cheeky Brazillians and this marvelous couple from Norway. Donning my camp cook hat, I volunteered to make all.the.foods, how nice of me. So I whipped out my orange racecar-shaped lighter (which I only own in my dreams, of course), and started a bonfire, which is soooo easy to do at 17,000 feet. And then I made this curry.
And then I woke up.
And ate curry for breakfast. The End.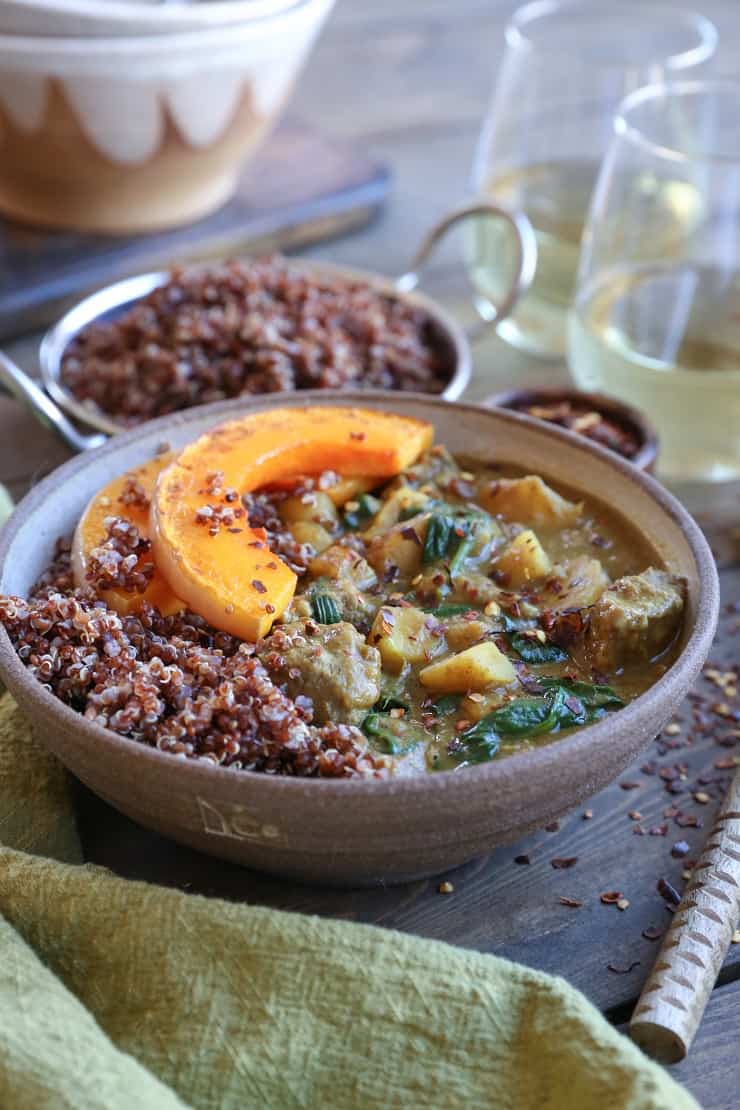 Just kidding, there's more.
I absolutely love making Indian-style lamb curry homemade. I'm obsessed with root vegetables, so I invited parsnips to the party as well. I had only used parsnips for vegetarian curry in the past, so I wasn't sure what to expect. It turned out marvelously!
The parsnips remained just slightly al dente and added a subtle natural sweetness to the curry. You'll just have to taste it yourself!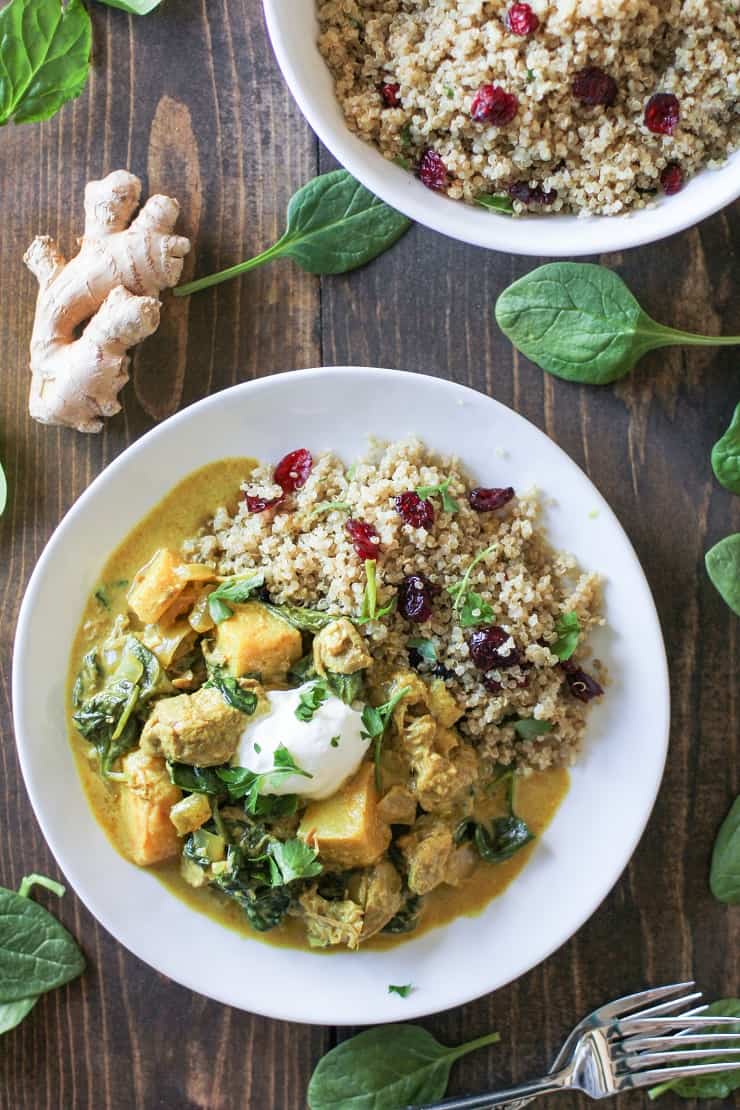 Using your slow cooker to prepare meat is pretty much a fail-safe way of ending up with oh-so-tender animal every.single.time. And it's so easy! Like cheater, cheater pumpkin eater easy. And the whole batch turned out so well, that I hoarded it all to myself. No joke, I ate all 12 pounds of this curry. Not all at once, of course. Don't be silly.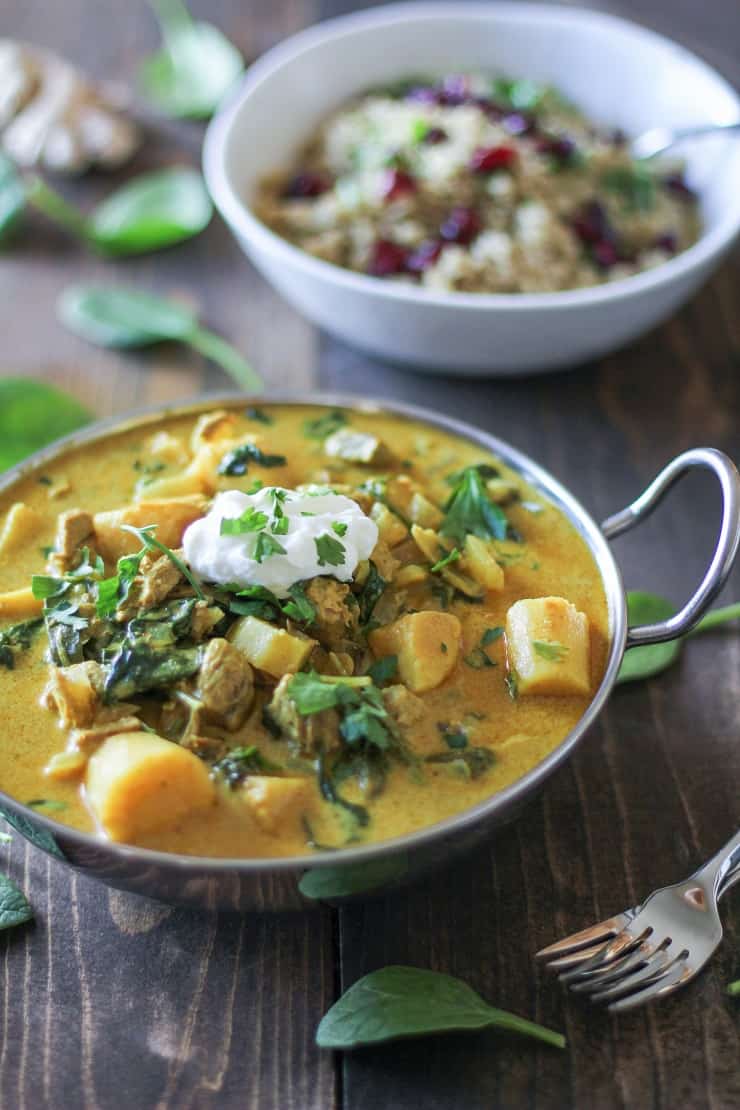 Asweknow, curry is all about the sauce. I used full-fat canned coconut milk and Lamb broth for the sauce, resulting in a super rich, flavorful, and comforting meal. You can also use chicken or beef broth if you can't find lamb broth.
Parsnip and lamb curry for breakfast!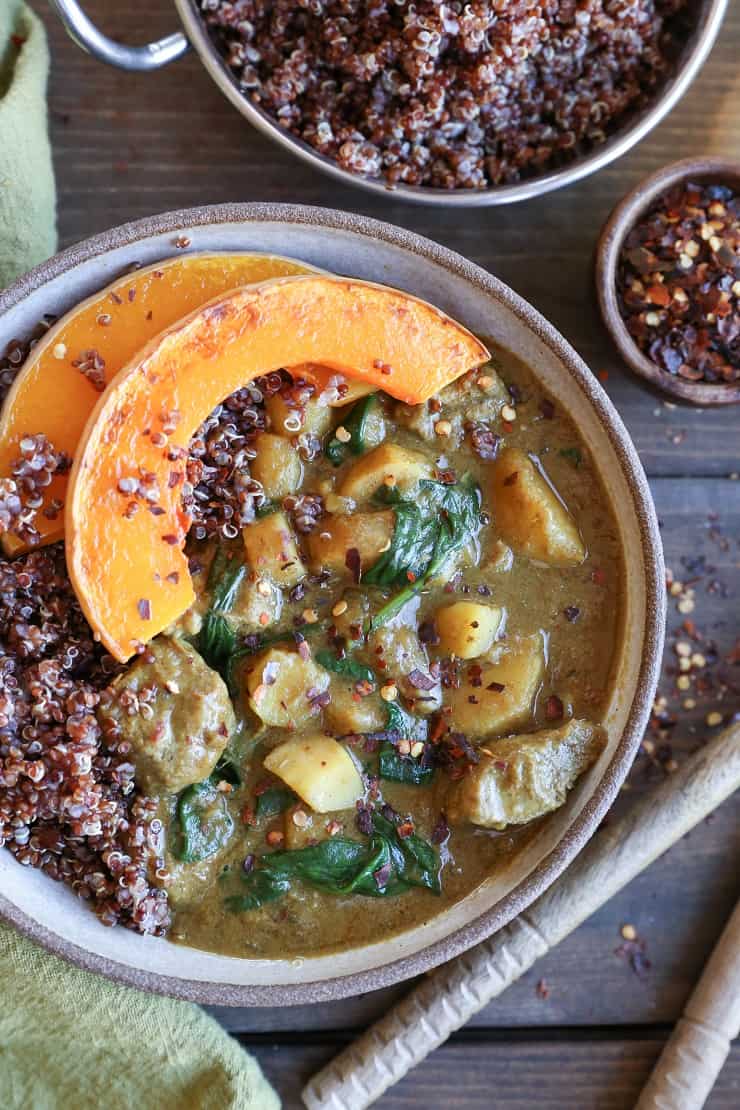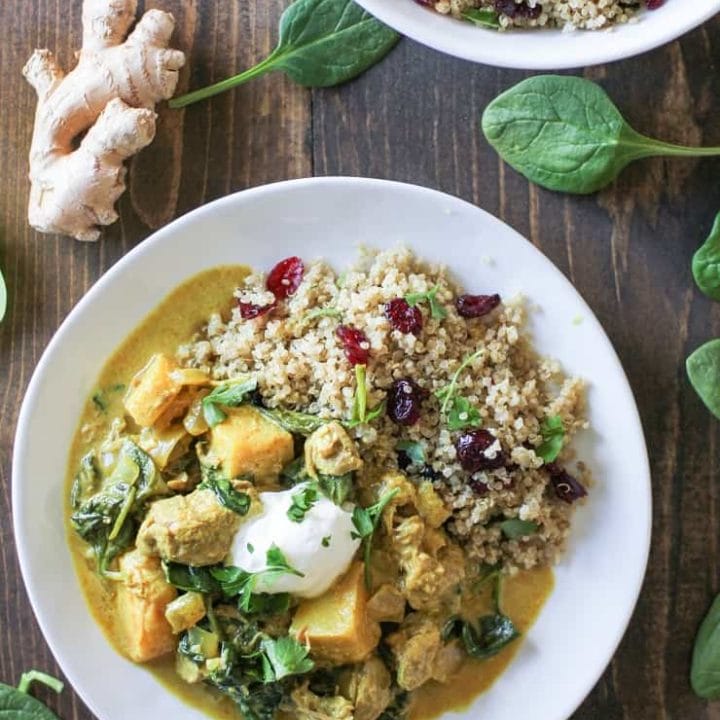 Crock Pot Parsnip and Lamb Curry with Spinach
Total Time:
7 hours
15 minutes
Crock Pot Parsnip and Lamb Curry with Spinach is rich, tender, and flavorful for a flavor-blasted dinner.
Ingredients
Parsnip and Lamb Curry with Spinach:
1 large yellow onion, finely chopped
3 large parsnips, peeled and chopped into 1.5-inch pieces
6 cloves garlic, minced
2 pounds lamb stew meat
1 cup lamb broth*
1 tablespoon ground corriander
2 teaspoons fresh turmeric, peeled and grated
1 tablespoon fresh ginger, peeled and grated
1 tablespoon yellow curry powder
1 cup whole milk Greek yogurt, plus more for serving
5 ounces baby spinach
1 cup fresh cilantro, chopped
Aromatic Quinoa For Serving:
1.5 cups quinoa, or rice of choice
3 cups Saffron Road Lamb Broth
Small pinch saffron threads, optional
Instructions
Prepare the Lamb Curry:
Add everything but the yogurt and baby spinach to a large (6-quart) crock pot, and stir very well (don't worry, the spinach will cook down).
Place the crock pot on the lowest heat setting, secure the lid, and allow curry to cook for 6 hours.
Add the Greek yogurt and spinach to the curry and stir well. Place the cover back on the crock pot and cook 1 more hour (still on the lowest setting).
Prepare the Aromatic Quinoa:
Add the lamb broth to a medium-sized pot and bring to a full boil.
Add the quinoa and salt, reduce the heat to low, and cover. Allow quinoa to cook for 25 to 35 minutes, or until most of the broth is absorbed.
Remove pot from heat, add the saffron threads and cranberries, and stir well to combine. Place the cover back on the pot and allow quinoa to sit for 10 minutes, allowing the quinoa to absorb any remaining liquid.
Serve Lamb curry with fresh chopped cilantro and aromatic quinoa. Enjoy!
Notes
*Replace lamb broth with any type of broth or stock
Nutrition Information
Serving Size

1 g
Amount Per Serving
Unsaturated Fat

0g
This post is sponsored by Saffron Road, and all thoughts, feelings, and opinions are my own. Thank you for supporting the brands that make this site possible!