Crock Pot Pulled Pork warmly spiced with apple cider and chai tea. This easy recipe turns out incredibly flavorful and only requires a few ingredients!
Give your meat the spa treatment.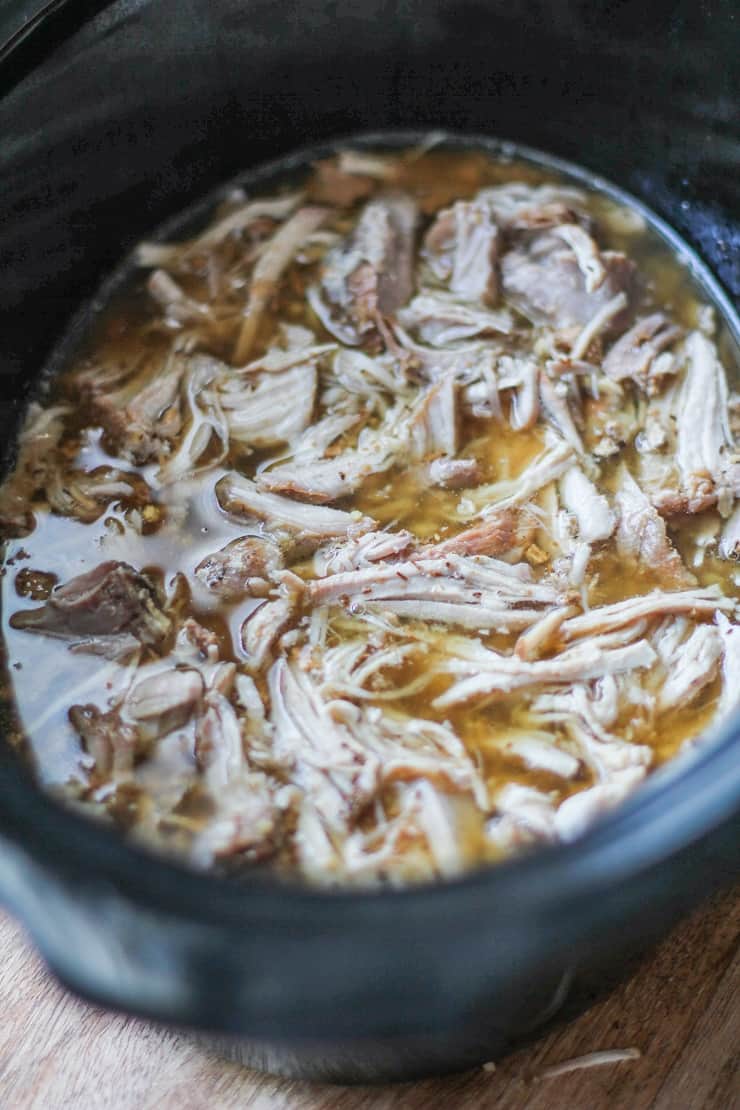 Chai Tea + Pork = Match made in heaven.
No, but seriously, it is.
Chai & Pork should be voted this year's sexiest couple.
It's the warm and tender relationship everyone wants…the couple everyone loves to hang out with…and when you get one of them alone in private, you pry them for their secrets to keeping the fire alive, and you're all, "Dude, just put a ring on it already!"
#SteamShot:
I was like you once.
I used to be all, "Chai & Pork. PAH! Like that'll work out!
Who do these cats think they're fooling? What a load of crock."
I wrote off all the Meat + Tea recipes I spied on Pinterest for years, and now I realize I was missing out all this time.
But that's neither hither nor thither, because we can make up for lost time, one meaty slow cooker meal at a time.
It may sound peculiar, but slow cooking pork with chai tea and cider gives it a ton of flavor.
Going into this recipe, I thought there was an 80/20 chance I'd end up with 2 pounds of mleh that would require gobs of barbecue sauce in order to give the meal some shred of dignity.
So not the case.
Upon the teeth-sinking, I was blown away by how tender and warmly flavored the pork was. Like I kind of wanted to cuddle with it. As in, I 200% wanted to cuddle with it.
I used Mighty Leaf's loose leaf Chai for this recipe.
You can use any loose-leaf chai your heart desires!
If you prefer chai tea bags, simply follow the same instructions using 3 chai tea bags.
You guys, this is a 5 ingredient recipe. Get involved!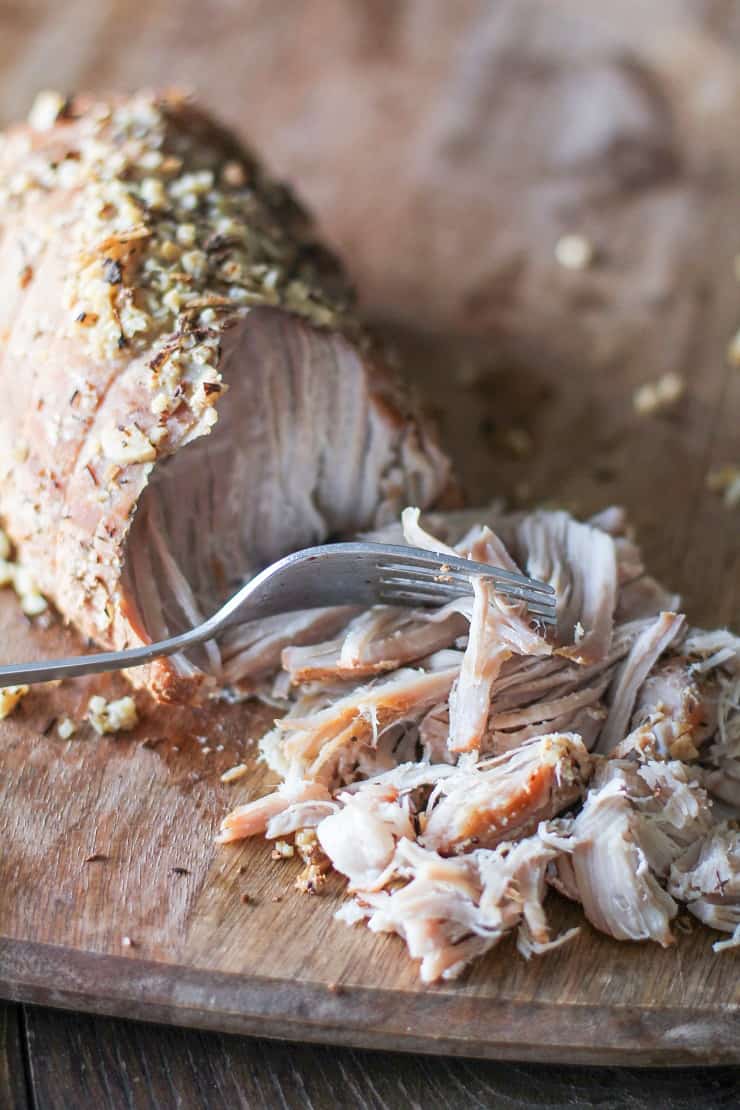 So, what are we going to do with all this pork?
Since you and I have the exact same palate, you can imagine where this pulled pork is going.
It's going in a bowl. With vegetables. Possibly kale. Homemade salsa? Relish? Chutney? All the things. #FoodInBowlsForDayz #OhThePossibilities #Slurp #DontForgetYourBib.
And yes, you can make a fun fab sandwich out of these shreds o' bliss.
Like if you're into fancy grilled cheeses/quesadillas, this'll take it to the next level. Leftover cranberry sauce? Shmear, stuff, melt, oh my gawd!
Burritos? Can do.
Atop creamy polenta? Yes and yes.
Anywhere a pork can go, you can put this. Just make sure you spoon some of the cider-chai drippings over everything.
If you want, you can go the extra mile by making gravy our of the drippings, just mix a little roux-ski into the drippings and bamboozle, you'll have yourself a cider-chai gravy.
Fancy a spot of pork tea?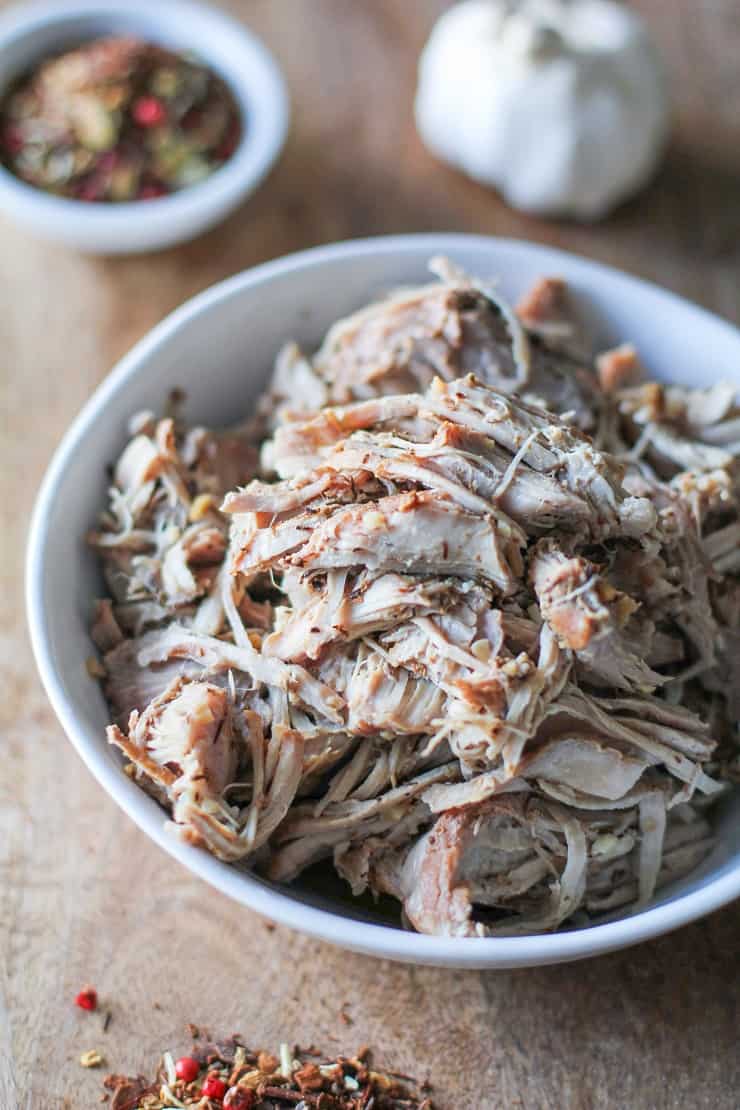 Also check out my Instant Pot Pulled Pork with Pineapple and my Instant Pot Pulled Pork with Apples.
Cider-Chai Crock Pot Pulled Pork
Easy, flavorful, incredibly tender? This simple crock pot shredded pork recipe has mouth-watering texture and huge on flavor!
Ingredients
2

pounds

boneless pork loin roast

2

teaspoons

kosher salt

4

cloves

large garlic

minced

1 1/2

cups

boiling water

2

tablespoons

Mighty Leaf Coco Chai Loose Leaf Tea

1

cup

unsweetened apple cider
Instructions
Sprinkle the pork roast with the kosher salt (on all sides), and gently pat the minced garlic onto the meat.

Add 1-½ cups of boiling water to a mug and add the loose leaf chai. Allow tea to steep for 8 minutes before adding it to your crock pot along with the apple cider.

Place the pork roast in the crock pot on top of the liquid and set your crock pot on low. Cook for 6 hours, spooning liquid onto the meat periodically.

Remove roast from crock pot, cut off the netting, and place meat on a cutting board.

Using two forks, shred the meat and place meat back in the crock pot with the juices for another 10 minutes.
Nutrition
Serving:
1
of 4
|
Calories:
275
kcal
|
Carbohydrates:
3
g
|
Protein:
45
g
|
Fat:
8
g
|
Sugar:
2
g