Chocolate chip paleo blondies made with all clean, whole food ingredients. This vegan blondie recipe is easy to assemble and requires only a few basic ingredients you probably already have on-hand!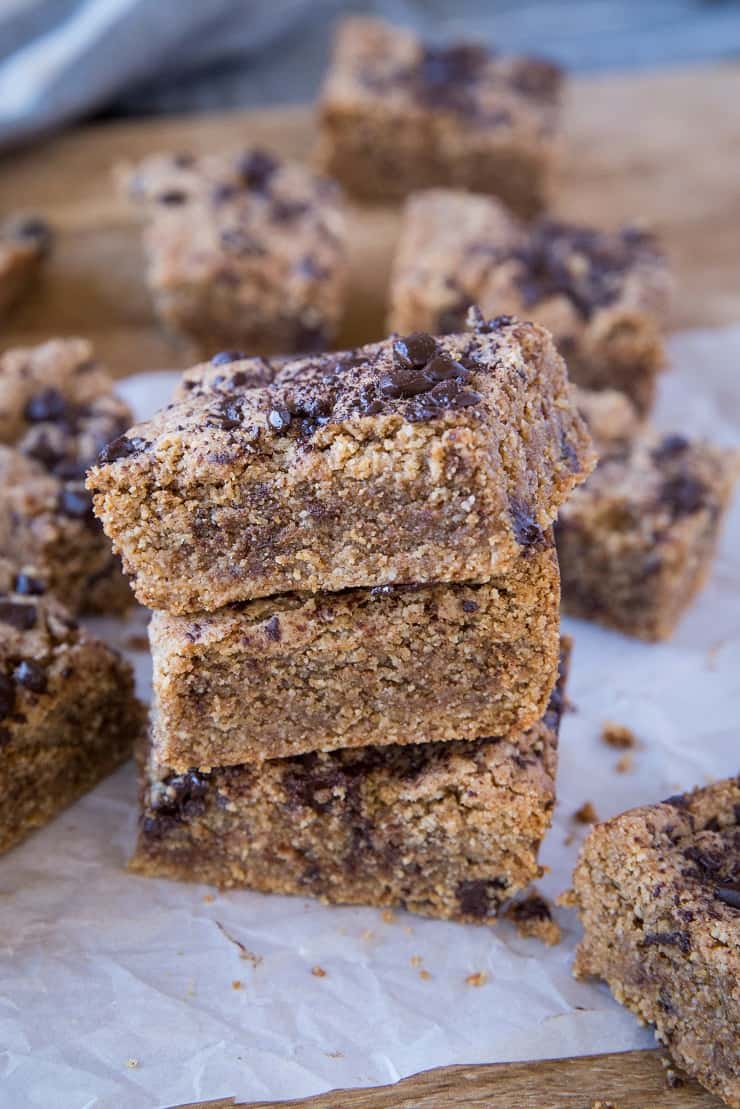 …Because every Friday requires Paleo Chocolate Chip Blondies, am I right?
Remember how I was telling you in my Carrot Cake Fat Balls post I've been using fat balls as my go-to snack of choice? WELL…this last week, I've been munching on Chocolate Chip Paleo Blondies like they're going out of style.
First of all, have you made a blondie? They're the sister to the brownie in the sense that they're the chocolate-free version, but a super styling sweet treat in bar-form. Aside from the Peanut Butter Chocolate Chip Chickpea Blondies I posted many moons ago, these are my second go at the dessert.
These blondies taste like a chocolate chip cookie in bar-form and are quick and easy to make to boot!
Speaking of dessert…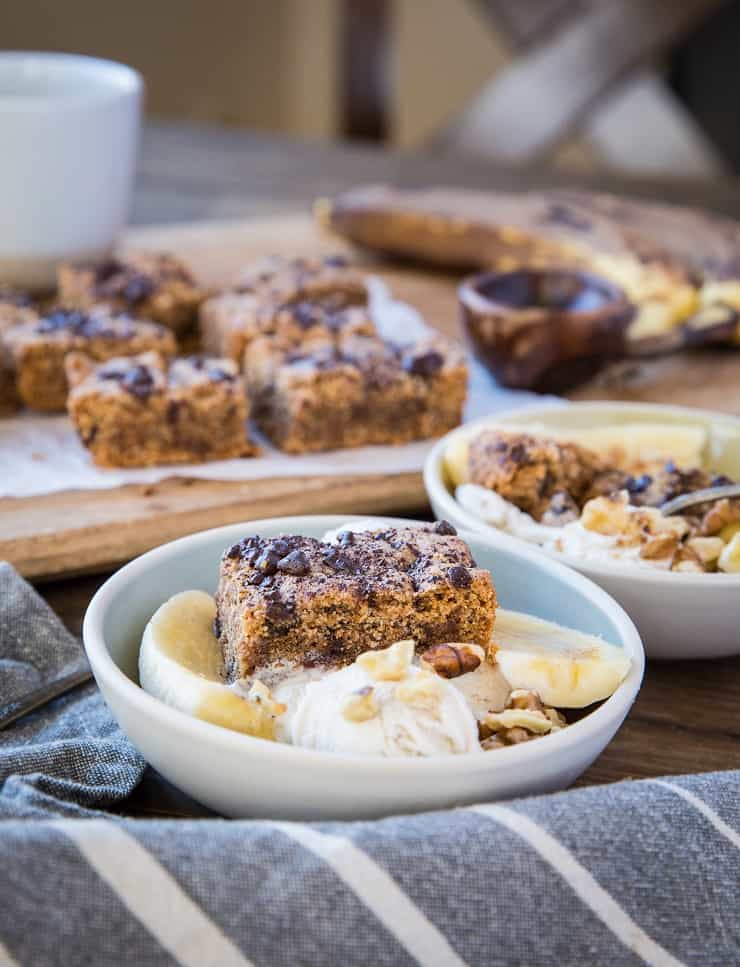 I actually developed this recipe for my cookbook, Paleo Power Bowls, as there's a full section on dessert bowls, and these beauties are a part of one of the bowls. I couldn't have you wait until the book publishes to partake in the magnificence of it, so I figured I would share with you the baseline recipe. It is a staple, indeed!
Blondie prep! Let's have words.
Ingredients for Paleo Blondies:
Almond Butter: Almond butter is a good source of fiber, magnesium, healthy fats and contains a small amount of plant-based protein. You can use it to make delicious grain-free desserts!
Coconut Sugar: Used to sweeten the cookies, coconut sugar is a great minimally processed sweetener that is easy to incorporate into baked goods. It is lower on the glycemic index than cane sugar, making it ideal for those who are craving a sweet treat but want to take in less sugar.
Coconut Oil: A sweet and nutty flavored fat option great for cooking and baking. Coconut oil is full of healthy fat and contributes a natural sweetness to any recipe.
Almond Flour: An easy to access grain-free flour that makes a delicious baked good. Almond flour is also full of fiber, magnesium, healthy fats. This ingredient, in combination with the almond butter is what helps hold the bars together.
Baking Soda: The agent to leaven, rise, and hold!
Sea Salt, Cinnamon & Vanilla Extract: These three ingredients aren't mandatory in baked goods but truly add wonderful subtle flavor. You don't want to skip them!
Chocolate Chips or Chunks: The main event of these delicious paleo chocolate chip blondies! Select your chocolate based on your own personal preference. I like using dark chocolate bars and/or stevia-sweetened chocolate chips.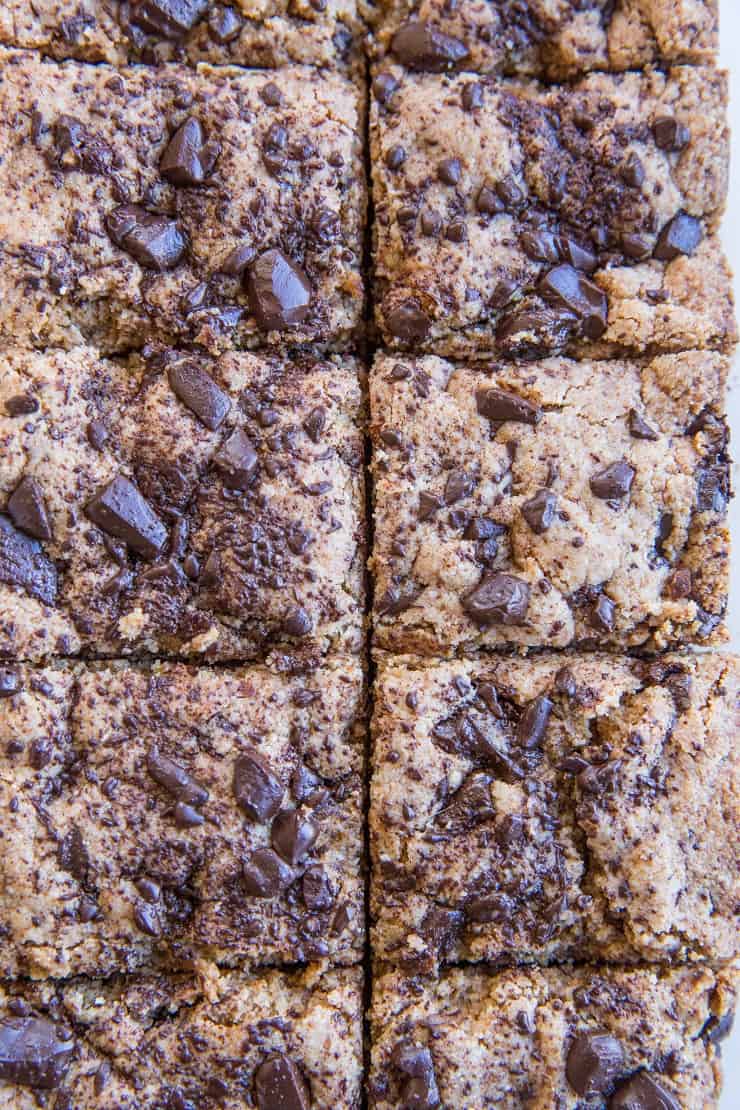 You can use a stand mixer to prepare the blondies, or do as I did and stir everything together in a mixing bowl. I use a 9 x 5 loaf pan for baking these off, but you can easily double the recipe and use an 8 x 8 square pan.
Recipe Adaptations:
Feel free to use any nut butter of choice (if you're a fan of peanut butter, get it ON!), and you can substitute hazelnut flour for almond flour.

If you would like to use pure maple syrup instead of coconut sugar, here's what you do: Replace the coconut sugar with ⅓ cup pure maple syrup and omit the coconut oil and almond milk.

For the chocolate portion of this recipe, I took a 1.5 paleo chocolate bars and chopped them up, but you can use any of your favorite chocolate chips or bars.
More Delicious Bar Recipes:
My cookbook, Paleo Power Bowls, is now available! CLICK HERE to check it out. Thank you for your support!
If you make this recipe, please feel free to share a photo and tag @TheRoastedRoot on Instagram!
Chocolate Chip Paleo Blondies
Chocolate Chip Paleo Blondies made with just a few basic ingredients
Instructions
Preheat oven to 350, and line a 9" x 5" loaf pan with parchment paper.

Cream almond butter, sugar, coconut oil, vanilla extract together in a mixing bowl until well-combined..

Add almond flour, sea salt, cinnamon, baking powder, and baking soda. Mix until well combined...the mixture should be crumbly.

Add 2 tablespoons almond milk and continue mixing until dough forms. If necessary add 1 more tablespoon of almond milk if dough is still crumbly. Fold in chocolate chunks.

Turn blondie dough out into the loaf pan and press into an even layer.

Bake 12 to 15 minutes, until edges are golden-brown. Turn off oven, leave in hot oven an additional 5 minutes. Let rest 20 minutes before slicing and serving.
Nutrition
Serving:
1
grams
|
Calories:
286
kcal
|
Carbohydrates:
23
g
|
Protein:
8
g
|
Fat:
20
g
|
Sugar:
12
g