Chocolate chip paleo blondies made with all clean, whole food ingredients. This vegan blondie recipe is easy to assemble and requires only a few basic ingredients you probably already have on-hand!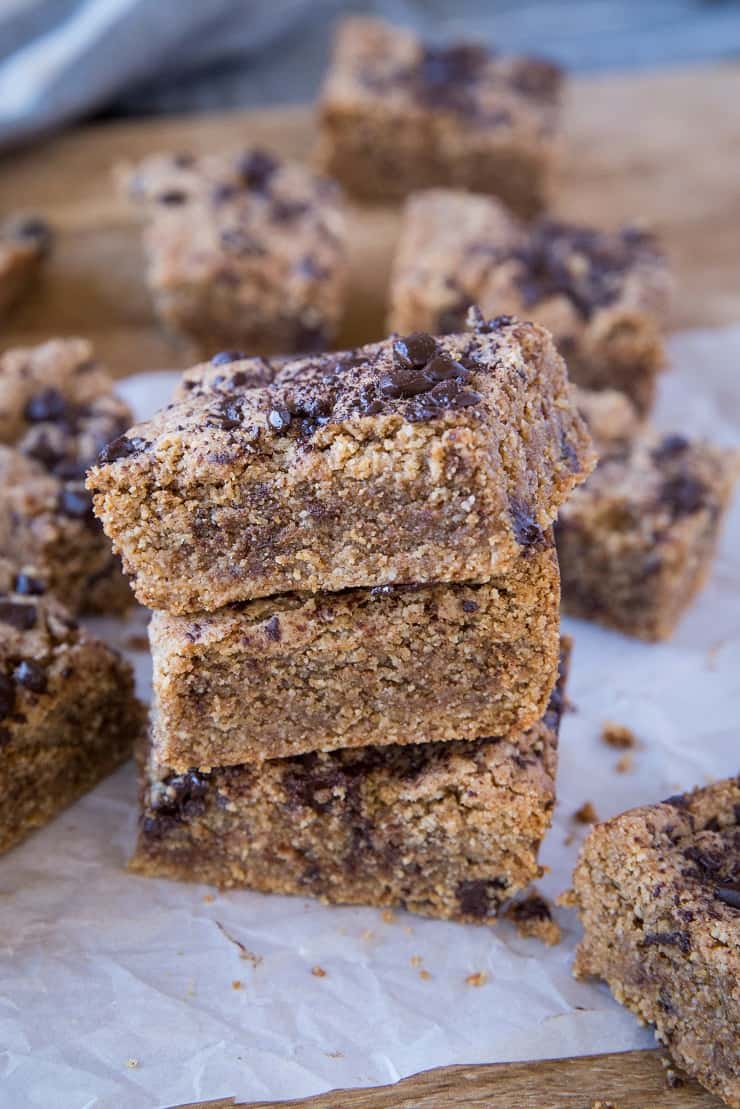 …Because every Friday requires Paleo Chocolate Chip Blondies, am I right?
Remember how I was telling you in my Carrot Cake Fat Balls post I've been using fat balls as my go-to snack of choice? WELL…this last week, I've been munching on Chocolate Chip Paleo Blondies like they're going out of style.
First of all, have you made a blondie? They're the sister to the brownie in the sense that they're the chocolate-free version, but a super styling sweet treat in bar-form. Aside from the Peanut Butter Chocolate Chip Chickpea Blondies  I posted many moons ago, these are my second go at the dessert. These blondies taste like a chocolate chip cookie in bar-form and are quick and easy to make to boot!
Speaking of dessert…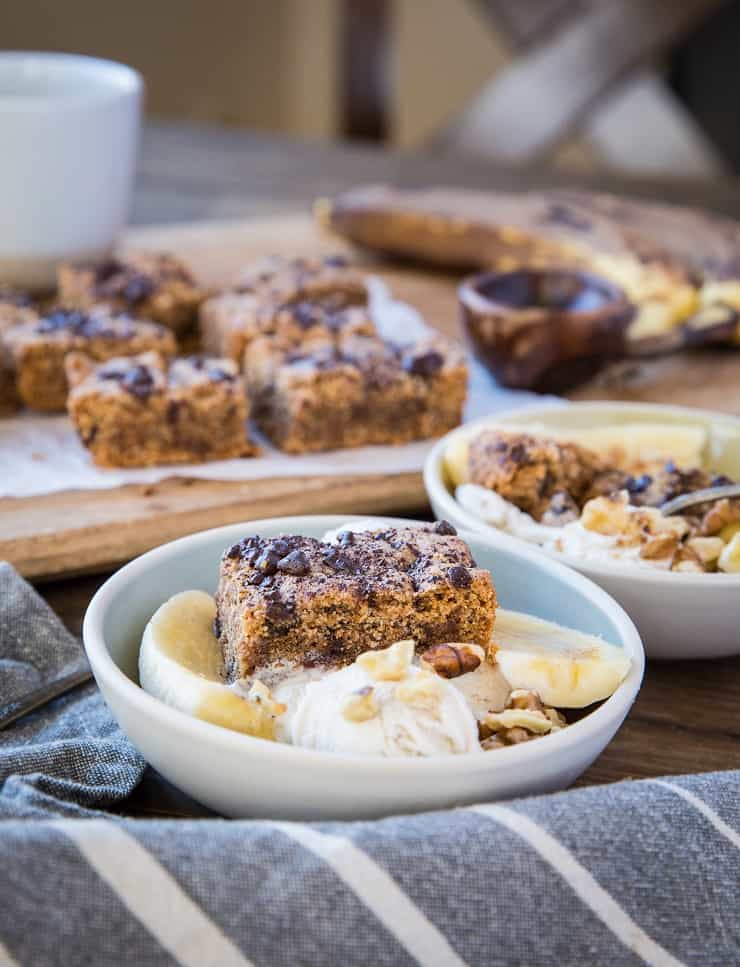 I actually developed this recipe for my cookbook, Paleo Power Bowls, as there's a full section on dessert bowls, and these beauties are a part of one of the bowls. I couldn't have you wait until the book publishes to partake in the magnificence of it, so I figured I would share with you the baseline recipe. It is a staple, indeed!
Speaking of das cookbook, I've been working feverishly on wrapping it up, and I'm happy to say I can finally see it taking shape! This last week, I've been putting the final touches on the written recipes, editing photos (for what feels like the millionth time 😉 ), and organizing the actual documents to get them over to my editor. Essentially, I've been in my pajamas in front of the computer all week, be-squinted with frizzy hair and have hardly left my home. Vision of beauty, right?
What's left on the cookbook agenda? I need to finish up the introduction and develop a handful of additional recipes to replace some I decided to omit. If you have any final requests on types of recipes you'd like to see, feel free to leave your ideas in the comments! The deadline is still May 1, and the tentative publication date is Jan 1, 2019, but you can already pre-order it HERE!
Blondie prep! Let's have words.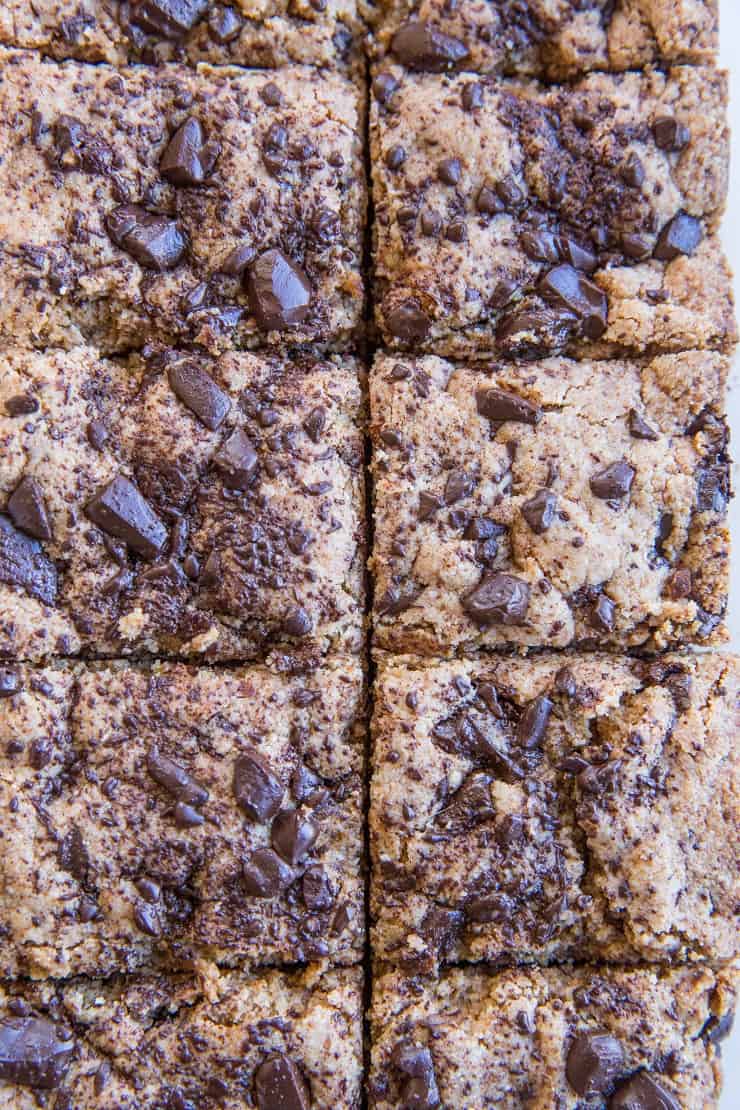 You can use a stand mixer to prepare the blondies, or do as I did and stir everything together in a mixing bowl. I use a 9 x 5 loaf pan for baking these off, but you can easily double the recipe and use an 8 x 8 square pan.
There is some room for adaptation here. Feel free to use any nut butter of choice (if you're a fan of peanut butter, get it ON!), and you can substitute hazelnut flour for almond flour. If you would like to use pure maple syrup instead of coconut sugar, here's what you do: Replace the coconut sugar with ⅓ cup pure maple syrup and omit the coconut oil and almond milk. For the chocolate portion of this recipe, I took a 1.5 paleo chocolate bars and chopped them up, but you can use any of your favorite chocolate chips or bars.
Have a stellar Friday and weekend!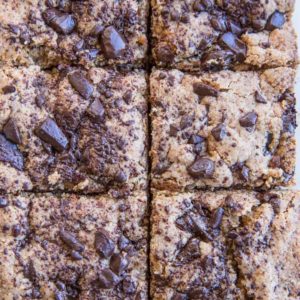 Chocolate Chip Paleo Blondies
Print
Instructions
Preheat oven to 350, and line a 9" x 5" loaf pan with parchment paper.

Cream almond butter, sugar, coconut oil, vanilla extract together in a mixing bowl until well-combined..

Add almond flour, sea salt, cinnamon, baking powder, and baking soda. Mix until well combined...the mixture should be crumbly.

Add 2 tablespoons almond milk and continue mixing until dough forms. If necessary add 1 more tablespoon of almond milk if dough is still crumbly. Fold in chocolate chunks.

Turn blondie dough out into the loaf pan and press into an even layer.

Bake 12 to 15 minutes, until edges are golden-brown. Turn off oven, leave in hot oven an additional 5 minutes. Let rest 20 minutes before slicing and serving.
Recipe Notes
*Use any non-dairy milk
Nutrition Facts
Chocolate Chip Paleo Blondies
Amount Per Serving
Calories 286
Calories from Fat 180
% Daily Value*
Fat 20g31%
Carbohydrates 23g8%
Protein 8g16%
* Percent Daily Values are based on a 2000 calorie diet.