Gluten-free baked oatmeal with banana bread flair for an ultra flavorful and fun breakfast. This easy recipe is a great make-ahead breakfast!
This post is sponsored by Bob's Red Mill.
Has anyone else been craving the carbs this winter like they're training for an ultra marathon slash bulking up for the zombie apocolypse? Insert girl with her hand raised emoji here. x3.
While I used to fight any craving for sugar or cabs, I have since embraced my body's need for them. When I hit the 25 age marker and came to the realization that my metabolism doesn't work with the swiftness of a gazelle's the way it used to, I essentially omitted carbs as long as I possibly could until the flood gates would open and I'd go to town on ALL OF THE BROWNIES. I look back on those days and want to give mid-twenties Julia a hug. And a beer. She was moody, under-nourished in body and soul…needed some sustenance like bad.
This isn't to suggest we should all drop what we're doing right now, head to the break room and snag any comforting substance in sight. It's more a call for honesty. Asking myself what the food at hand will do for my body and mind, and if I actually need it. To answer myself with honesty, and to be okay with the answer, regardless of whether it's yes I need it, or no, I actually do not. Everyone's body works differently, and I've found mine does particularly well with a well-balanced diet, which of course includes complex carbohydrates.
Now that I've reached the ripe age of 30, I have made the executive decision to embrace what my body tells me it needs. As it turns out, it's an easier way of living! I now fulfill my hankerings, but in the most healthful of ways. For instance, rather than downing 1/2 to 2/3 a batch of boxed brownies or a whole pint of ice cream in one sitting when I can no longer sustain the craving, I've been filling my needs as they come with whole grains and slow-burning complex carbohydrates. Enter: oats.
Full of macronutrients, a slow burning carbohydrate, a marvelous ingredient to have in your home and to incorporate into your daily life.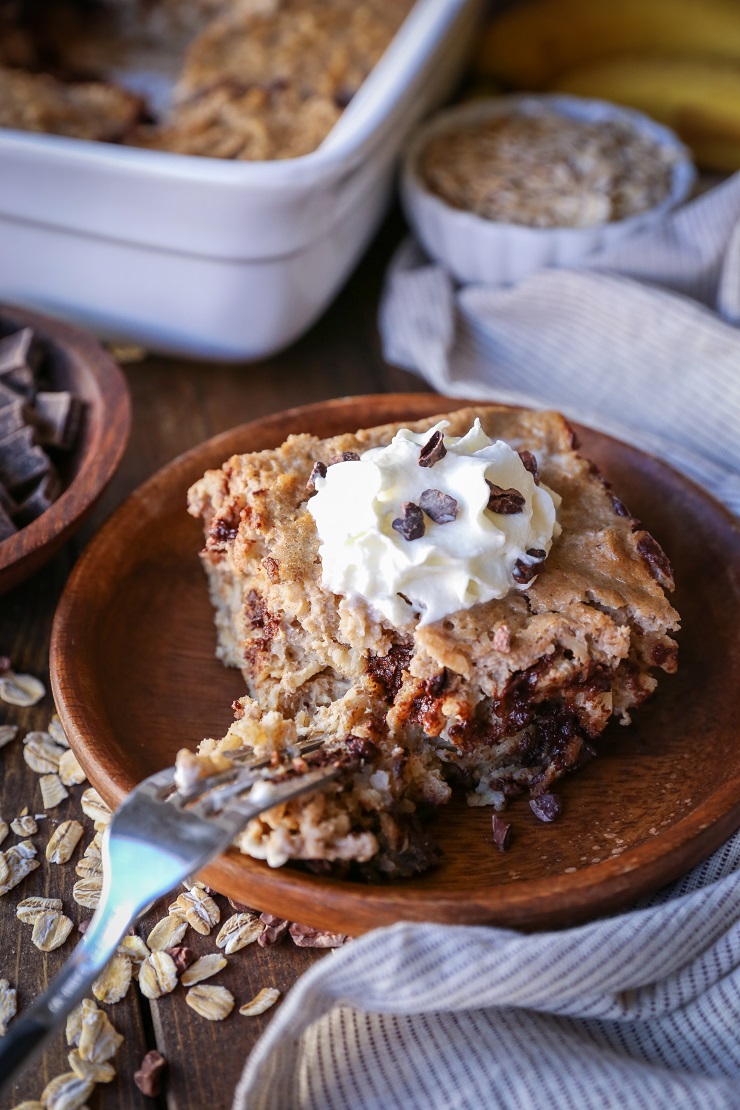 There are few meals more comforting than flavor-infused steamy oatmeal. While I'm always up for a hefty bowl of oatmeal made on the stove top, or overnight oats in any flavor varietal, I also love oatmeal in baked form We're no strangers to baked oatmeal on this blog, as I've shared Blueberry Baked Oatmeal, Mixed Berry and Apple Baked Oatmeal, and Apple Cinnamon Baked Oatmeal.
I made this recipe twice two weeks in a row, and the first time I made a uuuuuuge batch, capable of feeding upwards of 12 people. While I'm always up for leftovers, I figured not everyone would be game for such a massive quantity, so I halved the recipe the second time around. For those of you who are serving a ton of people or are up for a massive make-ahead breakfast that you can eat on for a solid week, feel free to double the recipe and use a 9" x 13" baking dish, rather than an 8" x 8".
Keeping the recipe Gluten-Free, I used Bob's Red Mill's Gluten-Free Old Fashioned Rolled Oats, which are always my go-to when I'm craving a bowl of oatmeal, and for any occasion necessitating oats. I love the thick creamy texture that results, quality of flavor and texture that results. Plus, Bob's Red Mill takes great care in ensuring their gluten-free products aren't contaminated, making them a choice product for those with gluten allergies.
In order to get the baked oatmeal to hold together nicely so that it could easily be transported in squares, I added brown rice flour. The consistency turns out fluffy, dense, moist, and absolutely addicting. You can view this experience as a sort of breakfast cake, snack cake, or even straight-up gluten-free banana bread. It's kind of one of those wondrous recipes that fills all sorts of needs at any time of day. What a pal!
The preparation process for this recipe is ultra easy. You blend the "wet" ingredients in a blender and stir together the dry ingredients. Stir the wet with the dry, pour into a casserole dish, then sing a merry tune while your oatmeal bakes in the oven. Soon after the baking process begins, the amazing, inviting aroma of banana bread will waft through your home.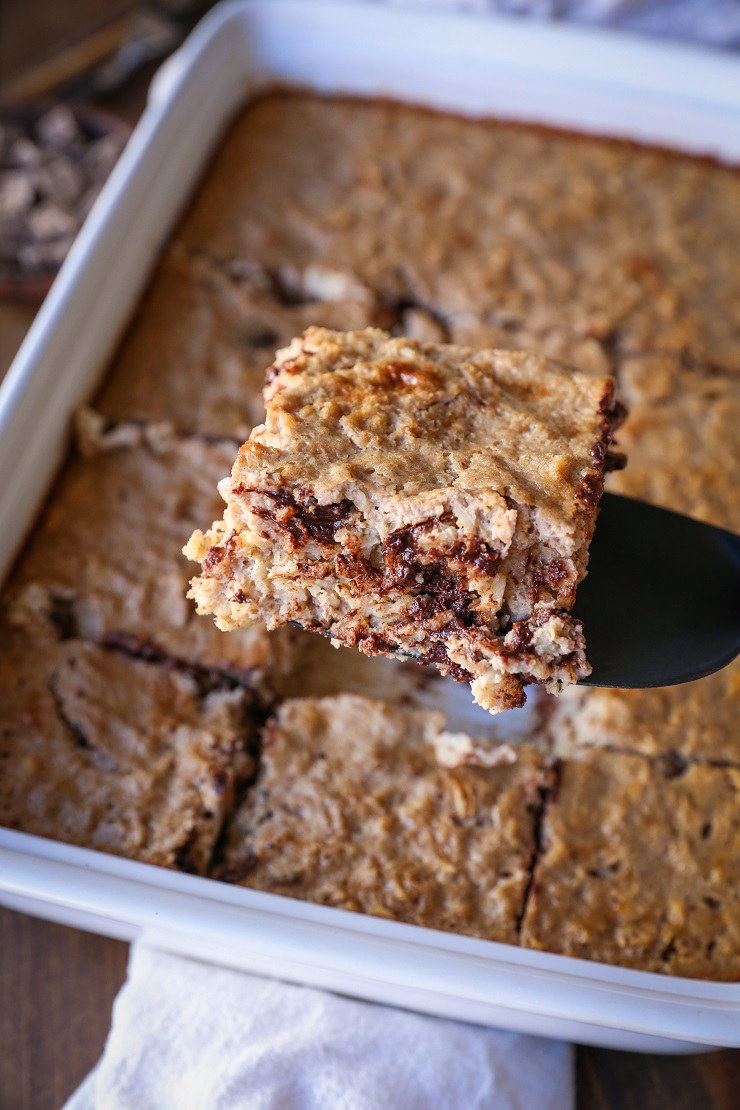 Serving options? I plop a big hunk on a plate, give it a squirt of whipped cream, and eat this baked oatmeal like cake…but for breakfast, you see? You can also serve it up in bowls with a drizzle of your favorite milk on top, add a dollop of yogurt or almond butter, or fashion up homemade coconut whipped cream. Choose your adventure! I've been glued to this chocolate chip banana bread baked oatmeal for my snacking needs lately. It's so easy to heat up a square and enjoy with an afternoon tea. Or, as I do most often, grab a lump straight from the refrigerator and bolt out the door.
You can get creative with your add-ins here, using the banana bread approach as your baseline. For instance, you can omit the chocolate chips, and/or add fresh blueberries, or chopped walnuts or pecans. You can top with homemade caramel, coconut whipped cream, or a dollop of almond butter. Let your hair down!
Chocolate Chip Banana Bread Baked Oatmeal
Step up your favorite baked oatmeal with ripe bananas and chocolate chips for a treat of a meal!
Instructions
Stir together the gluten-free rolled oats, brown rice flour, baking powder, and half of the chocolate chips in a large mixing bowl (dry mixture).

Add the remaining ingredients except for the chocolate chips to a blender and blend until completely smooth (custard mixture).

Pour the custard mixture into the mixing bowl with the dry mixture. Stir well and allow this mixture to sit 10 minutes, stirring occasionally.

Preheat the oven to 375 degrees Fahrenheit and lightly oil or spray a 8" x 8" baking dish.

Transfer the banana bread oatmeal mixture to the prepared baking dish and use a large spoon to stir mixture around so that oats are evenly distributed. sprinkle the remaining chocolate chips on top (they will naturally sink a little - this is fine!)

Place on the center rack of the oven and bake for 45 to 55 minutes, until the center of the baked oatmeal has set up. Turn off the oven but leave the baked oatmeal inside and allow it to sit 8 minutes.

Remove baked oatmeal from the oven and allow it to sit at least 1 hour before cutting and serving.
Notes
*You can use any milk of your choice. For a super decadent experience, consider using full-fat canned coconut milk
Nutrition