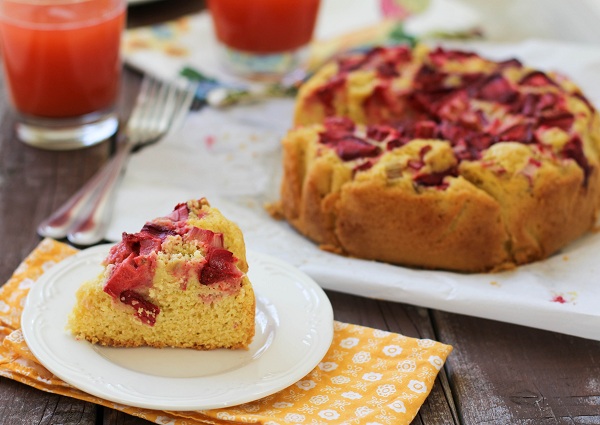 Once upon a solar system, in a galaxy far, far away, there was a lush and fertile planet. On this planet inhabited peaceful beings with hair like celery and fingers like parsnips. These vegetable-looking life-forms had the best of intentions but like so many civilized cultures, they got carried away with utilizing their lush planet's resources and ran out of room for their waste. Being a vegetable-like creature is difficult, especially when your hair is like celery because it grows and grows and needs to be cut frequently. Over-run with celery-like hair clippings, the peaceful beings saw no other option for their waste than to jettison it into outer space. After light years of roaming the dark, cold universe, one of the hair clipping-filled capsules fell to a similarly lush planet (a third rock from the sun kind of planet), struck the ground and was embedded into its soil. From this, the seeds of hair clippings began to flourish and out of those seeds grew a red and green stalk, very similar to celery indeed. The dwellers of this planet thought the stalks strange, but in their resourceful nature, they used them in their cooking. And that is how rhubarb came to be on planet Earth.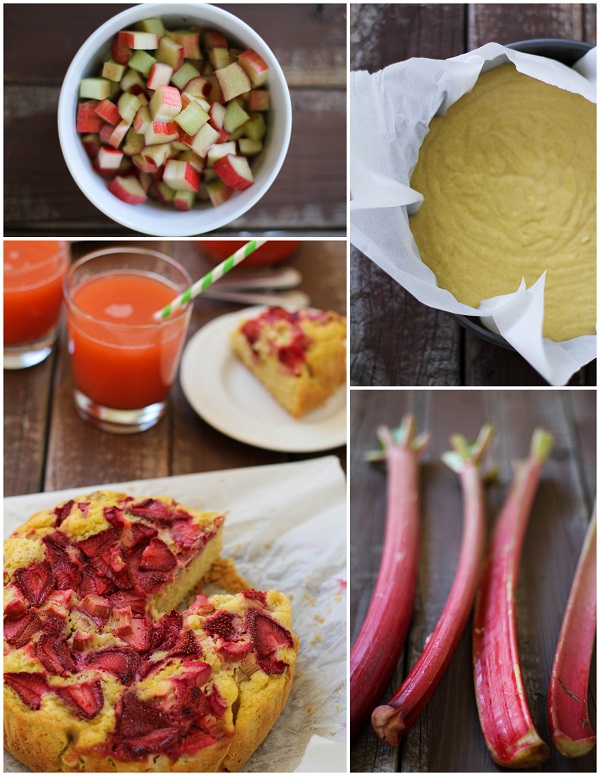 Okay, so it's a little far-fetched. But if you've taken a good hard look at rhubarb, you've probably said to yourself, "by golly if that don't look like the hair of an extraterrestrial, I don't know what doesl!" And in case you were wondering if this girl's out of her mind, your question's been answered. But that's my story and I'm sticking to it.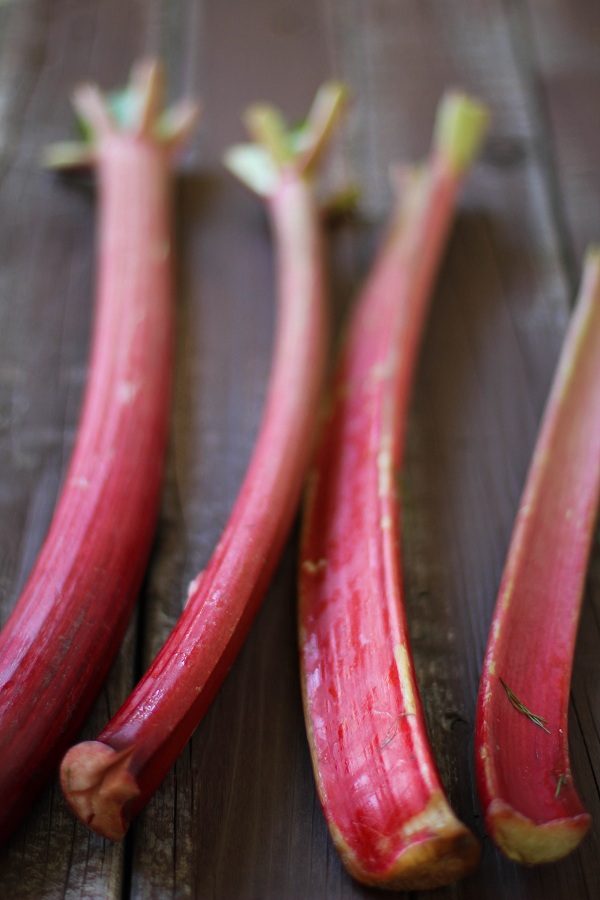 I'll admit, I've been intimidated by rhubarb up until about 48 hours ago. I've worried that if I set it down on the counter and leave it unattended, it will re-arrange my kitchen and drop things on the floor while my back is turned. As you can tell, I didn't grow up on a family rhubarb pie recipe. No rhubarb crumble or mimosas (is that even a thing?), no cakes or bars, so the plant has been altogether foreign to me with the exception of a brief encounter with rhubarb pie from Denny's about 14 years ago.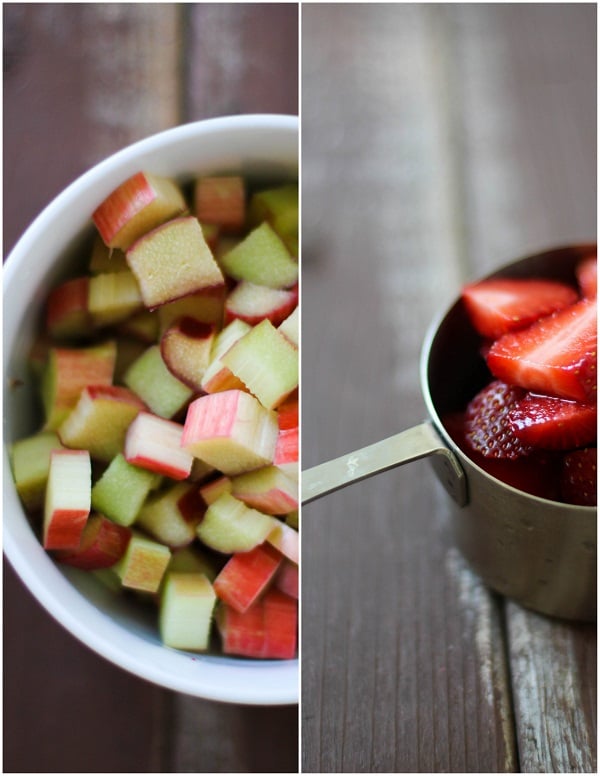 If like me, you think that rhubarb has mind control capabilities, let me assure you, it is far less dangerous when it's all hacked up.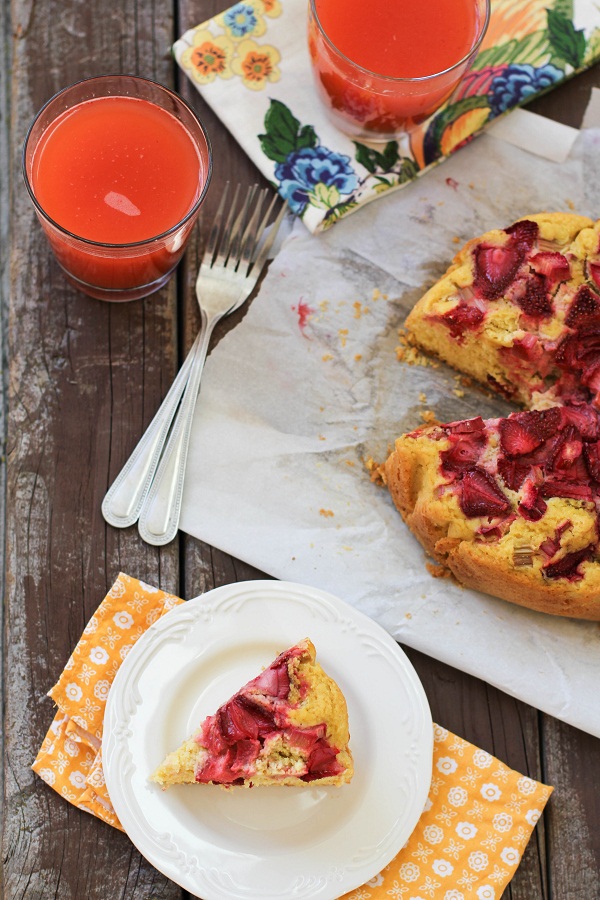 And now that I've had the stalks on my counter and was delighted to find my kitchen exactly as I had left it when leaving them unattended, I have grown confidence in the whacky plant. And so I made a cake out of it. And then strawberry rhubarb lemonade. And now I'd be willing to throw punches at the grocery store over picking the best rhubarb stalks. Have you had strawberry rhubarb lemonade? My relationship with lemonade will never be the same again. E'er.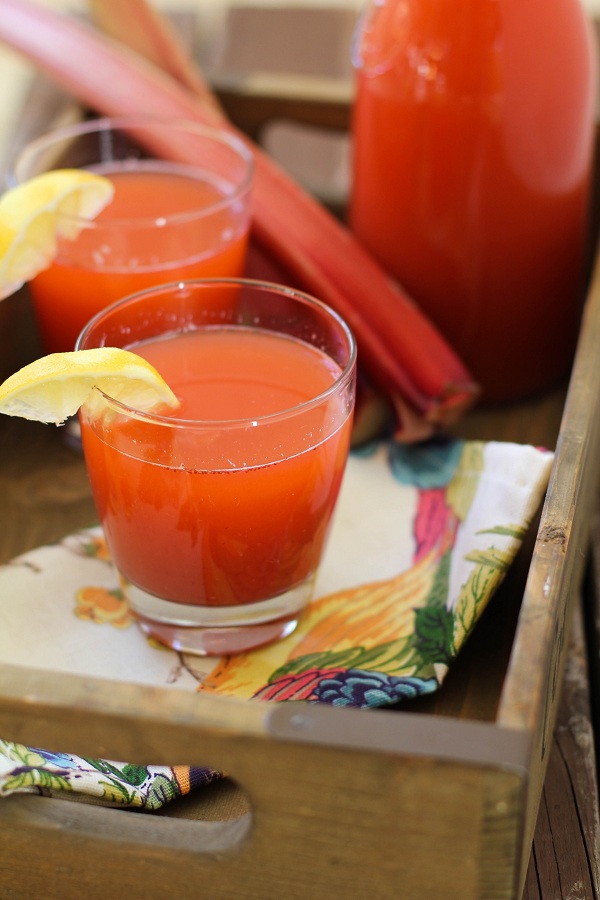 Do those lemons look a little sad? That's because I zested the crap out of them for the cake before I used them as a garnish. That's using your resources! This cake is gluten-free using corn flour (note: flour, not meal) and brown rice flour. There's a lemony zestiness to it, topped with hunks of rhubarb and strawberries all stuck in. It's the uniquest cake I ever did make, amen son. If you wanted to get reeeeeeal fancy shmancy, you could make a lemon glaze for it or sprinkle it with powdered sugar. There's a relatively small amount of sugar in it, which can be replaced with honey so I daresay this is a cake that's fit for breakfast. And queens. And extraterrestrials. It's the bee's knees. Recipe adapted from Cannelle et Vanille's Pink peppercorn-kissed rhubarb and berry cake.
Strawberry Rhubarb Cake
A unique cake recipe with fresh strawberries and rhubarb that is sweetened with coconut sugar for a healthier treat!
Instructions
Preheat the oven to 350 degrees Fahrenheit.

Prepare an 8" round cake pan by lightly oiling it or lining it with parchment paper.

In a large mixing bowl, combine flours, baking powder and ground ginger (dry mixture).

In a separate small bowl, mix the lemon zest and ½ cup of the coconut sugar together to release the zest oils. Once fragrant, whisk the lemon juice, eggs, coconut milk and olive oil in with the coconut sugar and zest (wet mixture).

Pour the wet mixture into the bowl with the dry mixture and stir together until combined.

Pour the batter into the cake pan and sprinkle the rhubarb and strawberries on top, pressing them lightly into the batter. Sprinkle 1 tablespoon of coconut sugar on top.

Bake for 50 to 60 minutes until cake tests clean (mine was still a little mushy around the fruit at 50 minutes, so I baked it a full 60 minutes).

Allow cake to cool and then turn it out onto a cutting board. Slice wedges and enjoy

Refrigerate leftovers in a sealable container or bag.
Nutrition
Here are some other rhubarb treats for you to enjoy:
Roasted Rhubarb + Strawberry + Rosemarry Prosecco Cocktail
from Seaweed & Sassafras
Perfect Rhubarb Pie
from Eat Your Heart Out
Rhubarb Almond Breakfast Bars
from Simply Scratch
Rosemary Rhubarb Grapefruit Cocktail
from Bowllicking
Strawberry-Rhubarb Sorbet
from A Lucky Life
Rhubarb Bars
from Lara Ferroni Now go. Go change your life and be one with alien hair!