Keto Eggnog recipe made dairy-free using coconut milk. Rich, creamy, warmly spiced with nutmeg and inviting! This sugar-free eggnog recipe is flavorful, festive and cozy on a chilly evening!
The day I learned eggnog has actual egg yolks in it was the same day I decided it's okay to ignore certain facts in order to continue loving something.
Having a selective understanding about food can certainly benefit our adventurous side. Alligator tastes like chicken, monkfish liver is an absolute delicacy, SPAM musubi is absolutely worth the gut bomb backlash, durian fruit can go back to the fiery hole from which it crawled, and egg yolks a fabulous eggnog make.
The facts of life, foodie edition.
Having learned the truth about eggnog at the tender age of four, I was shocked when my uncle, who was visiting for the holidays, added egg yolk after egg yolk to his batch of cheer, but because it was made out of sugar and a bright future, I determined I could hang.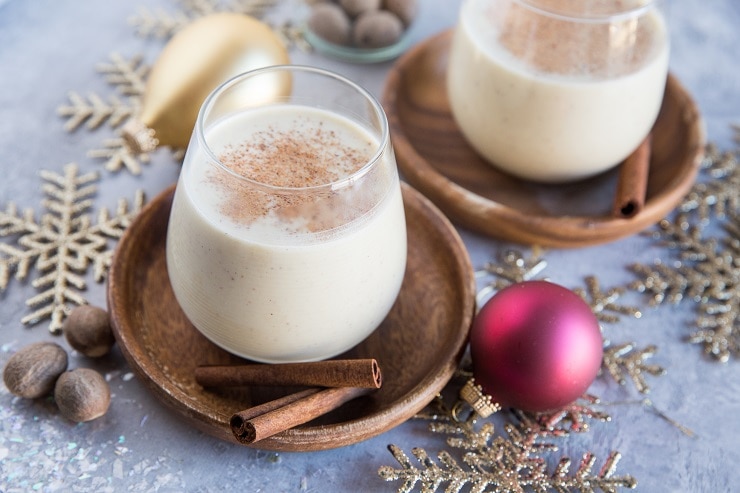 I did post an absolutely delicious Vegan Eggnog Recipe last year that was eggless and absolutely delicious, so I can't say I have a strong opinion one way or another as to whether or not yolks should be mandatory.
But I will say, this Keto Eggnog recipe with yolks is pretty yum!
Recipe Highlights:
Because I can't do fresh dairy like milk or cream, I made this Keto Eggnog recipe dairy-free using canned coconut milk. I also haven't been consuming much sugar (natural or otherwise), so I opted for a sugar-free eggnog using sugar-free granulated sweetener.
All things considered, this is a dairy-free low-carb eggnog recipe, marvelous for those who want to get their yolk on without excess sugar.
Read More

about Keto Eggnog (Dairy-Free)