Moist and fluffy gluten-free butternut squash pancakes. These delightful hotcakes are warmly-spice, naturally sweet, and taste like fall!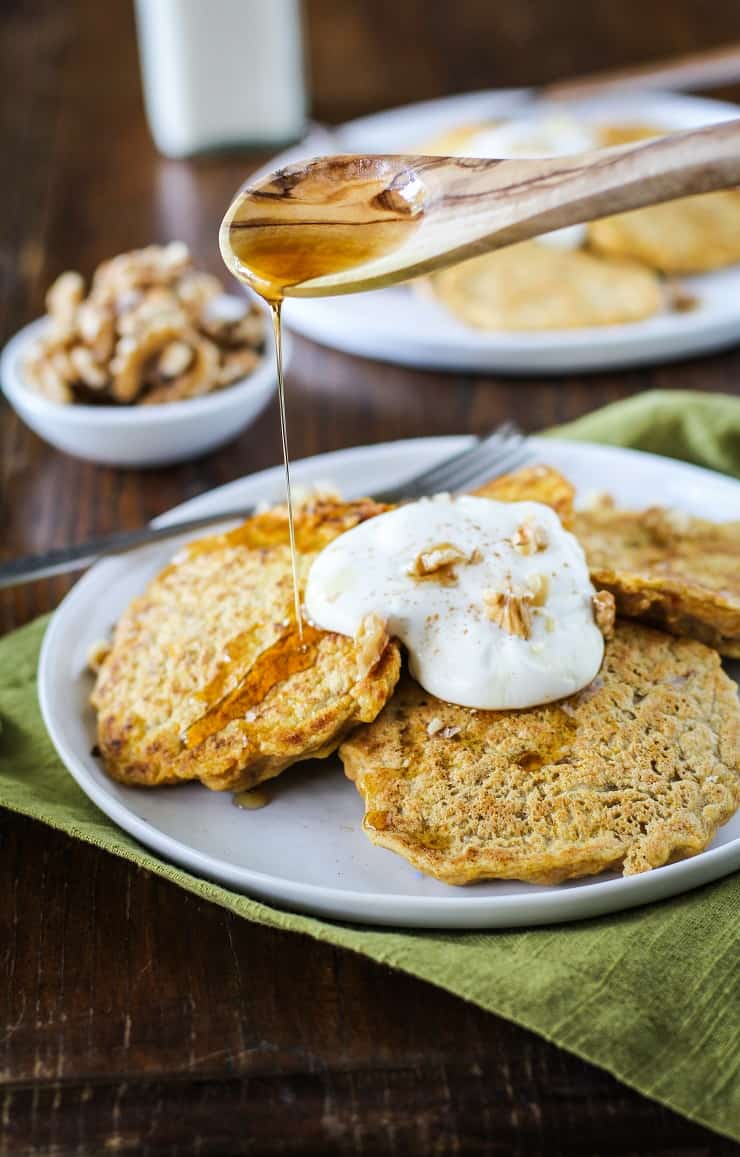 Weeks ago, when I went on a squash-roasting bender, I had leftover butternut squash that was just dyyyyyying to be pancake-d. Meaning, I was dying for pancakes. I simply mashed it up, and into the batter it went.
If you've never roasted a butternut squash, it's fabulously easy. Simply preheat your easy bake oven to four hundo, chop off the tip and tail of the squash, scoop out the innards, and drizzle with some olive oil, salt, pepper, and cinnamon.
Place both halves face-down on a baking sheet and roast for 40 to 50 (depending on the size of your squash). Boom! Pancake ingredients.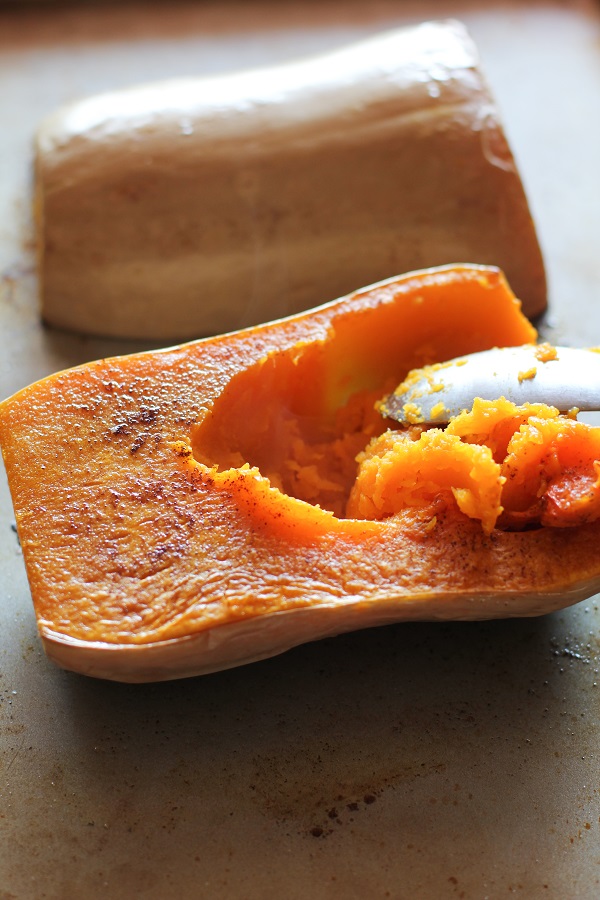 I used Bob's Red Mill's gluten free all-purpose flour for the pancakes. If you don't follow a gluten-free diet, you can easily substitute the gluten-free flour for regular all-purpose flour.
The pancakes turn out fluffy with sweet, warm, cozy fall flavor all nestled right in. A dollop of yogurt and/or pure maple syrup would be my serving suggestion, although you could get real crazy and add a boozy syrup, a paleo salted caramel sauce, or coconut whipped cream.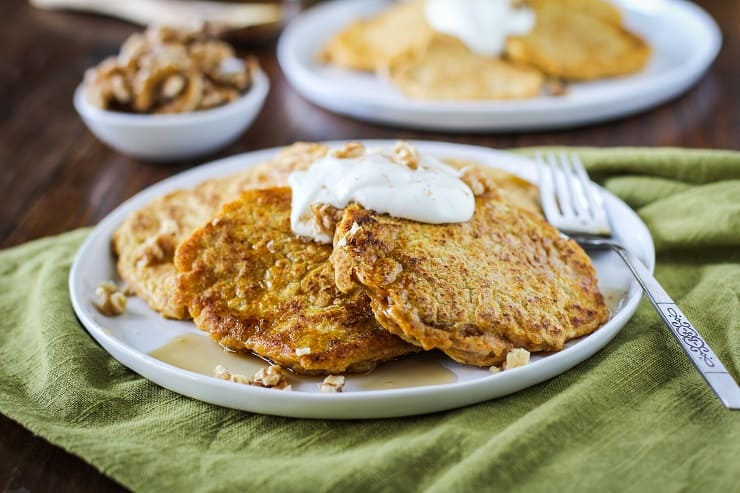 Throughout the fall and winter, if you have any type of leftover roasted winter squash (or sweet potato), you can use it in these pancakes.
Kaboocha squash pancakes are marvelous and we all know pumpkin is killer. No matter the name of the squash, these pancakes are perfect for re-purposing your leftovers. It's also perfect for your pancake needs, so there's that.
Squarsh for breakfast. Do dat!
Butternut Squash Pancakes
Gluten-Free Butternut Squash Pancakes are a fabulous breakfast during the fall and winter when squash is in season. If you like pumpkin pancakes, you'll love these too!
Ingredients
For serving:
Plain yogurt

Chopped walnuts
Instructions
Add all of the ingredients for the pancakes to a blender. Blend until completely combined. Allow batter to sit 10 minutes.

Heat a large skillet over medium with enough oil to coat the surface.

Pour a scant 1/4 cup of pancake batter on the hot skillet and cook about 2 minutes, until the sides have firmed up and air bubbles rise to the surface. Flip and cook an additional 1 to 2 minutes, or until cooked through. Repeat with remaining batter.

Serve pancakes with yogurt, maple syrup, chopped nuts, and/or your choice of nut butter.
Nutrition