Dairy-free, refined sugar-free Paleo Vanilla Pudding made with only a few basic ingredients.
This paleo vanilla pudding recipe only takes a few minutes to make and is super straight-forward and simple!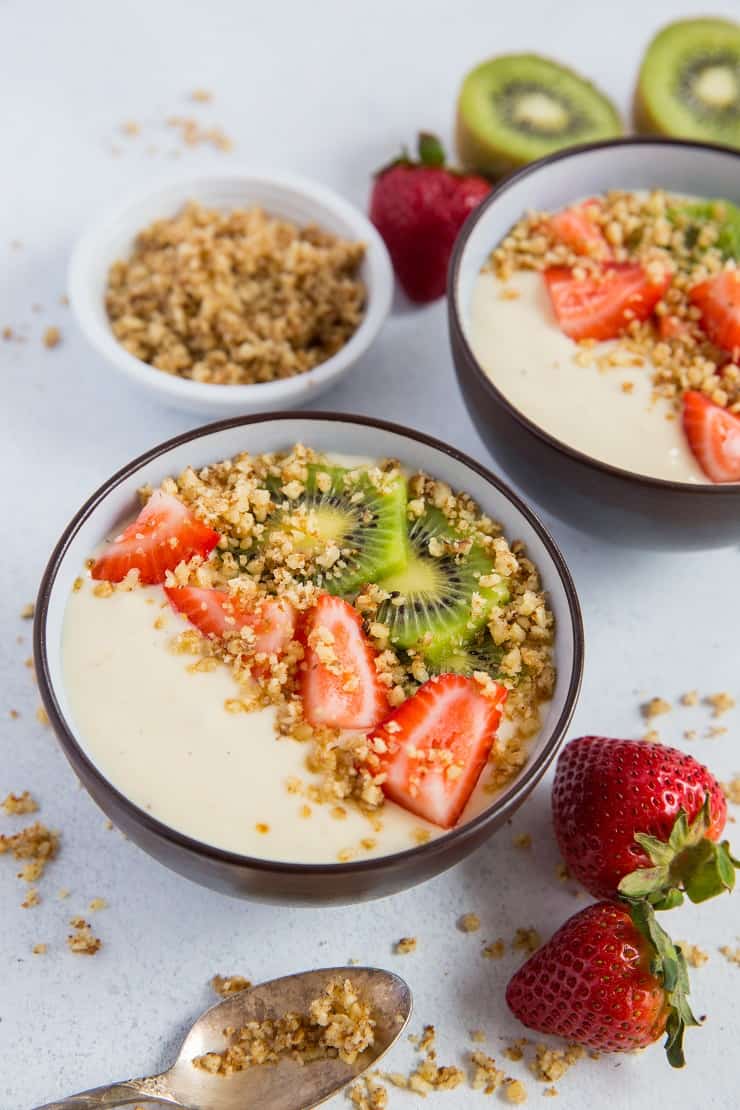 This morning, I dropped my good friend, Sandi off at the airport. As we pulled away from the airport, I told Garrett I felt like I lost a body part.
There is nothing more real than a binding friendship – the kind that keeps you together after moving to separate parts of the country and allows you to pick up right where you left off. The telepathic, empathetic, familial friendships that make you feel like you have everything you need.
Sandi lives in North Carolina and was here for a visit. She and I lived together for three years and we now live on opposite sides of the country.
While she visited this last week, we accomplished virtually everything we set out to do. We saw a great bluegrass band, ate copious amounts of sushi, made two batches of banana puddin' in the same night, busted out some power house workouts, shared Ethiopian food and drank some badass beer.
Even took a badass yoga class where the instructor reminded all the students of our badassedness.
Besides Sandi's adorable dimples and southern accent, she has a relaxed approach to life and will giggle as she tells you stories about growing up in the south and dote on the southern foods we west coasters are so unfortunate to lack. Like banana pudding. 'Scuse me…"puddin." 😉
Sandi and I set out to make homemade banana pudding – excited to determine if the from-scratch, healthier kind could trump the from-box kind.
I daresay, we made it! A healthier dairy-free, refined sugar-free version of vanilla pudding and a grain-free wafer made for an excellent healthier banana pudding. Since then, I've made the paleo vanilla pudding multiple times, and I typically top it with chopped nuts and fresh fruit.
So first, let's discuss paleo vanilla pudding and then we can dive into paleo vanilla wafers to compile a dairy-free, refined sugar-free healthier version of classic banana puddin'.
How to Make Paleo Vanilla Pudding:
Open a can of full-fat coconut milk and heat it in a saucepan. Once the coconut milk is warm (but not boiling) and just barely begins to steam, take 1/4 cup of it and transfer it to a bowl with 1 egg yolk (note: do not use a full egg…just the yolk, or else you will end up with scrambled eggs). Whisk this mixture together very well.
Bring the remaining coconut milk a gentle boil – you want the liquid to be very hot but not boiling out of control. Whisk in the yolk/coconut milk mixture. Continue cooking and whisking for 3 to 5 minutes, until the mixture begins to thicken.
Remove the saucepan from the heat and whisk in the tapioca flour, pure maple syrup, and pure vanilla extract. Continue whisking until pudding base is very thick.
Transfer the pudding base to a glass tupperware container and allow it to cool 10 minutes before covering and refrigerating. Refrigerate at least 2 hours, or until the paleo vanilla pudding is completely chilled.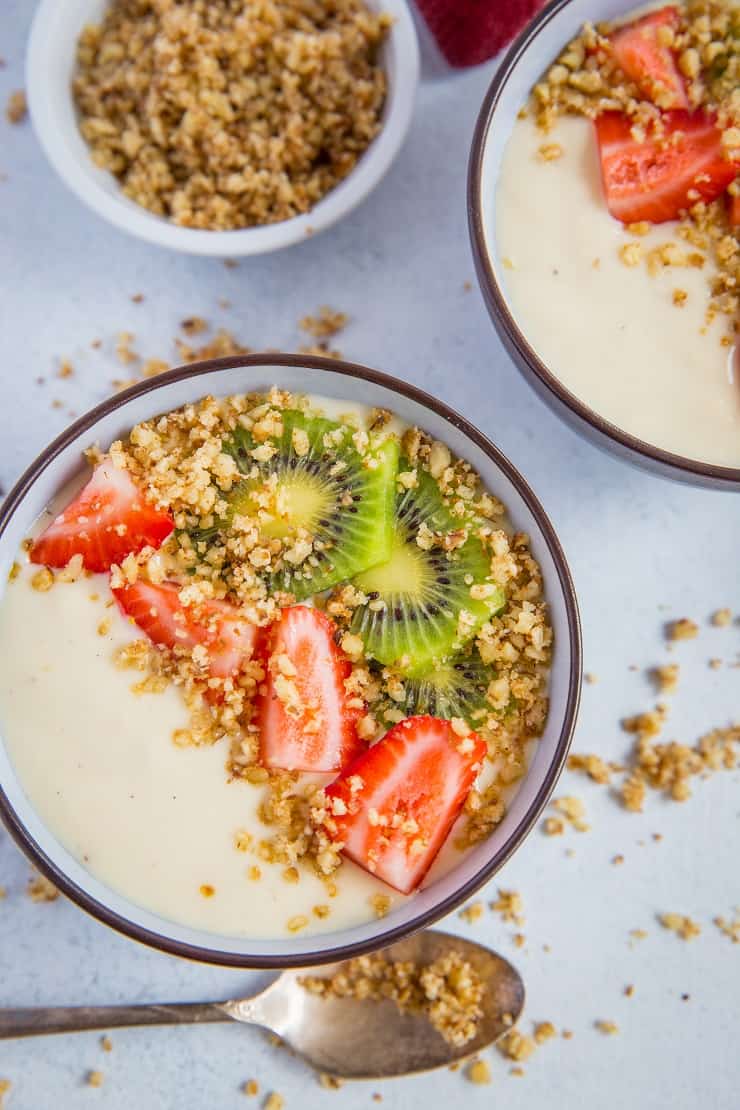 Scroll past the recipe for the pudding for my paleo vanilla wafer recipe! You can use the paleo vanilla wafers and bananas to make Paleo Banana Pudding!
Creamy dreamy vanilla pudding bliss!
My cookbook,
Paleo Power Bowls
, is now available! CLICK HERE to check it out. Thank you for your support!
If you make this recipe, please feel free to share a photo and tag @TheRoastedRoot on Instagram!
Paleo Vanilla Pudding
Paleo Vanilla Pudding made dairy-free and refined sugar-free.
Instructions
In a mixing bowl, beat the yolk with a fork until creamy. In a small saucepan over low heat, gently heat the coconut milk until any clumps are dissolved and the coconut milk is just warm.

Take about a quarter cup of the warm coconut milk and combine it with the egg yolk. This tempers the egg and ensures it does not turn into scrambled eggs when you incorporate it into the hot coconut milk.

Pour the egg yolk/coconut milk mixture into the saucepan with the remaining coconut milk. Add the pure maple syrup and stir. Stirring constantly, raise the heat to medium low or medium so that the mixture comes to a gentle boil, about 5 minutes.

Add the tapioca flour. By now, the mixture should be fairly thick. If it is not, continue stirring and allowing the pudding to bubble and thicken. Once thick, remove from heat, add the vanilla extract and immediately pour the pudding into a bowl. Cover with plastic wrap and allow it to cool in the refrigerator at least 2 hours.

Serve with choice of fruit, granola, and/or paleo vanilla wafers.
Notes
*You can also use honey, coconut nectar, or a zero-sugar sweetener such as monk fruit sweetener, xylitol or erythritol.
Nutrition
Serving:
1
serving
|
Calories:
296
kcal
|
Carbohydrates:
14
g
|
Protein:
3
g
|
Fat:
25
g
|
Sugar:
10
g
The almond flour "wafers" we made turned out like shortbread, had a nice bite to them and were not overly sweet (which I enjoy). This paleo almond flour cookie recipe was what we used in place of Nilla wafers.
Paleo Vanilla Wafers
Ingredients:
2 egg yolks
¼ cup avocado oil or coconut oil
1 teaspoon vanilla extract
½ teaspoon salt
2 cups almond flour
½ teaspoon baking powder
1/2 cup pure maple syrup
Instructions:
In a bowl or mixer, combine the oil, egg and vanilla extract. Add the almond flour, baking powder, salt and pure maple syrup. Mix until it comes together in a ball and does not stick to your fingers, but is moist.
Place the dough on a large piece of parchment paper and form a cylinder (about 1.5" in diameter). Wrap the dough cylinder tightly in the parchment paper and place in the freezer for half an hour or in the refrigerator for at least an hour.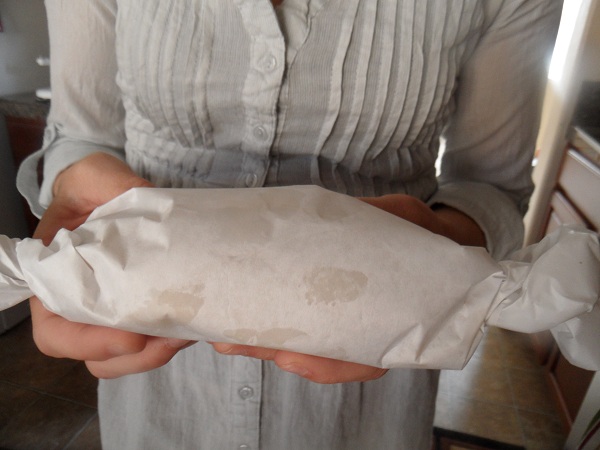 Preheat your oven to 350 degrees. Remove the dough from the freezer/fridge and using a sharp knife, cut ¼" rounds and transfer to a cookie sheet.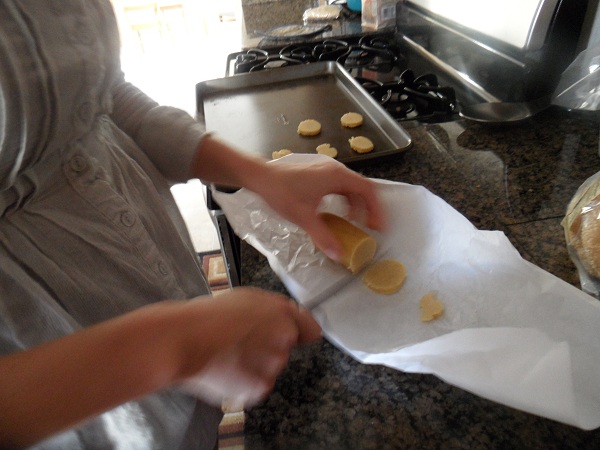 Bake for 12 minutes or until the tops are slightly golden.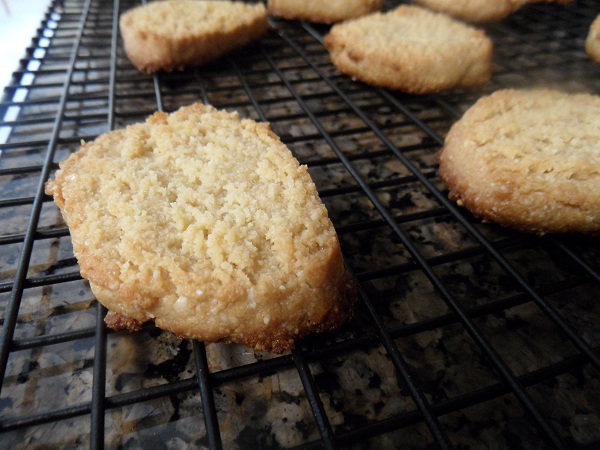 How to Make Paleo Banana Pudding:
To compile the banana pudding, simply layer the pudding with wafers, sliced banana and whipped cream (we made Coconut Whipped Cream) if desired in a serving/casserole dish.
If you have the time and patience, allow the compiled banana pudding to sit in the refrigerator an additional hour or more – this makes the "wafers" nice and soggy and ensures the vanilla pudding and banana flavors come together. Serve in abundance!