Looking for a simple, healthful, low-carb dinner recipe? The Blackened Salmon with Cajun Garlicky Kale from my cookbook, The Quintessential Kale Cookbook is a fabulous paleo-friendly, keto meal.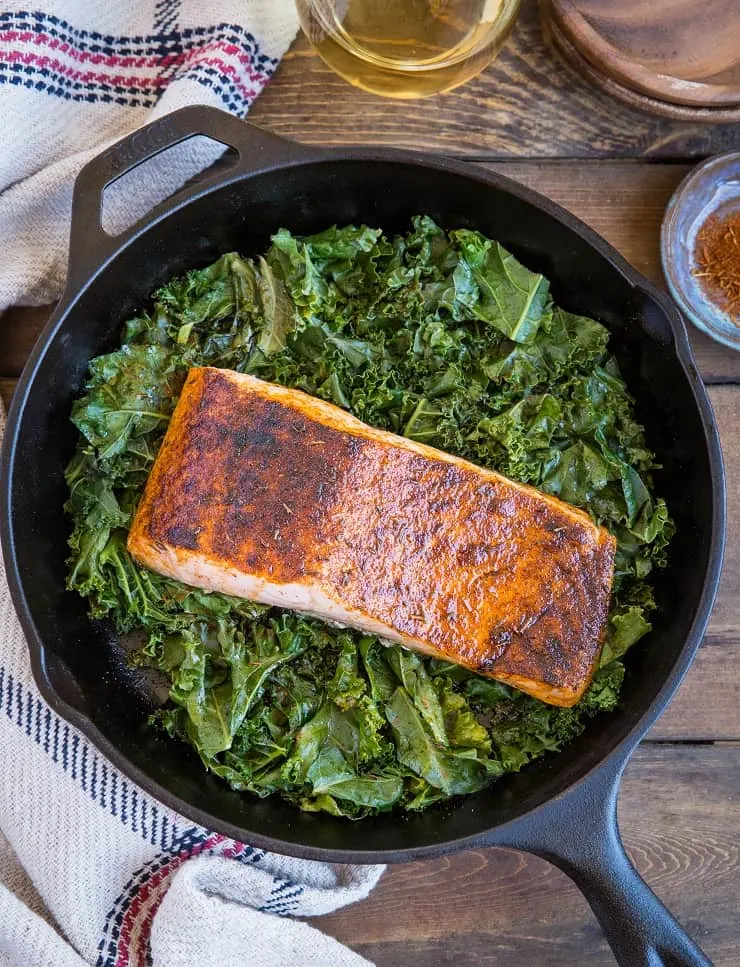 Once upon a time, I wrote a cookbook called, Let Them Eat Kale!. Do you remember it?
It was the second cookbook I wrote (the first being Delicious Probiotic Drinks) and was published back in 2014. I wanted to bring it back into the limelight, as my publisher and I re-released it back in January with some changes!
It was released under a new title, The Quintessential Kale Cookbook. Lettuce discuss!
The Quintessential Kale Cookbook:
First and foremost, we changed the title of the book from Let Them Eat Kale! To The Quintessential Kale Cookbook. The cover photo is now different (brighter and more attractive, I might add). I also revised some of the recipes, re-edited or re-shot all of the photos and added an additional 15 recipes (bonus chapter!).
The book now includes 90 recipes all featuring our favorite superfood: kale! There are recipes for breakfast, dinner, soups, salads, and sauces. Don't worry, I skipped the dessert section. 😉
When I was developing recipes for the book way back in 2013 and 2014, my mission was to be sure they were practical and tasty. Kale can easily be added to most meals, so my mission was to demonstrate how seamlessly kale (and virtually all vegetables) can be added to meals, bumping up the nutrient density.
In this sense, the recipes in The Quintessential Kale Cookbook are great staples for keeping a healthful diet and are straight-forward enough to whip up on any weeknight.
One of my favorite recipes from the book continues to be this Blackened Salmon with Cajun Garlicky Kale.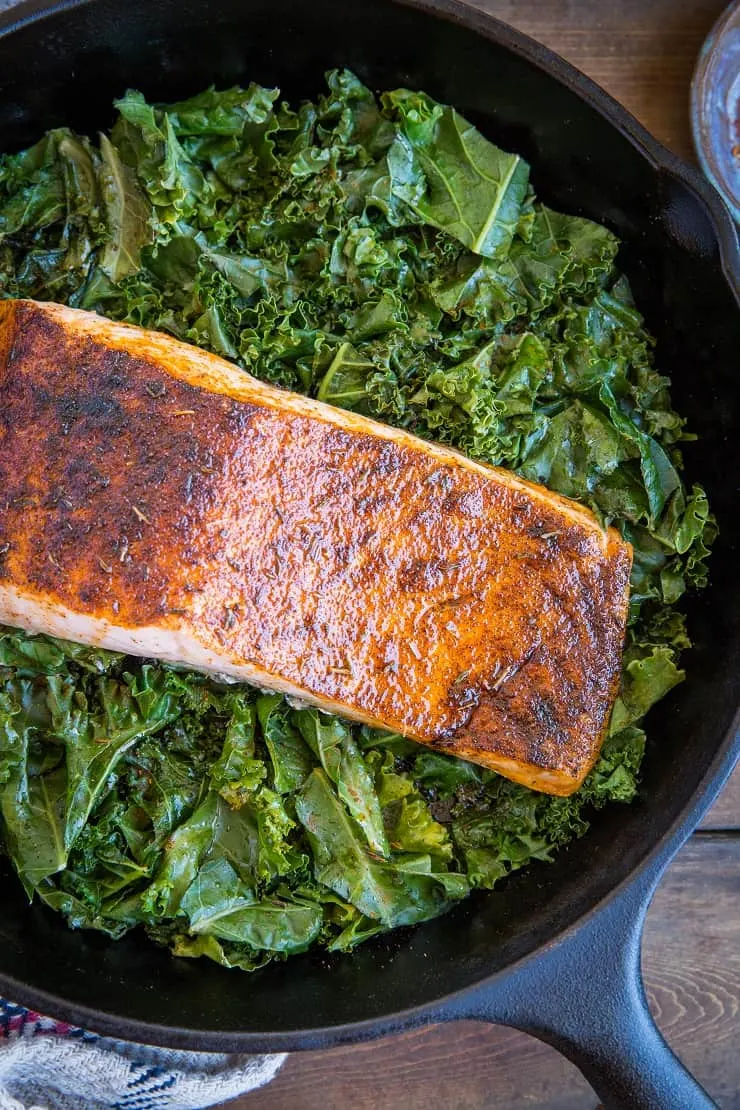 It's so quick, easy, nutritious, and perfect for throwing together after work. I find when I get overly hungry, I have a tendency to go for the quickest thing I can possibly put in my face. This is one of those meals that comes together lightning quick to help calm the hangry monster ASAHP.
PLUS it has that date night appeal, because salmon makes everything fancy, right?
Cooking salmon in a skillet is super easy! I love that it crisps up the skin so you get the crispy-on-the-outside yet still tender-on-the-inside effect. If you prefer cooking your salmon in the oven, be sure to check out My Go-To Crispy Salmon Recipe. If grilling is your preference, take a looksy at The Only Grilled Salmon Recipe You'll Ever Need.
Plus that garlicky kale is something to write home about!
If you prefer making spice blends at home rather than store-bought, you can whip up your own Cajun seasoning blend.
How to Make Cajun Seasoning:
Simply stir together the following ingredients in a bowl until well-combined:
1 Tbsp garlic powder
1 Tbsp smoked paprika
2 tsp onion powder
2 tsp sea salt
1 tsp dried oregano
1 tsp cayenne pepper
3/4 tsp ground sage
3/4 tsp black pepper
Well let's hop to it! I hope you enjoy this meal as much as I do!
Also be sure to check out my Easy Cajun Shrimp recipe!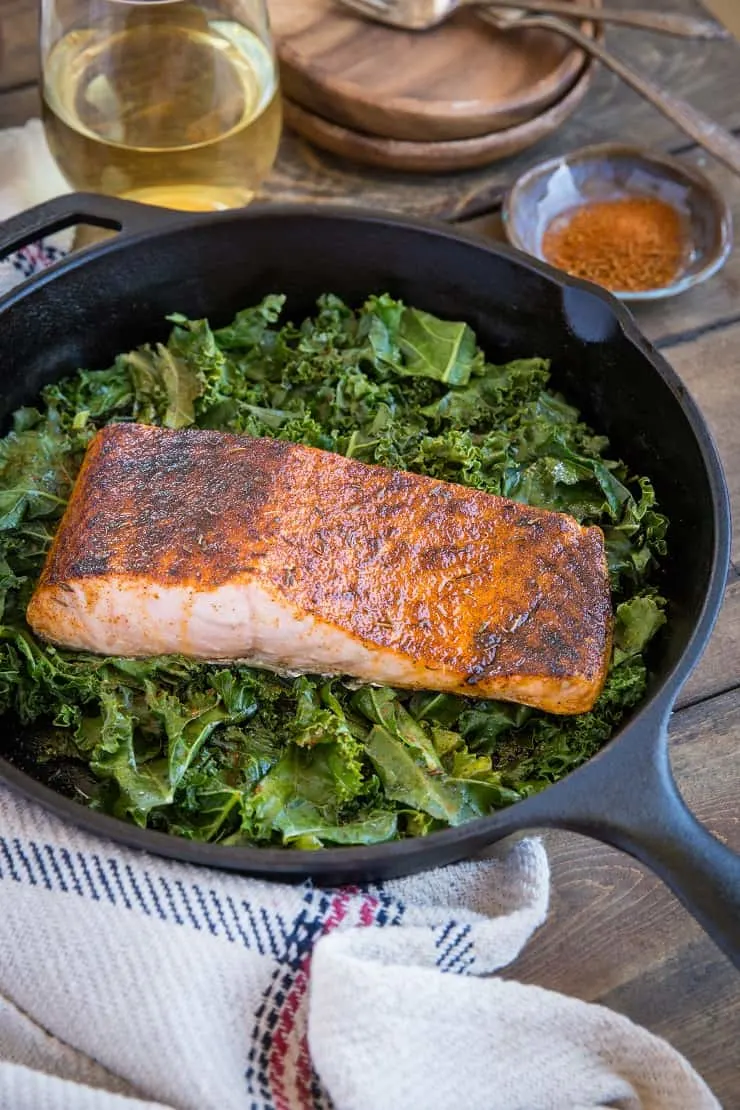 And please be sure to…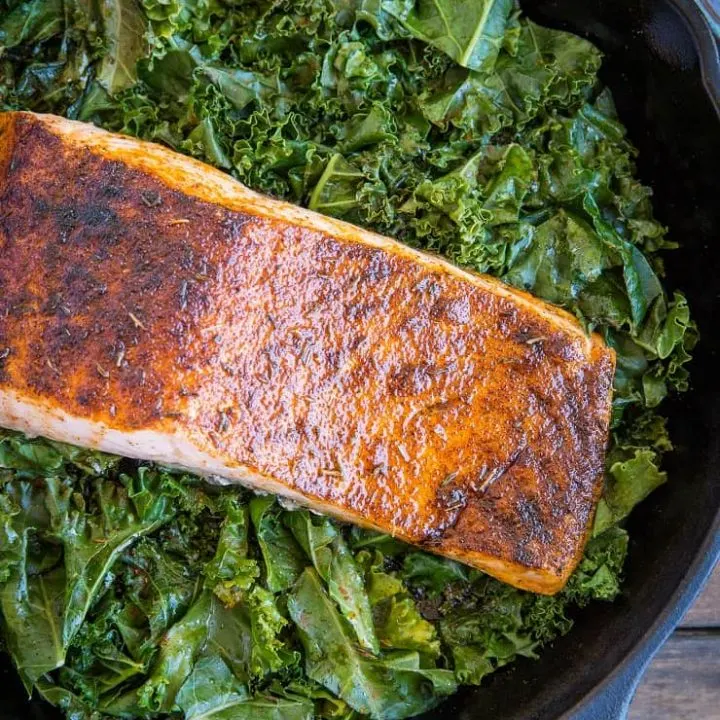 Blackened Salmon with Cajun Garlicky Kale
A low-carb dinner recipe for two requiring only a few basic ingredients.
Ingredients
Blackened Salmon:
1 pound salmon fillet, cut into 2 to 4 smaller fillets
Cajun Garlicky Kale:
5 cloves garlic, minced
2 heads lacinato kale, chopped
1 tsp lemon zest
Instructions
Make the Blackened Salmon:
Sprinkle the salmon fillets with Cajun seasoning and sea salt. Heat the oil in a 10-inch cast iron skillet over medium heat until the oil is very hot.
Carefully place salmon on the hot skillet flesh-side down and cook for 3 minutes. Carefully flip and cook on the skin side for 6 minutes. Continue cooking and flipping until the salmon is cooked through (depending on the thickness of the salmon, this may take an additional 2 to 10 minutes).
Remove the cast iron skillet from the heat and transfer the salmon to a plate.
Make the Cajun Garlicky Kale:
Allow the skillet to cool until it is no longer smoking. Place skillet back on the burner over low heat. Add the oil and garlic. Saute, stirring frequently, until garlic has softened, about 2 minutes. Add the chopped kale, lemon zest and Cajun seasoning. Cover and cook until kale has wilted, about 2 minutes. Remove cover and continue cooking until any excess liquid has burned off.
Serve Salmon with Garlicky Cajun Kale.
Nutrition Information
Yield

2
Serving Size

1 of 2
Amount Per Serving
Calories

636
Total Fat

45g
Unsaturated Fat

0g
Carbohydrates

6g
Net Carbohydrates

4g
Fiber

2g
Sugar

3g
Protein

44g