Beet Hash Browns are a nutrient-dense changeup to regular hash browns made with potatoes. Packed with antioxidants, vitamins and minerals, beet hash browns are a fun and delicious breakfast.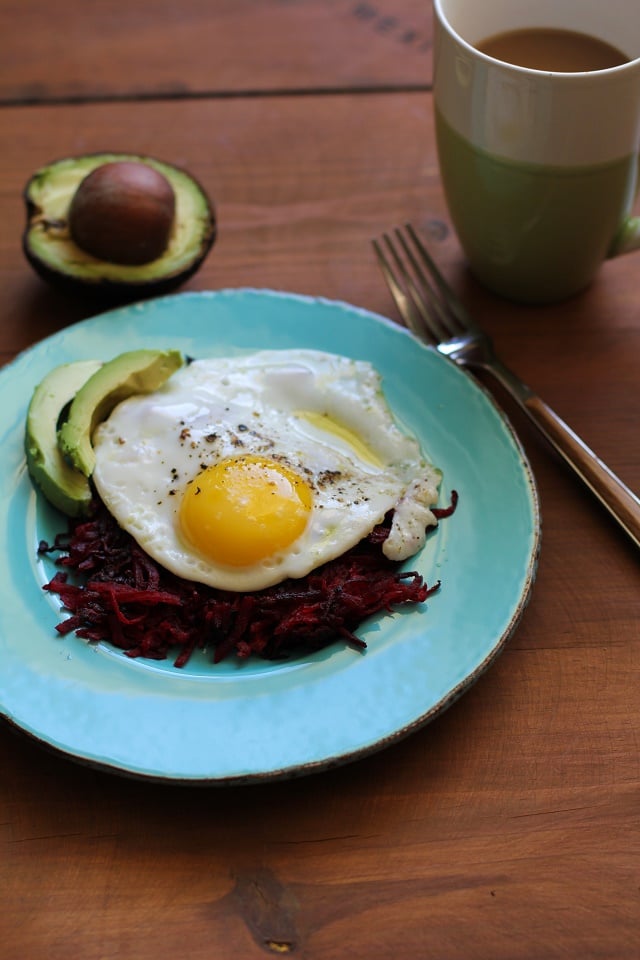 So many fond memories from my childhood are linked to family breakfast.
I couldn't reference many stories from lunch or dinner, but breakfast?
That's when all the magic seemed to happen in my household.
Both of my parents were blessed with phenomenal breakfasting skills, so while my mom would griddle the crap out of pancakes (or waffles, crepes, muffins, you name it), my dad would lay the smack down on some serious hash browns and homemade cocoa.
I loved the way my dad made hash browns when I was a kid.
They always turned out perfectly cooked on the inside with the most magnificent crisp on the outside, and oozed in butter flavor. I still believe there's no person on this planet who can make them like good ol' pop.
On account of the fact that I could basically eat nothing but potatoes every day and be the happiest person that ever did live, I thrived on hash browns in high school.
I had a ritual of preparing them after snowboarding all day, and on weekend mornings in the summer. They are, in a word, dope.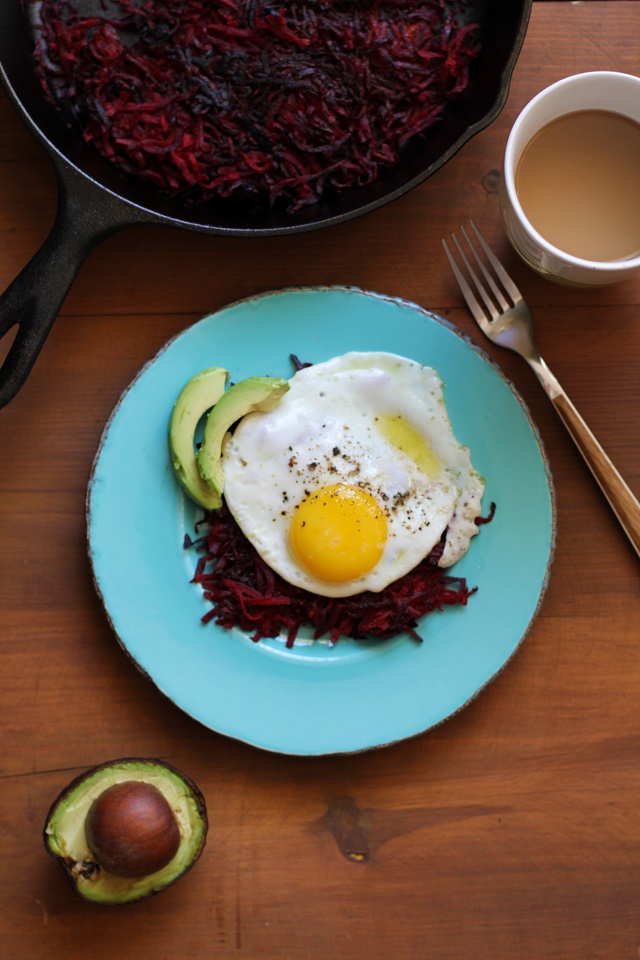 Although I'm always up for a good russet potato hash brown, I started making them with sweet potatoes a few years back (check up on my Sweet Potato Rosti recipe), and finally a few months ago it dawned on me I can make beet hash browns as well.
EUREKA!
Of course, sweet potatoes and beets are less starchy than regular potatoes, so you never achieve the full crunch you get with the regular, and yet they still come out tasting mighty fine with a little bit of caramelized-crisp fun on the outside.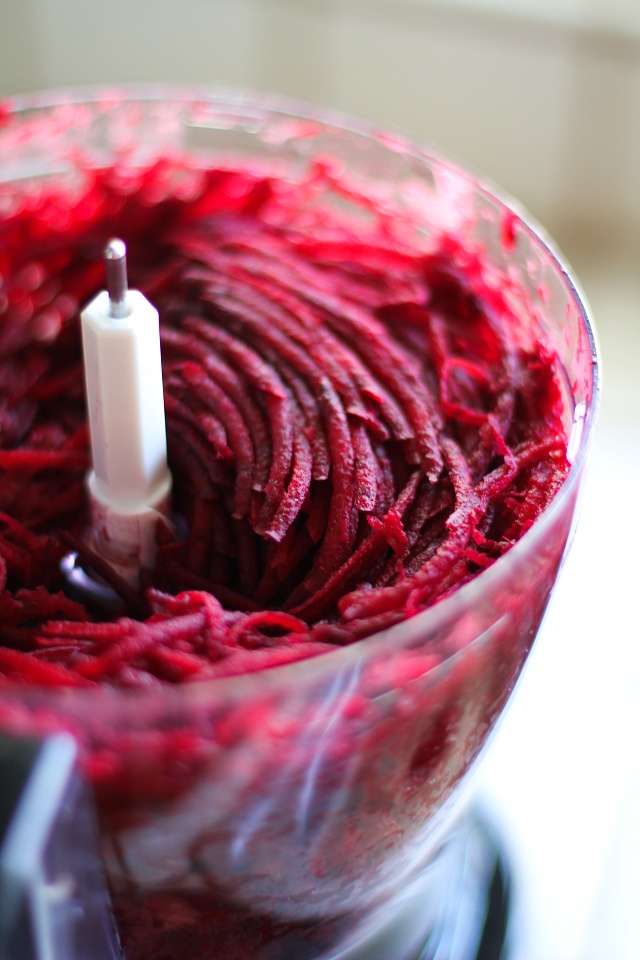 How to Make Hash Browns with Beets:
I'd be lying if I said these beet hash browns are the easiest thing you'll do all day.
They're totes not.
They definitely require a little extra love on account of the fact beets contain quite a bit of water. Essentially what you do is use your fancy shredding attachment on your food processor to shred the beets quickly and easily.
You then wrap the shreds up in cheesecloth and squeeze the moisture out of them.
Once all of the shreds have been sufficiently squeezed, you can cook the hash browns, at which point the recipe is smooth sailing.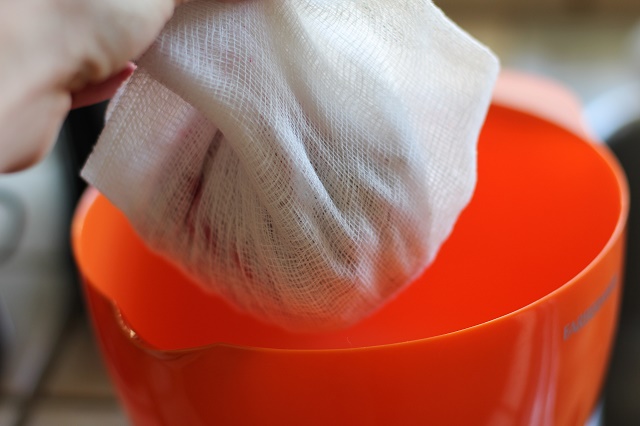 After the hash browns have been crisped up to your liking, serve them with sunny side up or fried eggs on top and poke that yolk so that it ooozes all up in the hash.
This simple egg and beet brown duo makes for a killer breakfast.
Also check out my Sweet Potato Home Fries!
Beets for breakfast, annnnnd GO!
Beet Hash Browns
Step up your hashbrowns by using beets! Nutritious and tasty!
Ingredients
Instructions
Wash and peel beets. Shred using the shredding blade in your food processor or using a box grater.

Place shredded beets in the center of cheesecloth and squeeze all of the juice out (you'll need to do this in several batches).

Heat one tablespoon of olive oil and one tablespoon of butter in a 10-inch skillet (I used cast iron) over medium-high heat.

Add the shredded beets to the skillet and pat down using the back of a spatula to create an even layer. Cook for 5 to 8 minutes, until the sides begin to brown and beets turn bright red/pink.

Drizzle two tablespoons of olive oil over the top of the hash browns and sprinkle with sea salt. Using a spatula, cut the hash browns in half down the center and carefully flip both halves. Pat hash browns down with the spatula and cook an additional 5 to 8 minutes, or until hash browns reach desired crisp.

Serve hash browns with sunnyside up eggs, and avocado.
Nutrition
Serving:
1
of 4
|
Calories:
163
kcal
|
Carbohydrates:
16
g
|
Protein:
2
g
|
Fat:
11
g
|
Fiber:
4
g
|
Sugar:
12
g