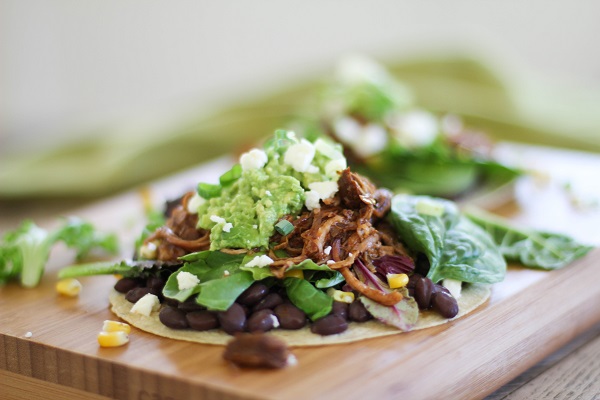 As we move through life, approaching it from certain angles, snapping photos, documenting, we can lose track of everything outside of the picture. We get stuck looking through the same lens, shooting with tunnel vision and forget to drop our shoulders, breathe, and open up to the rest of the scene. We get focused because we found something beautiful but forgot there is other beauty outside our lens.
Sometimes it takes a new angle or focal point to visualize the whole story. Sometimes it takes a series of shots – a panorama – to get a sense of the world around us. Sometimes we have to re-photograph and re-edit just to realize how connected all of us crazy humans are.
Yesterday morning, I was slightly late to spin class on account of the second cup of frothy-milk coffee that I just haaaad to make before getting in my car. I normally sit in the second row a little left of center. Because of my frothy coffee tardiness, the class filled up before I claimed my usual spinner bike so I took one that was right next to the window in the very back of the room, where I could get a side profile of all my fellow early-morning spinner buddies.
Typically I'm too tired, drenched, focused, to pay attention to anything other than holding in my burps but yesterday I had the best seat in the house. There were moments when the whole room was in complete synch. We breathed together, ached together, moved together; we were riding as a team and we were giving each other energy and smiles of encouragement.
I didn't know that all 15 of us are, in fact, Greg LeMond the second we enter the room until the second we leave…maybe we're Greg until we get in our cars…maybe we're Greg until we start driving home and start singing along to Pink…I don't think Greg would sing a Pink song out loud, but I may be speaking out of turn here.
Have I been a part of this well-oiled machine all along? Or did I just now join Team Greg because I was looking at all the LeMonds from a new vantage point?
Just like moving from one angle to another, we get a new feeling from our new view. Maybe we're more patient with each other. Sympathetic. Trusting. Forgiving. Maybe we're just a kick ass team of individuals with the same name, same goal, different shirt.
Maybe we need to all need to eat barbecue turkey together. Correction: we all need to eat barbecue pulled turkey together.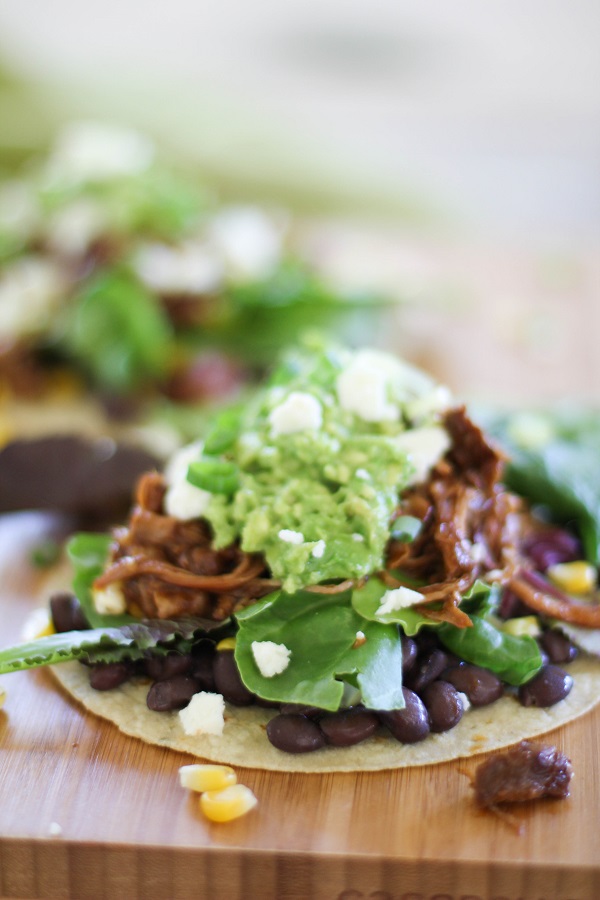 This is more of a suggestion than a recipe. An I-suggest-you-make-this non-recipe suggestion. It's stupid easy to the point where I'm almost slightly ashamed to post it….almost in the sense that I'm not really ashamed at all…but kind of ashamed….but lookit how pretty they are..
Yup, this involves a crock pot in spite of the fact that it's a million degrees outside and I'm getting upper-lip sweat just thinking about any of you turning your crocks on. Yes, if you look at my tortillas you'll notice they're still tortillas…someone over here may have forgotten the step that makes a tostada a tostada, but worry not, I included proper instructions to get this thing done right. Yes, this is not an exact science kind of recipe, which is what we can all use from time to time. A little free-style and a little less focus.
Barbecue Pulled Turkey Tostadas
An American and Mexican fusion, these BBQ pulled turkey tostadas are a delicious, filling meal.
Ingredients
For the BBQ Pulled Turkey
3

pounds

boneless turkey thighs*

18

ounces

your favorite barbecue sauce
For the Tostadas
Corn Tortillas

Black beans

Corn on the cob

Spring green mix

Green onion

Queso fresco
For the guacamole
2

ripe avocadoes

Juice of 1 lime

2

cloves

garlic

minced

Salt to taste
Instructions
To Prepare the BBQ Pulled Turkey
Place the turkey thighs in a crock pot and pour barbecue sauce over the meat. Put the crock pot on its lowest setting and allow it to slow cook for 6 hours.

Using two forks, carefully pull the meat apart – this should happen very easily.
To prepare the tostada shells:
Preheat the oven to 400 degrees F

Lightly brush both sides of each tortilla with high temp cooking oil, such as coconut oil or canola oil

Place tortillas on a parchment-lined baking sheet and careful not to overlap them.

Bake in the oven for 3 to 5 minutes until crispy on the top side.

Flip the tortillas over and bake an additional 2 to 4 minutes until crisped up. Sprinkle the tostada shells with salt.
To Make the Guacamole:
Add all guac ingredients to a bowl and mash with a fork until creamy. Add salt to taste.
To prepare the Tostadas:
Steam or grill the corn until it's cooked.

Heat the black beans

Layer your tortilla shells with beans, corn, spring greens, pulled turkey, guacamole, queso fresco, and green onion.
Notes
*I used a dark meat Diestel Turkey roast. I cut off the netting and layed the meat out flat. You can also use chicken thigh meat. Chicken breast meat is acceptable, but it won't turn out as moist and wonderful as dark meat. Just sayin.
You know what would also be great in these tostadas?? Jalapeño Ginger Cauliflower Rice!!