Spring Salad with Shaved Asparagus and Lemon-Parsley Dressing is crisp, zesty, flavorful and healthy – perfect to cool your spring fever.
Spring fever. Anyone have it? Plants are perking up, birds are chirping, animals are frolicking. You're restless… perhaps irritable… and things. Why? Why, life, whyyyyy?
I googled it and discovered the reason for spring fever is on account of all the serotonin that's rip roaring through our systems because of the increased amount of sunlight the earth has bestowed upon us, as serotonin is formed by sunlight. Winter = melatonin = hibernation. Spring = serotonin = bow chicka wow wow.
Sorry. I will never do that to you again. And I always make promises I can't keep.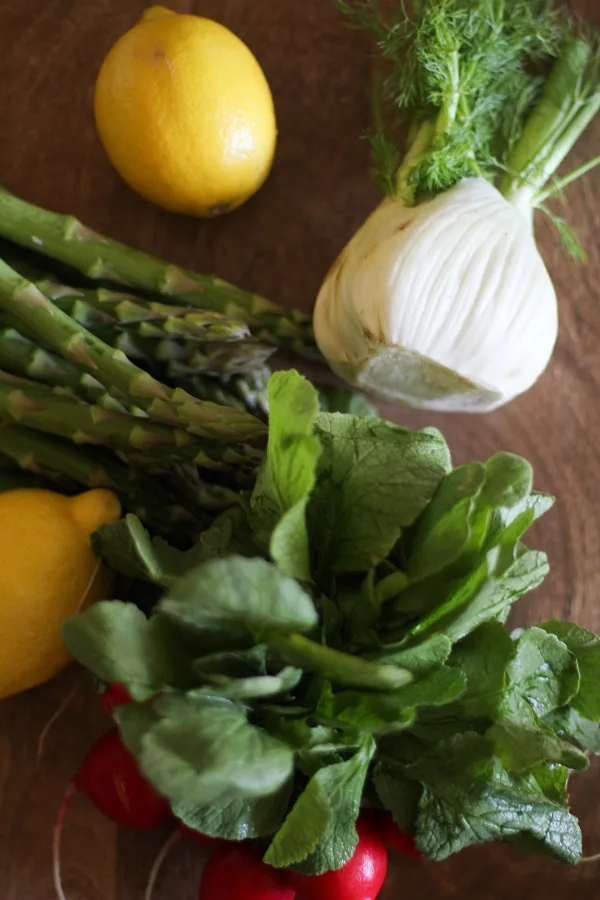 Spring salad. Should we fan your spring fever with it? Cool it down, tell it to take a chill pill?
The best part about spring other than extended daylight is all the crisp spring produce. Asparagus, radishes, fennel, citrus, root vegetables, green beans, peas, greens, greens, and greens…they're all in season and ripe for the shaving, chopping, salad-ing.
How to Shave Asparagus:
Have you ever shaved an asparagus? This was my first shaved asparagus rodeo and it was a boot-stomping hootenanny. All the asparagus got shaved. My legs were jealous.
Shaving asparagus does require a little time and energy output but what happens is pretty magical. All you need is a vegetable peeler
or potato peeler
to put asparagus in a different perspective. Simply hold one asparagus spear with one hand and use the other hand to peel it with a vegetable peeler, the same way you would a carrot.
Shaving gives asparagus a makeover. Dresses it in a new outfit. Makes it so utterly edible raw. You just take your tater peeler to raw stalks of asparagi and add in thinly sliced radishes and fennel for a spring jamboree of color and flavor.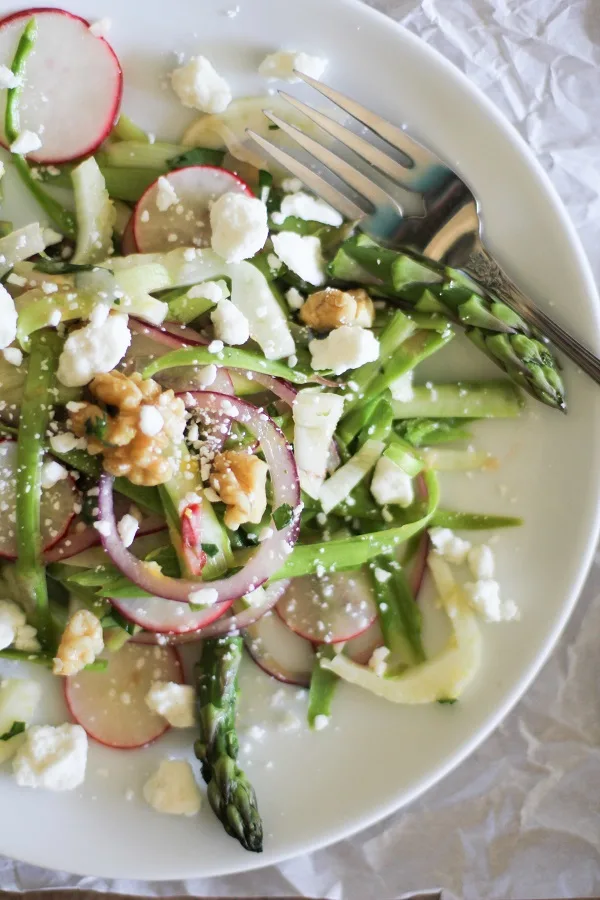 This salad took me by surprise. I was originally going to make a roasted spring vegetable salad, but it was so warm and sunny this weekend (< – – – my apologies to those who are still freezing and frowny. Winter just wasn't in our plan this year), that I decided to leave the veggies raw and whip up a zesty, herb-y lemon-parsley dressing. I was fairly certain it was going to be a blasé recipe, not meant for sharing on the blog. . .
And it was the exact opposite. The thinly sliced spring veggies with the lemon-parsley dressing, walnuts and feta cheese come together like bow chicka bow wow wow. Oops.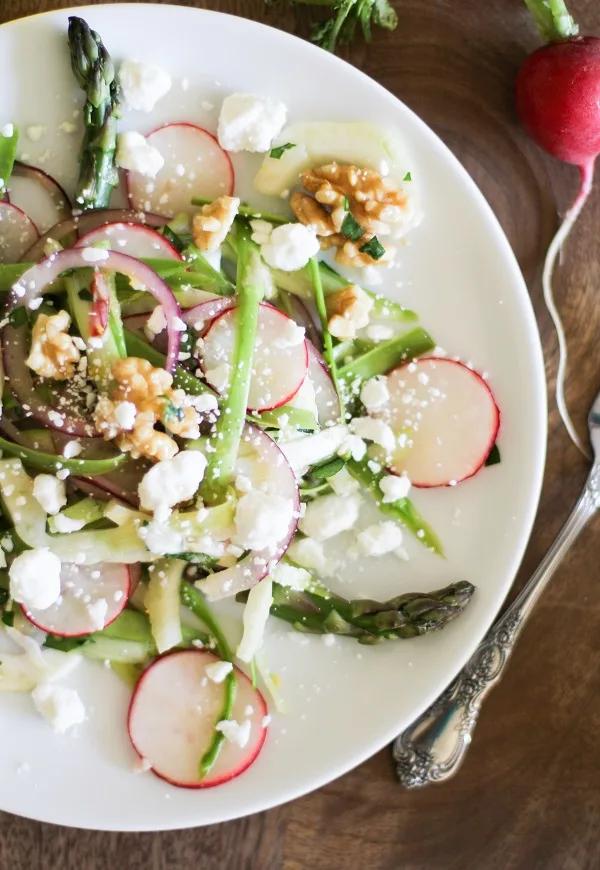 And because I can't possibly eat salad without gobs of avocado and some form of animal protein, I ate the salad with gobs of avocado as soon as I finished snapping photos.
Do the Cupid Shuffle then cool your spring fever with this spring salad.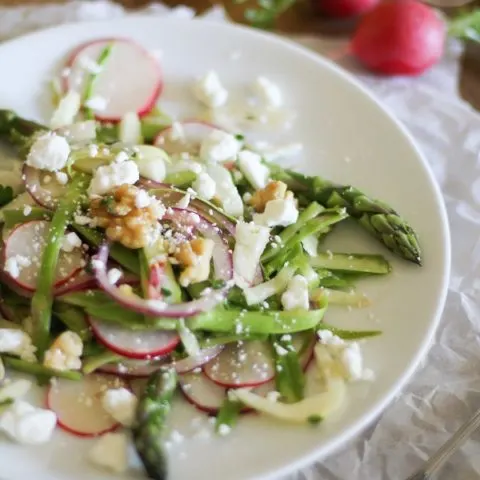 Spring Salad with Shaved Asparagus and Lemon-Parsley Dressing
Keep it fresh with this Spring Salad with Shaved Asparagus and Lemon-Parsley Dressing - an amazing side dish!
Ingredients
For the Spring Salad:
1 bunch asparagus, shaved
1 bunch radishes, thinly sliced, 8 radishes
1 large bulb fennel, thinly sliced
¼ red onion, thinly sliced
½ cup raw walnuts, chopped
½ cup feta cheese crumbles
For the Lemon-Parsley Dressing:
Zest of 1 lemon
3 tablespoons fresh lemon juice
1 tablespoon white vinegar
2 tablespoons olive oil
2 tablespoons fresh parsley, chopped
3 cloves garlic, minced
¾ teaspoon kosher salt, to taste
Options for serving:
Instructions
To Make the Lemon-Parsley Dressing:
Whisk together all of the ingredients for the dressing and set aside until ready to use.
To Make the Spring Salad:
Rinse all of the vegetables well and chop off the tough ends of the asparagus and discard.
Run a vegetable peeler (or potato peeler) down the full length of each stalk of asparagus, adding the shavings to a large salad bowl.
Once you get down to the center of the asparagus and it becomes difficult to peel, you can chop the remaining parts finely and add it to the salad.
Thinly slice the radishes and fennel bulb and add to the salad bowl along with the chopped walnuts and feta cheese.
Pour all of the lemon-parsley dressing over the salad and toss well.
If desired, serve the salad with chopped hard boiled eggs and avocado.
Nutrition Information
Serving Size

1 grams
Amount Per Serving
Unsaturated Fat

0g