Homemade green curry paste with fresh herbs, lemongrass, and chilies. It's easy and perfect for all your green curry-ing needs.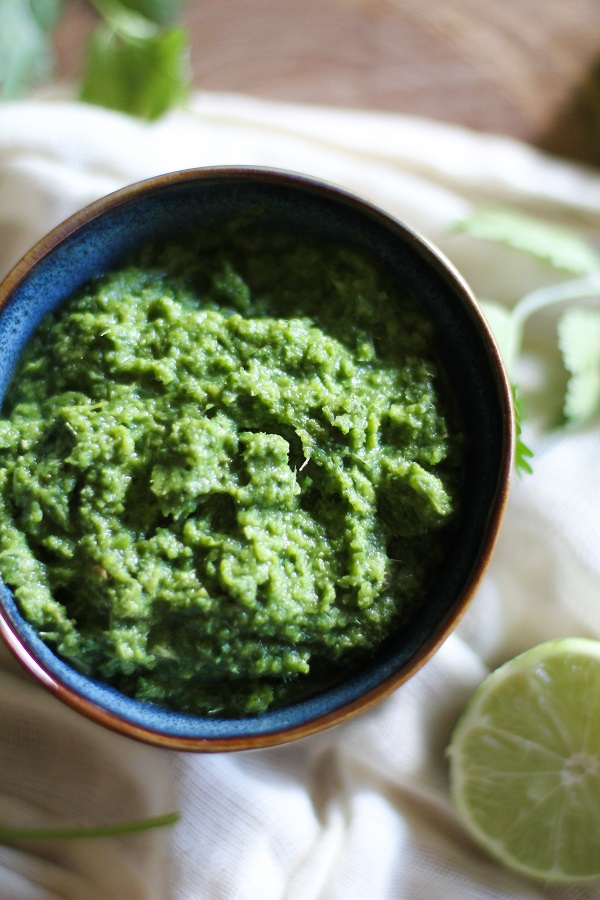 Some girls get excited over new shoes; some girls get their kicks from sauce-ing.
This green curry paste took months to come to fruition. Let me clarify: the paste took seconds to make but was months in the making. Because I procrastinated making it. For months.
When I was initially researching how to make green curry paste, I became discouraged by the ingredient list because I knew some items would be difficult to find. So I did what any motivated, all-star, grab-the-bull-by-the-horns food blogger would do. I backburnered the project.
But then I saw a green curry dish on pinterest that made me go "mmmmhmmmmm" (you'll see the recipe tomorrow), which caused me to buck up and frontburner the green curry paste. My mission: make green curry paste without driving 45 minutes to a natural food store or ethnic food store. My goal: create a straight-forward recipe anyone can make using regular ol' ingredients. Sure, the recipe won't be as authentic as the real deal, but it'll do the trick.
The Roasted Root. Making authentic things inauthentic. Just kidding. This is the real deal. Kind of.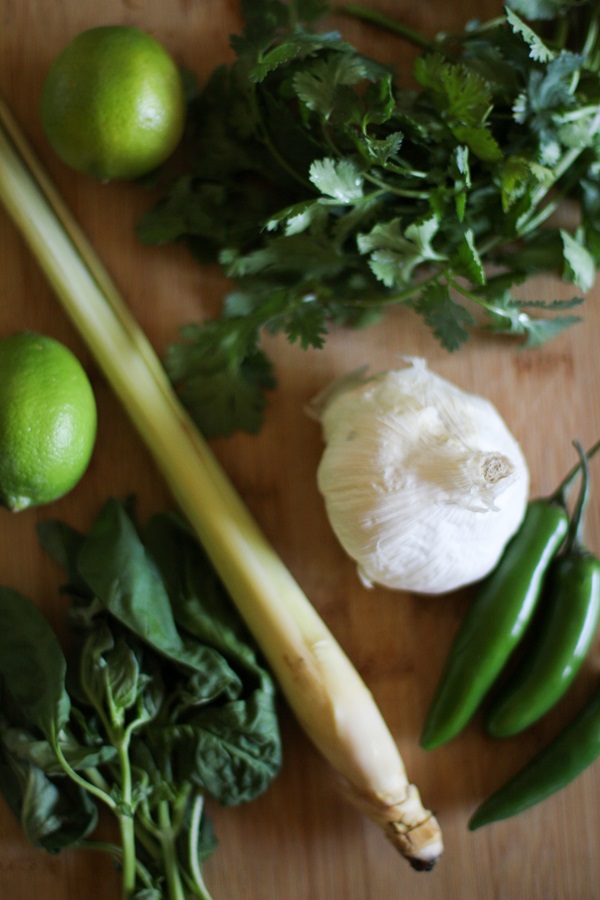 Green curry paste is used in Thai cooking and includes fresh basil, cilantro, and coriander, as well as green Thai chilies, lemongrass, garlic, ginger, kaffir lime zest, fish sauce, shrimp paste, cumin, and coconut milk. Most of these ingredients are easy to come by in my grocery store, but I got stuck on the Thai chilies, shrimp paste, and kaffir lime. I replaced the Thai chilies with jalapeños (you can also use serranos), and use a regular lime in place of the kaffir lime (which by the way, has anyone ever encountered a real kaffir lime in real life? I'm somewhat convinced they're farcical).
I opted to leave out the shrimp paste and replaced fish sauce with liquid aminos (similar to soy sauce) in order to keep the sauce vegetarian. Thankfully, we do get lemongrass at my store, but for those of you who don't, you can replace it with lemongrass paste. You're supposed to toast cumin and corriander seeds for this paste and then grind them, but that just seemed like a lot of work. So I replaced the seeds with the ground versions.
Normally, you would crush all of the ingredients together in a mortar and pestle, but I don't have one, so I put everything in a blender and chopped it up. I then added coconut milk until it became paste-y.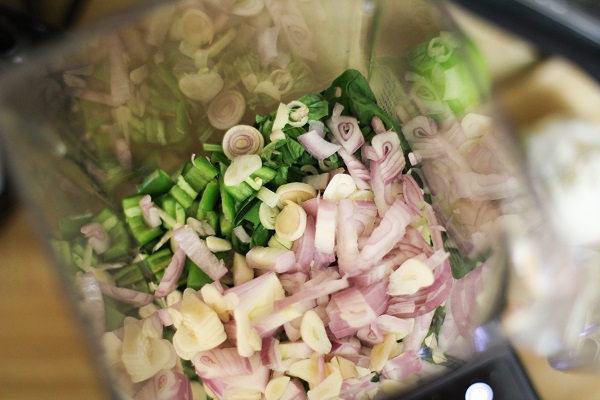 Typically when I post a sauce recipe, I tell you that I ate it off a spoon or sucked it out of a straw. Because I am, in a word, obsessed with sauces. But such is not the case here. Not that I'm not obsessed with the curry paste, just that mine turned out too spicy to eat off of a spoon. Because I added serranos. But it hurt so good. This may not be a spoon-to-mouth paste, but when it's mixed into a green curry recipe, it's wonderful!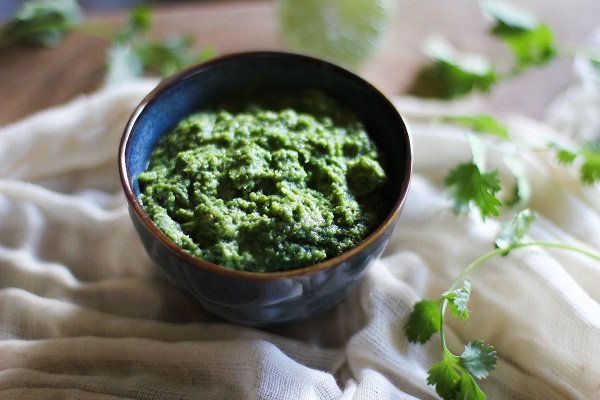 Jimmy Choos? They've got nothing on green curry paste.
Easy Green Curry Paste
Looking to try your hand at homemade curry paste? This Easy Green Curry Paste will take you there! Use it for your curry recipes!
Ingredients
½

cup

fresh basil

chopped

½

cup

fresh cilantro

chopped

1

stalk lemongrass

thinly sliced (or 3 tbl. Lemongrass paste)

2

jalapeños

seeded and chopped

1

medium shallot

chopped

5

cloves

garlic

minced

1

tablespoon

fresh ginger

grated

½

teaspoon

ground cumin

½

teaspoon

ground coriander

1

tablespoon

coconut aminos *

or low-sodium soy sauce

Zest of 1 lime

2

teaspoons

fresh lime juice

4

tablespoons

to 6 full-fat canned coconut milk
Instructions
Add all ingredients except for the coconut milk to a blender or food processor. Pulse until everything is finely chopped.

Add the coconut milk a couple of tablespoons at a time and continue blending until a paste is achieved.

Alternatively, you can use a mortar and pestle to grind everything together into a paste
Notes
*You can replace the aminos/soy sauce with fish sauce
Nutrition
Serving:
1
Tbsp
|
Calories:
16
kcal
|
Carbohydrates:
4
g
|
Protein:
1
g
|
Fiber:
1
g