Whaaat's this??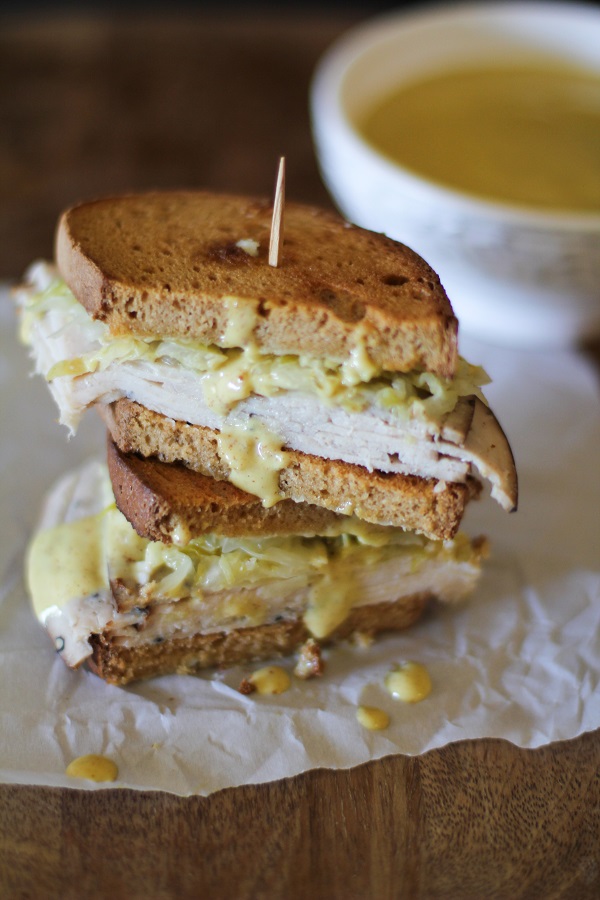 A sandwich?
There have been roughly 2.5 sandwiches in the history of The Roasted Root, so seeing one on here is like running into a One Eyed One Horned Flying Purple People Eater while ice skating on Lake Havasu in August.
Okay, that may be a stretch, but sandos are rare here, can we all agree? Can we also agree that sometimes we all just need a big meaty sandinger with melted cheese and something briny with a super special sauce on toasted bread?
Nods of agreement.
Can I just say this might be the best sandwich I ever laid mouth on? This might be the best sandwich I ever laid mouth on. Let's chat.
This is a pretty loose interpretation of a reuben.
A typical reuben includes corned beef on thick slices of rye bread with swiss cheese, sauerkraut and a Russian dressing.
So here's what I did – I replaced the corned beef with turkey pastrami (more on that in a second), skipped the rye and used gluten-free bread instead, and replaced the Russian dressing with mustard aioli.
BANG, best sando ever.
The only thing that could have made it better is if I dipped it into a vat of strawberry jam. And that is no lie.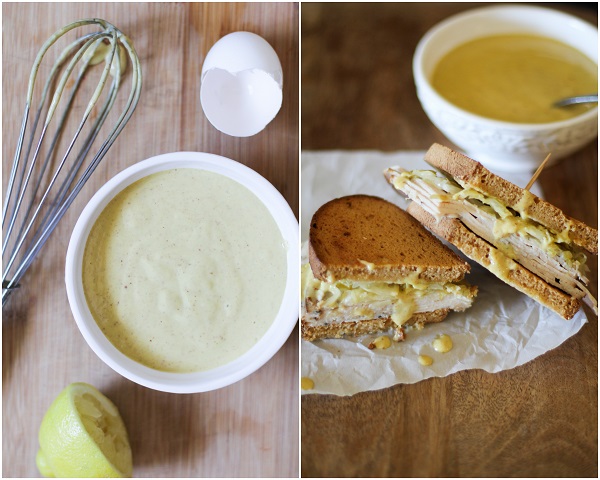 Now the meat.
One thing I don't talk about on here often is the fact that I am very particular about my meat.
I'm no where near a vegetarian (although sometimes my string of vegetarian or vegan recipes would suggest otherwise), but it's important to me that the meat I consume be humanely raised.
I am also a huge proponent of the you-are-what-you-eat mantra, so I have an appreciation for farms that raise animals naturally (meaning as free of hormones and antibiotics as possible), and on a healthful diet.
There are specific farms whose practices I admire, so I tend to stick to meat from those farms when it comes down to feeding time.
I am very much a different strokes for different folks person and realize every individual's approach to food is personal; however, I prioritize being conscious of the food I eat from a physical, ethical, and environmental standpoint.
Which brings me to my next point: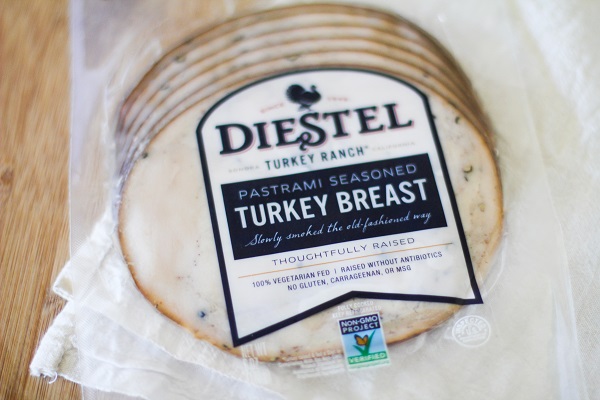 The turkey pastrami. Have you ever even heard of such a thing?
It's my favorite deli meat bar none. Recently, the Diestel Family Turkey Ranch released a new line of non-GMO deli meat, making them the first ever company to do so.
The ranch is one of the last family-owned and operated meat companies in the United States, and they have been sustainably raising animals since 1949. You can learn more about what makes their products different here.
Diestel non-GMO certified deli meat comes in a variety flavors: naturally oven roasted, naturally smoked, honey roasted, pepper roasted, herb roasted, pastrami seasoned (woop woop!), and chipotle seasoned.
Because the GMO topic can be sensitive and lengthy, I have decided to skip the discussion for this blog post. If you are unfamiliar with the topic, you can learn about it from the Non-GMO Project.
Where can you find Diestel non-GMO deli meat? Whole Foods, and possibly your local natural food store. Click here to find a vendor near you.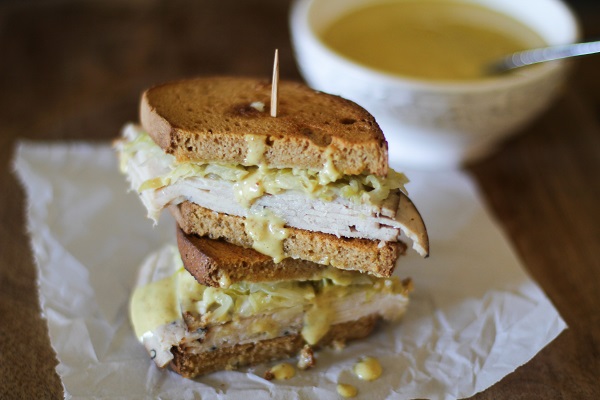 The mustard aioli. Let's get obsessed. If you've never made aioli in the comfort of your own home, do it! Raw eggs – are we afraid of them?
Naaaah!
Yes, you need raw egg yolk for aioli, but you can temper the yolk if the raw thing is too much to handle. The mustard aioli makes for good eats, and it's how this dreamboat comes together like whoa.
You will want to put it all the places, and you would be right to do so.
Let's make this dreamboat happen.
I adapted the recipe for the mustard aioli from How Sweet it Is.
Turkey Pastrami Reuben with Mustard Aioli
The BEST Reuben on the face of the planet 😉
Ingredients
For the Reubens:
Gluten-free bread of choice*

Swiss cheese

Sliced Turkey Pastrami

Mustard Aioli

recipe below
For the Mustard Aioli:
2

tablespoons

Dijon mustard

1

egg yolk

1

tablespoon

fresh lemon juice

½

cup

olive oil

3

tablespoons

stone ground mustard
Instructions
Prepare the Mustard Aioli:
Add the Dijon mustard, egg yolk, and lemon juice to a mixing bowl and whisk together until smooth.

Slowly incorporate the olive oil into the mixture, whisking small amounts of it in at a time until it is completely incorporated. Whisk vigorously until mixture is thick and creamy.

Add the stone ground mustard
Prepare the Reube Sandwiches:
Put your oven on the high broil setting.

Place slices of bread on a baking sheet and place on the top (or second to the top) wrack in your oven. Bake for 2 to 3 minutes, or until bread reaches desired crisp.

Remove from the oven and flip all slices of bread over. Add sliced or grated Swiss cheese to half of the slices of bread, and place back in the oven for 3 minutes or until cheese has melted and bread is toasted.

Add desired amount of turkey pastrami meat, sauerkraut, and mustard aioli to each sandwich.

Slice sandwiches in half and devour.
Notes
Nutrition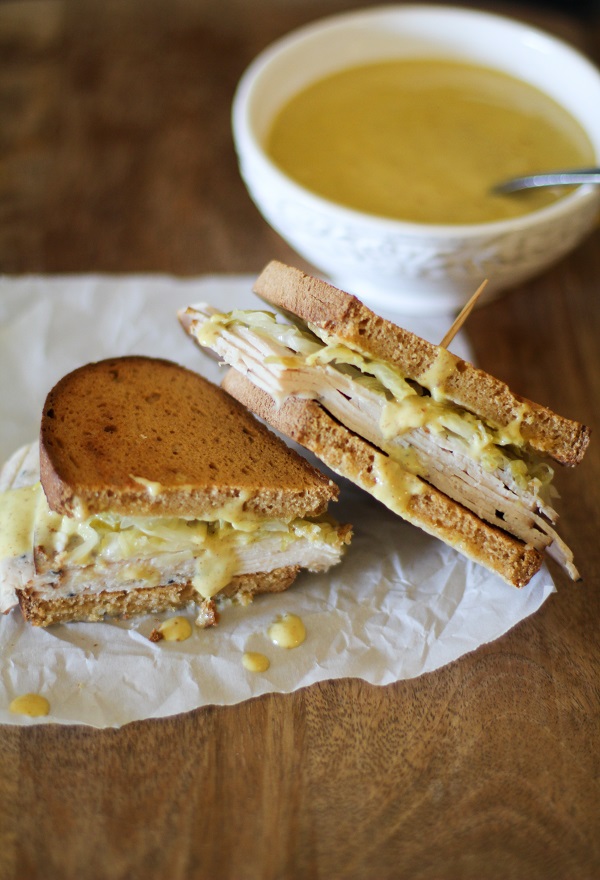 This is not a sponsored post. I admire the Diestel Family Turkey Ranch for their sustainable and humane practices, and all opinions in this post are my own.