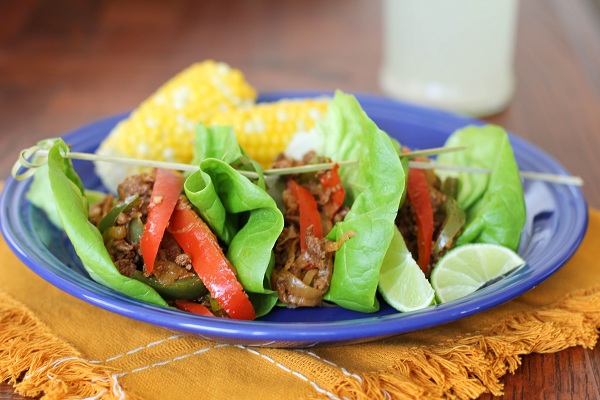 Spring has sprung a leak and it has brought my favorite cabbage patch kid look-alike in the grocery store: butter leaf lettuce! There aren't many vegetables that I feel the urge to hug, and butter leaf lettuce happens to be one of them.
My view on lettuce wraps: tacos on a diet. My view on tacos: cooooooome to momma! After I took a couple of diggers on a poppy-filled jog through spring paradise, my sweetpea and I made a big pile of turkey fajitas and then made them into lettuce wraps. Correction: I made lettuce wraps…the boyfriend put the fajitas on a cheesy toasted sandwich bun and left me to my diet tacos rabit food.
They're full of fajita flavor, they're easy, they make leftovers. Done!
If you've been hanging out with The Roasted Root for quite some time, you're familiar with the fact that dinner becomes breakfast with the simple addition of eggs and greenery. We used our fajita leftovers in a breakfast scramble, simply adding spinach and cheese.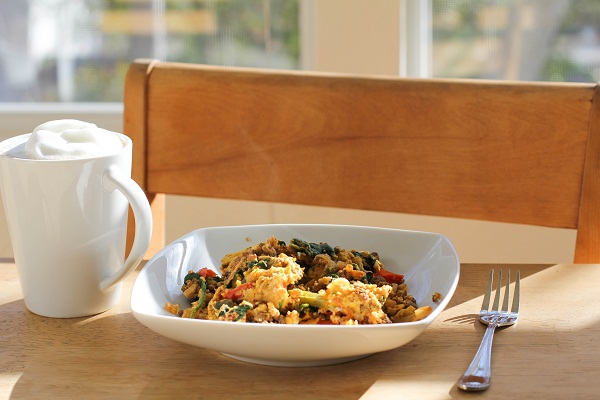 One dinner, one breakfast, one fajita!
Turkey Fajita Lettuce Wraps
These turkey fajita lettuce wraps are a flavorful, delicious low-carb dinner recipe perfect for any night of the week!
Ingredients
3

tablespoons

olive oil

1

large yellow onion

sliced

1

red bell pepper

cut into strips

1

green bell pepper

cut into strips

4

cloves

garlic

minced

1

pound

ground turkey meat

2

teaspoons

chili powder

2

teaspoons

ground cumin

1

teaspoon

paprika

½

teaspoon

salt

Butter leaf lettuce

rinsed and patted dry

Cheese and other toppings
Instructions
In a large skillet or wok, heat olive oil over medium and sauté the onion until it begins to sweat and starts to become translucent, about 5 minutes.

Add the bell peppers and continue sautéing another 7 minutes before adding the garlic. Cook until bell pepper is tender but still al dente. If at any point, the veggies look like they're drying out, add a couple of tablespoons of water or broth to help them steam.

Add the ground turkey meat along with all of the spices and salt. Stir and chop the meat into quarter-sized hunks. Continue stirring and cooking until meat is cooked all the way through, about 5 to 8 minutes.

Prepare your lettuce wraps by spooning desired amount of fajita fixings on top of lettuce leaves. Add desired toppings, such as cheese, rice, beans, avocado, salsa or sour cream.

Wrap and enjoy!
Nutrition