Sweet Potato, Parsnip, and Broccoli Frittata with grated vegetables for a nutrient-dense breakfast. A.k.a. majorly awesome root vegetable frittata that you can make in a split second slash 40 minutes.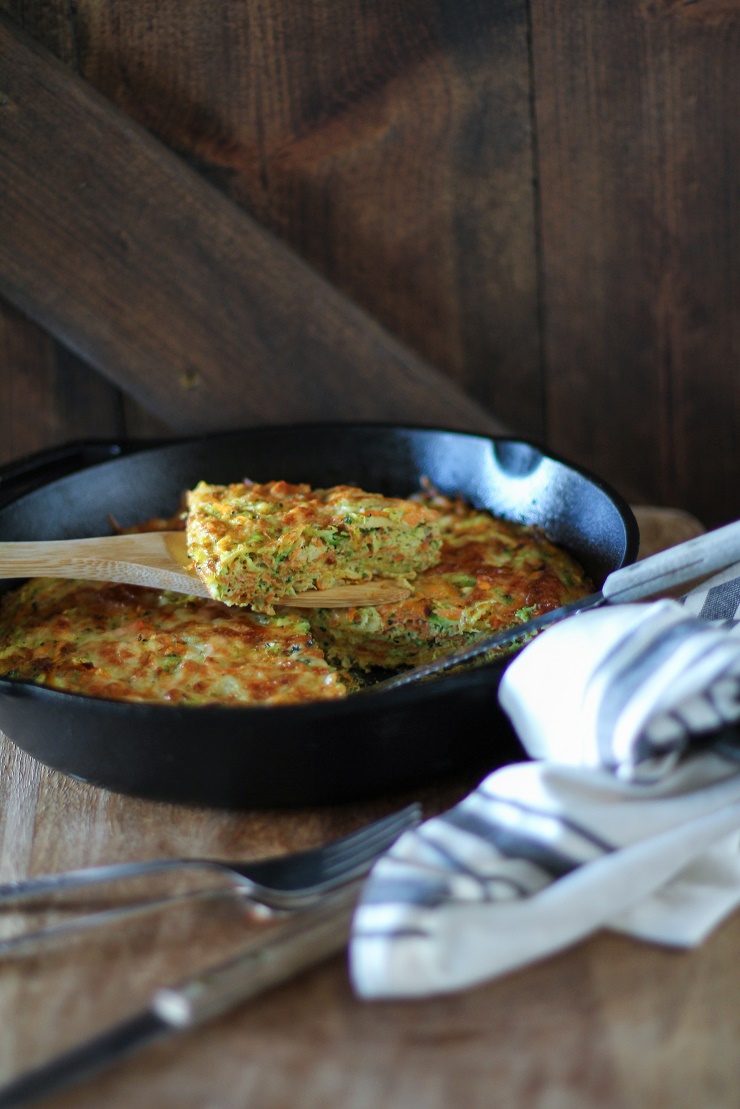 Frittatas. I think I've figured them out!
Call them what you'd like: crustless quiche, egg casserole, brunch of the Gods, you name it.
I make frittatas regularly, but I've shied away from posting the recipes because they tend to require more work than most people are willing to put into a lazy Sunday morning.
I typically add sweet potatoes to all my eggs, and as we know, sweet potatoes take YEARS to cook.
But, people, I got smart. I grated those sons of beehives and tossed them right into the frittata…no pre-cooking, no funny biznatch…just some grated sweet potato, parsnip, and broccoli all up in your egg bake.
I'm starting to believe that grating vegetables is the new way to go. Move over spiralizer, the box grater's in the house!
Grating takes no more time than chopping, and you can eliminate the cooking step like whoa. For those of us who don't want our healthy breakfast to take eons, this frittata's our jam.
So here's the deal:
We grate.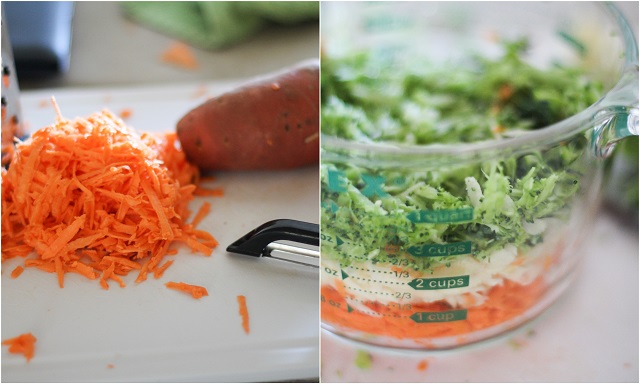 We whisk.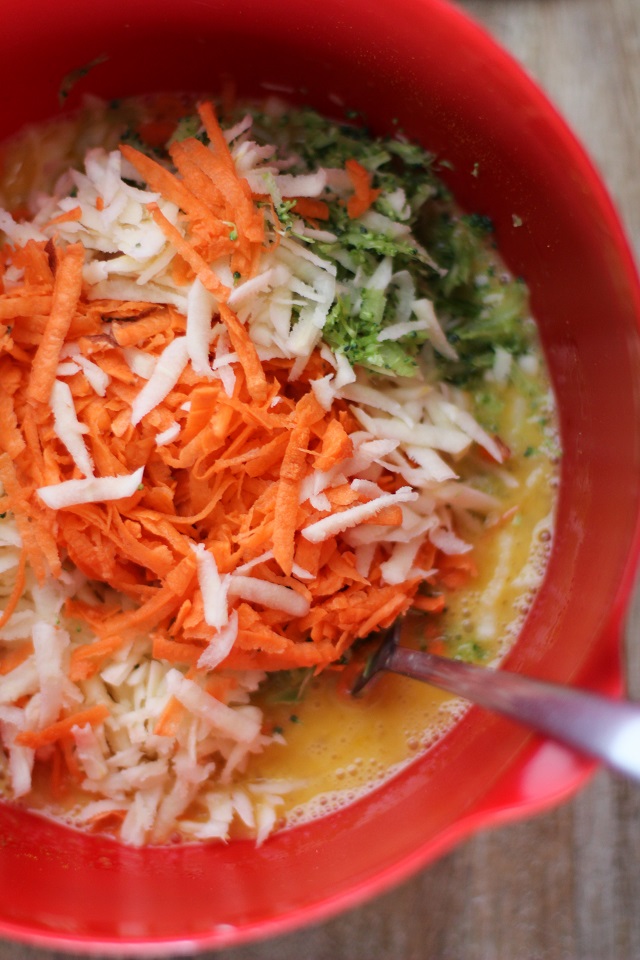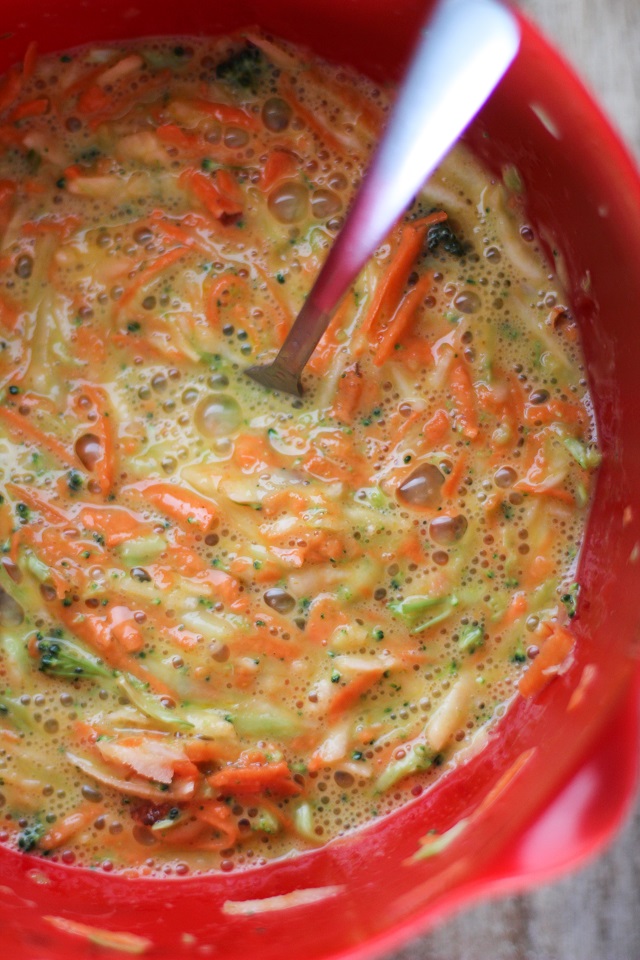 We sprinkle.
We bake and enjoy.
#SteamShot: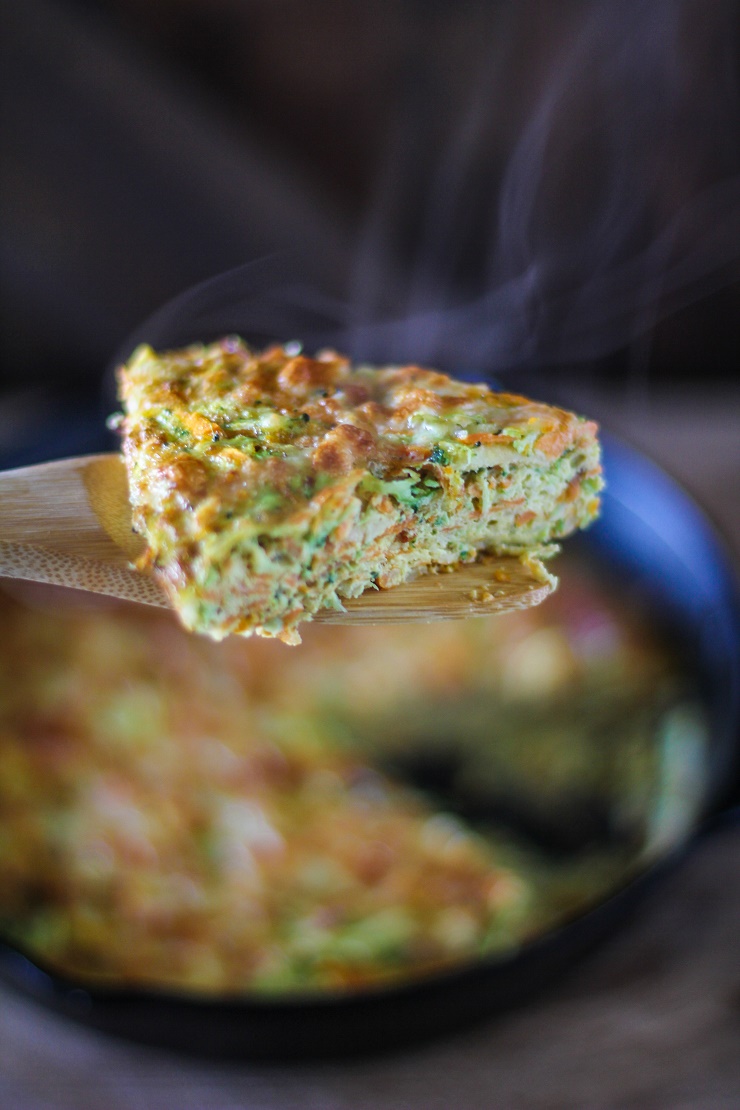 Ingredients for Vegetable Frittata:
For this particular frittata, I grated half a sweet potato, a big parsnip, and half a crown of broccoli. You can use any hearty veggies you'd like, such as cauliflower, carrots, turnips, etc.
You can even throw in some chopped green onion and/or fresh herbs. You're looking to achieve a 3-4 cups of veggies per 8 egg ratio. Or something of that nature…there really are no rules. Except, don't add fresh tomatoes…that'd be mushy.
I added curry powder to the mix, because have you tried curry powder with eggs? It's magnificent. I baked the thing with some cheese on top, but if you're a dairy-free eater, no probs: simply skip the cheese – the frittata has plenty of flavor on its own.
And don't forget to garnish with a healthy squirt of sriracha, because nothing says, "Good morning!" like a little kick to the taste buds.
Grate thy veggies.
Sweet Potato, Parsnip, and Broccoli Frittata
A healthy vegetable packed frittata for breakfast or brunch.
Ingredients
1 1/3

cups

sweet potato

grated (1/2 medium potato)

1

cup

parsnip

peeled and grated

1 1/3

cups

broccoli

grated

8

eggs

¼

teaspoon

sea salt

1 1/2

teaspoons

yellow curry powder

1

cup

jack cheese

grated
Instructions
Preheat the oven to 400 degrees F. Oil a 10-inch cast iron skillet or 8" x 8" casserole dish.

Whisk the eggs in a large mixing bowl. Add the grated vegetables, salt, and curry powder. Stir well to combine.

Pour the egg/vegetable mixture into the prepared cast iron skillet and sprinkle with cheese. Place on the center rack of the oven and bake for 20 to 25 minutes, until the frittata tests clean. Note: Your bake time may be slightly longer if you use a glass casserole dish.

Remove frittata from the oven and allow it to cool for 5 to 10 minutes before cutting into it. Serve heaping portions with hot sauce, salsa, guacamole, sour cream, etc.
Nutrition
Serving:
1
Serving
|
Calories:
339
kcal
|
Carbohydrates:
21
g
|
Protein:
15
g
|
Fat:
19
g
|
Fiber:
4
g
|
Sugar:
5
g