Happy Mondayyyy! You look like you could use some vitamins.
Just like the title says, I have a wee announcement for you. Don't be silly, it has zero things to do with buns, ovens, rings, escrow, contracts of any kind, the lottery (much to my dismay), or anything that rhymes with shmuhmitment.
I'll give you a hint: I've gained roughly 5 pancake pounds.
Ah heck with it, I'm writing an e-book!
The topic is super top secret, hush hush, not going to let the cat out of the bag just yet, don't want to spoil the surprise, it's on pancakes. For real. I'm writing a gluten-free pancakes e-book!
…and possibly waffles and/or other breakfast-y foods you can slap down on a plate and slather in fruit, syrup, and/or bacon fat and runny egg yolk. Can you tell my book is already super well-structured? Since we're on the topic, do you prefer waffs over hotcakes or hotcakes over waffs? What about quickbreads? Dutch babies? Enchiladas?
Just checking.
Just doing my market research.
Those of you who have been going steady with me for a number of years know I used to post a gluten-free pancake recipe every Friday. The obsession is real. Get pumped and primed. Stock your pantry with GF flours, because we've got stacks on deck and this ish is gonna boom clap you in your facetrap.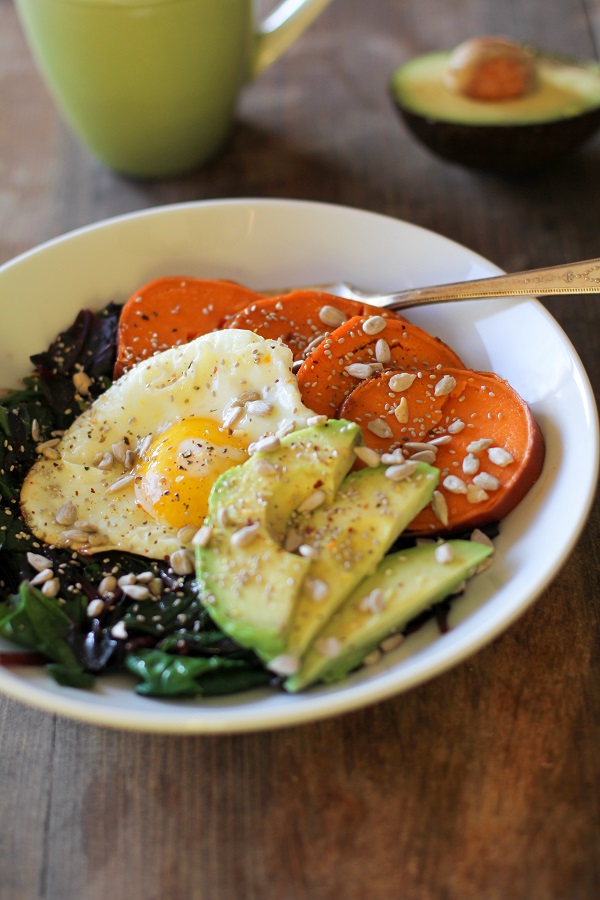 I've been eating 98% of my weight in pancakes and supplementing the other 2% with greens, sweet potatoes and eggs. So basically, I've been eating breakfast for all the meals. It's refreshing.
How do you take your eggs? Do you like a little run in your yolk? Skip the eggs and get ya a blueberry muffin slash blueberry pancakes?
I normally prefer my eggs scrambled and chockablock full of veggies – always with sweet potato and some form of leafy green. Served with avocado and salsa for an epic win. Recently, I've been going the same route but taking a deconstructed approach. I simply roasted up a sweet potato (which can be done while you're watching your 18th sequential episode of White Collar), sauteed up some greens, and stuck the veggies in a bowl with sunnyside up eggs, avocado, and crunchy sunflower seeds and chia seeds.
These bowls can be thrown together in 5 minutes flat if you roast the sweet potato ahead of time (one large sweet potato lasts me about 4 breakfasts), making them a great meal to wolf down before your busy work day begins. Don't skip the seeds!
Let's talk about beet greens for a hot minute. What the heck are they? They're the stemmy greens attached to beets, you'uns! All of us who have bought a bunch of beets are guilty of chopping off the greens and tossing them in the trash. Those greens are packed with nutrients, and needn't be thrown away! I love using beet greens in salads, stir fry, or in breakfast scrambles. For this breakfast bowl, I used a combination of beet greens and spinach. If you don't typically buy beets, you can simply use additional spinach, kale, or chard in place of the beet greens. It's your bk bowl and you'll green how you want to.
I solemly swear I won't make pancakes out of beet greens.
…
But I can't say the same thing about kale.
Break that fast.
Sweet Potato Breakfast Bowls with Beet Greens and Avocado
Sweet Potato Breakfast Bowls with Beet Greens and Avocado are loaded with nutrients for an amazing way to start the day.
Ingredients
1

large sweet potato

roasted

1

tablespoon

grapeseed or olive oil

3

cloves

garlic

minced

2

ounces

bunches beet greens

washed and chopped (about 3 to 5 )*

5

ounces

baby spinach

4 to 8

eggs

fried, scrambled, or poached

1

large avocado

sliced

Salt and cracked pepper to taste
For Serving:
Sunflower seeds

Hot Sauce

Salsa

Sour Cream/Greek yogurt
Instructions
Preheat your oven to 400 degrees F.

Wash and pat dry the sweet potato. Poke holes in it using a fork, wrap it in foil, and bake in the oven for 60 to to 70 minutes, or until very soft and juices are seeping out. Remove potato from the oven and allow it to cool before removing the foil. Slice it into thick slices and set aside until ready to use.

In a large skillet, add the oil and heat to medium-low. Add the garlic and saute until fragrant, about 1 minute. Add the chopped greens and spinach and cover the skillet with a lid. Allow greens to cook until softened, about 2 to 3 minutes.

Divide greens between 4 bowls. Add sweet potato slices, avocado, and fried eggs.

Serve with sunflower seeds, chia seeds, salsa, and/or a dollop of sour cream or plain Greek yogurt.
Notes
*You can replace beet greens with your choice of spinach, chard, or kale
Nutrition