Black Bean Tacos Sweet Potato, Quinoa, and Lemon Tahini Sauce for a healthy gluten-free vegan taco recipe.
Mondeeeeeeee! We're going meatless!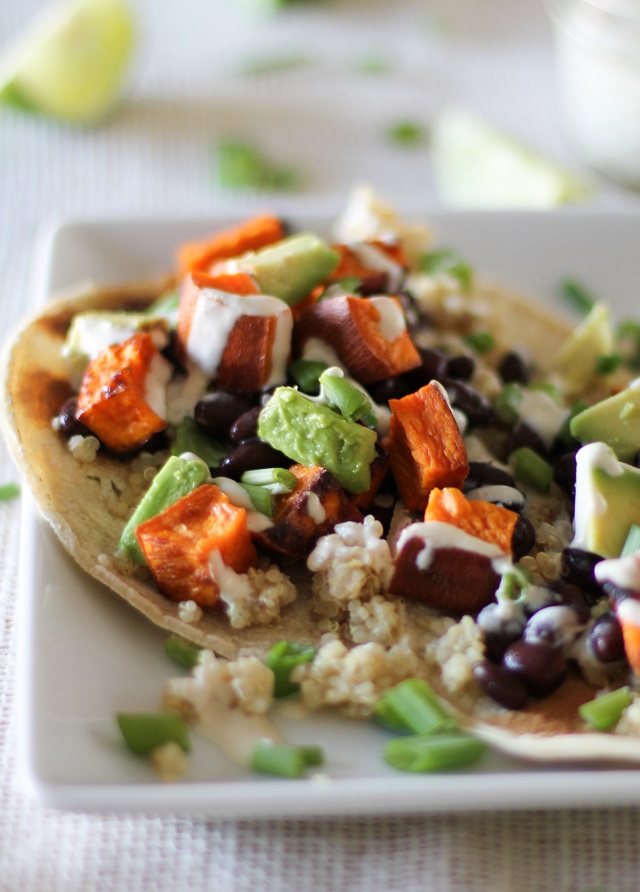 It's Monday and we're all groggy from daylight savings, but looky here: we've got tacos!
Do you ever say to yourself, "I want a taco right now, and I need it to be meatless?" I typically like my tacos oozing with saucy meat, but I've needed to take a brief hiatus from the animal lately on account of the fact that I've been eating so dang much of it. I mean, have you been around here the last couple of weeks? It's been a real animal house.
In honor of my meat hiatus, I have a Meatless Monday meal for you! I made us a taco that's loads better than loosing an hour of sleep, right up there with the new Rihanna, Kanye and McCartney song, and almoooost as good as two of my favorite artists, Zac Brown and Chris Cornell, singing a little ditty together.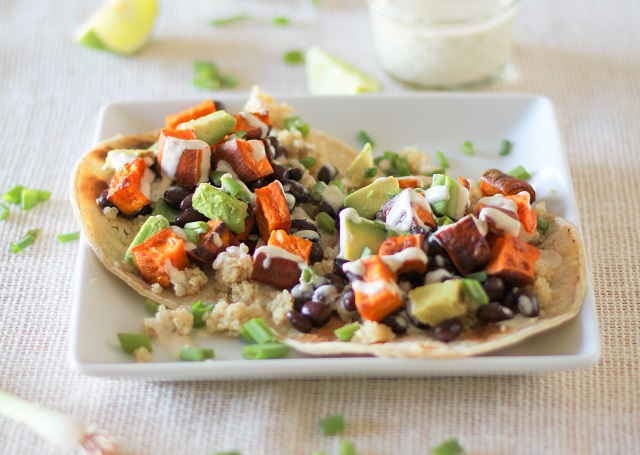 This is a simple, super filling, and tasty recipe to keep you fed throughout the workweek. You can prepare any of the ingredients ahead of time and eat on them for lunch or dinner.
Yes, you will use all sorts of pots and pans in the making of these tacos, but the actual effort you put into the prep is child's play, I promise.
Just as the title suggests, our meatless tacos include quinoa, black beans, roasted sweet po's, some avo, and green onion. The lemon tahini sauce is what really seals the deal, so be sure to make it a priority.
Or whip up your sauce of choice, like guac, salsa, queso, cashew cream, what have you. What I'm getting at, is sauce is really what makes these things gravy. Make it saucyyyyy!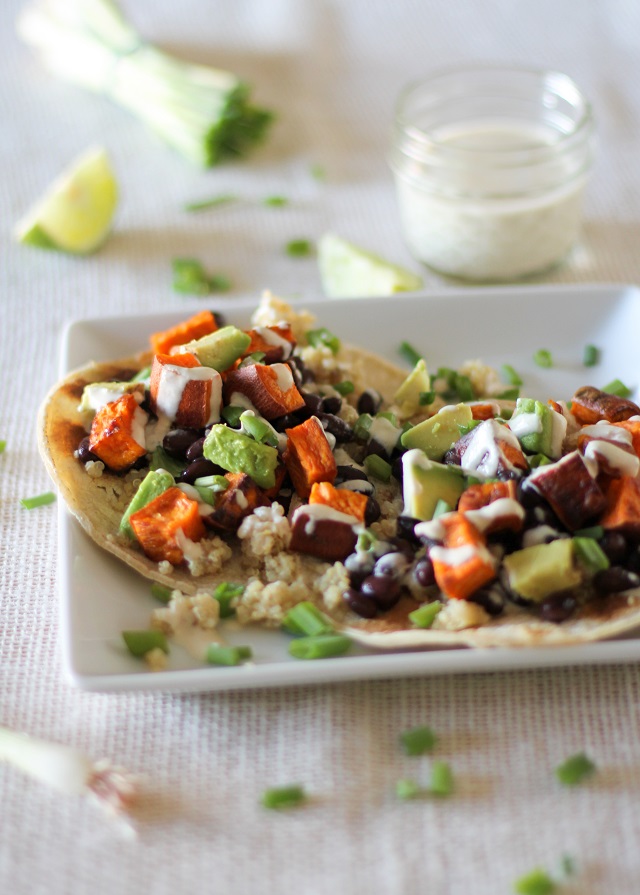 Sweet po tacooooooooooos!
Sweet Potato and Black Bean Tacos with Quinoa and Lemon Tahini Sauce
Vegan tacos never tasted so good with these amazingly flavorful roasted sweet potato and black bean tacos. It's all about that tahini sauce!
Ingredients
1

large sweet potato

chopped into ½" cubes

2/3

cup

dry quinoa

about 2 cups cooked

1 14-

ounce

can black beans

drained and rinsed

1

large avocado

peeled and diced

6 to 8

corn tortillas

4

green onions

chopped
Lemon Tahini Sauce:
3

tablespoons

fresh lemon juice

¼

cup

water

¼

cup

tahini

2

teaspoons

honey or pure maple syrup

½

teaspoon

ground cumin

¼

teaspoon

fine sea salt or to taste
Instructions
Prepare the Lemon Tahini Sauce:
Add all ingredients for the sauce to a small blender or food processor. Blend until completely smooth. Refrigerate until ready to use. Note: Sauce will thicken in the refrigerator.
Prepare the Tacos:
Preheat the oven to 400 degrees F.

Spread the chopped sweet potato over a large baking dish and drizzle enough olive oil to lightly coat, about 2 tablespoons. Sprinkle with sea salt and chili powder. Bake for 30 to 40 minutes, until sweet potato is golden brown and cooked through, stirring once after 20 minutes.

While the sweet potato is roasting, cook the quinoa per package instructions.

Heat black beans on the stove top and toast the corn tortillas.

Prepare tacos by adding desired amount of quinoa, beans, sweet potato, avocado, and green onion to corn tortillas. Drizzle with desired amount of lemon tahini sauce.
Nutrition