Energy balls with dried blueberries, dark chocolate, almonds, walnuts, dates, pumpkin seeds, flax seed oil, and more. This easy and nutritious snack recipe is a great low-sugar alternative to packaged snacks.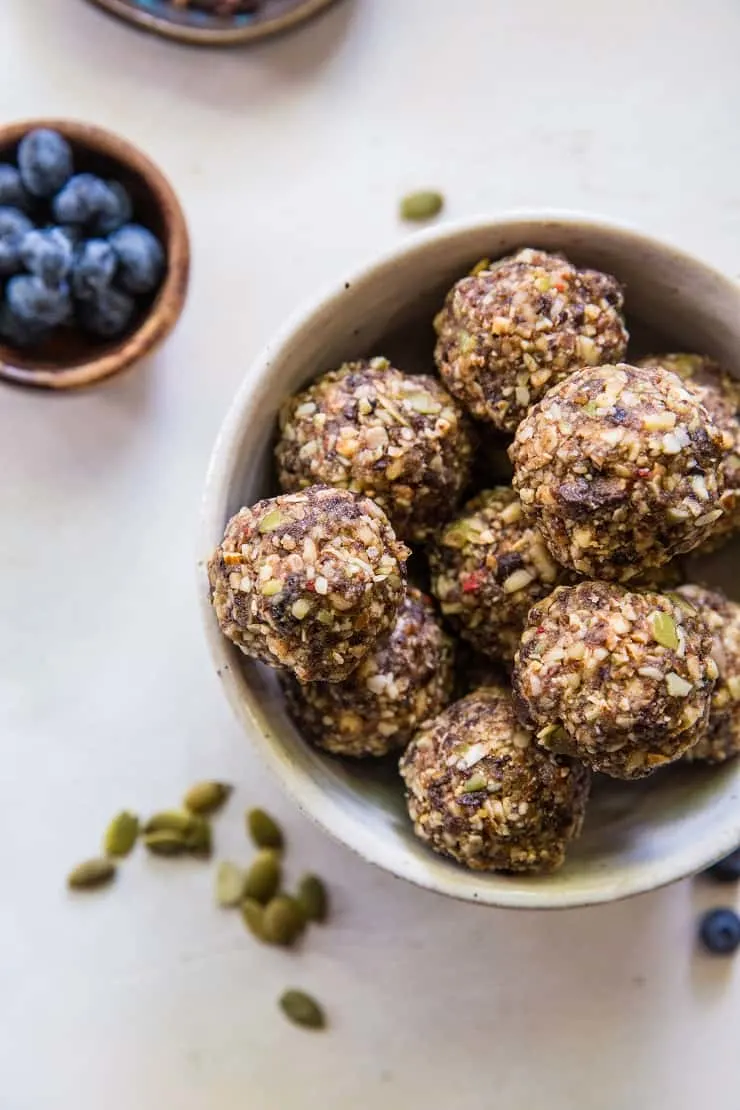 You may have noticed a theme with my snacks section of this site. Let's face it – they're mostly nut-based and they're mostly balls. The amount of snack recipes I share in comparison to main dishes is pretty dismal by virtue of the fact that I'm not a big snacker.
But when it comes to nuts, seeds, and dried fruit all balled up together in an energy bite? Sign me up.
When I head out of town for a long road trip or go for a long jaunt in the mountains, I'll often snag some balls in case I have to go more than a few hours between meals. I don't rely on store-bought snacks, as I find they contain too much sugar and/or contain ingredients I try to avoid.
For this rendition of energy balls, I used all superfood ingredients to generate a ball that is jam packed with healthy fat, antioxidants, minerals, and all sorts of health benefits. PLUS they taste like blueberry chocolatey goodness, which is a major win in my book.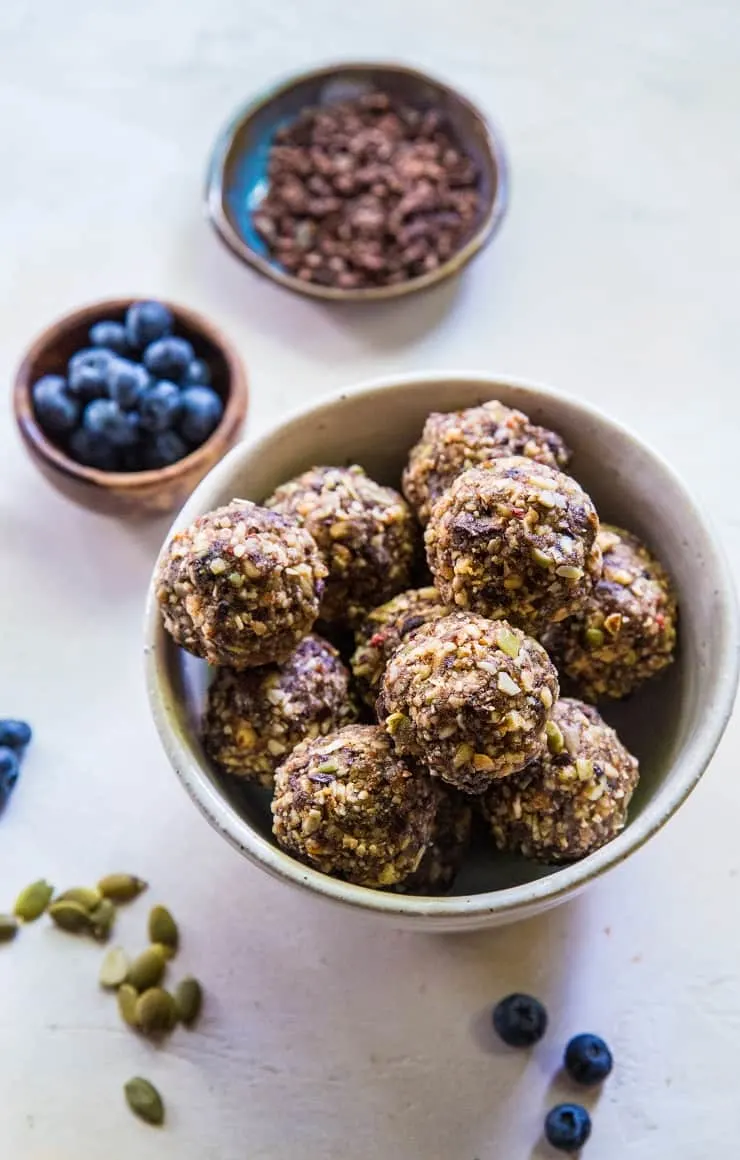 Let's chat about superfood.
What Makes These Energy Balls Considered "Superfood?":
The word, "superfood" refers to a food that is very nutrient-dense. As we all know, not all foods are created equally, and similarly, not all "health" foods are created equally.
All of the ingredients in these energy balls are considered superfoods. So let's discuss each one briefly.
Almonds (and Almond Butter): Almonds are full of antioxidants, Vitamin E, can help lower cholesterol, and also may help lower blood sugar. A great source of healthy omega-3 fats.
Walnuts: Walnuts contain the highest amount of omega-3 fats than any other nut or seed. They're packed with antioxidants, and may help reduce blood pressure and inflammation.
Dark Chocolate: Dark chocolate is an excellent source of magnesium, antioxidants, and may help increase blood circulation. It is also said dark chocolate may reduce the risk of heart disease and is also a natural aphrodisiac.
Dried blueberries: Blueberries help lower blood pressure and are ultra packed with antioxidants, which protect against cancer and disease. I use Steve's PaleoGoods Dried Blueberries (not sponsored), which are sweetened with apple juice.
Pumpkin Seeds: Pumpkin seeds are high in magnesium, antioxidants, and may help lower blood sugar. They also help with hormonal balance, as they boost estrogen. Pumpkin seeds also contain zinc, which can also help convert tryptophan to serotonin, thereby regulating your sleep cycle.
Ground Cinnamon: May help lower or stabilize blood sugar, so a great ingredient to consume in tandem with fruit for balancing sugar.
Flaxseed Oil: Flax seeds help with healthy hormone balance, and the oil is full of healthy omega-3 fats. It also may help lower cholesterol and can help reduce the risk of cancer.
Summary: All characteristics added up yields an energy bite that is high in omega-3 fatty acids and antioxidants and has the potential to help maintain a healthy weight, ward off disease and cancer, reduce the risk of heart disease, increase blood flow, balance hormones, and decrease blood pressure. That's a lot of bang in one ball!
Does this mean you should consume these energy balls without reserve? No. It just means they are packed with nutrients and are a much healthier snack option than most processed convenience foods.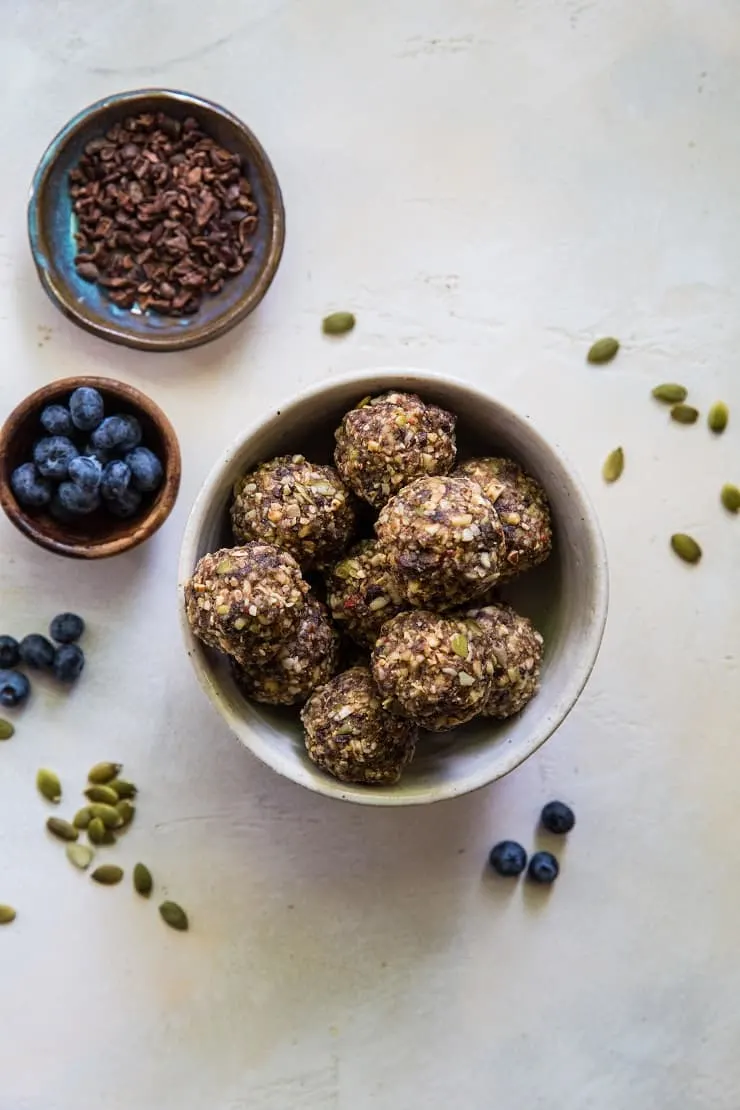 How to Make Superfood Chocolate Energy Balls:
Select your superfood ingredients. I use almonds, walnuts, a dark chocolate bar, dried blueberries, dates, pumpkin seeds, flaked coconut, almond butter, and ground cinnamon. See the Recipe Adaptations section below for ideas on how to replace some of these ingredients with other superfoods.
Simply add all of the ingredients to a food processor and process until a thick sticky dough forms.
Transfer the mixture to a sealable container and freeze for at least 2 hours. This will help set up the ball mixture so that it's easier to form into balls.
Make desired size balls and store in a sealable container in the refrigerator or freezer.
How to Store Energy Balls:
My preference for storing energy balls or balls is keeping them in a zip lock bag in the freezer. Because they contain a great deal of fat, they stay soft enough to chew (you won't break a tooth on them). Simply snag one from your bag when you have the hankering, or pack up a few to go!
The energy balls may be stored in the refrigerator as well. I simply freeze them in case I don't go through them quickly enough. They will last in the refrigerator for up to 3 weeks and in the freezer for over 3 months.
Recipe Adaptations:
Add goji berries (I often do this!)

Replace walnuts and almonds with cashews, pecans, brazil nuts, and/or pistachios.

Omit the dates and use pure maple syrup as a sweetener. If you go this route, start with 3 tablespoons pure maple syrup and go from there.

Replace the flaxseed oil with coconut oil (just be sure the coconut oil is liquid – either at room temperature or slightly warm).

Use any type of chocolate. I go with a paleo-friendly chocolate bar that is sweetened with coconut sugar.

Replace dried blueberries with dried strawberries or raisins.
Sink your teeth into these energy balls!
My cookbook,
Paleo Power Bowls
, is now available! CLICK HERE to check it out. Thank you for your support!
If you make this Superfood Blueberry and Dark Chocolate Energy Balls, please feel free to share a photo and tag @The.Roasted.Root on Instagram!
More Recipes for Energy Balls: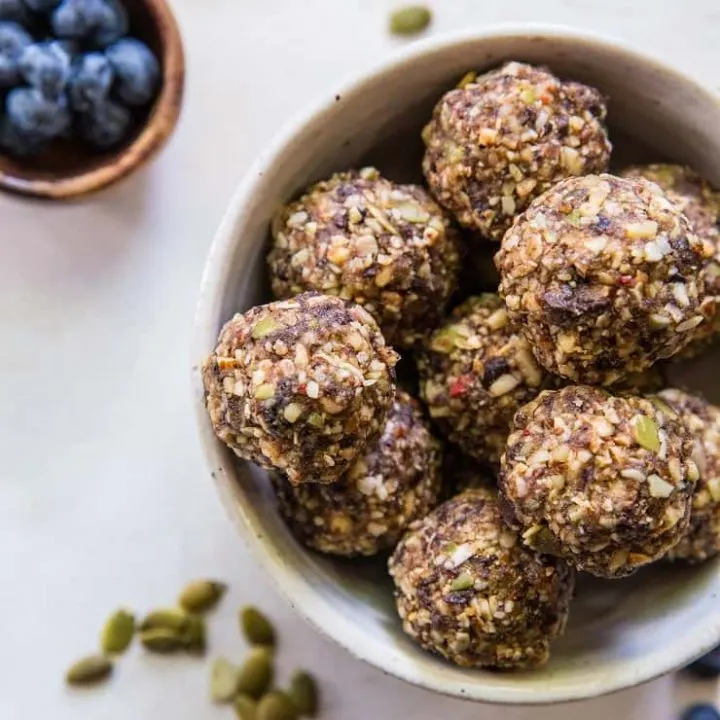 Superfood Blueberry and Dark Chocolate Energy Balls
Total Time:
2 hours
15 minutes
A healthy snack recipe with walnuts, almonds, dates, dried blueberries, dark chocolate, cinnamon, and more.
Ingredients
1 cup raw almonds
1 cup raw walnuts
5 large medjool dates, pitted
1/4 cup flaxseed oil
1/2 tsp vanilla extract, optional
Instructions
Add all ingredients for the balls to a food processor and process until a thick, sticky dough forms. If necessary, add more medjool dates and/or almond butter to help the mixture stick together.
Transfer the ball mixture to a tupperware container and freeze at least 2 hours. Remove from freezer and form balls by rolling the mixture in your hands. Make any size balls you like.
Store energy balls in a zip lock bag in the freezer, or in a sealed container in the refrigerator.
Nutrition Information
Yield

24
Serving Size

1 ball
Amount Per Serving
Calories

176
Total Fat

15g
Unsaturated Fat

0g
Carbohydrates

11g
Net Carbohydrates

8g
Fiber

3g
Sugar

7g
Protein

4g