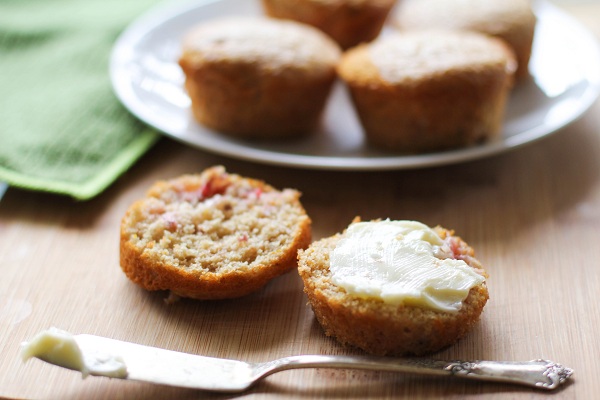 Behold: A recipe re-make! There comes a time in a blogger lady's life when she needs to revise and re-vamp the recipes she blogged about when she was a blogging newby. Over the weekend, I received a comment on a recipe I posted way back in February 2012, titled "Brandy-Soaked Strawberry Orange Spelt Flour Muffins."
The commenter let me know that the liquid-to-flour ratio was whackster (but she was a lot nicer and much less gangster in her phraseology) and as a result, the muffins took longer to bake than my recipe indicated. This is my worst nightmare (enter dramatic music). My recipes are dear to my soul, my readers are my home slices, and when my kindred recipe spirits fail me, I get a little berzerko nuts.
Aside: If I were you, I'd be wondering what the haystack "brandy-soaked" muffins are and why would anyone want a sogged out muffin? Fortunately, I have gotten slightly better at making post titles less confusing, but the gist of the original recipe is I soaked the strawberries in brandy prior to adding them to muffin batter, hence the "brandy-soaked…strawberry" And they're made with spelt flour, an ancient grain related to wheat. And there's orange rind in them. Yeah. End Aside.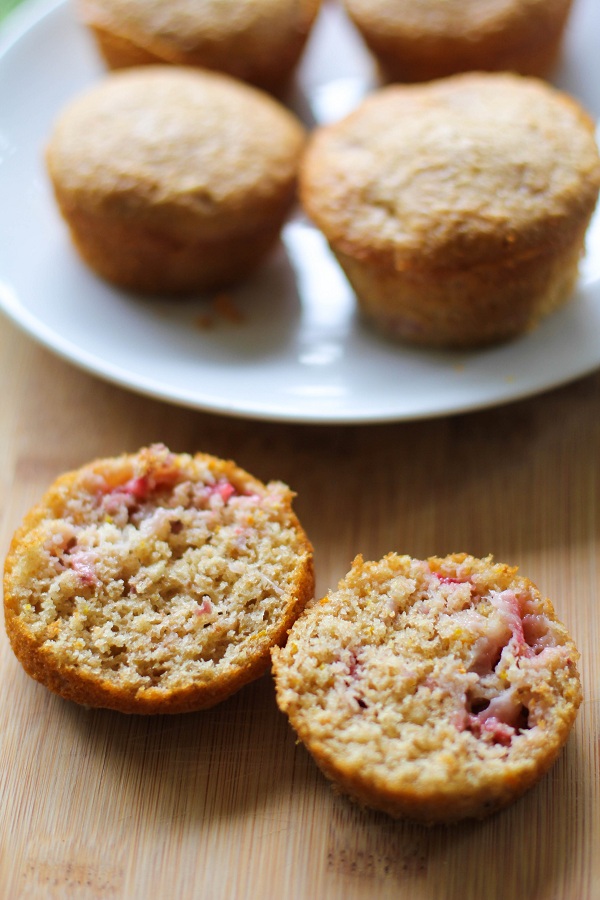 After I read the comment, I did one of these: "Whaaaaaa" pushed my face 10 feet closer to my laptop screen, then did a little shrug and a "reallyyyy?" And then some pacing, because pacing's how I get things done. And immediately after this little tissy fit freak show parade was over, I hopped up, went to the store for a couple of ingredients, and baked the recipe again. Twice. Suuuuure, I had a laundry list of other things to do, but it was rainy, and rainy-day baking is the best form of procrastination. Eva.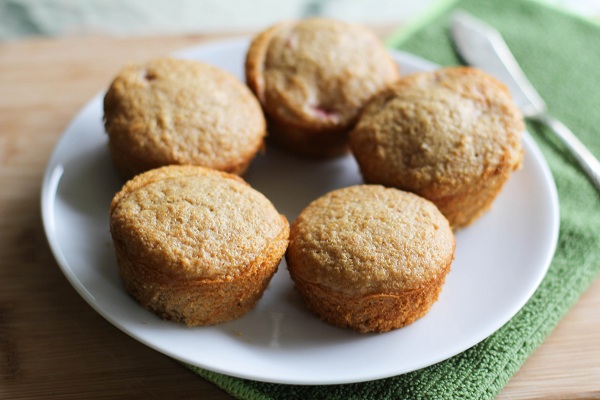 For the first batch, I followed my original recipe to the T and got a similar result as the commenter, although that didn't stop me from downing the muffins straight out of the oven, burning the roof of my mouth. Molten muffins hurt so good! AGH! With the amount of liquid, the muffins needed an additional 10 minutes of baking time and because there was more honey than necessary, the muffins were a little difficult to get out of the pan. Again: did not stop me from going hyena all up on my muffins. BUT, I can see how scraping a muffin out of a pan would be annoying when there's something very gratifying about the little loves popping right out.
Here's the photo from the original post:
I want to squeeeeeze its cute little hiney.
The second round, I made adjustments to the recipe and now I'm confident this muffin is one of the dandiest I've made. Essentially what we have is a boozed-up strawberry orange muffin with spelt flour. I realized the soaking-the-strawberries-in-brandy bit was just fools gold, so I simply added the brandy and strawberries to the batter separately. Boom. Booze. Although the brandy is completely optional, it makes the muffins something special, so I definitely encourage adding it.
Lesson learned: there will be times when a recipe re-make is in order. I love and appreciate your feedback. Constructive criticism is definitely welcome, as I want my recipes to wiggle their way into your hearts and home the same way as they have mine. Thanks for your patience and your willingness to participate in this here blog!
Strawberry Orange Muffins
These delicious Strawberry Orange Muffins are a bright burst of citrus flavor and are perfectly sweet for a healthy breakfast.
Instructions
Preheat oven to 350 degrees Fahrenheit and prepare a buttered/sprayed muffin pan.

In a bowl, combine the walnuts, spelt flour, orange zest, baking powder and salt.

In a seperate bowl, combine the egg, coconut milk, oil, vanilla extract, orange juice and brandy. Mix until combined then stir in the chopped strawberries.

Pour the wet mixture into the bowl with the dry mixture and stir to combine.

Add the honey and stir to combine.

Pour the batter into a lightly oiled muffin pan and fill the holes 3/4 of the way up.

Bake for 20 minutes or until the muffins test clean.

Remove from the oven and allow muffins to cool 20 minutes.

Use a butter knife and run it between the the muffin and the edge of the pan to help the muffins pop out.

Serve with butter and honey
Notes
*If you don't have brandy on-hand, you can substitute it for an additional tablespoon of orange juice.