Spinach salad with dried cranberries, sunflower seeds, red grapes, feta cheese, and raspberry vinaigrette. It's an end-of-summer dream!
Off.the.chain.!!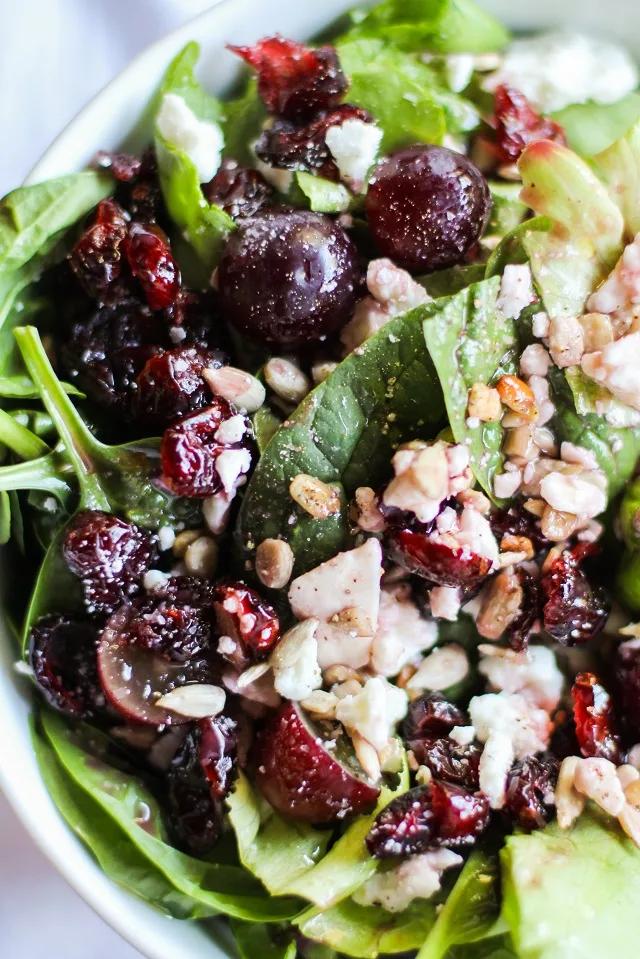 I was visiting my mom and her companion in crime, Carlo, in my hometown a couple of weeks ago and mentioned to Carlo that I was balls-to-the-wall craving the Raspberry Sunflower Salad from a local restaurant, Wild Alaskan Fish Company.
"It's got spinach, it's got sunflower seeds, it's got dried cranberries, feta cheese, a smidge of cabbage, and this raspberry vinaigrette that'll blow your brain," I explained.
He seemed interested, so I continued, "CARLOOOOOO! Let's go get that salaaaaaaaaaaad" chest bump, fist pump, explode it.
He was like, "mmkay, let's go to the grocery store, and make it ourselves." <- He didn't realize I wanted someone else to do the work for me, bless him.
Do what?
"Like…go to the grocery store…and…make it ourselves?" I asked with doe eyes filling with invisible tears. "Ooooookaaaaaaaaaay, we can make it ourseeeeeeeelves." <- You guys, I really am quite annoying to talk to in person.
So we hopped in Carlo's Irish Spring-scented man clunker and headed to the grocery, where I proceeded to accidentally pour roughly 10 pounds of sunflower seeds into the plastic baggy from the bulk bin.
You know what I'm talking about. When you gently press the lever, and the flood of '97 splooges into your bag with record speed? So rude.
"CARLOOOOOOOOOO! Sunflower seeds for DAYZ!" I said holding up the 10-pound bag of what-the-hell-am-I-going-to-do-with-all-these-sunflower-seeds sunflower seeds as though it were a goldfish I had just won at the county fair for popping all the balloons with all the darts.
By this time, I was also attracting glances from the tourists in the produce section, who were thinking loud enough for me to hear with my mind's eye, "Don't look at me, I can't help ya, sister."
"Do you want all those sunflower seeds? Like, can you use them in your blogging?" Carlo asked as he cough-laughed. Mind you, he was asking seriously…Carlo does like to buy in bulk.
"I didn't mean to dooooo thaaaaat." So true-to-man form, Carlo came up with a plan to fix the situation.
We tried to open the bulk bin from the top in hopes of dumping the bag back in like nothing had ever happened, which as it turns out is impossible to do (I don't know how those things get re-filled in real life…I'm guessing through osmosis).
We then transferred 1/100 of the bag of sunflower seeds into a new bag and left the 10-pounder to be claimed by someone else seeking a copycat Raspberry Sunflower Salad. Model citizens, we are.
Then we walked away…
…finished our shopping, acting all innocent-like…
…I got a kombucha, because: duh…
…made our purchases…
…jalopied home in the Irish Spring-scented mobile…
…and proceeded to make the best.freaking.salad.ever.
The End.
But wait, there's more!
You guys should really make this.
It's super simple, super fresh, super great for the in-between-season times, a real Ursula Upper (<- I just invented that), the best way to consume green leaves ever, comes with instructions for how to make your own raspberry vinaigrette.
::breathes in::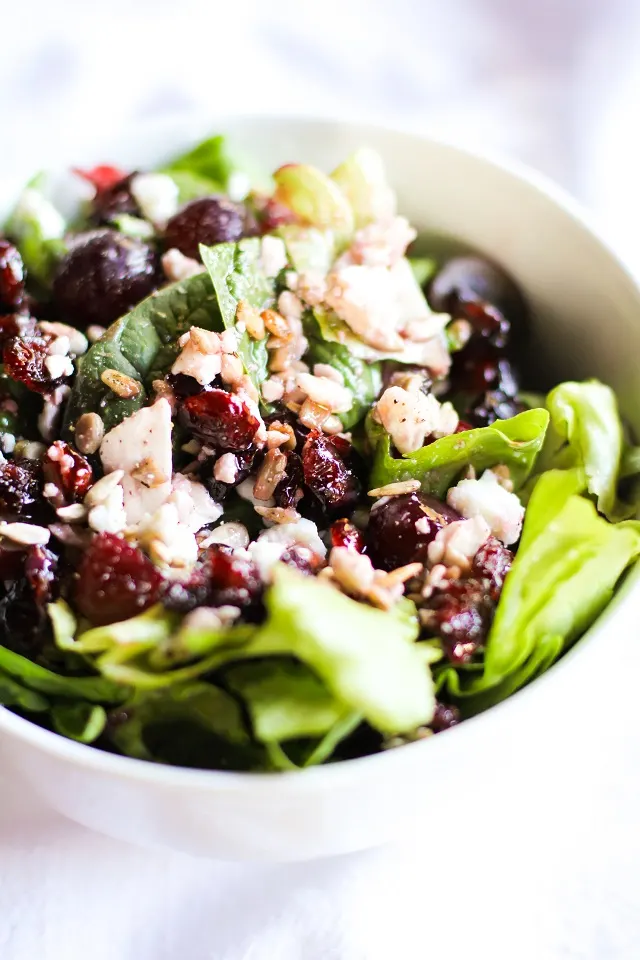 You guys, it's dope.
Spinach Salad with Grapes and Raspberry Vinaigrette
Spinach Salad with Grapes and Raspberry Vinaigrette is just a really dope salad recipe!
Ingredients
Spinach Salad:
5 ounces baby spinach
2.5 ounces butter lettuce, chopped
1 cup red grapes, halved
1 cup dried cranberries
1/2 cup sunflower seeds
1/2 cup feta cheese crumbles
Salt and pepper
Raspberry Vinaigrette:
2 cups fresh raspberries
1/4 cup grapeseed or olive oil
1 tablespoon honey
1/4 cup cider vinegar
½ teaspoon sea salt, or to taste
1 tablespoon stone ground mustard
Instructions
Prepare the Raspberry Vinaigrette:
Add all ingredients for the raspberry vinaigrette to a blender and blend until smooth. If desired, you can strain out the raspberry seeds. Store in a sealed jar in the refrigerator until ready to use.
Prepare the Salad:
Add all ingredients for the salad to a large serving bowl. Toss in desired amount of raspberry vinaigrette and serve.
Nutrition Information
Serving Size

1 grams
Amount Per Serving
Unsaturated Fat

0g