Spiced Pear Oatmeal with cinnamon spiced caramelized pears, golden raisins, and walnuts is an incredible changeup to your morning porridge! This easy breakfast recipe comes together quickly and is such a delight to consume!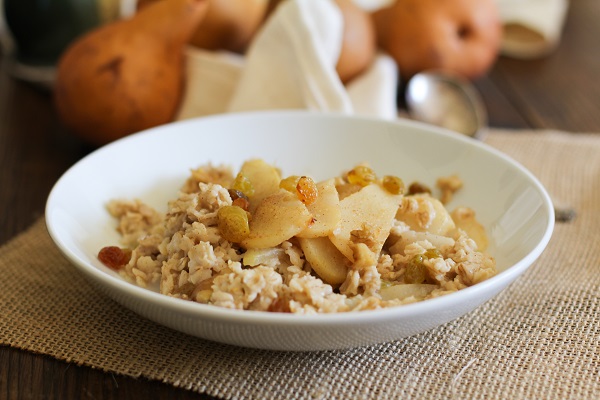 Allow me to introduce Caramelized Spiced Pear Oatmeal, my friends!
It may sound strange, but just wait for it!
Fresh pears are sautéed in a skillet with goodies like pure maple syrup and cinnamon to use as topping for your morning oatmeal.
They taste warmly-spiced, rich, and incredibly buttery.
You can't believe it's not butter?
I know, me neither.
If I were an entrepreneur, I would start a chain of artisan oatmeal restaurants (because that would be successful), in which this exact spiced pear oatmeal would be sold (seasonally).
Stirring it all up with some golden raisins and walnuts makes for an unforgettable culinary adventure!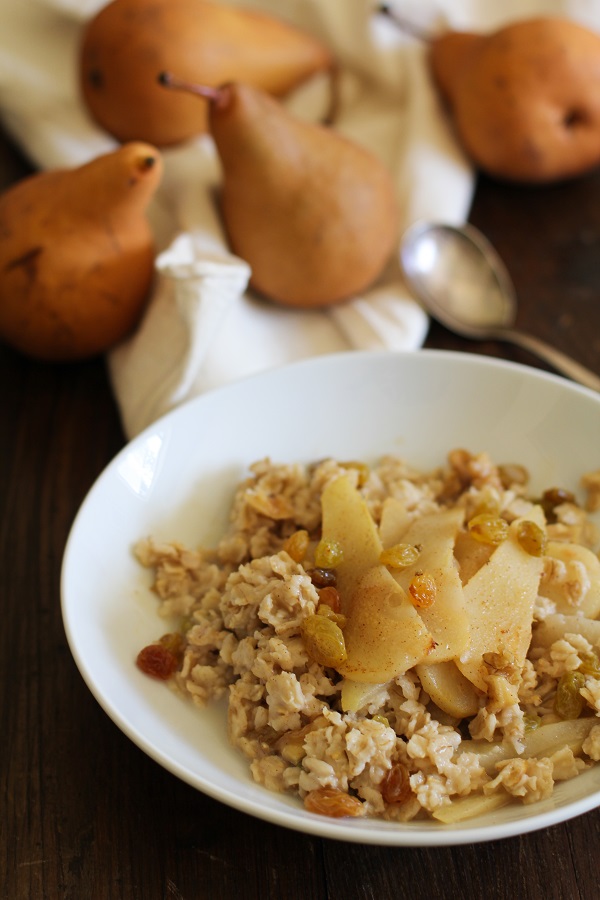 Oatmeal with pears may just be my new favorite healthy breakfast!
I love meals like this to enjoy as a post-workout meal, because it contains complex carbohydrates to help refuel your muscles and aid with recovery.
Not to mention, it is so inviting! My guess is you'll want to make a big batch each week for meal prepping breakfasts throughout the busy workweek.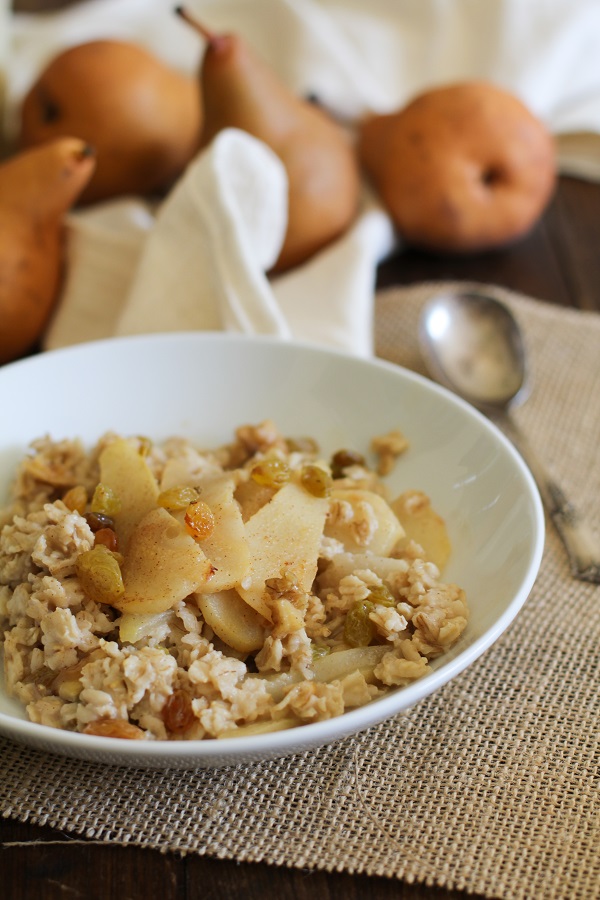 Tastes just like butter!
Spiced Pear Oatmeal
Spice up your oatmeal game with caramelized pears! This incredibly flavorful fall-inspired breakfast is loaded with flavor.
Instructions
Bring 2 cups of water to a boil and stir in the oatmeal. Return to a boil then lower the heat to a simmer. Cook until the water has been absorbed.

In a medium-sized skillet add the remaining ingredients and heat to medium-high. Cook, stirring every couple of minutes, until pears are softened and flax milk has evaporated, leaving a thick sauce around the pears, about 10 to 15 minutes.

Dish out desired amount of oatmeal and serve with the caramelized pears, raisins, and walnuts on top. Add maple syrup and additional flax milk/almond milk if desired.
Notes
*You can also use almond milk, but note that it will separate when it is brought to a boiling point.
Nutrition
Serving:
1
of 2
|
Calories:
315
kcal
|
Carbohydrates:
54
g
|
Protein:
7
g
|
Fat:
8
g
|
Fiber:
9
g
|
Sugar:
23
g