Sheet Pan Salmon and Root Vegetables is quick healthy dinner for any night of the week. Whole30, paleo, comforting and easy to prepare.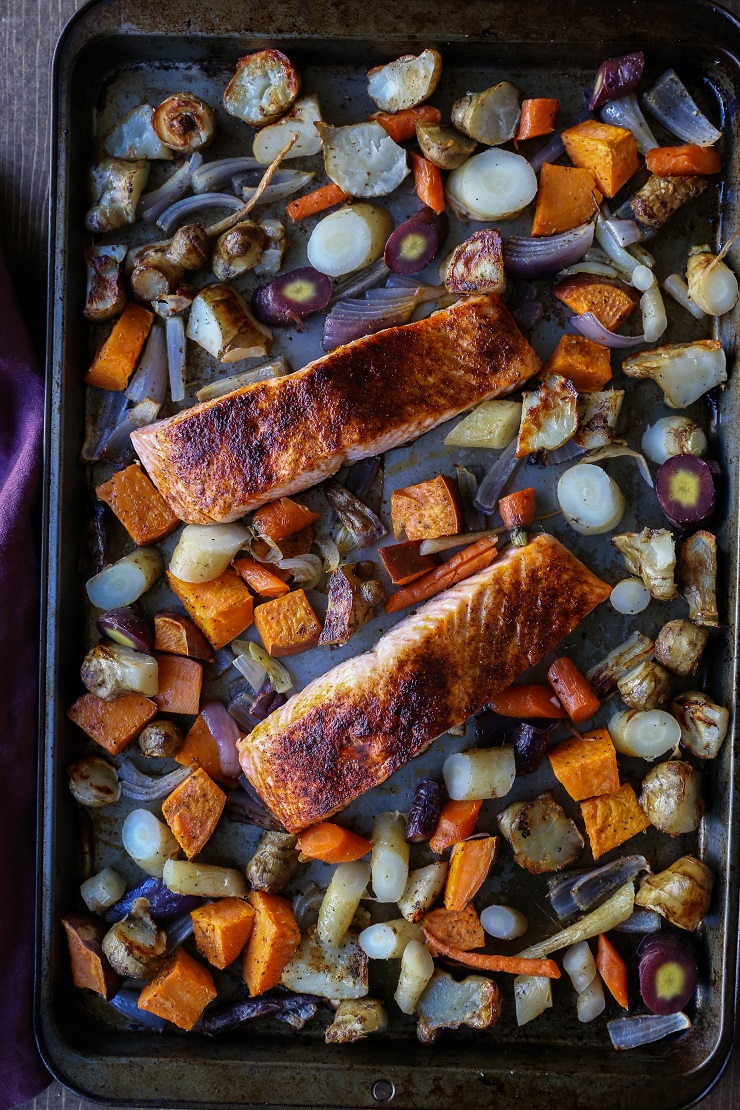 Aside from the snow, one of my favorite parts about winter is the produce.
I bet you can guess why… it's because root vegetables are in season during the winter.
Roots are incredibly nutritious, and are a brilliant for those who are looking to step up their vitamin and mineral intake, or for those who are looking for anti-inflammatory, antioxidant-rich foods.
While this meal can be prepared using seasonal produce from any time of year, I'm loving the use of root vegetables for a speedy quick, comforting winter sheet pan dinner.
It's been long time since I've highlighted a new root vegetable on the blog, so I thought I'd talk about sunchokes for a hot second.
Who here has heard of, tasted, and/or loves sunchokes?
What are Sunchokes?:
They're such a cool root. Sunchokes (or Jerusalem artichokes) are a super starchy root vegetable that looks kind of like little ginger nubbins, but has a mild flavor similar to red or yukon potatoes.
You can prepare them in any of the same ways you would prepare any other root vegetable, but I like them roasted the best.
When roasted, they turn into these crispy-on-the-outside, squishy-on-the-inside healthy little tater tot bites.
You can use them to replace potatoes in virtually any recipe, and you can even make paleo-friendly home fries, chips, or "french fries" out of them.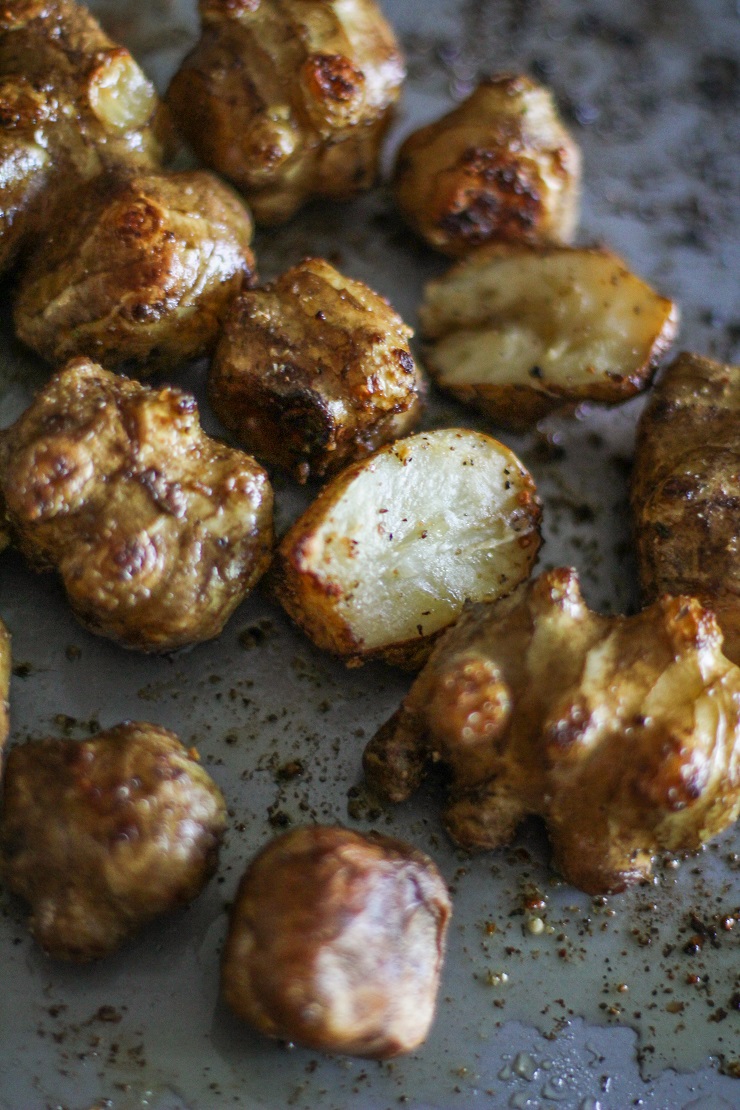 I recently developed a Salmon and Roasted Winter Vegetable Dinner recipe for Love Beets using their cooked beets, and have been preparing it on repeat ever since.
The simplicity of chopping up vegetables, seasoning them, and baking them with a couple salmon fillets is a foolproof well-rounded meal of champions.
Because my reader survey results showed you are overwhelmingly interested in easy, healthful meals, I thought it wise to share with you the recipe I've been dining on over the last few weeks.
This, soup, and burritos have been my current food squeezes.
How to Make Sheet Pan Salmon and Root Vegetables:
Prep time for this recipe is only about 10 minutes…15 to 20 if you're taking your time. Simply scrub the roots (you can leave the peels on or peel them off. I leave my peels on), drizzle them with olive oil and seasoning (you can get ultra creative with your flavor combos here!), and spread them on a baking sheet.
You then do the same with a couple salmon fillets- drizzle with olive oil, sprinkle with seasonings and salt and make room on the baking sheet for them.
Bake everything together until both the veggies and the salmon are golden-brown, crispy, and cooked to desired doneness.
Note: you can leave the carrots whole, or chop them. I think it's fun to leave them whole.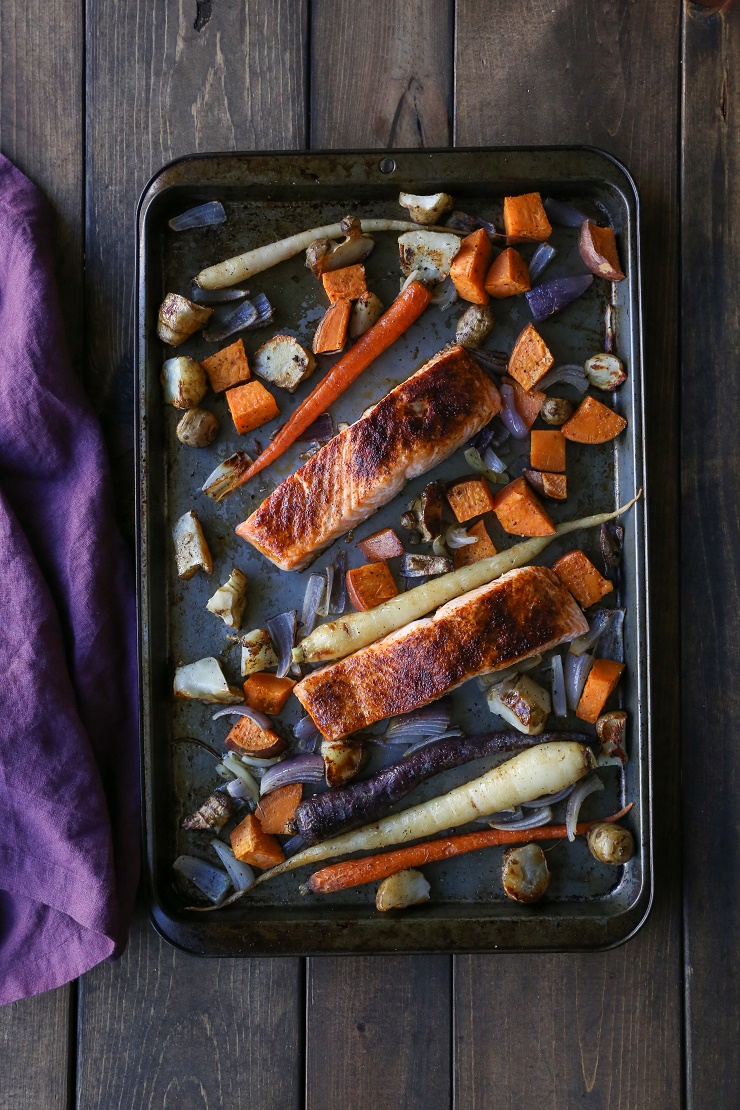 If you prefer your salmon on the rare side, you can add the fillets to the sheet pan after the roots have been roasting for 10 minutes.
This gives you about 10 minutes of bake time for the salmon, and should result in a slightly rare center. For those who are freaked out by the thought of raw or rare fish, definitely cook the salmon the full 20 minutes.
If you're like me and need something a bit more substantial than just the salmon and root veggies, you can serve the meal with a big salad, cauliflower rice, brown rice, or side dish of your choosing.
Or take in your carbs via beer…that's a goes-without-saying perma option and a solid life decision.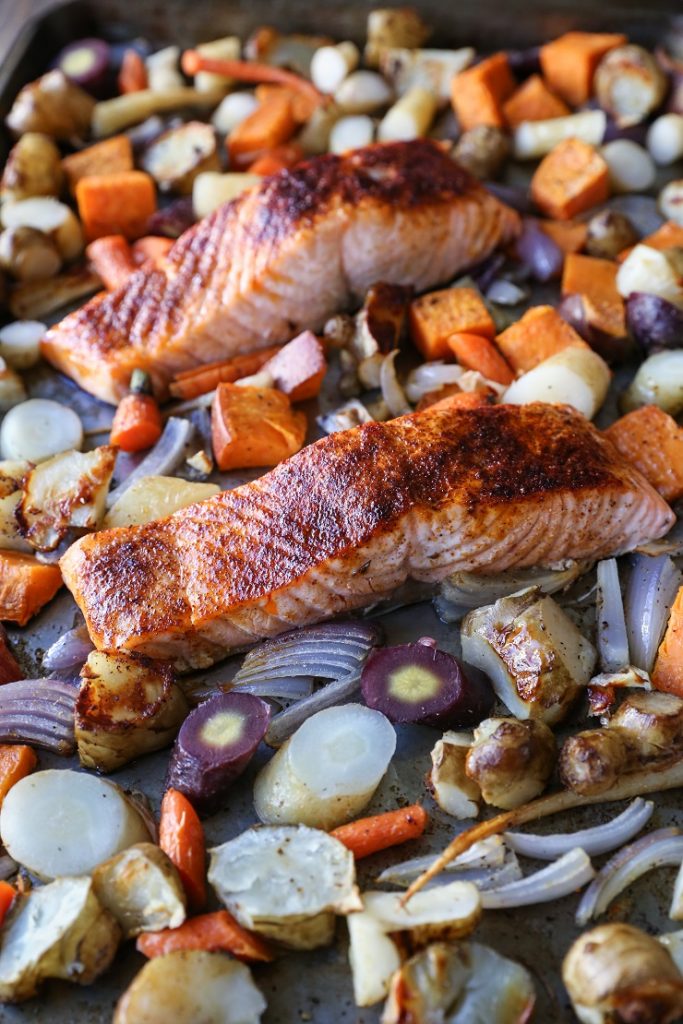 And that, folks, is all she wrote.
Bon appétit!
Sheet Pan Salmon and Root Vegetables
An amazing go-to meal requiring just one sheet pan.
Ingredients
1

pound

salmon

cut into fillets

1

red onion

chopped

1

bunch rainbow carrots

1/2

pound

sunchokes

scrubbed and chopped

1

medium sweet potato

chopped

3-4

tablespoons

olive oil

separated

2

teaspoons

Herbs de Provence or Italian Seasoning

2

teaspoons

garlic powder

2

teaspoons

onion powder

2

teaspoons

paprika

1/2

teaspoon

ground cumin
Instructions
Preheat oven to 400°F and lightly spray a large baking sheet with cooking oil.

Add all of the spices and sea salt in a small bowl and stir well.

Place salmon fillets on the prepared baking sheet, drizzle with olive oil, and sprinkle with about 1 tablespoon of the spice mixture.

Add all of the vegetables to a large mixing bowl and drizzle with olive oil. Sprinkle the remaining spice mixture. Toss everything together until the vegetables are coated in oil and spices (Note: you can leave the carrots whole or chop them).

Arrange the vegetables on the baking sheet around the salmon fillets and place on the center rack of the preheated oven. Roast for 20-25 minutes, or until the salmon and vegetables are cooked through.

Serve salmon dinner with side dish(es) of choice!
Nutrition
Serving:
1
Serving
|
Calories:
669
kcal
|
Carbohydrates:
74
g
|
Protein:
39
g
|
Fat:
26
g
|
Fiber:
11
g
|
Sugar:
36
g