Vegan Thai Root Vegetable Curry made with coconut milk curry sauce, served on top of brown rice. An incredibly healthy and easy meal!

There's this idea I've been tinkering around with and it's going to require your full cooperation.
It involves us all ringing out our energy like a kitchen towel and rocking down to Electric Avenue.
We'll let our hair down in full frizz and allow our inner Tori Amos to sing because there's no day but today.
Before we get too out of control, we'll pack provisions in our over-sized satchels because there will be no rocking the Electric Avenue on a hungry tummy.
There's never-ending Root Vegetable Curry in my fantastical Tupperware-filled satchel and I'm sharing. This is considerate of me given the fact that I can be very food aggressive when it comes to curry.
Thai food is romantic.
If I were single and I really wanted to impress a gent, I'd make him this curry and throw in some animal protein for good measure.
I would likely talk about world politics or Jack London, because these are impressive topics, while sipping on an unaffordable glass of wine.
But since I'm un-single and have already impressed the ol' boyfriend into oblivion (bahahahaha!) I made this recipe as you see it here, sans animal protein, and took the whole lot of it to work.
Girl's gotta have brain food while she calculates things and shuffles paperwork around.
If you want insane in the membrane, here she be.
This is a knock you on your knickers delicioso meal with everything you need for giving Electric Ave. hell.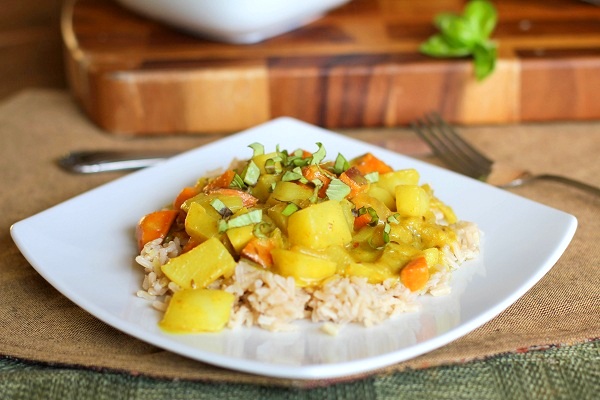 If you want romance on your plate, see my root vegetable curry and either call or raise me some animal protein. Gotta get that.
Root Vegetable Curry
Vegetarian yellow root vegetable curry made with coconut milk curry sauce, served on top of brown rice. An incredibly healthy and easy meal!
Ingredients
2

tablespoons

coconut oil

or oil of choice

1

yellow onion

chopped

1-1/2

tablespoons

grated fresh ginger

1

medium-sized sweet potato

chopped into 1-inch pieces

1

turnip

chopped into 1-inch pieces

1

parsnip

chopped into 1-inch pieces

1

teaspoon

cumin seeds

1

teaspoon

turmeric

1

teaspoon

coriander

2

teaspoons

garlic powder

¼

teaspoon

red pepper flakes

optional

1

teaspoon

salt or to taste

1

full-fat canned coconut milk*

full-fat

1

Bunch fresh basil leaves

chopped
Instructions
In a wok or large skillet, sauté onion, ginger and cumin seeds in the coconut oil over medium heat until the onion is softened and beginning to turn translucent, about 3 minutes.

Add all spices and root veggies and sauté about 8 minutes before adding ¼ cup of the coconut milk. Continue cooking a couple of minutes, allowing the coconut milk to evaporate, then add an additional ¼ cup of the coconut milk. Continue to cook about 5 minutes.

Add another ¼ cup of the coconut milk – by now the root veggies should be softening up. Test the sweet potato by biting into it. If it's still not cooked all the way, continue sautéing. Cook until the sweet potato is soft, but slightly al dente in the middle (avoid cooking the vegetables to the point that they turn mushy).

Once the vegetables are finished cooking, add the remaining coconut milk.

Stir to incorporate the coconut milk. Allow it to come to a gentle boil and cook a few more minutes, allowing it to thicken slightly.
Notes
Add a chopped chicken breast and/or shrimp for added protein.
Nutrition
Serving:
1
of 4
|
Calories:
431
kcal
|
Carbohydrates:
28
g
|
Protein:
2
g
|
Fat:
36
g
|
Fiber:
3
g
|
Sugar:
10
g