Roasted vegetable teriyaki bowls are an easy meal to throw together any night of the week.
I debated long and hard about showing you this recipe because of its simplicity. I make roasted vegetables on a weekly basis and tend to throw all sorts of spices, oil, and vinegar in the casserole dish without paying attention to measurements. A couple of weeks ago, I had a ginorm hankering for teriyaki and knew that if I were let loose inside of a Panda Express, things would happen that I couldn't take back. So I roasted up some veggies with my favorite teriyaki sauce in order to quench my craving.
It definitely did the trick, and instead of kicking myself for making unwise takeout choices, I patted myself on the back and ate seconds. Thirds. I ate all the roasted vegetables, let's be honest. You can choose your favorite vegetables, but I went with sweet potato, broccoli, yellow squash, bell pepper, and onion.
But I didn't know if I wanted to show you the result of a weeknight throw-it-together with store-bought sauce. After mulling the decision over in my brain, I decided this recipe was too good not to share. Plus, if I assume we can all agree that a simple chop-and-drizzle makes for a nice, hassle-free night of cooking.
Here's an example of what I do on the daily for dinner. Rice. Roasted veg. Some sort of sauce. Nuts. It's so easy, so inexpensive, and above all: healthy and satisfying. You can even make your own homemade teriyaki sauce if you get a wild hair.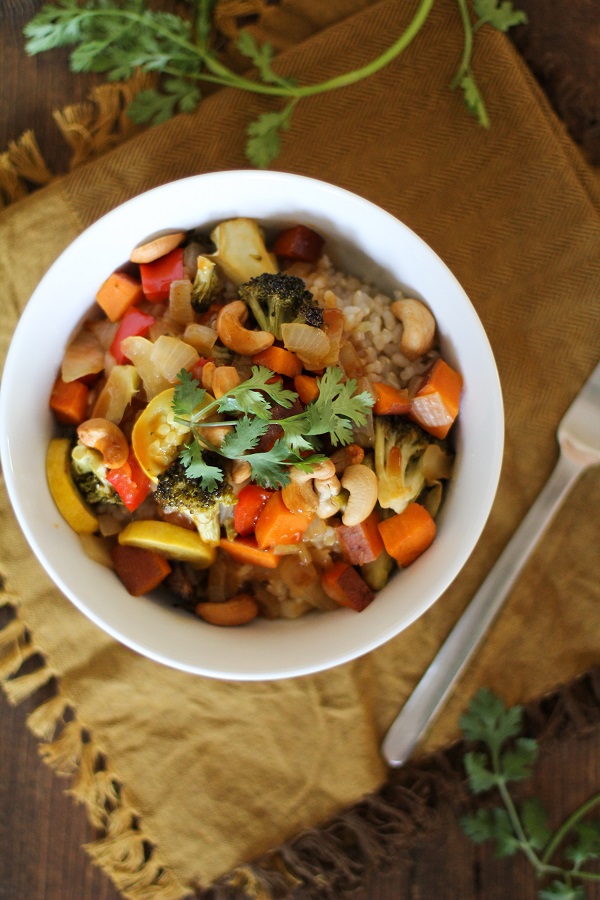 Let's go to teriyaki town!
Roasted Vegetable Teriyaki Bowls
A deliciously flavorful and colorful plant-based recipe, Roasted Vegetable Teriyaki Bowls are a marvelous meatless meal!
Ingredients
1

medium sweet potato

chopped into ¼-inch pieces

1

medium head broccoli

chopped into florets

1

yellow onion

chopped

1

red bell pepper

chopped

2

yellow squash

chopped

¼

cup

teriyaki sauce + more for serving

2

teaspoons

dried basil

2

teaspoons

ground cumin

1

teaspoon

kosher salt

or to taste

2 to 3

cups

cooked brown rice for serving

1/3

cup

roasted cashews for serving
Instructions
Preheat the oven to 400 degrees F.

Add all of the chopped vegetables to a large casserole dish.

Drizzle the teriyaki sauce, dried basil, ground cumin, and salt over the vegetables and stir to coat everything.

Roast in the oven for 50 to 60 minutes, stirring twice half-way and three-quarters of the way through. The vegetables should be soft, but slightly al dente.

While the vegetables are roasting, cook your rice per package instructions (I used 1.5 cups of uncooked sprouted brown rice and it made the perfect amount to serve 4 people).

Scoop desired amount of brown rice into 4 (or 5) separate bowls. Add desired amount of roasted vegetables and serve with additional teriyaki sauce and roasted cashews.
Nutrition