Roasted Root Vegetable Buddha Bowls with Maple Cinnamon Tahini Dressing…a.k.a. this blog's signature Buddha Bowl.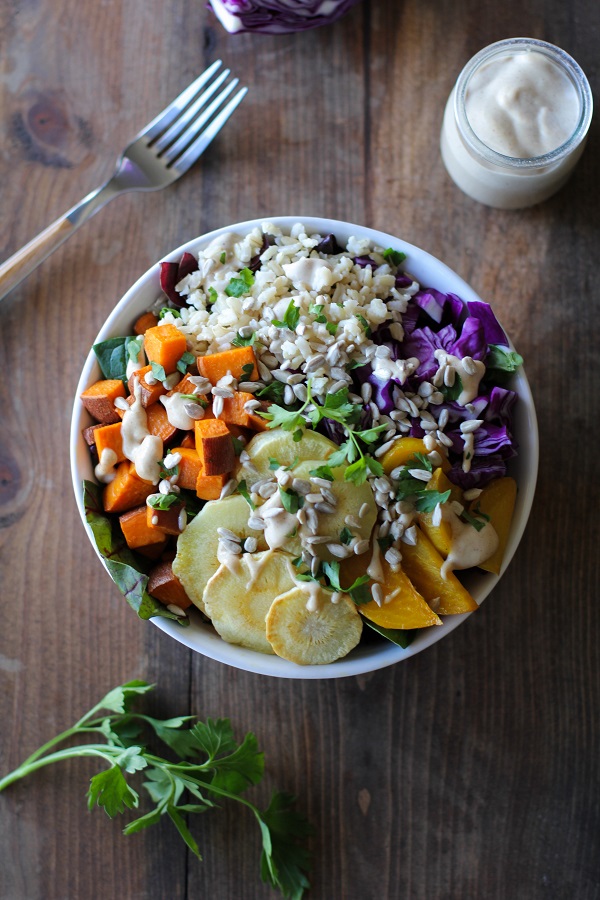 Das Buddha Bowl!
If you're new to the concept, a Buddha bowl, no sweat! Buddha bowls are basically a macrobiotic bowl of a variety of vegetables – both raw ans cooked.
They typically include a mixture of greens (spinach, kale, beet greens, chard, arugula, etc.), grains (brown, white, wild, or forbidden rice, quinoa, freekeh, etc), beans (black, kidney, chickpeas, etc.) seeds (sunflower, sesame, chia, hemp, etc.), any variety of cooked and raw veggies, and a flipping delicious sauce or dressing.
If you find them at a restaurant, they are typically vegetarian or vegan, though I often add animal protein to mine.
All of the Buddha bowls I've had in restaurants have included a mixture of cooked and raw veggies, making them a mecca of color, texture, and flavor. You can also get crazy with sauces and dressings with Buddha bowls – tahini sauce, chimichurri, pesto, curry, peanut sauce, tzatziki, the list goes on and on and on).
In summary, a Buddha bowl is like a freaking freedom bowl of bliss. If you're a meat eater like me, there's zero shame in adding animal protein to a Buddha bowl, although by definition, I want to say Buddha bowls are supposed to be vegan…? Fact check, anyone?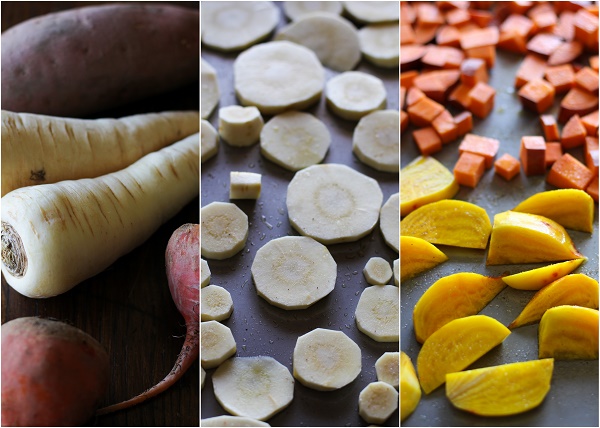 I roasted up a sweet potato, parsnips, and golden beets for a trifecta of root-y bliss for these bowls. I had some cooked brown rice and cabbage in my refrigerator, and sunflower seeds in my pantry, so into the bowl they went. Everything got laid down atop fresh spinach and drizzled with bombtastic tahini dressing.
Speaking of…
If there's only one thing you should take away from this post, let it be the maple cinnamon tahini dressing. It's spoon-feeding, finger-licking good, and you'll want to put it on all the things.
They say that I'm a granola cruncher, but I'm not the only one.
#EatTheRainbow.
Roasted Root Vegetable Buddha Bowls with Maple Cinnamon Tahini Dressing
A winter-inspired Buddha bowl!
Ingredients
1

inch

large sweet potato

chopped into ¼ to ½- cubes

2

inch

large parsnips

peeled and sliced into ¼- rounds

2

medium golden beets

peeled and chopped into wedges

Grapeseed oil and sea salt for roasting

or olive oil

10

ounces

spinach or greens of choice

½

small head cabbage

sliced

3

cups

cooked brown rice
Maple Cinnamon Tahini Dressing:
Instructions
Preheat the oven to 375 degrees F.

Arrange the root vegetables on two large baking sheets in a single layer.

Drizzle grapeseed (or olive) oil over the vegetables and use your hands to coat them.

Sprinkle veggies with sea salt and bake in the oven for 30 to 40 minutes, or until soft and slightly browned (mine took 32 minutes).

While the vegetables are roasting, prepare the tahini dressing. Add all ingredients for the dressing to a small blender and blend until smooth, thick, and creamy. If dressing is too thick, add a small amount of water or lemon juice.

Prepare buddha bowls by adding desired amount of spinach, cabbage, and brown rice to large serving bowls. Add desired amount of roasted vegetables and tahini dressing to each bowl. Note: a small amount of tahini dressing goes a long way!

Serve with sunflower seeds and fresh chopped parsley or cilantro.
Nutrition