Elk chili recipe with roasted peppers, garlic, and beans makes for an incredibly filling and delicious meal.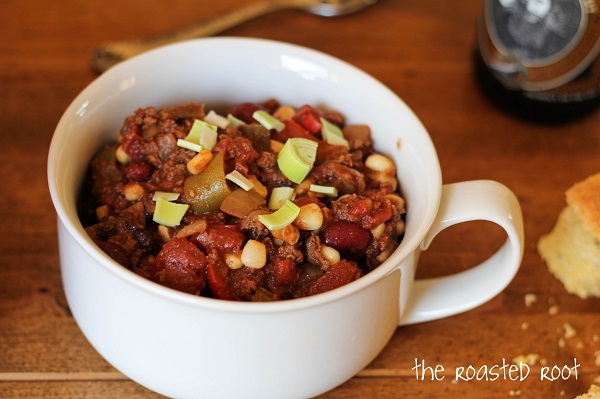 What one keeps in his or her freezer says things. Freezer items talk. Your freezer items are your spokesperson. . . err. . .spokesicle?
I bet I could name a few of your freezer items. Blueberries? Check. Walnuts and or almonds? Check. Ice cream? CHECK! Bananas (peeled or unpeeled)? Check. Spinach and peas? Check. Two-thirds of an elk? Mmmmmaybe not for some of you. There's always a healthy stock of various cuts of elk and other meats in our freezer. Pig neck bones, anyone? If you need any, you know where to find them.
If you've been following my blog for some time, you know that my boyfriend hunts with his family. Last hunting season, it took him all of about one hour to spot a herd, claim a cow elk with one expert shot to the heart, gut her on the spot and pack her out. Praise the land for wonderful creatures and for manly men who respectfully hunt them.
While I could have used a little more excitement – time spent with eyes glued to the spotting scope, chasing, swearing, frustration, possibly more Snyders of Hanover Hot Buffalo Wing Pretzels to munch on between shots taken – to amp up the hunt, I admit the quickness of the whole thing was a blessing considering Garrett's hunts are usually conducted in below freezing temperatures. There aren't enough hand warmers in the universe that can make negative 14 degrees feel good.
If you don't know where to buy elk meat and are interested, most medium to large-sized cities have exotic meat stores and even some natural food stores carry elk, deer and bison regularly. You don't have to use ground elk meat to make a killer chili out of this recipe – you can also use ground turkey or beef, which will be just as delicious.
While elk meat has a deep purple and red hue, it is by no means "red meat." In fact, elk meat (rocket fuel as we call it) is very nutritious because of the lifestyle of the animal way in the wild. The meat is very lean (even more lean than chicken and turkey!), contains more protein than beef, and for whatever reason, elk gives you an abundance of energy.
Pair this chili with a beer (porter or stout, people! Pumpkin ale also acceptable) and a hearty slice of cornbread (ahem, ours had crispy hunks of pepper bacon all tucked up in it and was doused with honey…no biggy, only the best cornbread ever…) and this wins you the Best Comfort Food Ever Award. Not that it's a competition. But really.
Roasted Pepper Elk Chili
Roasted pepper Elk Chili recipe with roasted garlic is an incredibly flavorful and healthy game meat recipe.
Ingredients
1

tablespoon

olive oil

1

large yellow onion

chopped

1.5

pounds

ground elk meat

or ground meat of choice

2

bell peppers

roasted

6

cloves

garlic

roasted

2

jalapenos

roasted

2

ears corn

kernels removed

28

ounces

diced tomatoes with juice

1 large can

2

cups

chicken stock

¼

cup

beer

I used Deschutes Black Butte Porter

3

tablespoons

chili powder

½

teaspoon

red pepper flakes

½

teaspoon

paprika

½

teaspoon

salt or to taste

1

can kidney beans

drained

1

can black beans

drained
Instructions
In a large pot or Dutch oven, sauté the yellow onion on medium-high heat in one tablespoon of olive oil until softened and translucent, about 8 minutes.

While you are sautéing, roast the bell peppers, jalapeños and garlic. Put your oven on the broil setting.

Chop peppers in half, remove the insides and place them on a foil or parchment-lined baking sheet.

Wrap 6 cloves of garlic (skin on) in foil and place on the baking sheet with the peppers. Roast until the peppers are soft and the skin begins to char, turning dark brown (about 8 minutes).

Remove, allow everything to cool enough to handle then chop the peppers. Remove the skin from the garlic and finely chop the garlic. Set aside until ready to add to the chili.

Add the ground elk meat and once the outside of the meat is browned but not cooked all the way through, add the corn kernels, diced tomatoes, chicken stock, beer, and all of the seasonings. Cover and bring mixture to a full boil. Add the beans and the roasted peppers and garlic.

Reduce heat to medium low and allow the chili to simmer about 30 to 40 minutes covered. Stir occasionally and add salt as desired. Serve with big hunks of cornbread and honey.
Nutrition
Serving:
1
of 8
|
Calories:
319
kcal
|
Carbohydrates:
31
g
|
Protein:
28
g
|
Fat:
10
g
|
Fiber:
26
g
|
Sugar:
7
g