Roasted Garlic, Broccoli, and Hummus Twice-Baked Potatoes can double as a side dish or appetizer! These filling yet healthful twice-baked potatoes are loaded with nutrients.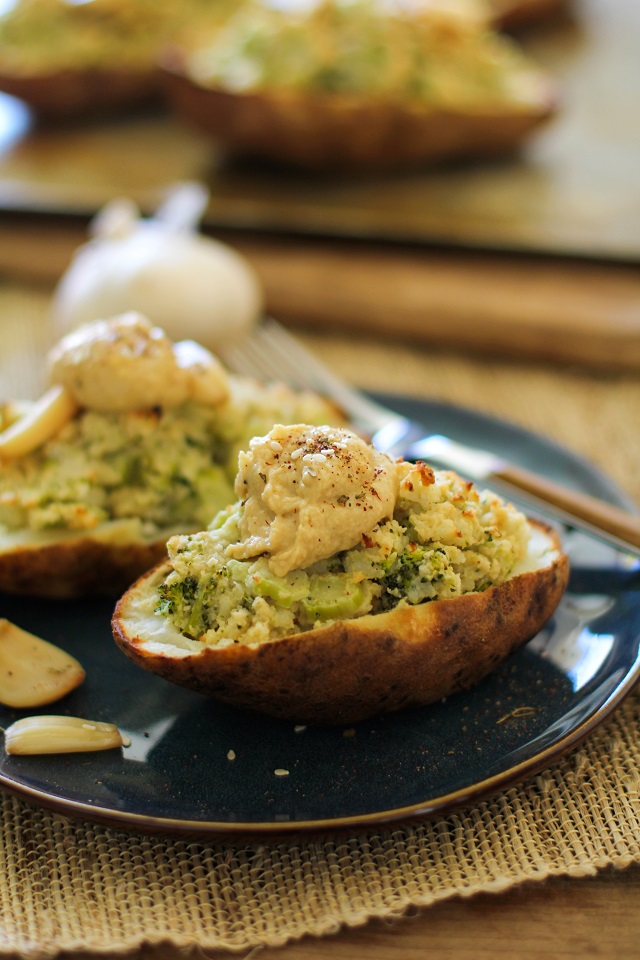 Sunday Funday Football Day! Are you watching the game? You know which one I'm talking about…yup, that one.
Just joshing ye.
I have to confess, I haven't paid a lick of attention to football this year, and for a good reason: I've been binge-watching The League on Netflix. So brazen, so il-arious, Andre's my favorite character, if you haven't watched it yet, you must! It's all the football you need and then some.
Case in point: I couldn't tell you which team is doing how well, whose arms have new ink, and/or whose balls are deflated. Basically, I now know more about fantasy football than actual football.
…And when fantasizing about football and just thinking about carbs being burned, one must partake in the carbs, correct? Thank you for validating my thoughts.
Enter: Twice-Baked Potatoes.
The quintessential football food.
Major yum status, right?
The carb load. How can you not?
You know how twice-baked potatoes are typically filled with butter, sour cream, and/or half & half? Super delish, but also super fattening? I nixed the dairy, and I used Sabra's Roasted Garlic Hummus as a super healthful replacement.
Not only does the hummus give that tang you love in a twice-baked potato, but it provides protein and fiber. Adding steamed broccoli and some extra roasted garlic to the filling yields even more flavor and health benefits. The roasted garlic hummus makes this recipe easy peasy. All you really need is a dash of salt, and you're all set in the flavor realm.
Options for change-ups and such? We've got plenty. First and foremost, we can use any flavor of hummus our heart desires. We can also add more veggies, such as mushrooms, green onion, shredded carrot, etc. What about bacon and some cheddar? I don't see why not!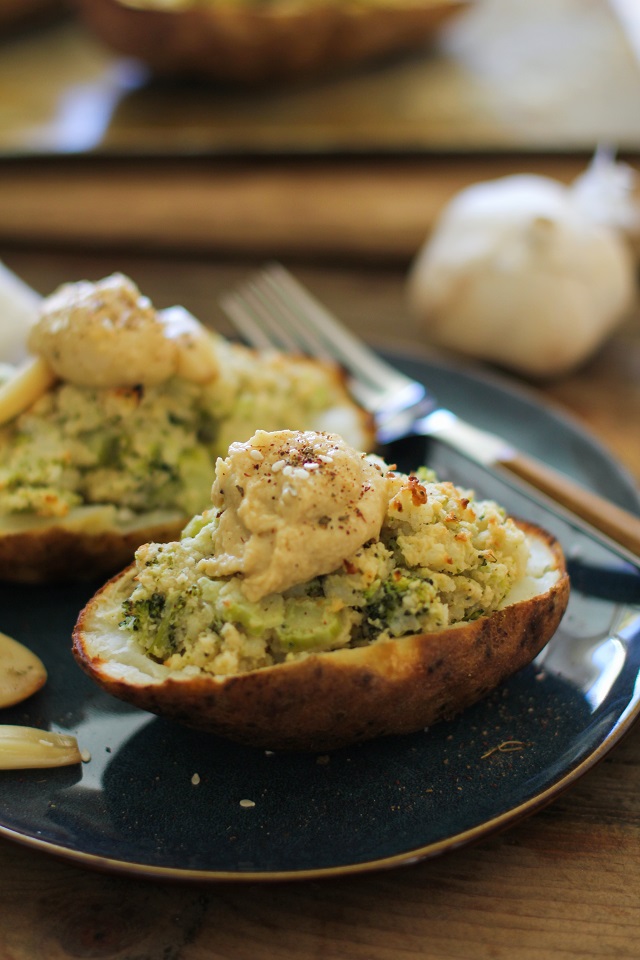 Whether you're making a side dish for any ol' night, tailgating, and/or planning your holiday menu, these healthy twice-baked potatoes are your jam!
Roasted Garlic, Broccoli, and Hummus Twice-Baked Potatoes
Roasted Garlic, Broccoli, and Hummus Twice-Baked Potatoes are magically flavorful for a plant-based vegan side dish or light meal.
Ingredients
3

large russet potatoes

1

container Sabra Roasted Garlic Hummus

1

bulb garlic

roasted

1

medium crown broccoli

steamed and chopped

½

teaspoon

sea salt

to taste
Instructions
Preheat the oven to 400 degrees F. Wash and pat dry the potatoes. Poke them several times with a fork, lightly coat them with olive oil, and place on a small baking sheet. Bake on the center rack of the oven for 1 hour, or until tender when poked with a fork.

30 minutes into baking the potatoes, chop the top off of the garlic, drizzle with olive oil, and wrap in foil. Place in the oven and roast along with the potatoes for the last 30 minutes.

While the potatoes and garlic are roasting, steam the broccoli for 4 to 5 minutes, or until tender but still al dente. Drain, transfer to a cutting board, and chop.

Remove the potatoes and garlic from the oven. Transfer potatoes to a cutting board and allow them to cool enough to handle. Lower the oven temperature to 350 degrees F.

Slice each potato in half lengthwise and scoop out the insides, leaving about ¼-inch to ½-inch rim around the skin. Transfer the innards to a large mixing bowl, place and stir in the hummus.

Peel and chop the roasted garlic. Add the chopped garlic and broccoli to the mixing bowl with the potato-hummus mixture. Stir together everything together until well-combined. Taste the stuffing for flavor, and add sea salt and/or more hummus to taste.

Place the potato skins back on the baking sheet and scoop heaping spoonfuls of the stuffing into each potato skin. If desired, add cheese on top. Bake potatoes for 15 to 20 minutes on the center rack of the oven, or until the top is golden-brown, and potatoes are heated through.

Serve alongside your favorite entree!
Nutrition
Serving:
1
of 6
|
Calories:
211
kcal
|
Carbohydrates:
28
g
|
Protein:
6
g
|
Fat:
9
g
|
Fiber:
4
g
|
Sugar:
1
g
This post is sponsored by Sabra. Per usual, all thoughts, feelings, and opinions are 100% my own, and I thank you for supporting the brands that support this site.