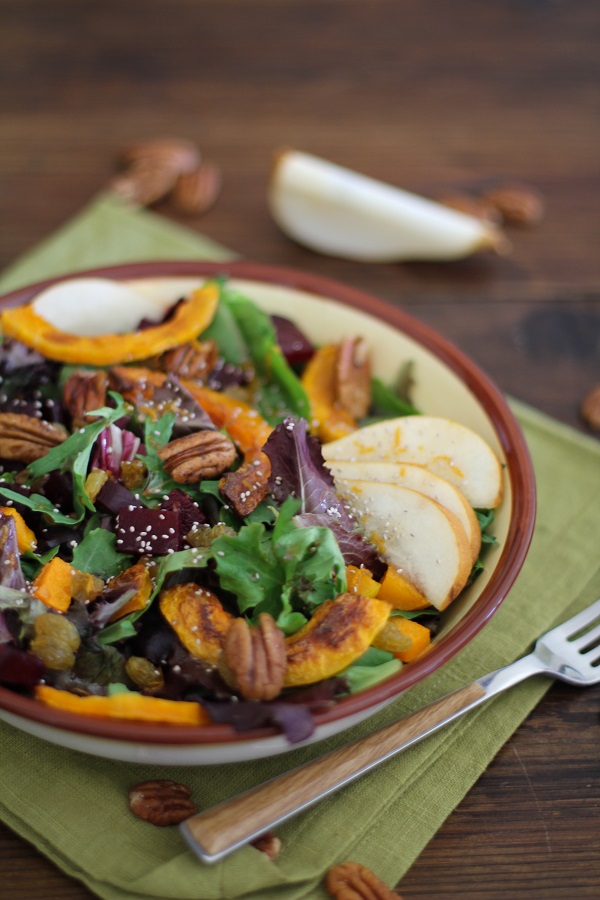 . . . with chia seeds, golden raisins, pears, pecans, and maple-orange-cinnamon vinaigrette. BAM! Consider your mind blown.
Is squash not everyone's favorite thing to happen ever right now? Particularly butternut squash? Which we shall henceforth refer to as BNS?
What we have here are roasted fall vegetables (BNS and beets) with a medley of other delicious goodies all smothered in the most fan-freaking-tastic dressing ever. I love this salad like I loved crushed velvet in 1995.
There. are. no. words.
Okay, there are actually a lot of them.
Yesterday, I posted Chocolate Peanut Butter Chia Seed Smoothie along with a Health Warrior Chia Bar giveaway (which you should go enter…RIGHT NOW!). I have been adding the white chia seeds to just about everything under the sun, and it turns out they're great on salads.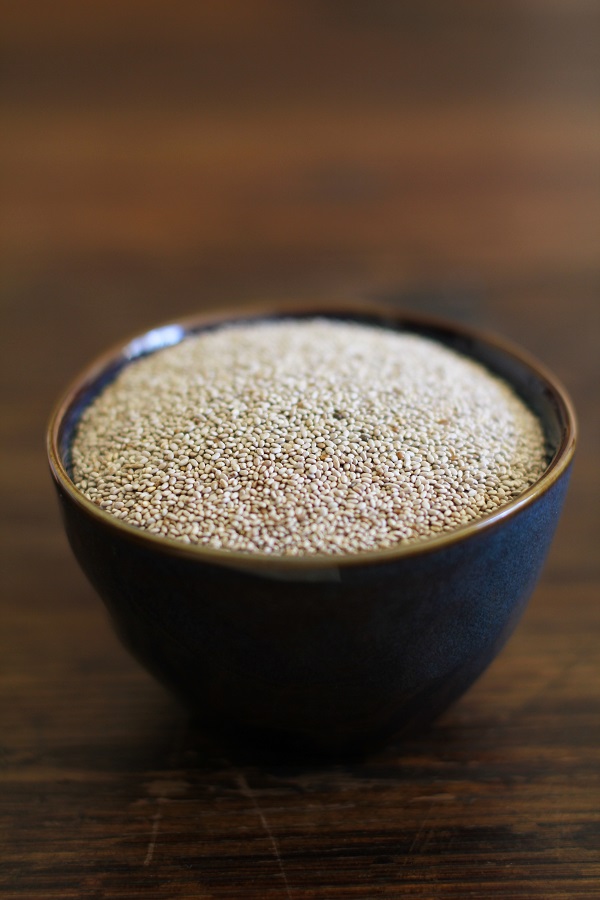 When Alexis from Hummusapien posted Butternut Squash Salad with Orange Maple Cinnamon Dressing, I just knew I needed to put a ring on it. And by put a ring on it, I mean add chia seeds to it.
I snagged that salad hard. I added some goodies. I feverishly tweeted Alexis because I could barely believe my mouth while I was eating it. If you were wondering how one can eat an entire butternut squash in one sitting, you're looking at it. Via this salad.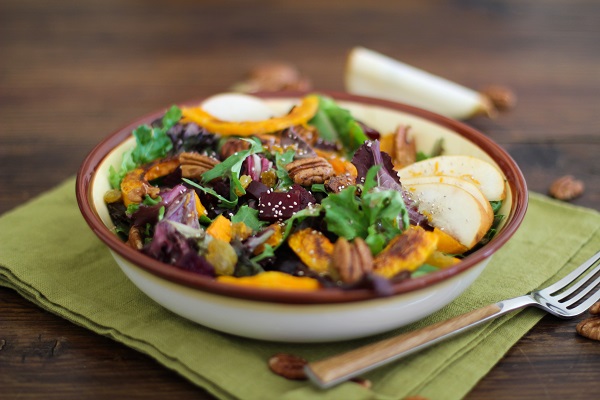 The maple orange cinnamon dressing is 98% of the reason I decided to make this salad. I changed up the ingredients from the original recipe just slightly, but here's the gist: Orange zest. Orange juice. Balsamic vinegar. Olive oil. Maple syrup. Cinnamon. Jedi mind trick.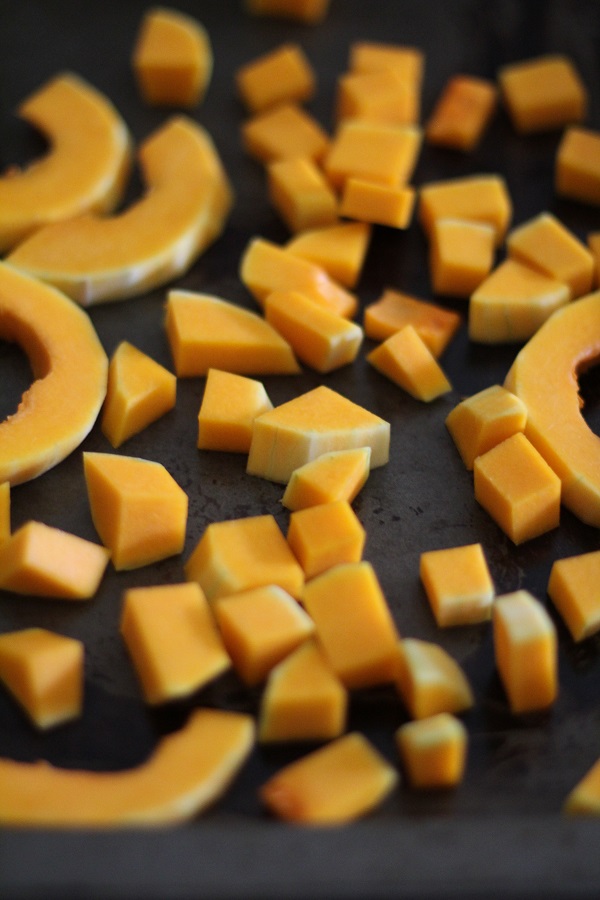 Mothers: trying to get your chillins to eat squash? Roast them. The squash, not the chillins. Roasted butternut squash is crispy on the outside, soft on the inside and pretty much tastes like a baked French fry. Except cooler. Like crushed velvet in 1995 cool.
If you are wanting to introduce more beets into your life, now is the perfect time. The beets I've been picking up from the grocery store have been sweet, flavorful and juicy – you can put them in this salad!
Fall Roasted Vegetables Salad
All the best parts of fall in one salad!
Ingredients
Salad:
1

small butternut squash

peeled and chopped into ½" cubes or sliced (2 cups)

1

large red beet

chopped into ½" cubes (2 cups)

1

ripe bosc pear

sliced

½

cup

pecans

1/3

cup

golden raisins

10

ounces

spring green mix

or greens of choice

1

teaspoon

white chia seeds
For the Maple Orange Cinnamon Dressing:
Instructions
Preheat the oven to 400 degrees F.

Peel the butternut squash and either slice it into ½" slices or dice it into ½" cubes (or both).

Lay the butternut squash on a baking sheet and drizzle enough olive oil over the pieces to coat them well.

Sprinkle the butternut squash with salt.

Peel and chop the beets and lay the pieces on a large piece of foil. Fold the foil, completely covering the beets, creating a foil packet. Place this packet on the baking sheet next to the butternut squash.

Place the baking sheet in the oven and roast the vegetables for 50 minutes, or until the butternut squash is browned and crispy. Remove from the oven and allow the vegetables to cool.

In a small bowl, whisk together the ingredients for the dressing.

In a large serving bowl, add all of the salad ingredients (including the roasted vegetables). Toss in desired amount of Maple-Orange-Cinnamon Dressing and serve!
Nutrition