Creamy, tangy, herby sweet potato salad is a winning side dish any time of year! Pack it up and haul it with you on your next picnic!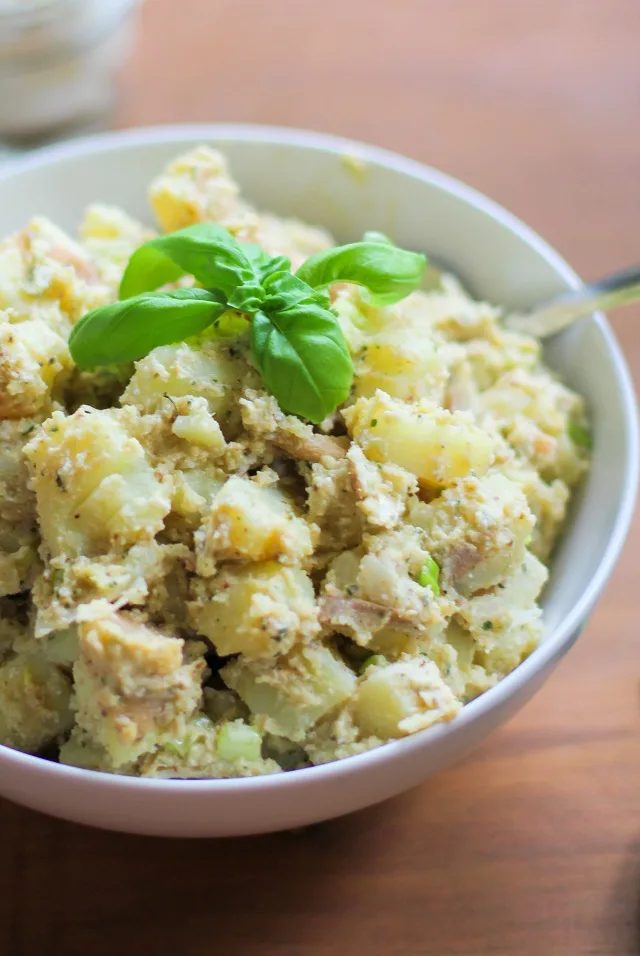 This summer, I've been fixated – nay, obsessed – with a dish that I for years swore I would never touch, much less put in my face trap: the potato salad. Like, I could use a good round of cognitive behavioral therapy to unwind the torrid bind this dreamy, satisfying side dish has over my mind-body-soul trifecta.
I've made multiple renditions of it (some of which you've seen right here), and I've even ordered it at various eateries, which is something I've never been in the habit of doing. You guys, I've consumed my weight in potato salad over the past few months for no good rhyme or reason other than the fact that it's the best display of carb comfort that can be packed, stored, picnic-ed, shared, whipped out in under 30 minutes, served hot or cold this potato-blessed life has had to offer.
I'll be darned if I didn't tell you I've even been eating the mayo-clad kind this summer ::gasp!::
if
you
can
believe
it..
…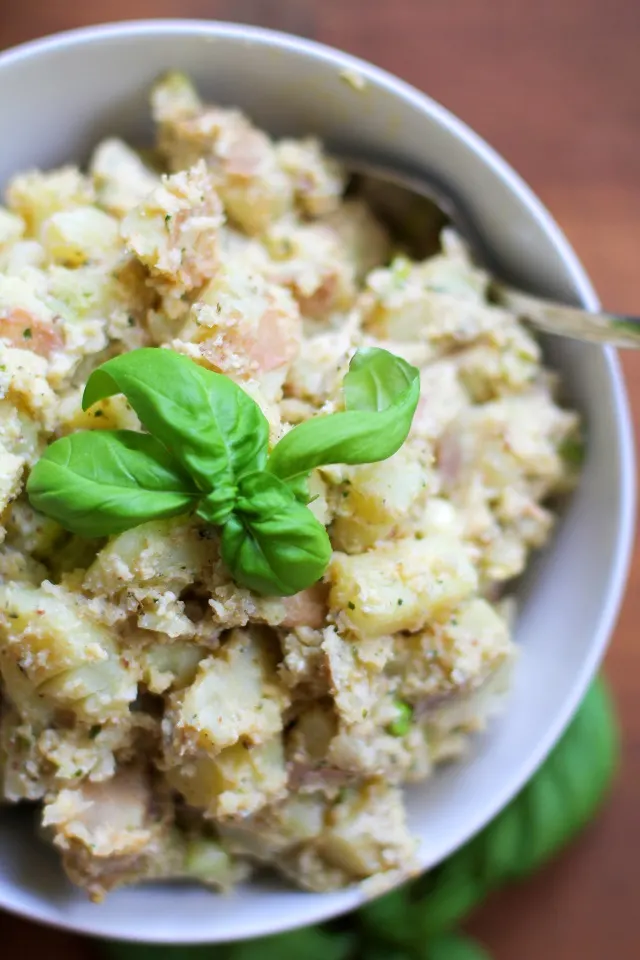 In honor of my much-coveted grilled meat, veggie, and potato salad , I did something recently that changed my worldview of potato salad forever: I used some ricotta and pesto sauce as the "dressing," along with some cider vinegar, and a touch of spicy brown mustard. The result: a creamy, earthy, tangy carb-load salad that I downed quicker than I'll ever admit.
The flavor trifecta of the food Gods.
The preparation time is roughly 30 minutes – all's you have to do is boil those po-tate-ers, and you can mix up the ricotta-pesto dressing as they're cooking. Once those potatoes are cooked, you simply chop them and mix them with your fun sauce, and serve it up like it's the most specialest of treats. You can also chill the sweet potato salad prior to serving it if you prefer it to be cold. ADDITIONALLY: the salad gets better with time, so feel free to let that sucker ferment in the fridge for a day or two before you even tap into it.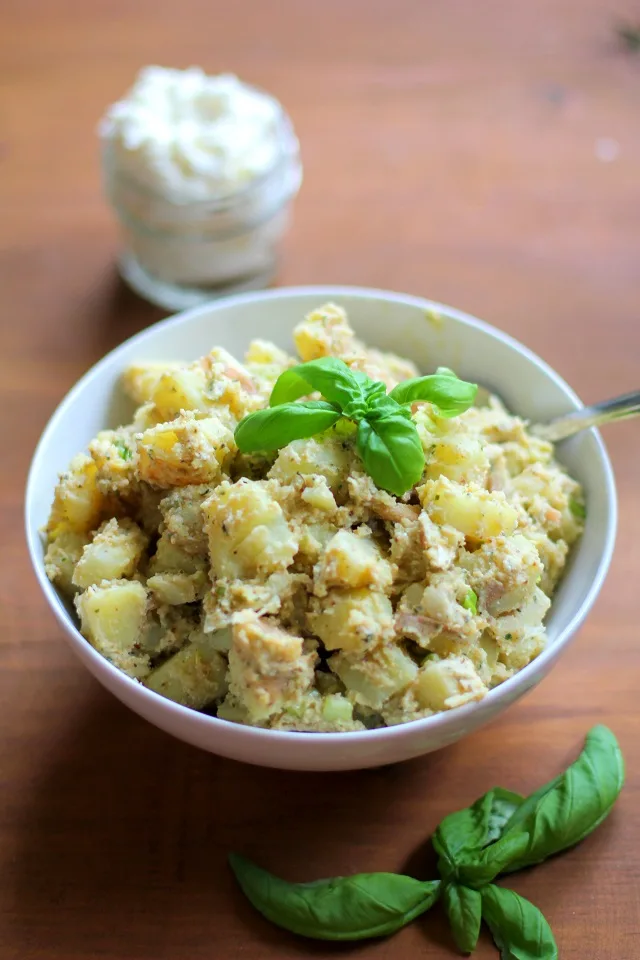 I used two large jewel yams for this potato salad, but you can also use 3 to 4 yukon potatoes, or red potatoes. I left the peel on for texture, but you can remove that sucker if you're looking for a smoother consistency. Need some bacon fat in your life? Add it, you little vixen, you.
Potatoes in the house, ee'erbody go crazy!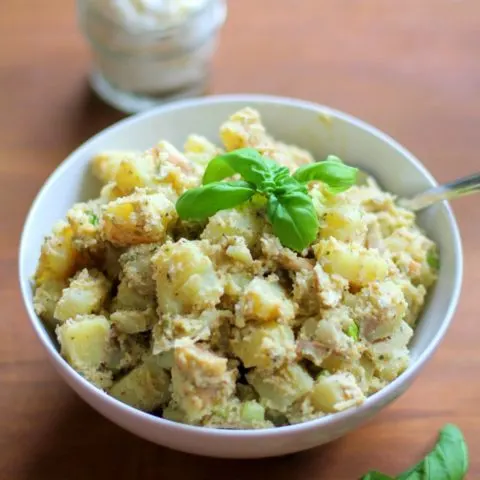 Ricotta Pesto Potato Salad
Ricotta Pesto Potato Salad makes for a unique, fresh take on classic potato salad. The ricotta and herbs are everything here!
Ingredients
2 large white sweet potatoes, steamed
1/3 cup pesto sauce
1/3 cup ricotta cheese
¼ cup cider vinegar
2 tablespoons olive oil
1-1/2 tablespoons spicy brown mustard
¼ teaspoon to ½ sea salt, to taste
Instructions
Chop sweet potatoes into quarters and place in a large pot. Cover with water and bring to a full boil. Cook the potatoes 20 to 25 minutes at a controlled boil, until very soft when poked with a fork. Drain the water, transfer potatoes to a cutting board, and chop when cool enough to handle. Transfer potatoes to a large serving bowl or mixing bowl.
While potatoes are cooking, whisk together the pesto sauce, ricotta cheese, cider vinegar, olive oil, mustard, and salt.
Pour the ricotta-pesto dressing over the sweet potatoes and stir (or mash) until everything is coated. Taste the potato salad for flavor, and add more pesto sauce and/or salt to taste. Either serve hot, or place in the refrigerator until chilled and serve cold.
Nutrition Information
Serving Size

1 grams
Amount Per Serving
Unsaturated Fat

0g