Raw root vegetable bowls with zesty orange vinaigrette are packed with enough nutrition to dry your John Cusack movie-induced tears.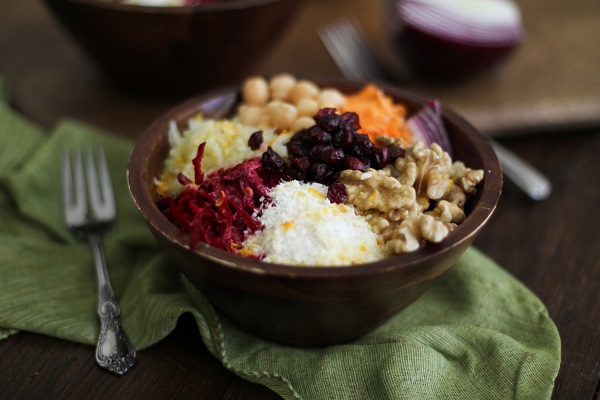 Spring is springing leaks all up in the mother nature hood, which just makes me want to put raw vegetables in a bowl and eat them all up.
Spring is a raw, tumescent time. All the bunny rabbits know it.
What is going on with these bowls?
I shredded up a bunch of root vegetables and lay them down on top of more roots. I added a crazy.zesty.cool dressing along with some garbanzo goodies, wiley walnuts, and dried up cran crans. – – – > The second you start nicknaming foods, you have been food blogging for too long. Just.keep.going.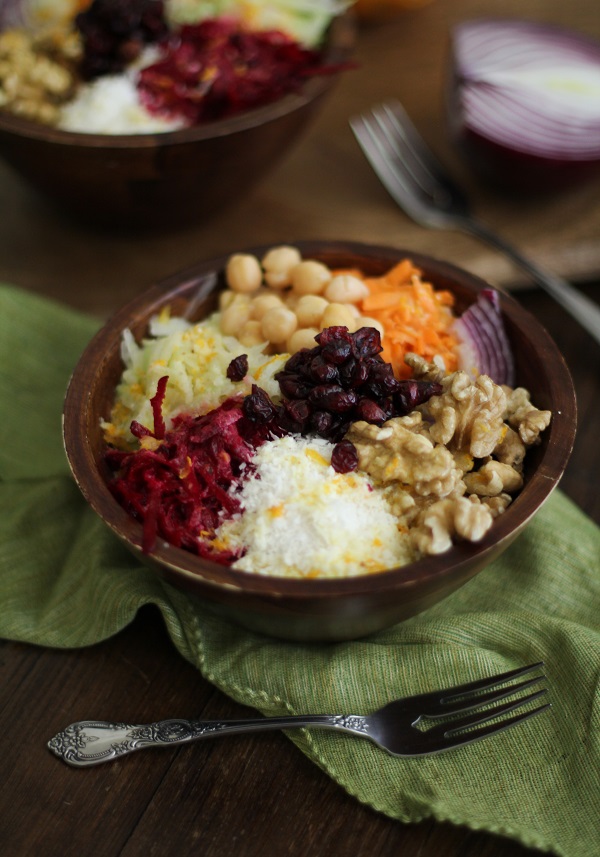 You've noticed "bowls" are a thing right now. One of the greatest parts about bowling it is you can bowl like no one is watching. Translation: bowls are versatile. Make them your own. For this recipe, you can serve the roots over spring greens or cooked rice, or you can do as I did and eat roots on top of roots on top of roots on top of…
Have you ever seen kohlrabi? Here's what it looks like:
Raw food. It's very nutritious. I made these raw root vegetable bowls immediately following an active day and immediately prior to grabbing the down comforter off my bed, forming myself into a tightly-curled ball on the couch, and marathon watching John Cusack movies whilst drinking wine and eating roots all night long. Don't pretend like you haven't done this. Everyone has done this, which is precisely why Microsoft Word knows John Cusack well enough to correct my incorrect spellings of his name.
A note to raw food fanatics: the chickpeas I used in this bowl are technically not raw. You may use raw chickpeas by sprouting them. < – – – this is me avoiding any raw backlash. Raw backlash is a bitch. Now I'm just confusing myself.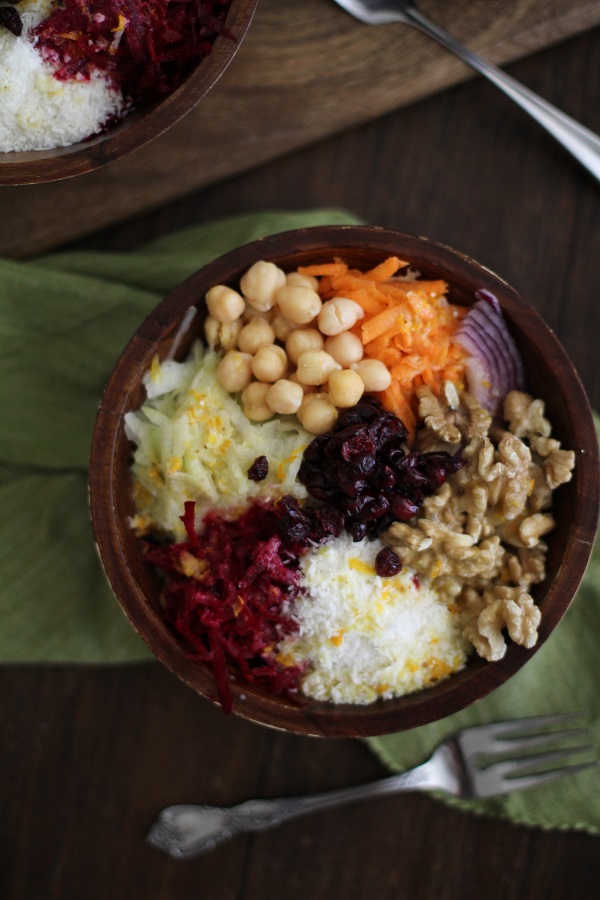 Wanna know what I did 2.7 seconds after I snapped these photos? I dumped everything into a huge bowl and mixed it all together. Which brings me to my last point. This recipe can double as root vegetable slaw. I repeat: coleslaw. Simply mix everything (excluding the chickpeas, but including all of the dressing) together in a bowl, and you have yourself a mighty good raw slaw. Which you can put on wiener schnitzel. Just throwing ideas out into the ether.
Bowl until you can't raw bowl no more.
Raw Root Bowls with Zesty Orange Dressing
Raw Root Bowls with Zesty Orange Dressing is a unique, cleansing lunch or dinner
Ingredients
For the bowls
2

large red beets

peeled and shredded

1

large kohlrabi root

peeled and shredded

2

large carrots

peeled and shredded

1

cup

raw walnuts

½

cup

dried cranberries

¼

red onion

sliced
For the zesty orange dressing:
Optional add-ins
1 14-

ounce

can chickpeas

drained and rinsed

Avocado

Hard boiled eggs
Instructions
In a bowl, whisk together the ingredients for the zesty orange dressing and set aside.

Add desired amounts of each of the ingredients to a bowl and pour desired amount of dressing on top. Note that you can serve these bowls over a bed of spring greens or cooked rice, and can also add a variety of optional add-ins, such as chickpeas, avocado, and/or hard-boiled egg.
Notes
In order to make this into root vegetable slaw, simply combine all of the ingredients (excluding the optional add-ins) into a large bowl. Pour the zesty orange dressing on top, and mix together until well-combined. You can use this slaw on sandwiches, in salads, on top of fish or poultry, or serve as a side dish.
Nutrition