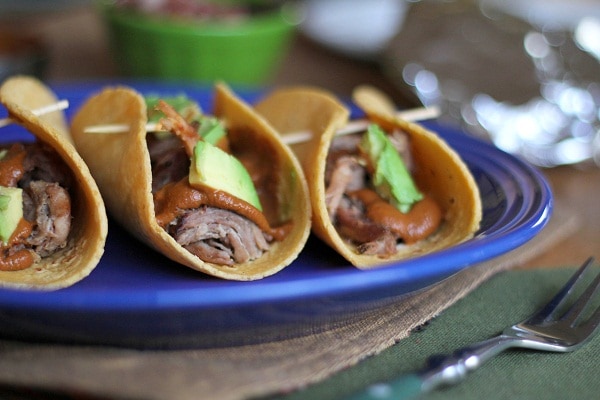 Forgive my need to drop this bomb. Only one day after the biggest baking holiday of the season and I offer nothing to resemble the brightly sprinkled recipes you and I have been drooling over for the past two months. Nothing to necessitate lightly oiling, parchment lining, overnight refrigerating, nothing to even attempt to wean you out of baking at 350 for 12 to 15 minutes. Nothing that makes use of a single leftover that is taking up precious real estate in your refrigerator, freezer and counter top. Sorry. You'll forgive me.
Here is me showing up to school on a snow day wearing shorts. Here is me tucking and rolling out of pie and truffle-ville, away from leftover land with a taco so great it may require its own protective force field. I may be wearing shorts during a snow storm with this recipe but you'll thank me approximately .3 seconds after you sink your teeth in. Ay, the bomb has been dropped and the bomb's name is Mole.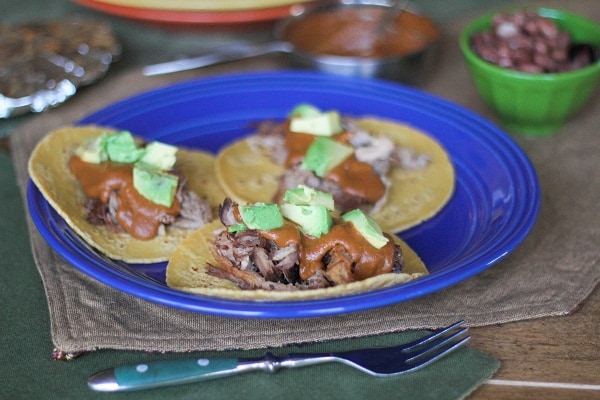 Mole (pronounced mole-lay) is a Mexican sauce made with chilies, tomatoes (or tomatillos), seeds and nuts, dried fruit and chocolate. It is rich, dark and thick and is normally served over poultry or meat with beans and rice. Mole may as well be a food group. It may as well be a vacation home, a celebrity, your grade school crush. Lust, lust, lust…mole is a sauce to lust over. Most mole sauces are very, very dark but for some reason, mine did not turn out very dark. I did not follow a specific recipe, but took elements from multiple recipes and what I ended up with was pure bliss. And. A. Lot. Of. It. So fret not if this mole could use a little bronzing in direct sunlight – it tastes the way a great mole should and it's a mole made simple.
Sauté, roast, blend, cook, grind, cook, strain, cook, strain is typically the order of operations for mole. Follow these steps and you won't be disappointed. I, however, suffer from extreme lack of patience, so I cut out a couple of the steps by modifying ingredients (no spice or nut grinding and no straining). Despite my cutting corners, sweet pea and I were thrilled with the sauce.
If, like me, you're ready to mosey away from the holidays, embrace the Mole Bomb!
Pulled Pork Mole Tacos
Amazing shredded pork tacos with mole sauce
Ingredients
For the Easy Mole Sauce
6

dried ancho chilies

16

ounces

very hot water

1

pasilla pepper

roasted

2

pounds

vine ripened or heirloom tomatoes

roasted

2

tablespoons

canola or olive oil

1

large yellow onion

chopped

6

cloves

garlic

1

teaspoons

ground cumin

1

teaspoon

oregano

1

cinnamon stick

1

tablespoon

sesame seeds

4

cloves

whole

2

corn tortillas

2

tablespoons

raisins

1-1/2

tablespoons

unsalted unsweetened creamy peanut butter

it don't matter none)

1

ounces

round Mexican Chocolate

such as Ibara, 3

1

tablespoon

brown sugar
For the Pulled Pork
5

pound

pork shoulder roast

bone-in if possible

1

can beer

something light, nothing very hoppy

2

teaspoons

ground ginger

1

teaspoon

ground cayenne pepper

1

tablespoon

fresh lime juice
For serving the tacos
Corn tortillas

Avocado

Pinto Beans
Instructions
To Make the Pulled Pork:
Sprinkle the pork roast with the ground ginger, cayenne and salt. Place the roast in a crock pot, pour in the beer and lime juice and cook on low for at least 8 hours. Mine cooked for 12 hours and the meat fell right off the bone.

Remove the meat from a crock pot and place it on a cutting board.

When cool enough to handle, shred the pork using a fork (Discard the bone if your roast was bone-in and discard any excess fat).

Either put the meat back in the crock pot juices for more flavor or place meat in a bowl/container.
To Make the Easy Mole Sauce:
Heat water to a boil and pour about 14 to 16 ounces of hot water into a glass. Submerge the dried chillies and allow them to sit for 20 – 45 minutes. Remove chilies from water, remove stems and seeds and save the chili flesh and the water they were soaking in. You will be using the water as a means of thinning out the sauce. You can also use 16 ounces of chicken or vegetable broth for this if you'd prefer.

Heat the oil in a skillet over medium to medium-high heat and sauté the onion until very soft and browned, about 15 to 20 minutes. Add the minced garlic and sauté another 5 minutes. Remove from heat and add the sautéed onion and garlic to a blender.

Heat the oven to 400 degrees. Cut the tomatoes in half and place them on a parchment or foil-lined baking sheet with the pasilla pepper. Roast tomatoes and pasilla pepper until skin is browned and begins pulling away from the soft flesh. Remove the stem and seeds from the pasilla pepper and add the pasilla pepper and tomatoes in the blender with the sautéed onion/garlic.

Place ALL ingredients (including tortillas) except for the cinnamon stick, the water the chilies were soaking in and the chocolate into the blender and blend until completely smooth. This may take a few minutes.

Pour the mixture into a large sauce pan and heat over medium. Add in the cinnamon stick, chocolate and pour a little of the water (or broth) into the sauce pan.

Stir until chocolate is melted and add more water.

Continue cooking the sauce at medium-low or medium heat (just below its boiling point), adding the water until there's no more, and stirring periodically for 45 minutes.
To Prepare the Mole Tacos:
When ready to serve, wrap corn tortillas in aluminum foil, place them in the oven at 300 degrees for about 8 to 10 minutes until warm.

In a skillet, add desired amount of pulled pork meat and heat over medium high for 3-5 minutes to get a nice crisp on the meat.

Add a heaping portion of meat, mole sauce, avocado and additional desired toppings (I'd avoid very flavorful toppings such as onion or cilantro).

Protect your plate with all your might so as not to allow hungry boys to steal it out from under you.
Nutrition
Serving:
1
of 20
|
Calories:
255
kcal
|
Carbohydrates:
17
g
|
Protein:
23
g
|
Fat:
10
g
|
Fiber:
2
g
|
Sugar:
5
g