Parsnip Risotto with Chickpea Alfredo Sauce + Shrimp, Asparagus, and Split Peas is an incredibly flavorful and nutrient-dense dairy-free side dish or meal.

Fourscore and seven years ago, I ate my very first risotto at Olive Garden. It was like nothing I had ever tried – rich, creamy, sticky, zesty, full of shrimp and super filling. I've been wanting to re-create a healthful version of this dish for ages, and you guys…the time hath cometh.
Can we all take a second to wrap our brains around this meal? At first glance, it seems complicated, but when you zoom out of the details, it's actually quite simple.
The basic gist is that we're making a mock alfredo sauce out of dry chickpeas in order to keep it nutritious and dairy-free. The sauce includes some ingredients you may not be accustomed to (such as white miso paste and nutritional yeast), but I assure you, it's worthy of introducing yourself to the new goods.
In addition, we're making risotto using parsnips instead of…well…risotto. To do this, we spiralize up a bunch of parsnips using a spiralizer, and then chop the noodles into rice-sized bits. If you don't have a spiralizer, you can also chop the parsnips, put them in a food processor, and pulse until you get "rice."
Sauté up the parsnip "rice" with asparagus and shrimp. Douse that risotto in our super healthy chickpea alfredo sauce and the big picture looks like a healthy, clean, fresh, well-rounded meal.
See? Super simple. <- Don't kneecap me.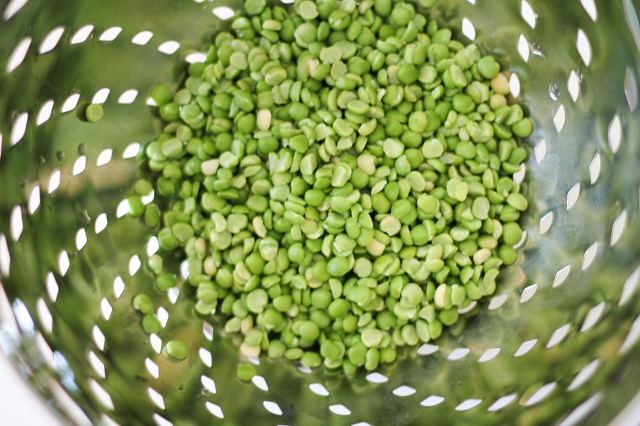 Aside from the fact that this recipe is entirely dairy-free, gluten-free, protein and vegetable-packed, and super delish, I developed it for an additional purpose. Healthy food with intention? Double whammy!
Each year the United Nations picks a topic of global interest, and they named 2016 to be International Year of Pulses.
The term "pulses," refers to nutritionally-packed edible seeds of legumes, including lentils, chickpeas, dry peas and beans. Pulses were selected because of their significant health, economic and environmental benefits. The hope of the 2016 IYOP is to raise awareness of pulses as a globally accessible and affordable source of protein and other essential nutrients. More information on IYOP can be found here.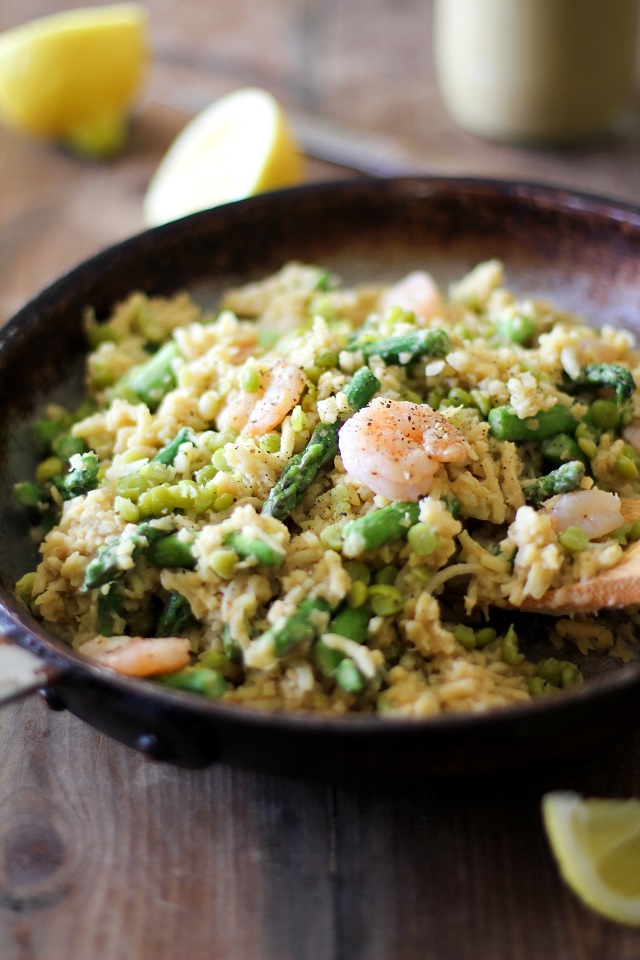 Now go get your grain-free, pulse-infused risotto!
Parsnip Risotto with Chickepea Alfredo Sauce + Shrimp, Asparagus, and Split Peas
An incredibly unique dairy-free creamy alfredo recipe made with chickpea alfredo sauce and low-carb with parsnip "risotto." This nutrient-dense meal is absolutely delicious!
Ingredients
Chickpea Alfredo Sauce:
1

cup

dry chickpeas

2 cups cooked

1

clove

garlic

minced

1

tablespoon

white miso paste

3

tablespoons

nutritional yeast

2

tablespoons

lemon juice

¼

teaspoon

ground nutmeg

¼

teaspoon

sea salt

or to taste

1-½

cups

water*
For the Parsnip Risotto:
For Serving:
½

cup

cooked split peas

see note

Fresh lemon
Instructions
Prepare the Chickpea Alfredo Sauce:
Cook chickpeas according to package instructions (see note)**.

Add cooked chickpeas, along with the remaining ingredients to a high-powered blender. Blend 90 seconds to 2 minutes, until sauce is completely smooth. Transfer to a jar and refrigerate until ready to use. Note: you will end up with about 2 cups of chickpea alfredo sauce. You only need 1-¼ cups of the sauce for this risotto - save remaining sauce for future recipes for up to 1 week in a sealed container.
Prepare the Parsnip Risotto:
Cook 1 cup of dry split peas according to package instructions, and reserve ½ cup of the cooked split peas for this recipe (see note)***.

Peel the parsnips, chop them into quarters, and place them in a food processor. Pulse until you get rice-sized pieces (alternatively, spiralize the parsnips, then chop the noodles).

Heat the olive oil over medium and add the chopped asparagus. Cook 3 minutes, stirring frequently.

Add the parsnip "rice," garlic, and shrimp. Cook for 5 minutes, stirring occasionally, until shrimp is cooked through and parsnip rice has softened.

Add 1-¼ cups of the chickpea alfredo sauce and stir to combine. Cook another 3 minutes, until risotto reaches desired texture.

Taste risotto for flavor and add sea salt as desired. Add the cooked split peas and stir well. Serve with fresh slices of lemon for drizzling.
Notes
*For a thinner sauce, add a small amount more water until sauce reaches desired consistency. The sauce will thicken up in the refrigerator when saved and will also thicken when introduced to heat.
**Rinse the chickpeas, place in a bowl, and submerge in water. Allow chickpeas to soak 6 to 8 hours (or overnight). Drain the water from the chickpeas and add them, along with 4 cups of fresh water to a saucepan. Bring to a full boil, then reduce heat to a simmer and cook 45 to 90 minutes, or until tender.
***Rinse 1 cup of dry split peas and place in a saucepan along with 2 cups of water. Bring to a boil, reduce heat, cover with a lid and simmer 25 to 35 minutes, or until tender. Drain and reserve ½ cup of the split peas for the risotto. Use remaining split peas for other recipes.
Nutrition