Gluten-free, grain-free, naturally sweetened paleo vanilla cake made easily in a blender. This sheet cake can be made into a layer cake for all your celebration needs.
If you and I were on a coffee date, I'd wow you with tidbits of mindless chit chatter, and tell you my favorite birthday cake is the yellow kind. Boxed yellow cake, to be exact. Growing up, my mom would ask me the type of cake I wanted for my birthday, and I'd always tell her I wanted the yellow cake from the red box. No frosting. Custard or strawberry filling optional. Chocolate? Oh puh-lease. Not having it.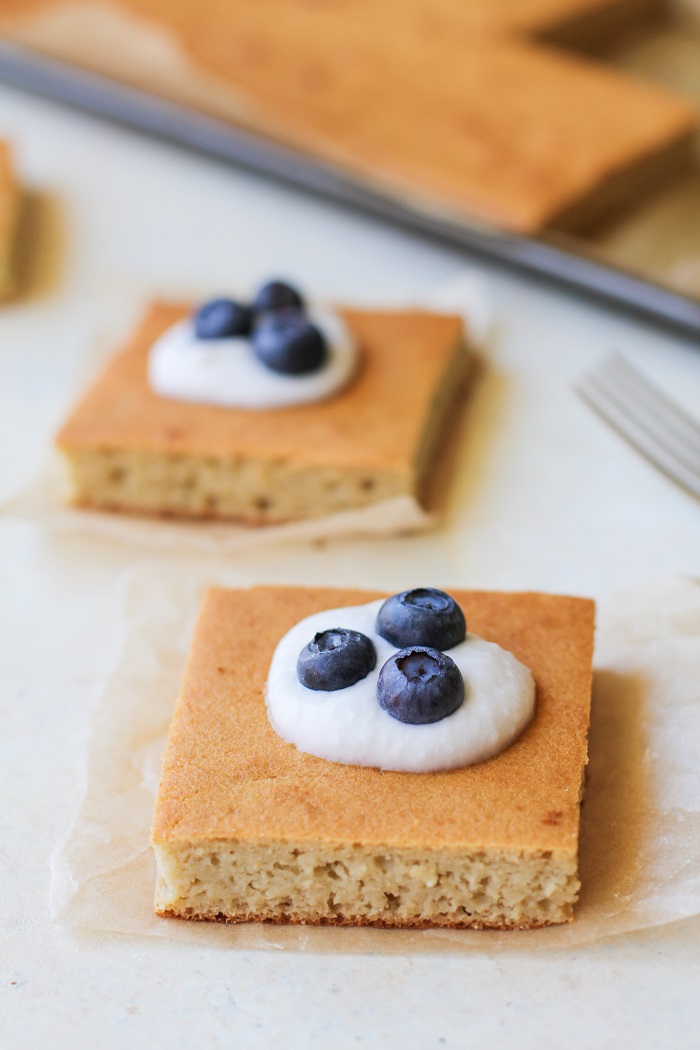 I was as plain Jane as you could get when it came to sweets. Humbly, I admit, not much has changed.
Speaking of birthdays, how many geminis do you know? June is a big month for birthdays in my neck of the woods. Mine was earlier this month, followed by four of my family members and more friends than I have the attention span to count. All the geminis. Lots of crazy. No decisions made ever.
Anyhoo, for those of you who have friends or family that love vanilla cake and follow a gluten-free or paleo diet, this cake recipe has you covered.
It is…
Gluten-free and grain-free

Made with coconut flour and tapioca flour for a light and fluffy texture

Refined sugar-free and sweetened with honey

Batter is made super quickly in your blender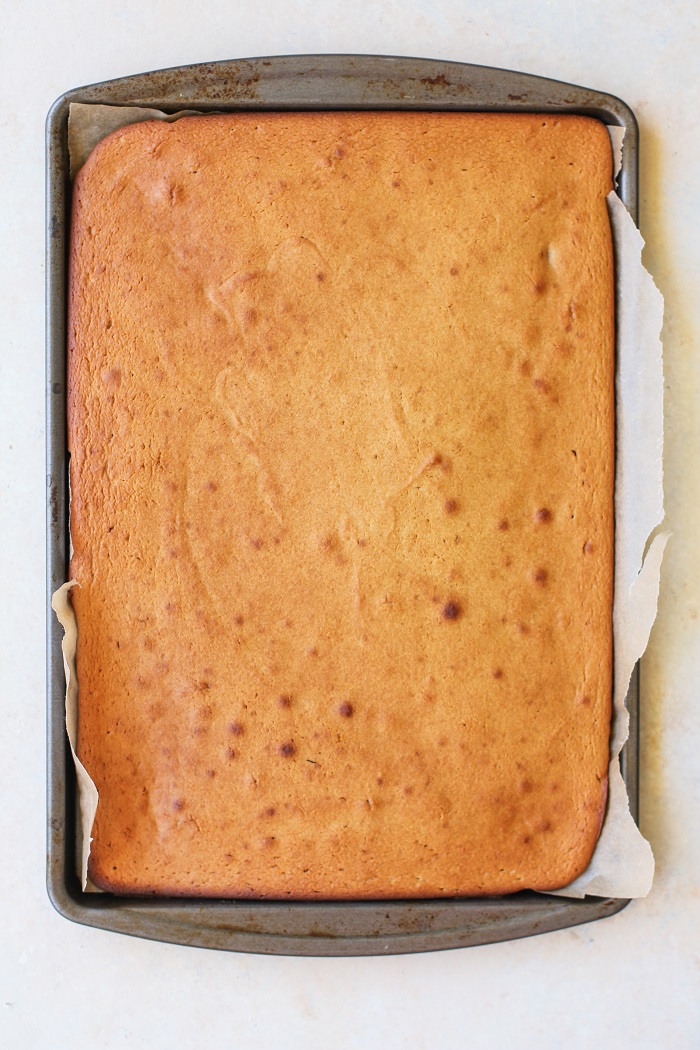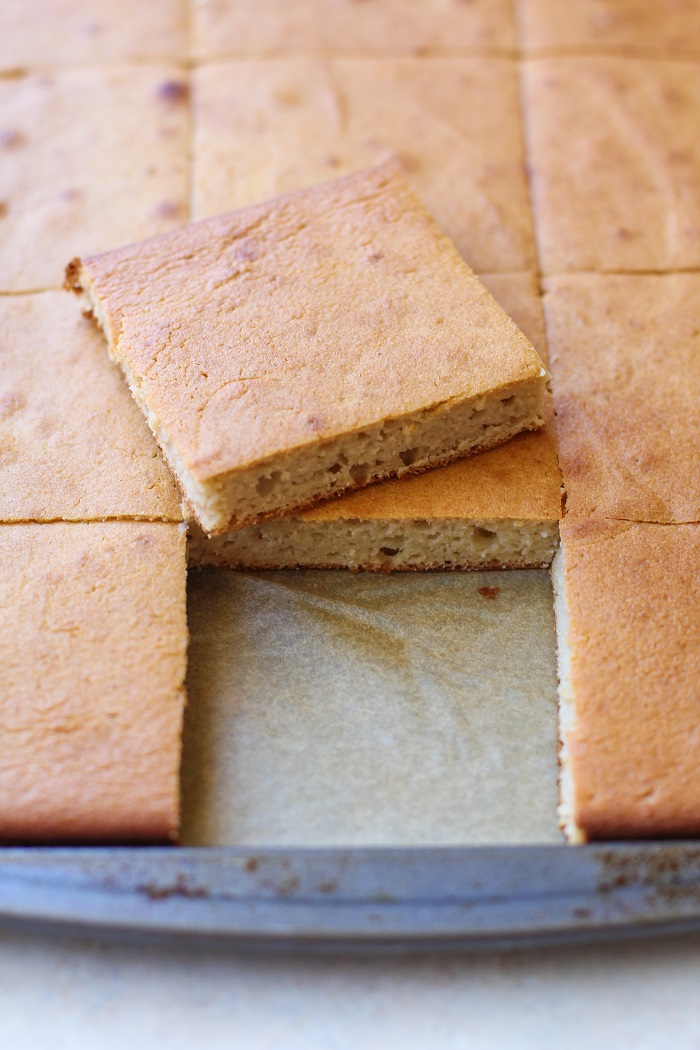 While I made this a sheet cake, it can be made into an 8 to 9-inch square or round cake if you're looking for thicker peices. If you're into layer cakes, double the recipe and hop to it – this cake is perfect for layering, as it holds together super well.
Adaptations:
Both coconut flour and tapioca flour are their own species, so unfortunately, I don't have any substitutions to recommend. The good news is, most grocery stores that have a natural food section carry both flours.

Add sprinkles to make it a funfetti fiesta

Use pure maple syrup, coconut palm syrup, or agave in place of honey

Substitute almond milk for full-fat coconut milk, just note that the cake will not be as moist since canned coconut milk.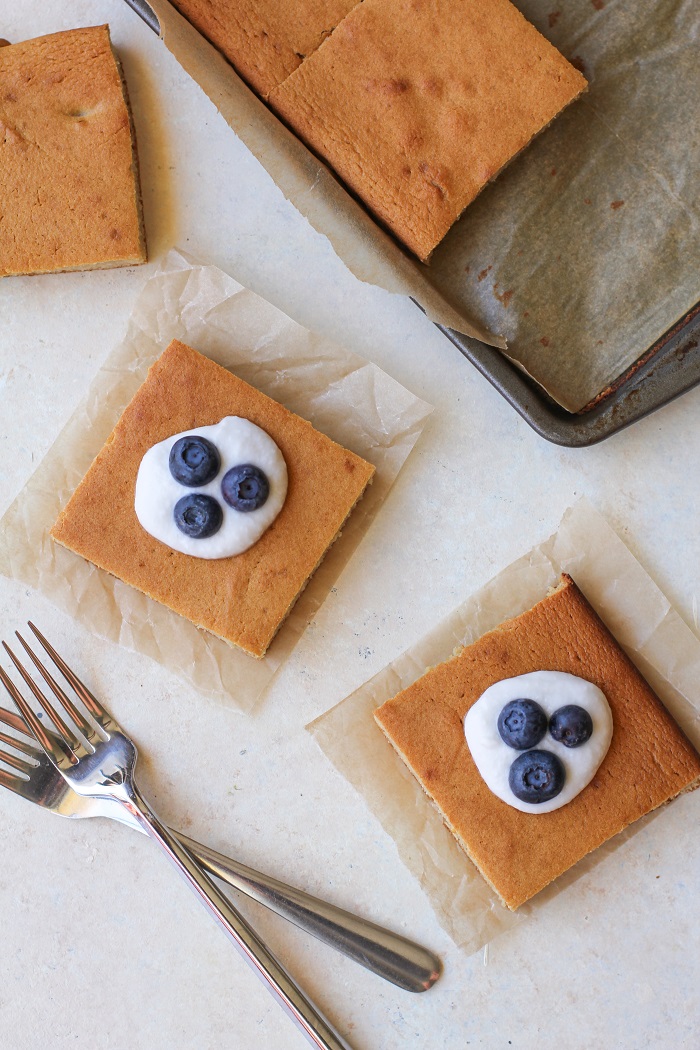 Stay tuned! I'll be posting a fun dessert recipe on Thursday that uses this cake! Make your grocery list now so that you have everything you need!
Tools I used to prepare this recipe:
Paleo Vanilla Cake
Paleo Vanilla Cake is an easy sheetpan cake recipe for any occasion.
Servings:
1
small sheet cake
Instructions
Preheat the oven to 350 degrees F and line a small 8.5" x 6.5" baking sheet with parchment paper. Note: You can also use an 8-inch or 9-inch square pan or round cake pan.

Add all ingredients for the cake to a blender and blend until completely combined. Pour the cake batter onto the prepared baking sheet and use a rubber spatula to spread it into an even layer.

Bake on the center rack of the oven for 25 to 28 minutes, or until cake tests clean.

Remove from oven and allow cake to sit at least 5 minutes before cutting into squares and serving.

Serve with fresh berries and a dollop of whipped coconut cream
Notes
*You can use any liquid sweetener you'd like, including honey, agave, and coconut palm syrup. To keep this recipe low-FODMAP, avoid using honey.
Nutrition