Grain-free, refined sugar-free, dairy-free paleo-friendly Tres Leches Cake – a creamy, decadent dessert.
Today's a special day on the blog! The lovely Sarah, Ashley, and Marcie rounded up a group of bloggers to throw a virtual baby shower for our friend, Izzy, who is having a baby boy soon!
Surprise, Izzy! A million congrats to you and your husband on the upcoming addition to your family! Given the fact that Cinco de Mayo is tomorrow, I figured I would make a Mexican-inspired treat to share while we bebop around doing baby shower-ly things.
For those of you who haven't checked out Izzy's blog She Likes Food, I highly suggest you hop over there right now (and then come back for dessert)! She comes up with all sorts of clever healthful recipes that are packed with nutrients and straight-forward to prepare any night of the week. Her blog is a most excellent resource for anyone who loves a healthy meal.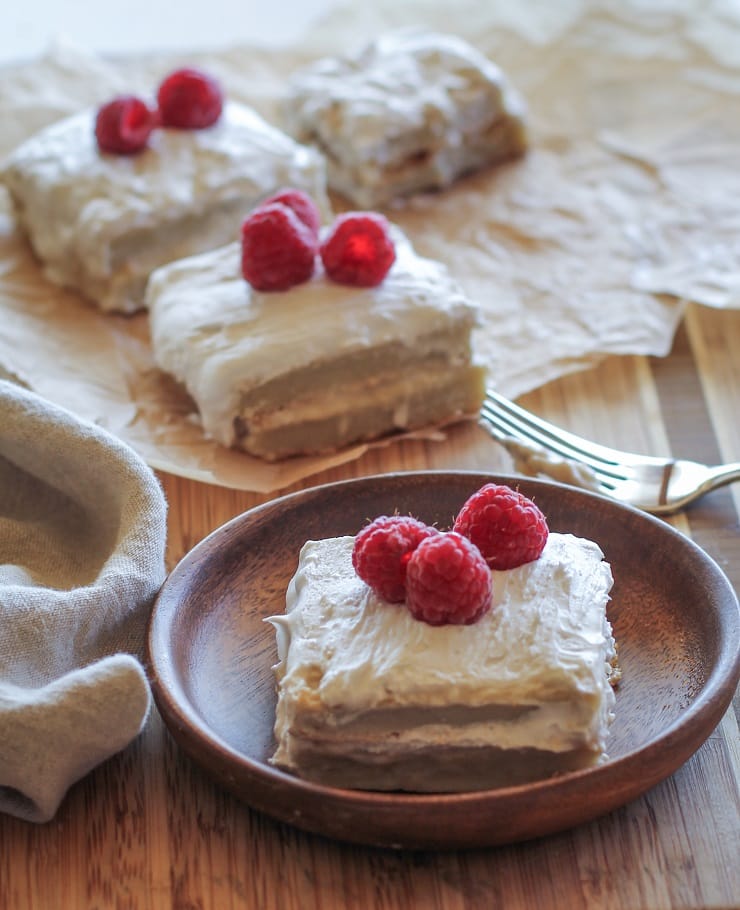 Let's have words about this cake. And then let's eat the cuh-rap out of it.
Prior to developing this recipe, I experienced a bout of cognitive dissonance because there are some recipes that you just don't paleo-ify without changing the name. Like ice cream flambé, tiramisu, or rice crispy treats. You can't call a rice crispy treat a rice crispy treat unless it has puffed rice and mallows in it…Just like you can't call a tres leches cake tres leches unless it has three milks in it, catch my drift? Nevertheless, I'm doing just that.
Traditional Tres Leches cake contains not one, but three types of milk: condensed milk, evaporated milk, and heavy cream. It's a dairy lover's dream come true, and it makes my mouth water just thinking about it. The jist of it is you bake a yellow (or vanilla) cake, poke holes in it, pour milk over it and let it sit to absorb said milk to become ultra spongy, then frost it with delicious frosting. There really is nothing like it. Except for maybe this recipe.
We follow the same basic principles here, but the cake is grain-free and refined sugar-free, and instead of using tres leches, we're using uno: coconut milk. BUT we're using THREE cans of coconut milk, so that's why I'm comfortable calling this a tres leches cake. How's that for reasoning? It's a riot.
So we whip up the cake batter in a blender, bake it, poke it with holes, pour coconut milk and honey over it, allow it to sit, then top it with whipped coconut cream.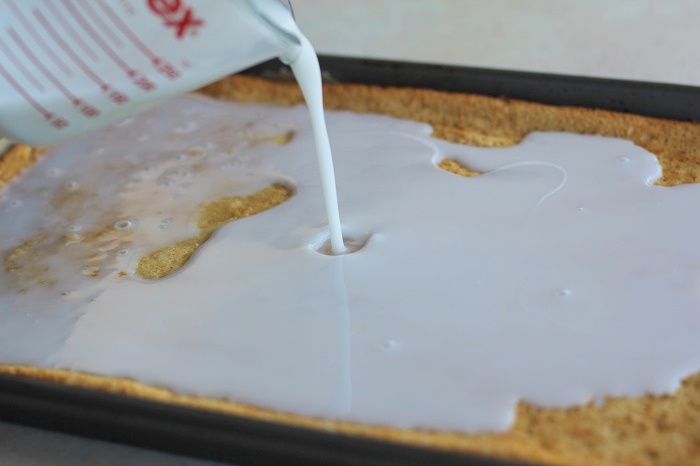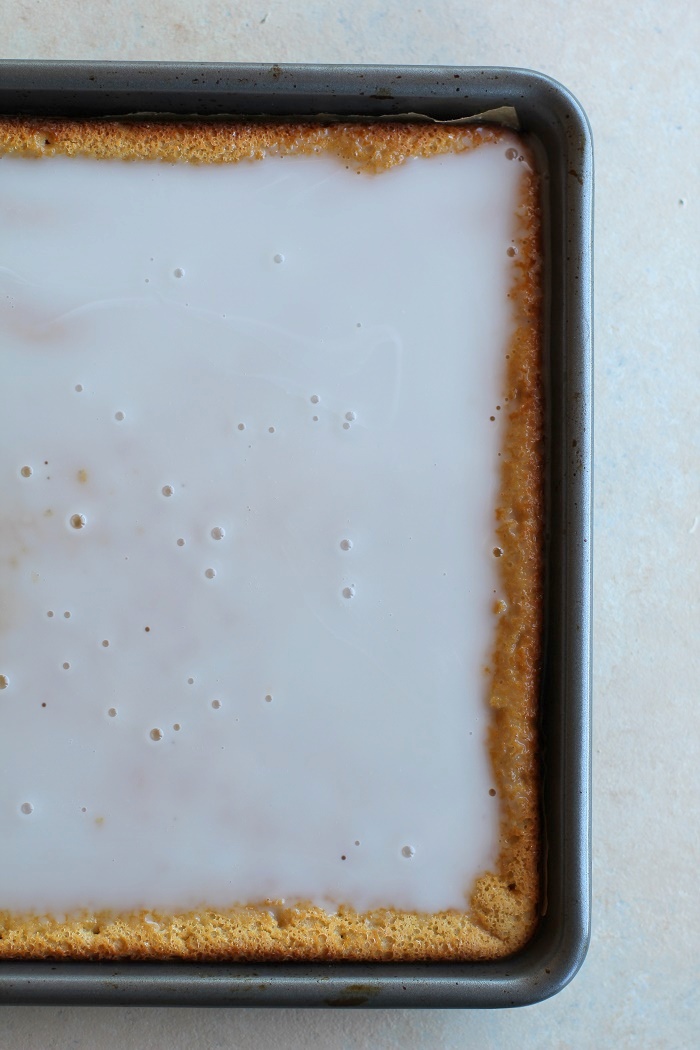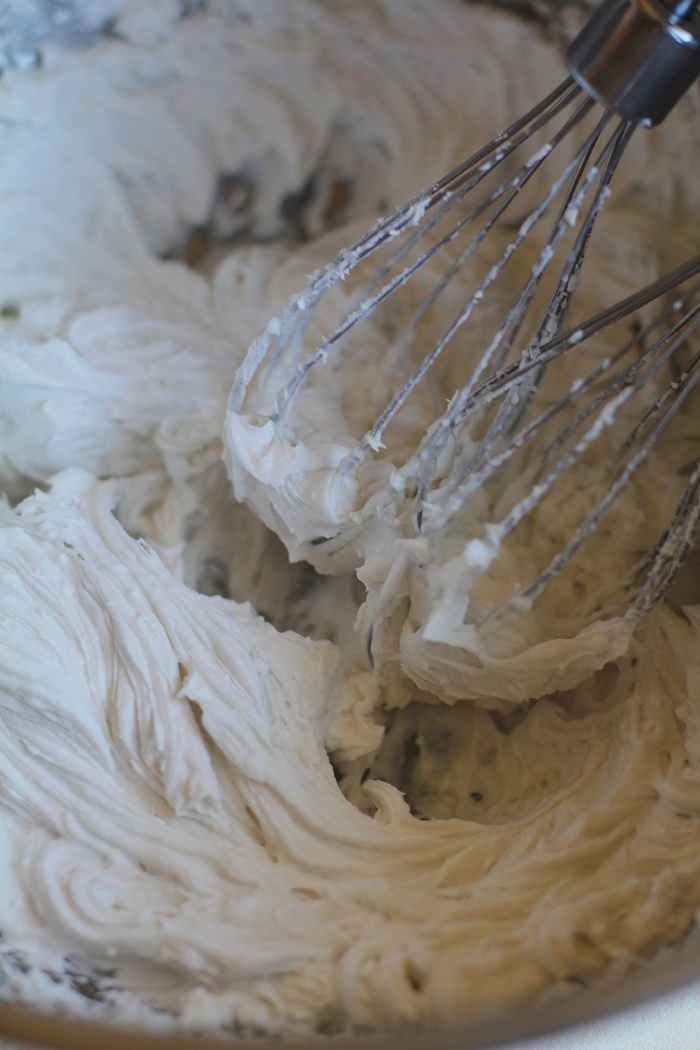 PHEW! For a lazy lover of one-bowl wonder desserts, I admit, this is a bit of a task, but it's so worth it. Because what you get is a super rich, decadent and moist sponge cake with thick creamy frosting that has amazing texture. And you guys…this thing is sticky. It's such a mess to consume if you're a hands eater like me. Please tell me you'll eat this with your hands and face, pretty please.
Moving right along.
Notes on preparing this recipe:
If you want to make the cake a single layer, use a small cake pan, such as a 6 to 8-inch round spring form pan, or an 8" x 8" square pan. I wanted to do a layer situation, so I used a 13" x 9" baking sheet, then cut the cake in half (vertically, not horizontally) in order to smear frosting in the middle for the stacking.

When making this a layer cake, it will be a little bit easier to slice the edges off, as they rise a little bit higher than the rest of the cake – I did this and simply ate the edges as I cut them off.

Don't skip the parchment paper – it will make removing the cake from the pan much easier for frosting. If you're not concerned about the way the cake is presented, you can skip the parchment.

You'll technically need two and a half cans of coconut milk for the recipe. One whole one for the cake, half of one for the soaking, and the cream from one can for the frosting. So you'll still need to purchase 3 cans and will have some coconut milk and coconut water leftover.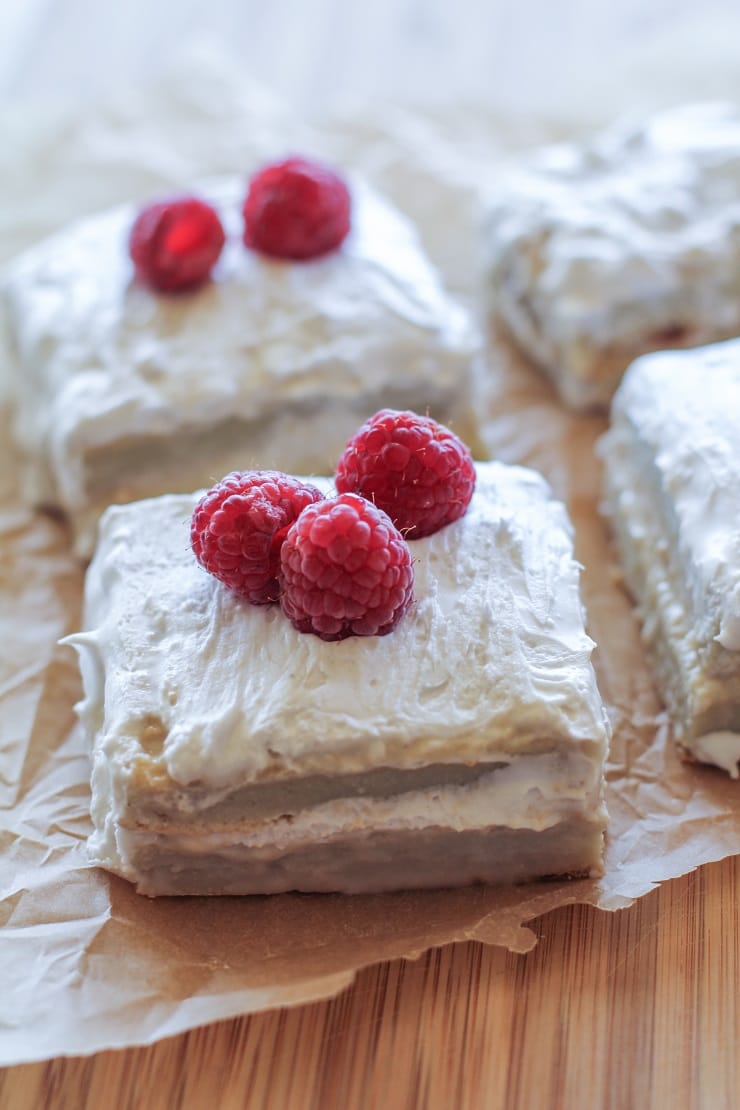 Annnnd…Lettuce eat cake!
Paleo Tres Leches Cake
If you're following this recipe for the coconut whipped cream frosting, be sure to read the instructions first, as you'll need to refrigerate the coconut milk overnight prior to making the recipe.
Instructions
Prepare the Cake:
Preheat the oven to 350 and line a small (9" x 9" square, 6 to 8-inch round, or 9" x 13" baking sheet) cake pan or baking sheet with parchment paper.

Add all of the ingredients for the cake to a blender and blend until smooth. Transfer the cake batter to the prepared baking dish and place on the center rack of the preheated oven. Bake for 40 minutes, or until the center is set up and edges are golden-brown.

Remove from the oven and allow the cake to cool 10 minutes.
Soak the Cake:
In a small bowl or blender, combine 1 cup of full-fat coconut milk and 2 tablespoons of honey.

Poke the cake using a fork or wooden skewer multiple times (I poked holes about ½-inch to 1 inch apart).

Pour the coconut milk-honey mixture evenly over the whole cake, including the sides. Refrigerate at least 3 hours, overnight is better. If keeping the cake in a single layer, you can frost it after it has sat and soaked in the refrigerator. If making a layer cake, cut the cake in half to form two layers. Follow the instructions above for preparing the frosting.
Frost the Cake:
Place one (or two if extra frosting is desired) 14-ounce cans of coconut milk in the refrigerator and refrigerate overnight. When ready to make the frosting, open the cans and scoop out just the coconut cream (the super thick fleshy part at the top), reserving the coconut water for other recipes such as smoothies or oatmeal. Transfer the coconut cream to a mixing bowl.

Add the remaining ingredients for the coconut frosting to the mixing bowl and use a hand mixer to beat until well-combined and fluffy. If the coconut cream is hard, add a small amount (2 to 3 tablespoons to start) of the coconut water in order to soften it up a bit. Add a small amount more as necessary, until a thick whipped cream forms. Refrigerate until ready to use - ideally, you'll prepare the frosting just before frosting the cake so that it doesn't become liquidy in the refrigerator.

Spread the frosting over the cake, cut large hunks, and serve (Note: if making a layer cake, use half of the frosting to adhere the two layers and the remainder of the frosting to frost the top of the cake).
Nutrition
Now let's check out what the other lovely ladies brought to the shower:
Hoecakes with Blueberry Lemon Compote from Making Thyme for Health
Mini Phyllo Strawberry Brie Bites from Flavor the Moments
Veggie and Pesto Flatbread Pizza from Cook Nourish Bliss
GF Blackberry Greek Yogurt Cake from Whisk & Shout
Chocolate Hazelnut Butter Brownies from Foodie Loves Fitness
Rosemary Lemonade Popsicles from Vanilla and Bean
Roasted Cauliflower with Yogurt Sauce (Zahra) from Fox and Briar
Mini Berry Tarts (Paleo, Gluten Free & Vegan) from Bakerita
Healthy Potato Nachos from Nourished the Blog