Sweet and nutty grain-free maple walnut bread. This paleo quick bread is made with almond flour, tapioca flour, coconut milk, and pure maple syrup for a healthy snack and treat.
How's your holiday season going?
It's been sunny and fairly cold here, and while we've had a couple snow storms, I want mooooore! I'm itching to break out my snowboarding gear and play around in endless sloping fields of powder, warm up to whisky in my coffee, and get super cold so that getting super cozy feels that much more amazing, you feel? I'm keeping my fingers crossed and doing all the snow dances.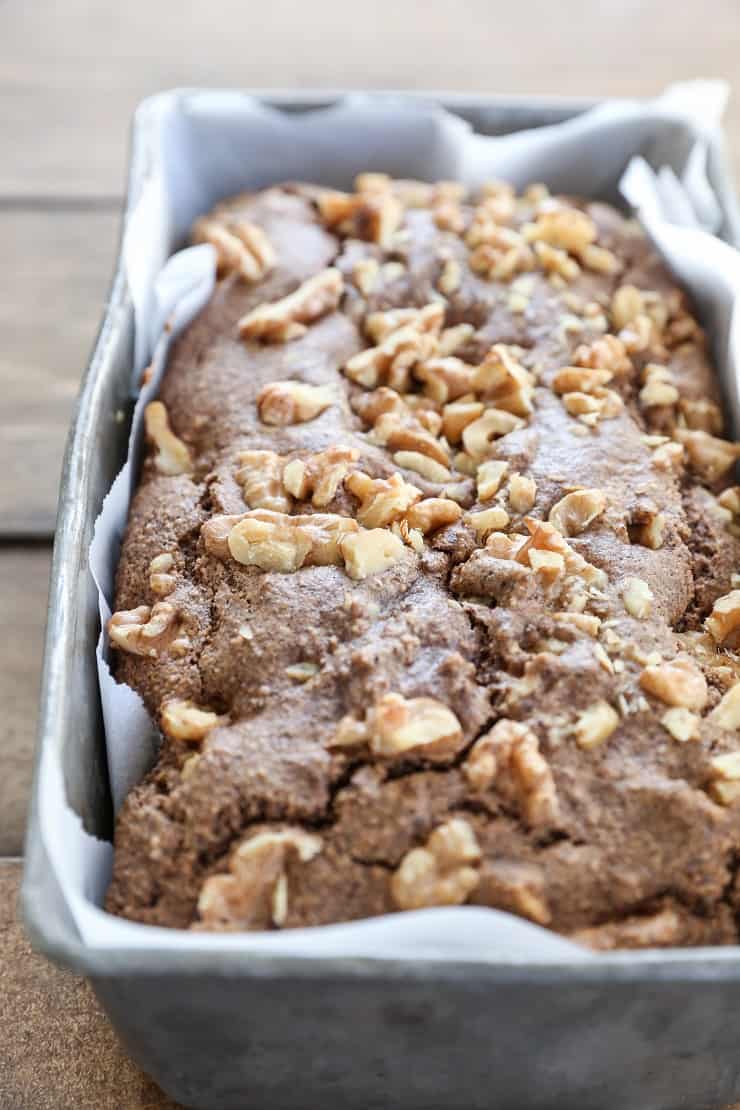 So I've been wondering…
What types of recipes can you use this holiday season? Healthier baked treats? Side dishes for potlucks and holiday parties? Regular meals you'd eat regardless of whether or not it's the holidays? Football food?
The food blogger in me wants to bake up a storm, because 1.) Baking's my jam (remember, I'm the offspring of a former professional baker), and 2.) I'm assuming all you want to see is sugar-coated, soft, sweet, puffy, pillowy, and buttery, and shareable with family and friends and co-workers. Is my assumption accurate? Correct me if I'm wrong! Feel free to leave me a comment letting me know the types of recipes you've been looking for/lusting over lately.
This maple walnut bread.
I've made this bread probably 7 times over the last 3 years in some iteration or another. The first few times I baked it, I used coconut flour in addition to almond flour. I quite like the concept of using just one type of flour for the recipe (not counting tapioca flour, which is the starch portion of the recipe), so I re-formulated the bread recently using only almond flour. Psst! You can use hazelnut flour, too!
I love baking up sweet quick breads like this throughout the year, but I particularly enjoy baking them when it's cold outside during the holidays. There's just nothing like enjoying a slice of steamy sweet bread alongside a hot mug of coffee or tea.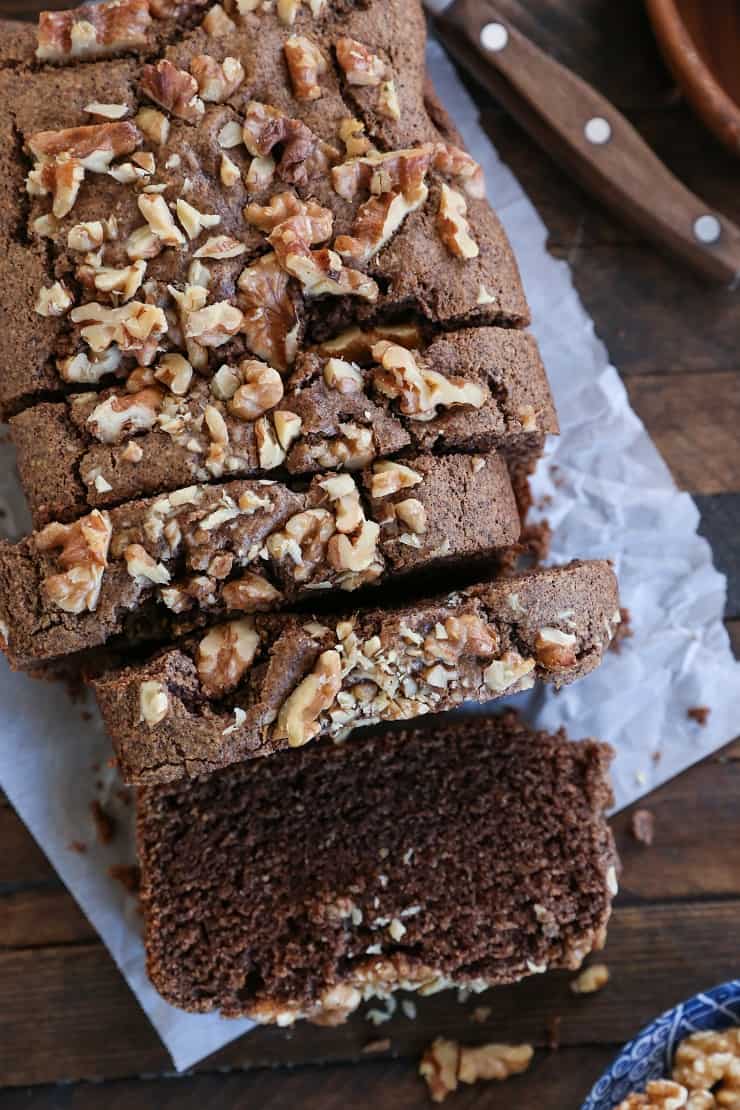 Made using coconut milk, pure maple syrup, and grain-free flours, this loaf is kind of like a cozy protein bar with better macros. In essence, it's a healthier snack, a tasty breakfast, and a fun little dessert. Smear it with some ghee or butter and a drizzle of pure maple syrup, and you're in word a wild mind meld. The walnuts on the inside and top of the bread get super crispy and buttery and give you this nice little crunch while you're consuming it. If you're crazy for nuts like me, you'll love this bread!
After I bake a loaf, I cut off a big hunk and enjoy it fresh out of the oven, and then store the rest of the loaf in the freezer. I cut the loaf into slices before I freeze it so that whenever I want a piece, I simply break one out of the freezer and nuke it for a little bit with some butter on top. I know, I know, we're not supposed to nuke things, because: free radicals…but patience isn't one of my strong suits, and I like my loaves hot.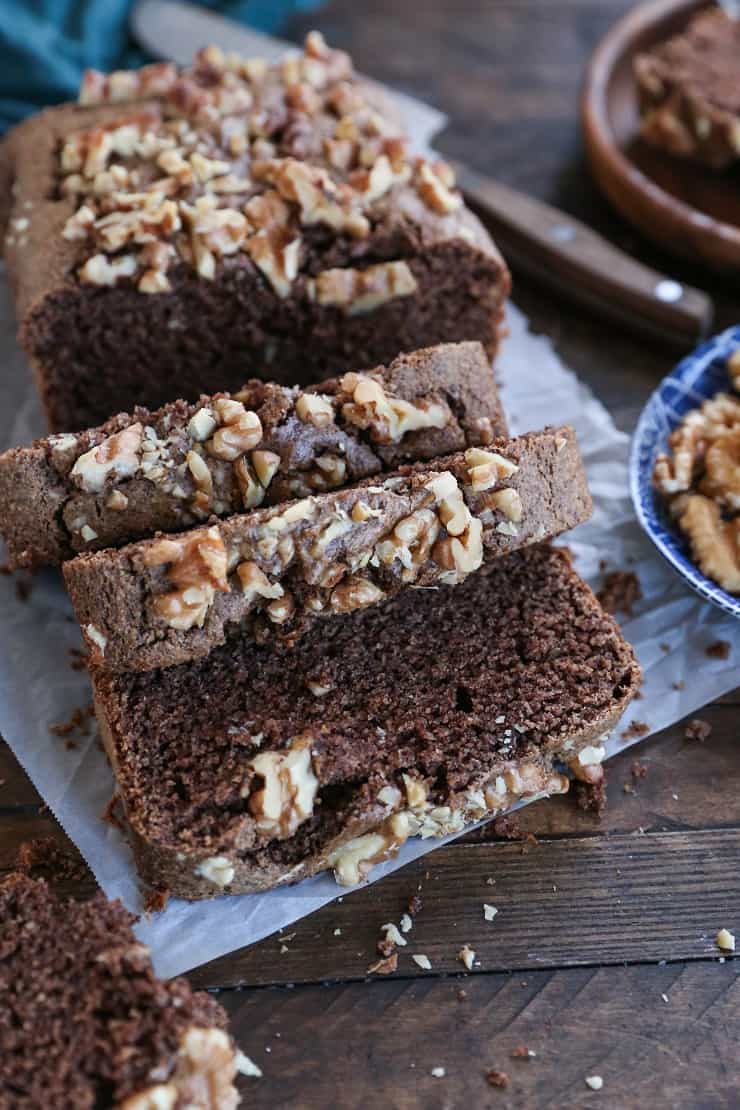 And now we loaf!
Paleo Maple Walnut Bread
Maple walnut bread made grain-free, dairy-free and paleo-friendly is a delicious snack or breafkast!
Instructions
Preheat the oven to 350 degrees F, and line a 9: x 5" loaf pan with parchment paper.

Add all ingredients except the walnuts to a blender. Blend until completely smooth.

Stir half of the chopped walnuts into the batter. Pour batter into the prepared loaf pan and smooth into an even layer. Sprinkle with remaining walnuts.

Bake on the center rack of the preheated oven for 35 to 40 minutes, until set up. Turn off the oven and leave loaf in the hot oven 10 minutes more. Remove bread from the oven and allow it to cool 30 minutes before slicing and serving.
Nutrition
Serving:
1
slice
|
Calories:
332
kcal
|
Carbohydrates:
28
g
|
Protein:
7
g
|
Fat:
23
g