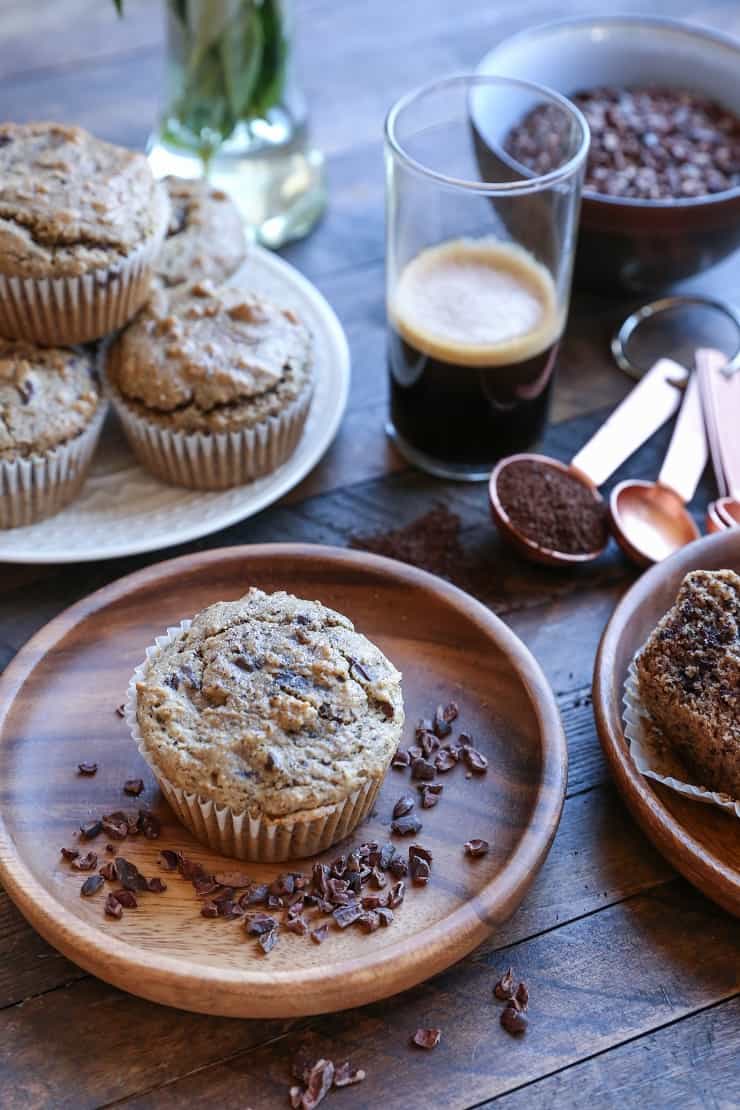 If you've been around the ol' Root block a time or two, you probably know my morning routine has been the same for quite some time. I'm definitely the captain of Team "But First, Coffee," as coffee is basically the first thing I do in the morning, just after drinking a big glass of water.
I've been all about pourover coffee, which I turn into bulletproof coffee using coconut oil and collagen powder. While I do have a tendency to get stuck in my coffee ways, I always welcome a good changeup to make the morning ritual a little less vanilla.
I was thrilled when De'Longhi sent me their Lattissima Pro to put a little variety in my daily ush. The Lattissima Pro is a combination of the Nespresso capsule system and De'Longhi's Automatic Cappuccino System allowing for quick and easy, fool-proof espresso based, barista-style beverages.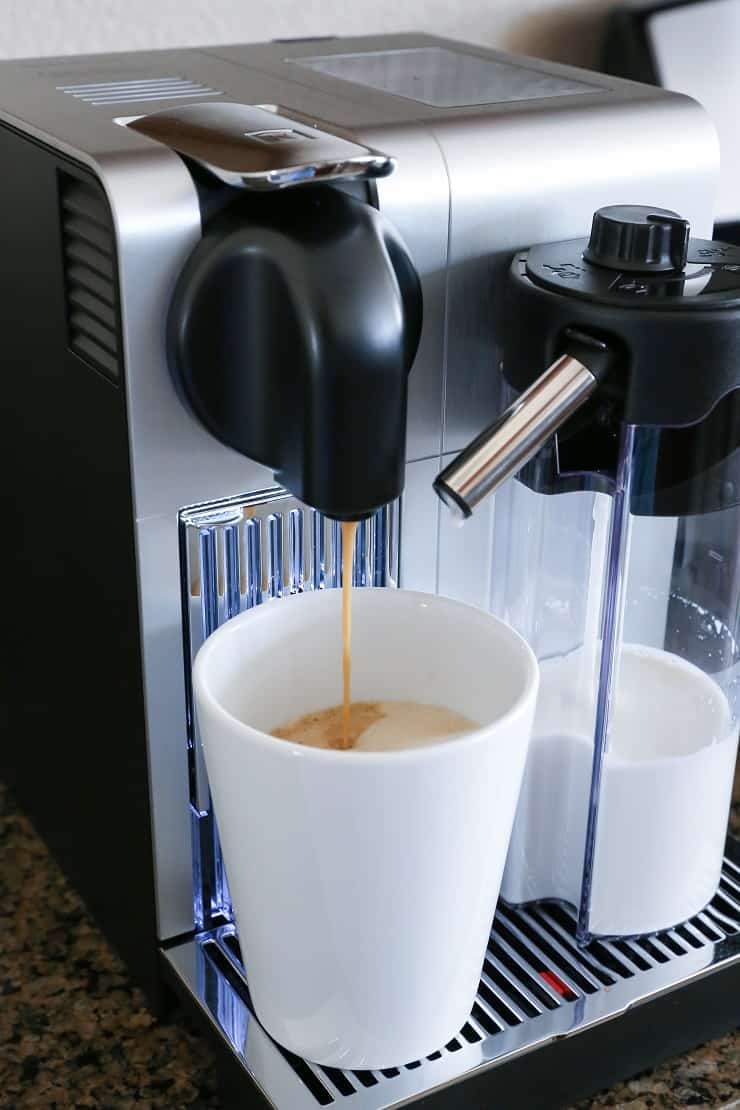 The machine provides six pre-programmed drinks: ristretto, espresso, lungo, cappuccino, latte, hot milk, and hot water for simple, one touch beverage, brewed with the perfect amount of milk every time. It's incredibly easy to use and results in a very enticing shot (or in my case, double shot) of espresso. Essentially, you press the button for the type of drink you're looking for, and the machine does the whole thing for you with the perfect amount of milk, and the perfect amount of froth. I love this facet of the machine, because you don't need to steam the milk separately using a different appliance – it's all right there! Plus, it takes up very little space on the counter top, and has a sleek, modern look.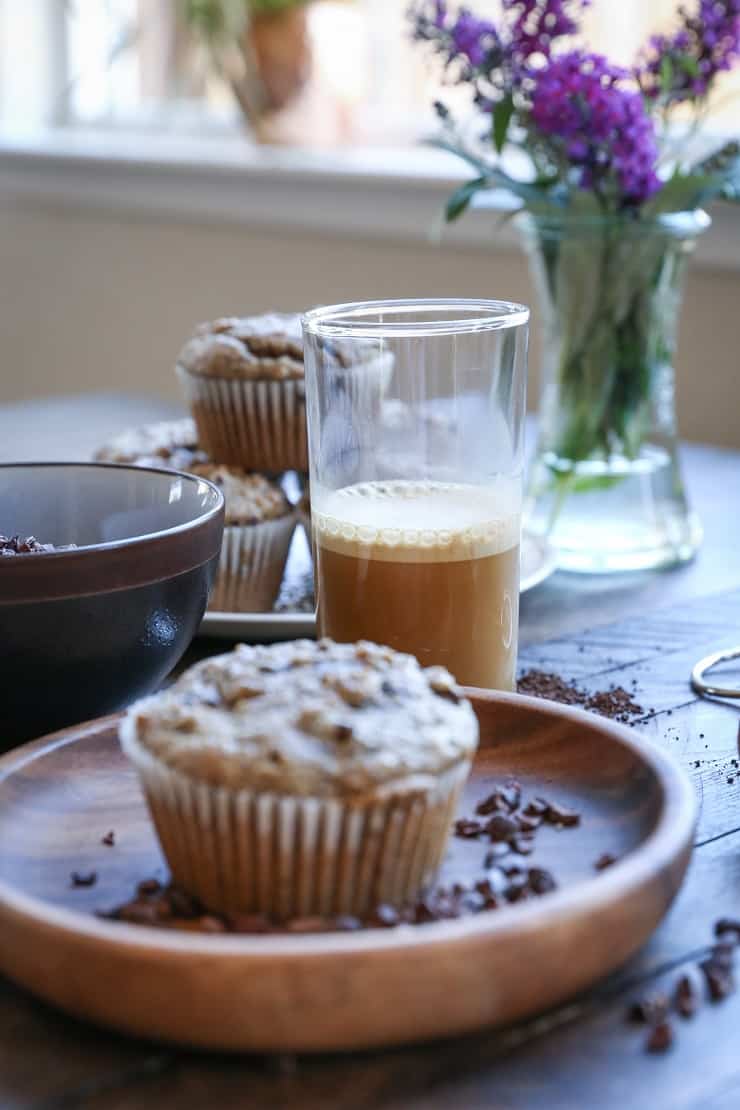 Guess what I did with my first round of double espresso? I turned it into a bulletproof espresso by simply blending it with a little ghee. Old habits die hard, right? But the simple change-up of sip-able bulletproof espresso has been a fun little addition to my life.
We've also been enjoying the milk frother component of the espresso machine. I stick with pea milk or almond milk, and my boyfriend goes full-tilt whole milk.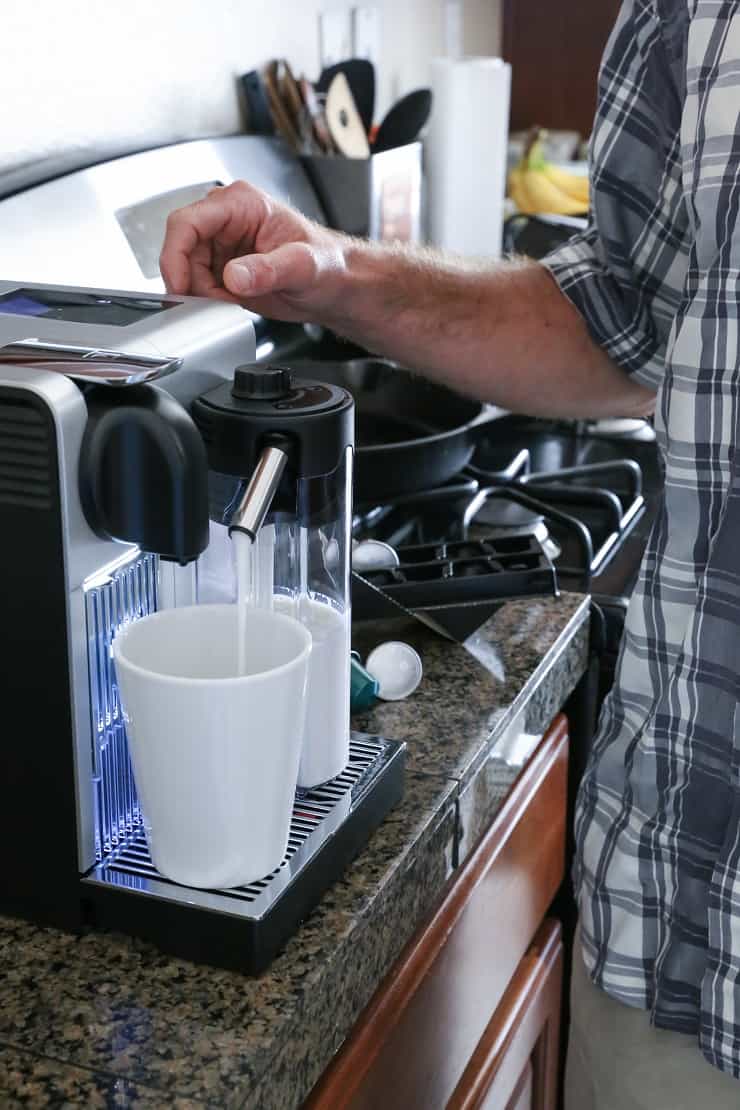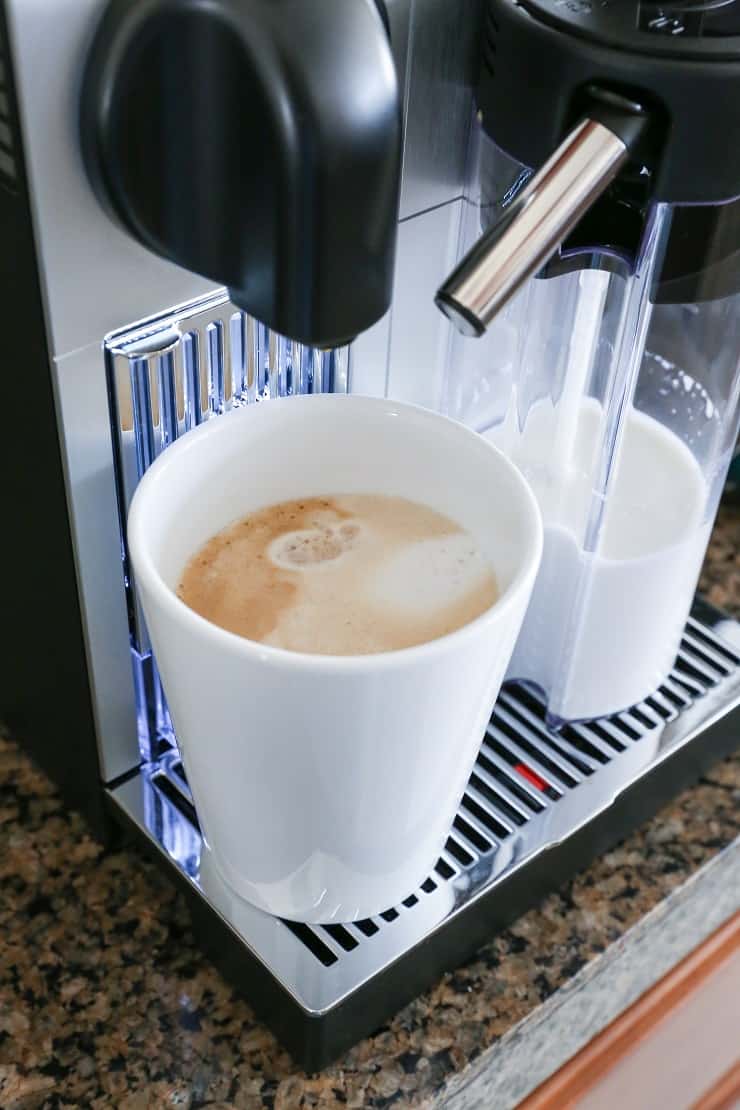 Let's talk espresso and food pairing.
To me, espresso and chocolate are two peas in a pod. I whipped up these grain-free paleo chocolate chip muffins to go alongside to my new espresso companion. I found the muffins to be a most excellent complement to Nespresso's Vanilio espresso, but let's face it, I think they'd pair with almost any type of espresso.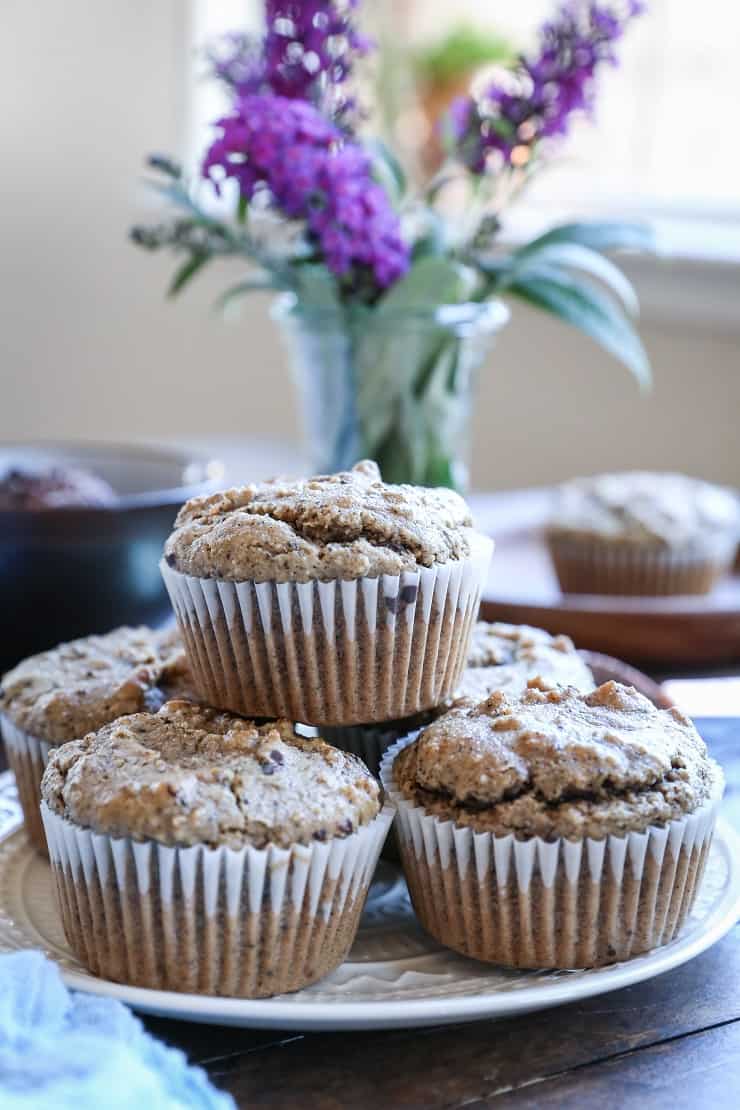 These paleo chocolate chip muffins are quick and easy to make. The muffin batter is prepared in a blender, and you're looking at about 18 minutes of bake time. They're grain-free, refined sugar-free, dairy-free, and the perfect healthful breakfast or snack!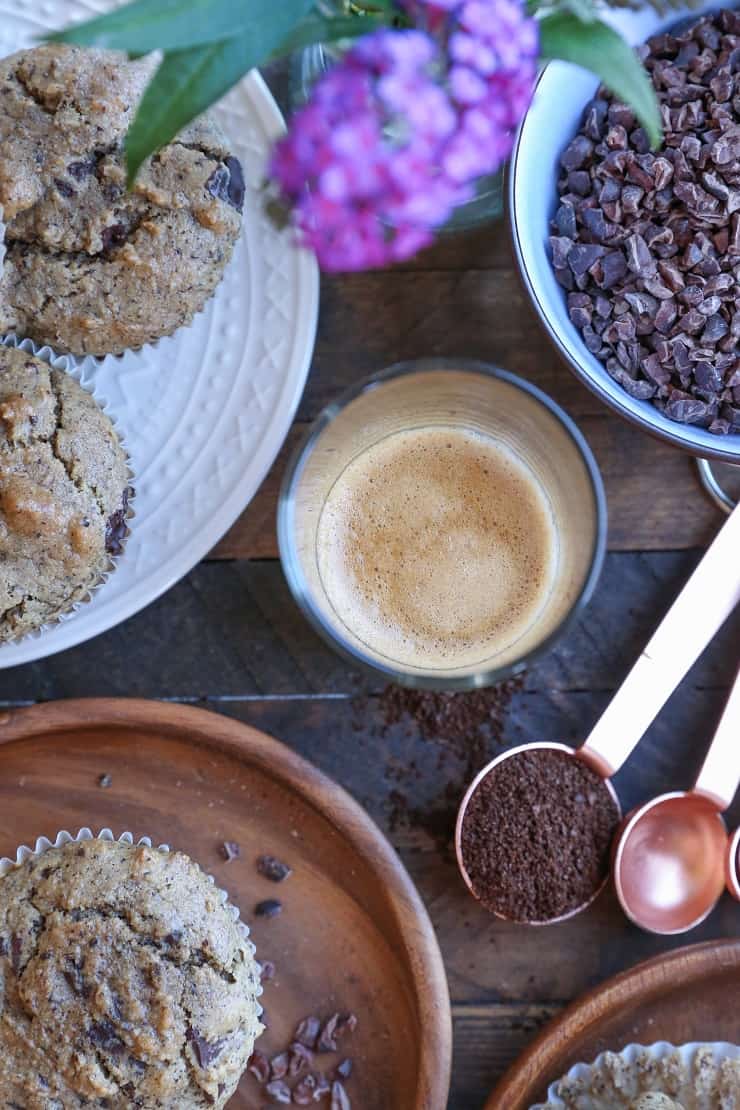 You'll notice the recipe only calls for 2 tablespoons of pure maple syrup – I intentionally made the muffins very lightly sweet, as I like my treats in general to be less sweet, and I prefer muffins in particular to be on the less sweet end of the spectrum. If you have an uber sweet tooth (or are baking them for someone who loves sweet treats), I recommend scaling up the pure maple syrup.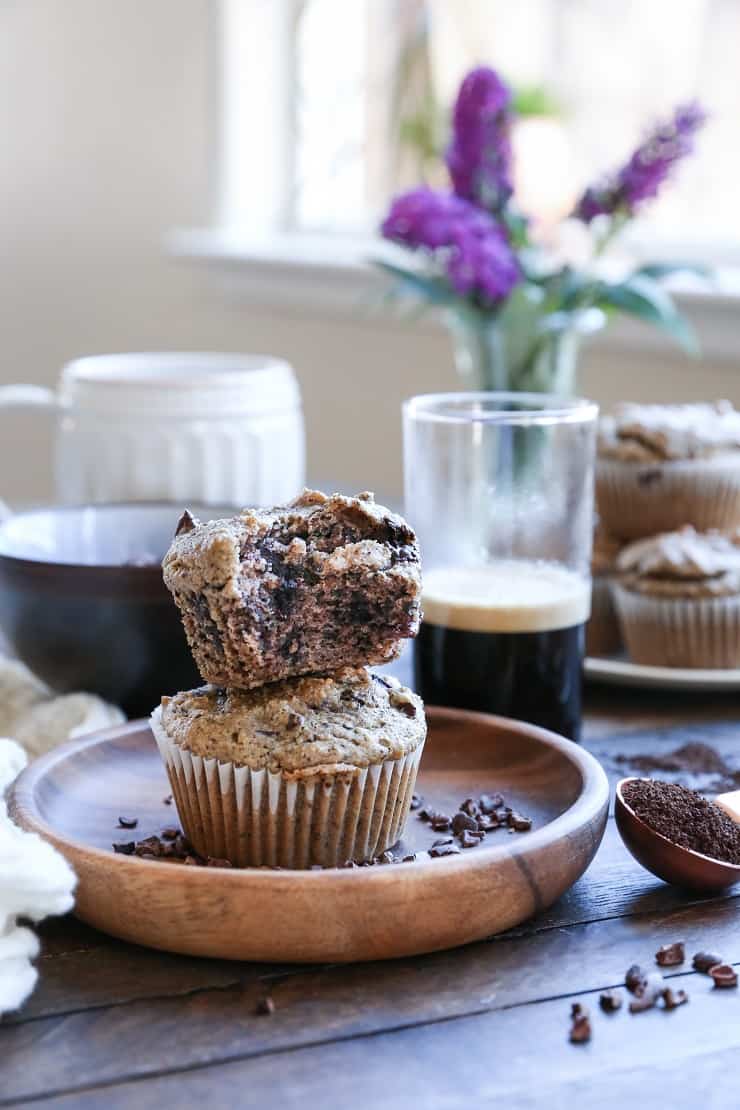 I added some coffee grounds to the muffins to give them a slight coffee flavor. If you have instant coffee or instant espresso on-hand, you can do that as well. Or simply omit the coffee from the muffins for the true chocolate chip flavor.
Enjoy your newest paleo chocolate chip muffin + espresso fix!
Paleo Chocolate Chip Muffins
Moist, fluffy, flavorful Paleo Chocolate Chip Muffins are a brilliant treat to keep on hand for any time the craving strikes!
Instructions
Preheat the oven to 350 degrees F and line a muffin tray with muffin cups (or lightly oil/spray the holes).

Add all of the ingredients except for the chocolate to a blender. Blend until well-combined and creamy. Fold in the chocolate chips (or chopped dark chocolate) into the batter until well-combined.

Fill the muffin holes 3/4 of the way up with muffin batter. Bake on the center rack of the preheated oven 18 to 20 minutes. Remove from oven and allow muffins to cool at least 30 minutes before unwrapping and eating (note: muffins will stick to the wrappers if you don't allow them to cool long enough 😉
Notes
*replace coffee grounds with 2 tsp instant coffee or instant espresso if you have either on hand
**I chopped up an 85% dark chocolate bar rather than using chocolate chips
Nutrition
This is a sponsored conversation written by me on behalf of De'Longhi. The opinions and text are all mine.