A straight-forward and easy recipe for oven roasted root vegetables, including suggestions for flavoring and serving your roots!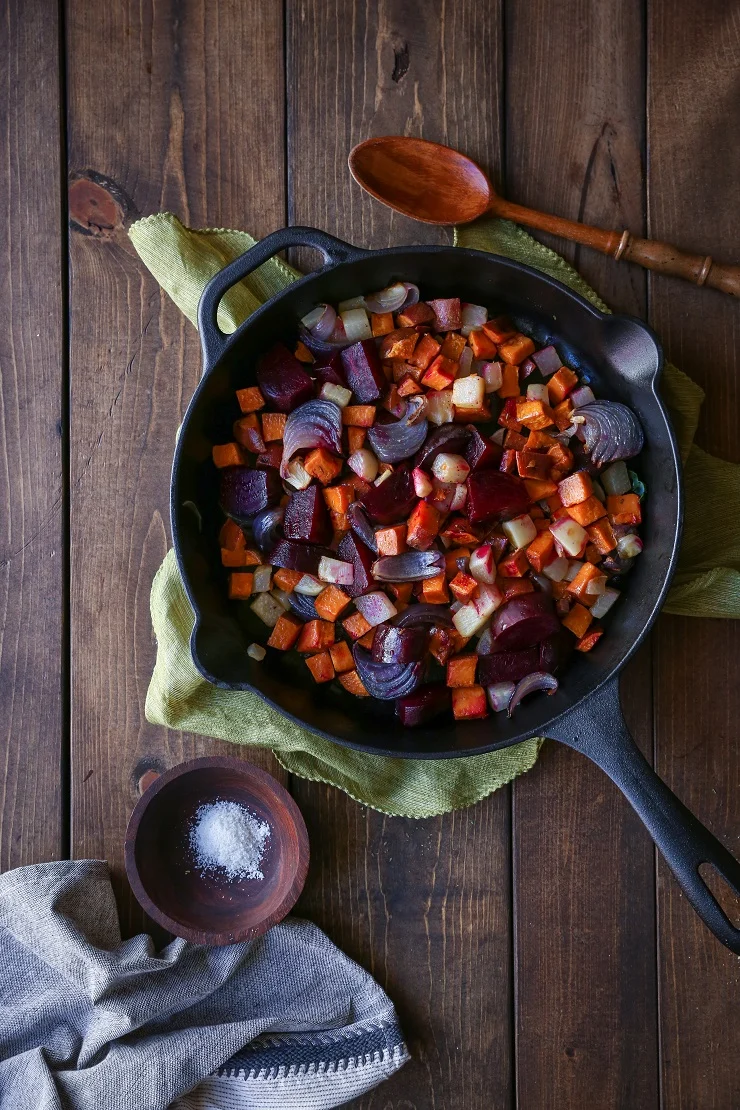 You guys, guess what happened to me last week?
Have you guessed?
No peeking for spoilers..
This is really important business…
Your guess is probably wrong so you should guess again. And again. Nope, guess again.
Definitely not that, you heathen.
Wanna know the answer? Are you on the edge of your seat? Ready to clock me on the side of my noggin?
Dry shampoo.
Dry shampoo occurred to me this week for the first time ever at the age of 30, and I can't believe it's taken me this long to accept it into my life, except that I can.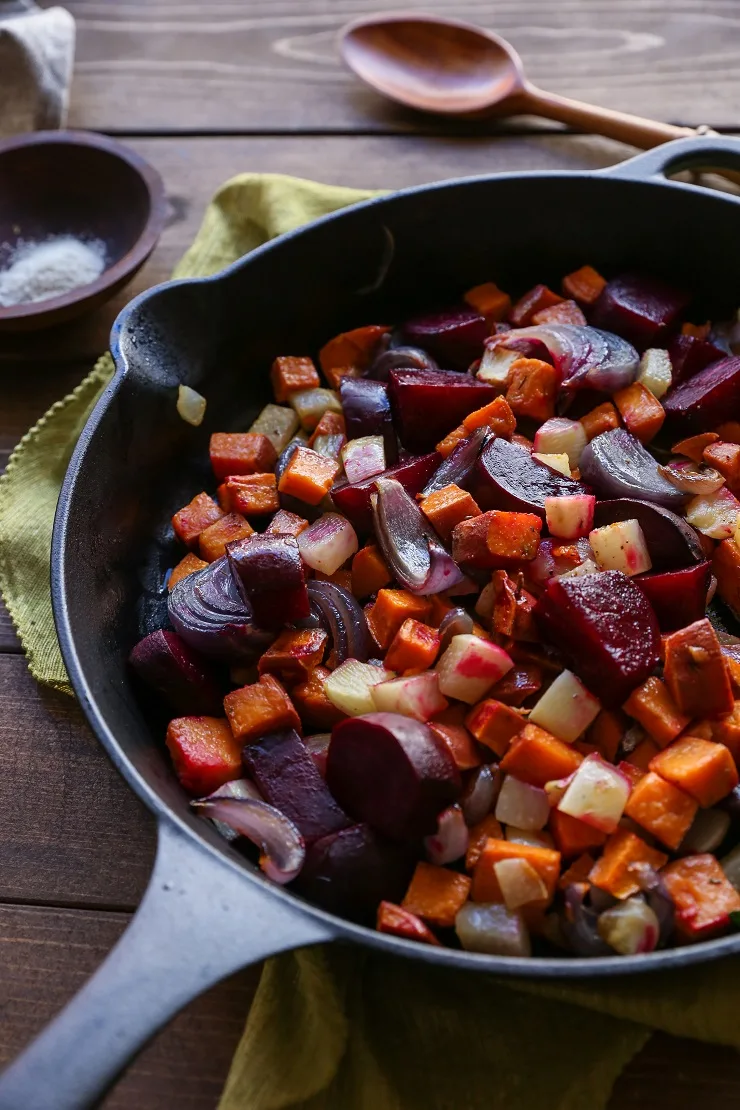 I pride myself on washing my hair almost never, but also pride myself on being a minimalist who owns as few beauty products as possible and -let's face it – I'm not a super feminine human, so the minimalist/inner man won out all these years, when really dry shampoo would have saved me SO MANY SHOWERS all these years. You see my conundrum? See how all of that played out? But now, my friends…now my dry shampoo is one of my most coveted possessions. Like, I think I would be extremely forlorn if I lost it by accident.
Which type of dry shampoo do I use, meow? WELL. I've asked chick friend after chick friend which kind they use and they all confirmed that finding the right one for you can be hit or miss. And every single one of them used a different type. It just so happened I got my mane trimmed this week, so my fabulous hair sensei recommended the product I'm ultimately using today: Unite 7 Second Refresher Dry Shampoo. This is not a paid message. Not a sponsored post. This is me telling you I'm trapped in dry shampoo obsession and I can't get out. You guys, it smells like heaven. Looks like Day 1 hair on Day 4. Is just the most magical experience I've ever experienced.
Which brings me to my next point: root vegetables.
Okay, you caught me, root vegetables have nothing to do with dry shampoo…except: roots…moving right along.
I'm a sucker for roasted veggies. If there's one dish I'm guaranteed to over-eat, it's the roasted veg. I like it in all forms, all flavors, colors of the world, spice up your life!
Root vegetables are magnificent (and in season) this time of year, which is why I enjoy roasting a few varietals together. You can srsly use any root vegetable in this application. For instance, parsnips, carrots, rutabega, kohlrabi? All great additions. For this go-round, I selected my top four faves: sweet potato, onion, turnips, and beets. You guys, all I do is plop them in a large cast iron skillet (you can also use a baking sheet or casserole dish), drizzle some oil, sprinkle some salt and seasonings, and that's all she wrote.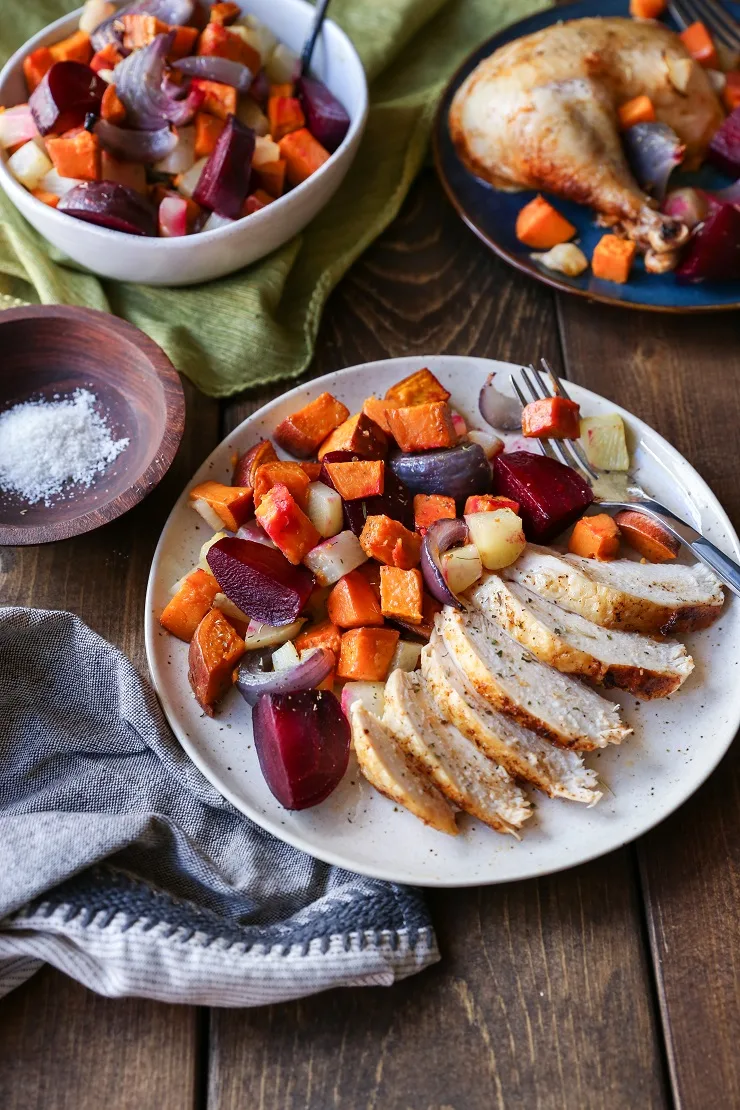 A note about beets: I find beets take a bazillion years to roast, so rather than roasting them with the other vegetables, I wrap them in a foil packet and cook them at the same time as the other veggies. This allows the beets to steam as they cook, lowering the roast time substantially. Once all the vegetables have finished roasting (about 45 minutes), I simply mix the beets in with the other root vegetables.
Thinking of making this recipe but want to put your own spin on it? Here are some…
Options for Change Ups:
Use any combination of root vegetables, including beets (of any variety), sweet potatoes or yams (of any variety), turnips, parsnips, carrots, onions, rutabaga, kohlrabi, etc.
Use seasonings and herbs such as Cajun or Jamaican seasoning, garam masala, curry powder, ground cumin, chili powder, onion powder, garlic powder, lemon pepper, Herbs de Provence, Italian seasoning, and/or dried oregano or thyme.
Serve root vegetables with a balsamic drizzle on top.
Add feta or goat cheese once the roots have finished roasting.
Sprinkle roasted pecans, walnuts, or almonds on top for a nice crunch.
Do any combination of the above three suggestions.
Serve the root vegetables alongside your favorite main dish, such as roast chicken, salmon, or beef.
Make a vegetarian bowl by serving the veggies on top of steamed rice with sauteed spinach, chickpeas or black beans, and chopped nuts and pumpkin seeds.
Root well, root often <- just roll with it.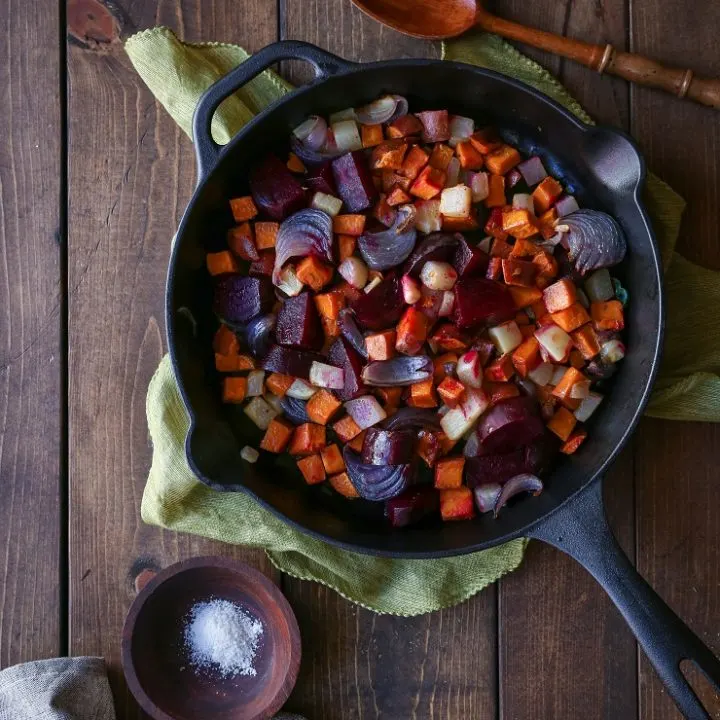 Oven Roasted Root Vegetables
Easy oven roasted root vegetables are an incredibly healthful side dish.
Ingredients
1 large sweet potato, chopped
1 large turnip, peeled and chopped
1 large onion, diced
2 medium beets, chopped
3 Tbsp to 4 . olive oil
2 teaspoons Italian seasoning
1/2 teaspoon garlic powder
1/2 teaspoon paprika
1/2 teaspoon sea salt, to taste
Instructions
Preheat the oven to 400 degrees F.
Add the chopped sweet potato, turnip, and onion to a mixing bowl and drizzle with olive oil, seasonings, and sea salt. Use your hands to toss everything together until it's well coated. Spread the vegetables over a large cast iron skillet, baking sheet, or casserole dish.
Place the chopped beets in the center of a 12-inch piece of foil. Fold all of the edges onto themselves, creating a secure foil packet (note: beets secrete juice while roasting, so be sure foil packet doesn't have any openings). Place both the skillet of vegetables and the foil packet in the preheated oven, and roast for 40 minutes, turning the beets and turnips half-way through, or until vegetables are cooked through and golden-brown. If the vegetables are not golden-brown and crispy by the time they have finished roasting, you can move them to the top shelf of the oven and broil them under the high broil setting for 1 to 3 minutes, keeping close watch so vegetables don't burn.
Remove vegetables from the oven. Carefully open the foil packet of beets (some hot steam may release out), and use a slotted spoon to scoop the beets out of the beet juice. Add beets to the skillet with the other veggies and stir to combine. Serve root vegetables alongside your favorite main dish.
Nutrition Information
Serving Size

1 grams
Amount Per Serving
Unsaturated Fat

0g