Nacho "cheese" kale chips are a healthful superfood vegan snack – make them in bulk to snack on throughout the week!
I resisted the temptation to name this post, "Large and In Charge Extra Crispy Cheeseless Cheesy Kale Chips (The Best Evah)"
This post is sponsored by Bob's Red Mill.
I'm just going to come out and say it….
Best.kale chips.ever.
You guys, I fed these kale chips to my brothers and my dad, who ravaged them like a pack of rabid hyenas. I had no clue if the menfolk would be receptive to the chips (on account of the fact that they're made out of kale), but my dad told me I should sell them on the open market and make a million dollars. For a man who loves his chocolate milk and fried chicken, I took this to be a major compliment.
The four of us (my dad, brothers, and I) stood around my brother's kitchen munching on the chips, getting kale crumbs all over our faces, mustaches, beards, and floor. My dad was all, "Did you make this recipe?" and I was all "Mmmmhmmmm…nacho momma's kale chips, pop. Nacho momma's." And he was all, "Well aren't you just a chip off the ol' block?" < – What can I say? We're suckers for a good pun.
Here is where the story gets crazy. These kale chips taste all sorts of nacho cheesy, but they're entirely cheeseless. In fact, they're completely healthful! The cheese flavor comes from a mixture of tahini and nutritional yeast. I know…what an actual mind blow!
Nutritional yeast. It's so mysterious. Have you heard of or tried it? What exactly is it? Can you bake with it like bread yeast? Will it leaven your pancakes? Cinnamon rolls with nutritional yeast, yay or nay? We have so many questions. Let's answer them!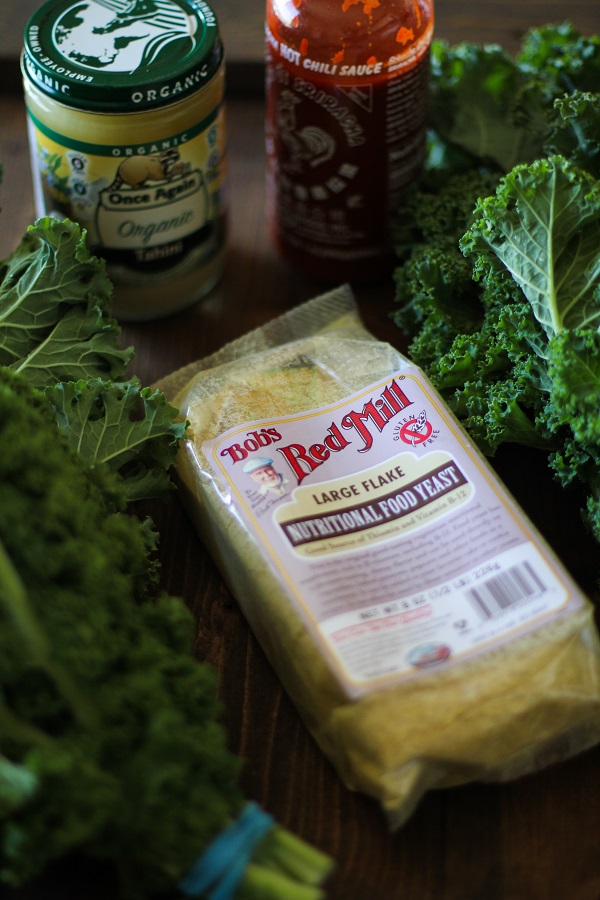 Nutritional yeast comes from the fungus, Saccharomyces cerevisiae (pronounced, "sanctimonious crevice." Just kidding. I have no clue how it's pronounced) and is not the same thing as bread yeast. It will not leaven your pancakes, or anything else for that matter. It's flaky, yellow, and is used in vegan cooking to mimic the flavor of cheese. As an added bonus, it's packed with B vitamins and all 18 amino acids, making it a complete protein. Those who have candida will not be irritated by nutritional yeast the way they will with bread yeast.
I used Bob's Red Mill's nutritional yeast to assemble these super crispy chips. You can also use nutritional yeast in salad dressings and sprinkle it on pasta in place of parmesan. Whether or not you're vegan, the stuff is so tasty and fun to cook with.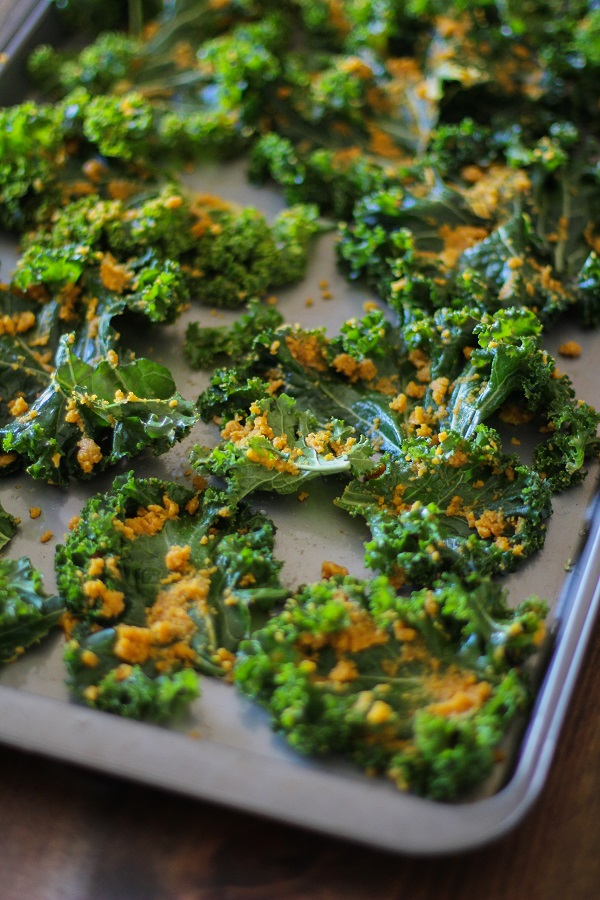 I'm not going to lie and tell you these chips are the easiest things on the planet to make, because they're kind of an event. They require about 2 hours of baking in the oven, which is why it's smart to make them in volume.
The good news is, the process of massaging the "cheesy" nutritional yeast mixture into the leaves before popping them in the oven is actually pretty therapuetic. Plus, you can multi-task while the chips are crispifying. For you natural born snackers out there, these kale chips are super addictive.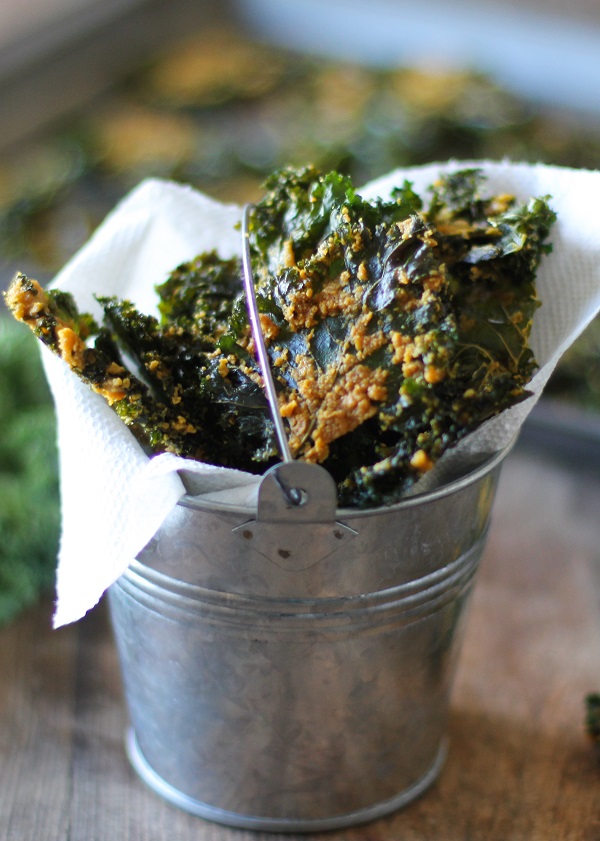 If you need me, just follow the trail of kale crumbs.
Nacho Cheese Kale Chips
Homemade "Nacho Cheese" Kale Chips are a crispy, nutritious vegan snack, perfect for on-the-go eats.
Ingredients
Instructions
Preheat your oven to 200 degrees F.

Rinse all of the kale leaves and pat them dry with a paper towel. Remove the leaves from the stems, keeping the leaves large. Discard the kale stems, feed them to your dog, or put them in smoothies.

In a small bowl (or blender), combine the remaining ingredients and mix until a thick paste is formed.

Use your hands to massage the "nacho cheese" mixture into the leaves, covering both sides. Place leaves in a single layer on two large baking sheets.

Bake for 1 hour, flip the leaves, then bake for an additional 45 minutes to 1 hour.

Snack to your heart's delight!
Nutrition
For another great kale snack, try my Easy Sea Salt Kale Chips