Kale Caesar Salad with Garlicy Chickpea Croutons is a clean and nutritious recipe made with vegan Caesar salad dressing.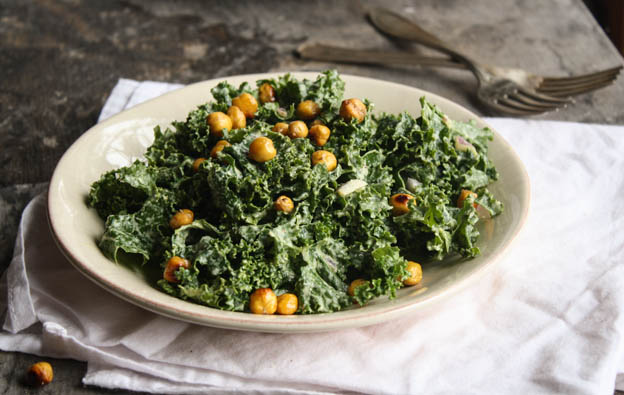 Well, I could just hop, skip, and go naked over today's post! Andrea from Dishing up the Dirt is here, serving up real food talk and a kale Cesar salad with garlicy chickpea croutons!
Andrea and her husband, Taylor are organic farmers up in Oregon at Tumbleweed Farm. On her blog, Andrea posts insanely scrumptious and healthy recipes using ingredients straight from her farm. She always gives updates on what she and Taylor have been growing and all of the triumphs and tribulations they face as farmers on a daily basis.
It took me less than a nanosecond to addict myself to Andrea when I first came across her blog. Having grown veggies in my own humble planter boxes, I love the process of planting, harvesting, and cooking. I admire how genuine, strong, and FUN Andrea is, PLUS I enjoy feasting my eyeballs on her creative vegetable dishes. A couple of days ago, I made her Sweet Potato and Quinoa Stew with White Beans and Spinach. Shoot. me. dead. You should run and make that soup as fast as your legs can carry you!
Without further adieu, here she be!
– – –
Howdy fellow Roasted Rooters. My name is Andrea and I am a farmer and vegetarian cook over at Dishing up the Dirt. If you're ever in the mood to slip into a pair of carhartt overalls, put on some knee high rubber boots and get dirty come over and say hi. Oh yeah, I can promise delicious eats too!
I cannot tell you how honored I am to be guest posting on The Roasted Root. Julia is my hero for many reasons but one of the main reasons I love her is that she is dedicating an entire cookbook to KALE! Who does that? She is amazing. This is good news for me because my husband and I grow a LOT of kale on our farm. We are always afraid that our customers and CSA members are going to get bored with cooking the darn thing! Thanks to Julia and creative cooks everywhere it is now easier than ever to find a million and one ways to cook this superfood and keep it interesting and tasty! The truth is, the more creative recipes out there to keep people inspired to eat healthy and green is what keeps small farmers like myself in business. So thank you Julia for inspiring more and more people to eat healthy and purchase healthy ingredients from farmers who grow the "real" food.
In honor of Julia's new cookbook Let Them Eat Kale I've decided to create my own healthy kale recipe to share with you all. Kale Caesar Salad with Garlicky Chickpea Croutons.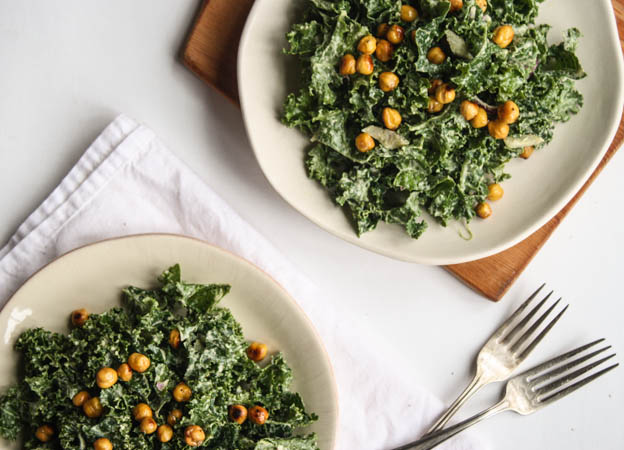 When I gave up city life and moved to the dirt I made a promise to myself that I would find creative ways to eat all of the wonderful produce that we were growing. I also wanted to attempt to re-create some of my "old" favorite meals but with a healthy and tasty twist.
This kale Caesar salad is a perfect example. The combination of the creamy dressing with the crunchy "croutons" is a match made in heaven. The dressing was so stinking good that I kept eating it with a spoon (oops!) Grab a fork and dig in!
Kale Cesar Salad with Garlicy Chickpea Croutons
An amazing vegan kale Caesar salad recipe made with all whole food ingredients for a nutritious meal.
Ingredients
For the Salad:
1

large bunch of kale

tough stems removed and torn into bite sized pieces

1 1/2

cups

can chickpeas

drained and patted dry)

1/4

cup

diced red onion

2

tsp

garlic powder

1

TBS

extra virgin olive oil

pinch

of fine sea salt

Fresh black pepper to taste
Instructions
Preheat the oven to 400 degrees. In a large bowl toss the chickpeas with olive oil, salt, and garlic powder. Place in a single layer on a prepared baking sheet and bake until golden and crisp. About 25-30 minutes. Tossing chickpeas halfway through cooking time. Keep a close eye on them to make sure they don't burn!

Meanwhile, prepare the dressing by combining all the ingredients and whisking until smooth. This works best with an emersion blender or food processor (but a hand whisk will work too!) Taste test and adjust seasonings if need be.

Place kale in a large salad bowl. Drizzle with half the caesar dressing and lightly massage the dressing into the leaves (this helps the leaves become more tender.) Add red onion and cooked chickpeas. Drizzle with the remainder of the dressing and season with fresh black pepper.
Nutrition
Serving:
1
Serving
|
Calories:
353
kcal
|
Carbohydrates:
46
g
|
Protein:
19
g
|
Fat:
14
g
|
Fiber:
19
g