Thanksgiving stuffing (or dressing) made healthy with Indian-spiced lentils, quinoa, parsnips, toasted pine nuts, golden raisins, and more! A healthful side dish for your holiday gatherings.
This post is sponsored by Pacific Foods.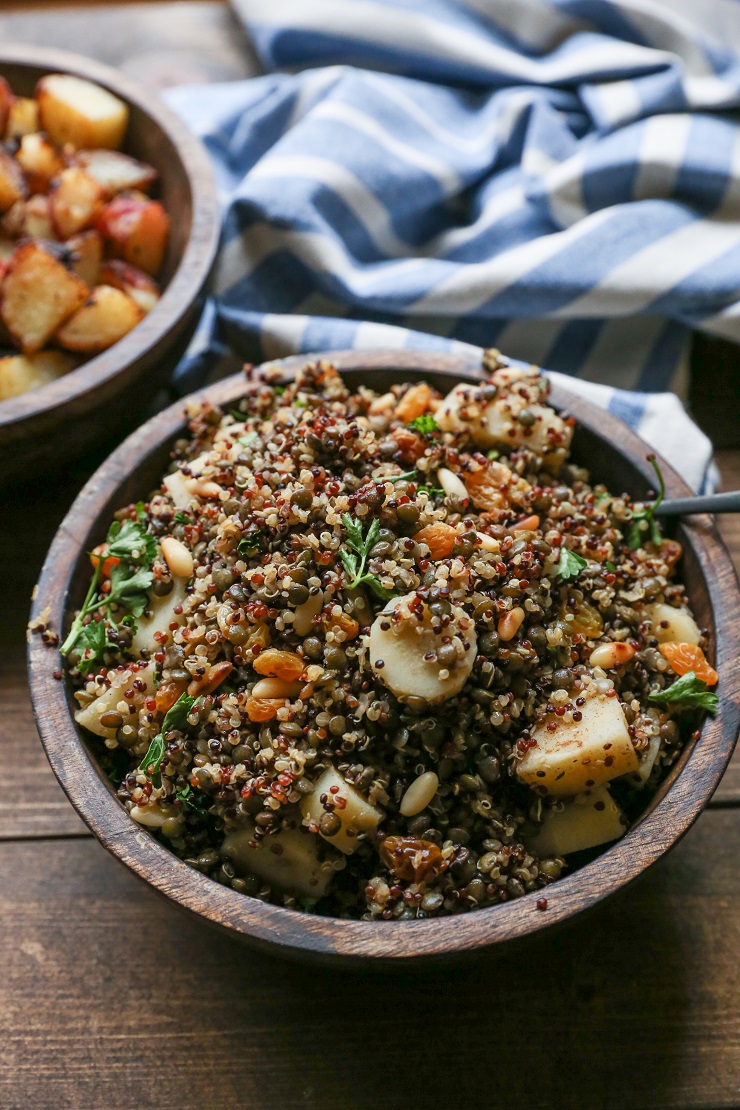 Thanksgiving is quickly approaching and I'm sure those of you who are preparing or contributing to a feast this year are already planning your menu, right? Right? Because you're an all-star planner McPlans-a-lot, and not at all a procrastinator like me? Right? Great! For those who are in need of a healthier stuffing (or "dressing") recipe and want a change-up from the ush, I've got quite the adventurous dish here.
While I'm all about the Wild Rice Stuffing with Butternut Squash, Pears and Pecans I showed you last year, I thought I'd take a different approach this year. As it turns out, quinoa and lentils spiced with cumin, cinnamon, coriander, and fresh ginger makes for a lovely, healthful stuffing. Add a steamed parsnip, some golden raisins, and pine nuts and you're slated for a crunchy, flavor-infused dish.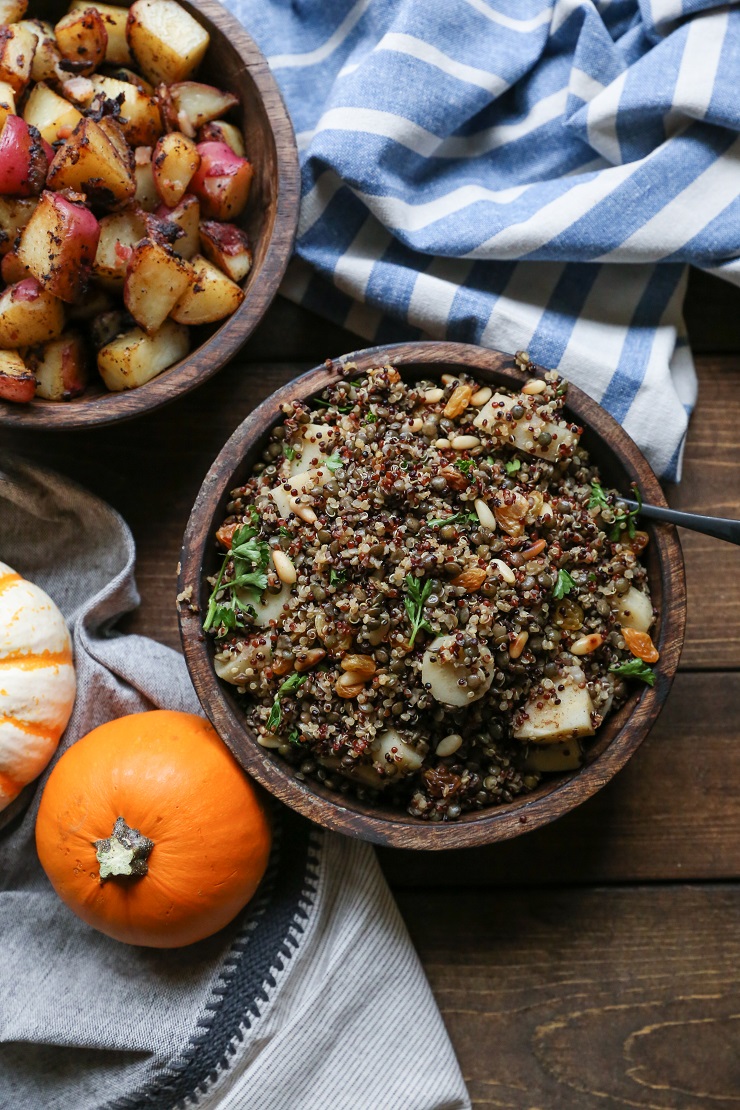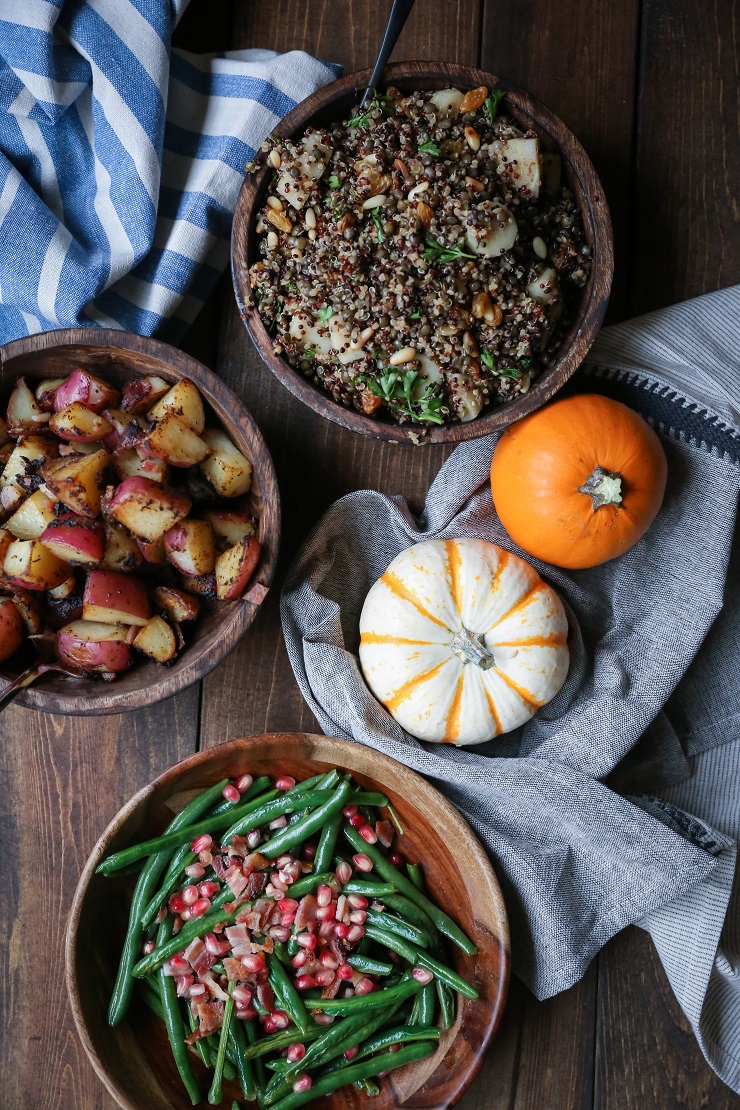 I made this dish as part of the Thanksgiving feast I prepared a few weekends ago, and loved how it rounded out the meal. Having a nutty, light, yet flavorful legume dish was just the ticket for balancing out the carby kabocha squash mash, and paired nicely with the turkey and green beans.
When I prepare quinoa, rice, risotto, lentils, beans, etc., I like to use a high-quality broth for the steaming process in order to maximize flavor, rather than just using water. When it comes to stuffing, using broth is an absolute MUST. I find using broth for cooking quinoa and lentils effortlessly yields marvelous flavor, so that is what I've done here. I cooked the quinoa and the lentils in two separate pots (for optimal texture) in Pacific Foods Organic Chicken Bone Broth.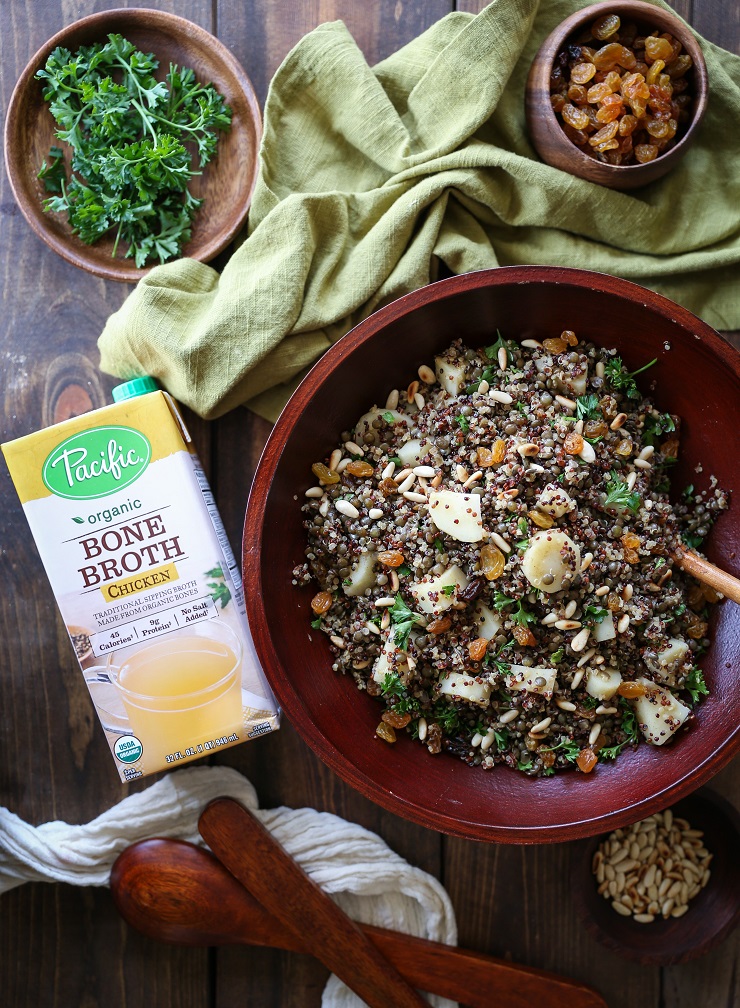 Preparing stuffing doesn't need to be time consuming or complicated, and this recipe follows that manta. While the quinoa and lentils are cooked separately, the actual assembly of the stuffing is simple. One the quinoa and lentils are cooked, you toss them together in a mixing bowl with spices and the remaining ingredients, and that, as they say, is all she wrote.
Cast Your Vote
Are you game for this stuffing? Pretty please, vote for it! Pacific Foods is hosting a friendly competition among bloggers, wherein you can vote for your favorite recipe and also have a chance to win prizes. Head over to Pacific Foods Facebook and Instagram page to cast your vote, and enter for a chance to win!
Indian-Spiced Lentil and Quinoa Stuffing
Take your stuffing game to the next level with this lentil quinoa stuffing!
Ingredients
1

cup

tri-color quinoa

or quinoa of choice

1

cup

French lentils

or lentils of choice

1

large parsnip

peeled, chopped, and steamed

2

teaspoons

fresh ginger

peeled and grated

1

teaspoon

sea salt

to taste

1/2

teaspoon

ground cumin

1/2

teaspoon

ground cinnamon

1/2

teaspoon

ground coriander

Pinch

ground nutmeg

Pinch

cardamom

optional

1

tablespoon

pure maple syrup

1

cup

golden raisins

1/3

cup

pine nuts

toasted

¼

cup

fresh parsley

chopped
Instructions
Cook quinoa and lentils in two separate pots according to package instructions, using bone broth instead of water.

While the lentils and quinoa are cooking, boil the chopped parsnip (or sautee, if desired) for 3 to 5 minutes, or until soft but still al dente

Once both the lentils and quinoa are cooked, add them to a large mixing bowl, along with the steamed parsnip. Add the remaining ingredients for the stuffing and toss well to combine. Taste stuffing for flavor and add sea salt or additional seasoning to taste. Serve alongside your Thanksgiving feast!
Nutrition