An easy photo tutorial on how to cook yucca in the Instant Pot (or pressure cooker). Yucca (a.k.a. cassava) is a lovely starchy root vegetable that can be incorporated into all sorts of dishes, similar to potatoes.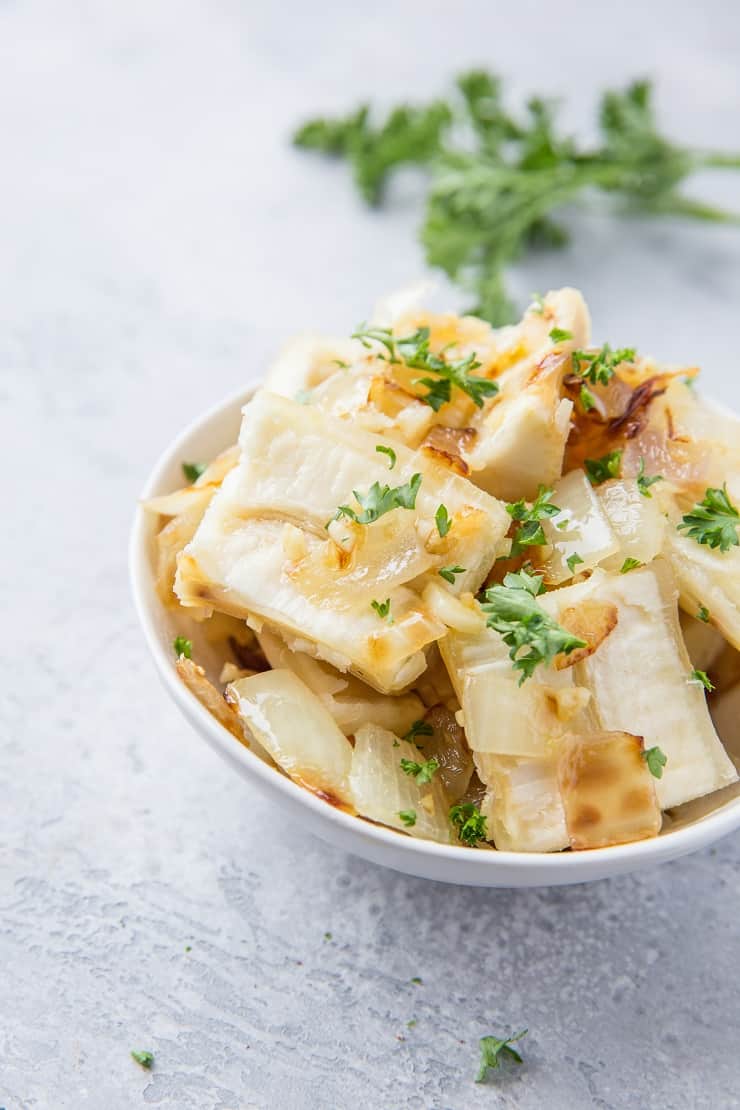 Yucca is one of my favorite root vegetables, and I don't discuss it nearly enough! I just discovered my new favorite technique for whipping up the root to have on hand for all the meals.
Spoiler alert: It's the Instant Pot Yucca method, and I adore it so.
If you aren't familiar with yucca (or cassava), here's the gist. Yucca (pronounced "yoo-kuh") is a very starchy root vegetable that is very common in Latin American, South Asian, Caribbean, and African cuisine. Look at it as a potato on steroids. It's just that carb-o-licious.
Many moons ago, I posted a recipe on How to Cook Yuca Root, which uses the stove top method. When I went to the Dominican Republic a few years ago, I consumed more than my weight in yucca. It's just so dang good!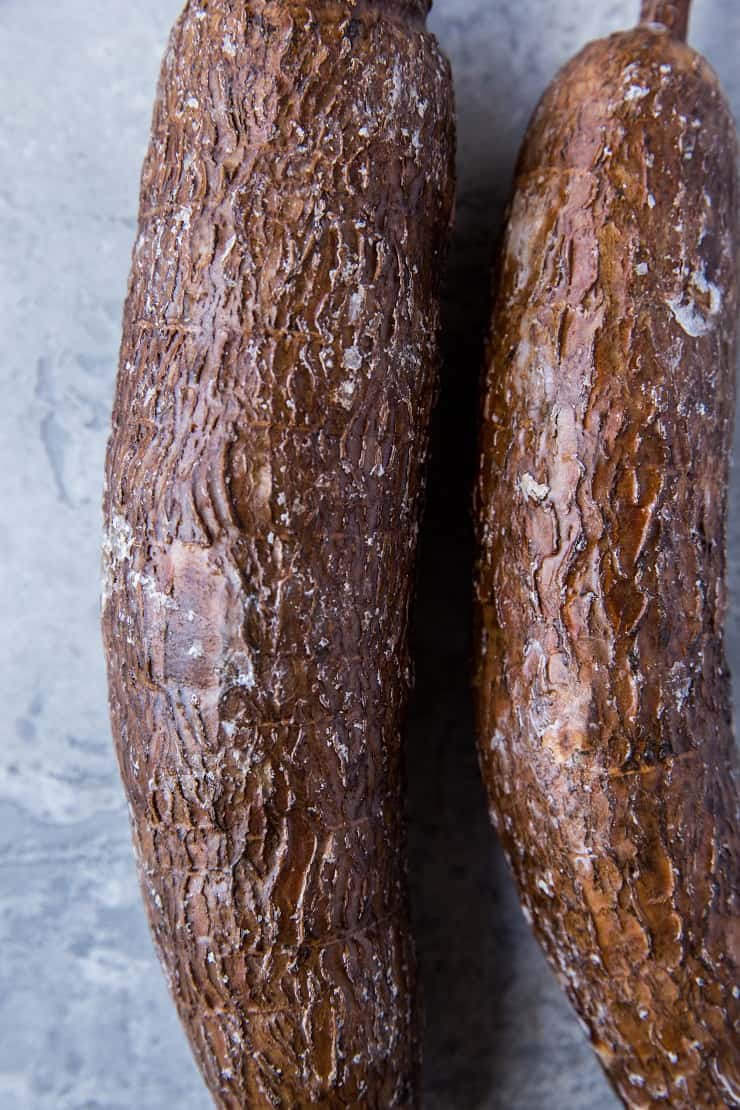 Funny enough, after I bought my Instant Pot, one of the first things I wanted to do with it was cook yuca. I figured it would be an easy method since you simply walk away from the machine and don't need to hover over the stove top or poke and prod at the yucca.
Mission accomplished. Cooking yucca in a pressure cooker is silly easy!
I will say, it takes longer to cook yucca in the pressure cooker than boiling it on the stove top, but it gives me the peace of mind that the root is cooked thoroughly and I love that I don't need to second guess if it is ready or check on it.
A cautionary tale: The thick skin of the yucca root is toxic as it contains cyanide. For this reason, it's crucial you peel the skin prior to cooking the root.
Let's take this step-by-step!
How to Cook Yucca in the Instant Pot:
Chop the ends off of the yucca root and use a vegetable peeler to remove the thick brown skin. Once the root is completely peeled, chop it into 3-inch hunks.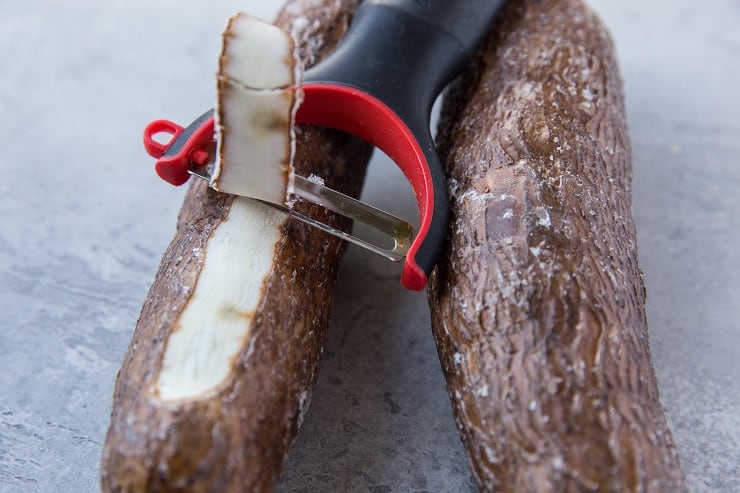 Plug in your Instant Pot (or pressure cooker) and pour in 1 ½ cups of water. Insert the wire rack that came with the pressure cooker. Place the peeled and chopped yuca on top of the wire rack.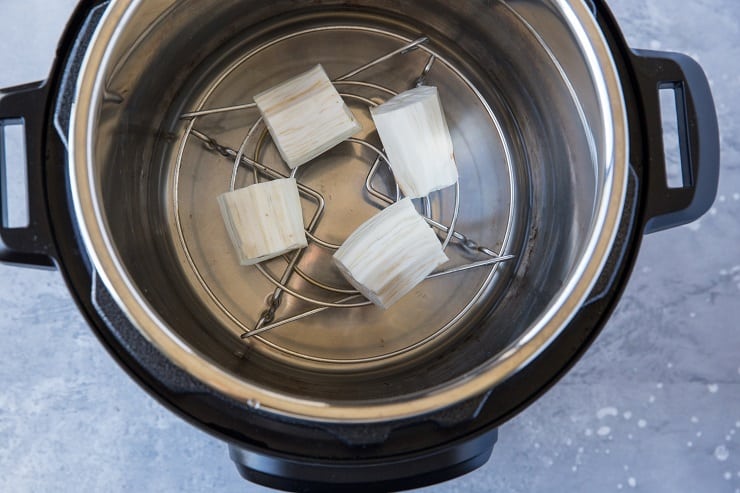 Secure the lid, and pressure cook on High for 50 minutes. Once the pressure cooker has run its cycle, allow it to go into keep warm mode for 20 minutes. During this time, you can prepare your yucca toppings.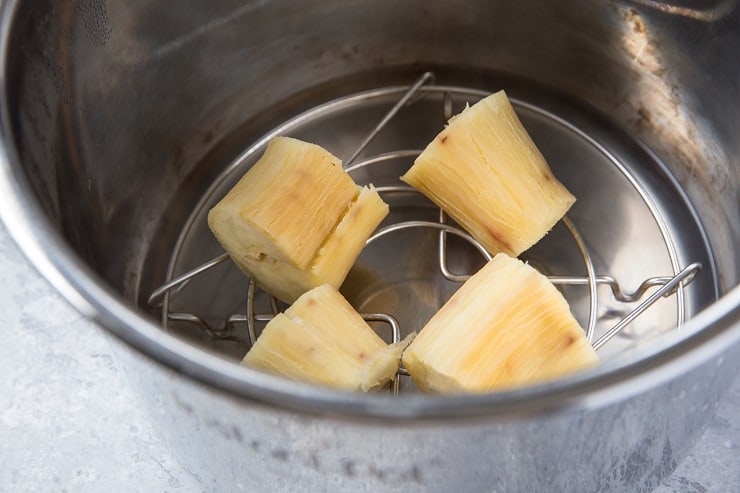 Sauté onion and garlic in butter with lemon zest and parsley for a delicious serving method.
There is plenty of room for experimentation here! You can add the cooked yucca to soups, stews (I use it in beef stew…YUM!), or make a mojo sauce for it.
The yucca root will turn from white to yellow during the cooking process and will begin to split open.
Once the yucca is fully cooked and cool enough to handle, open each chunk of yucca and remove the hard spine in the center.
Top the yuca with your sauteed onions, garlic, and parsley (or sauce/toppings of your choosing), and enjoy!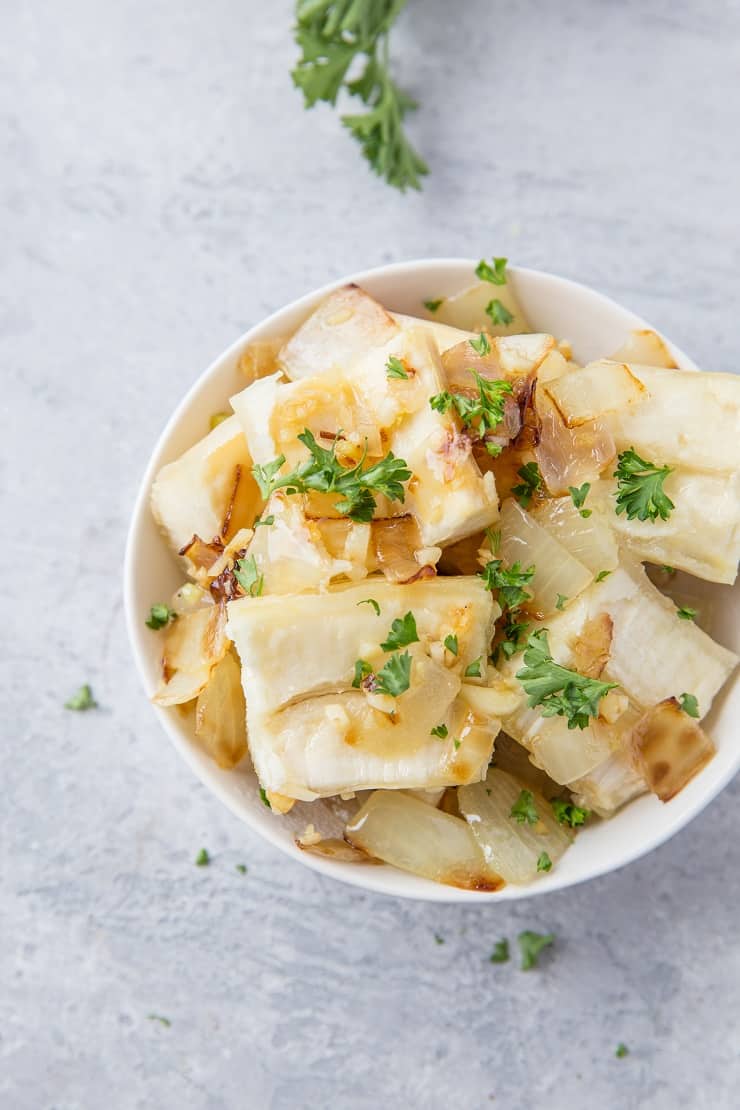 My cookbook,
Paleo Power Bowls
, is now available! CLICK HERE to check it out. Thank you for your all your support!
If you make this Instant Pot Yucca, please feel free to share a photo and tag @The.Roasted.Root on Instagram!
Go to carb heaven!