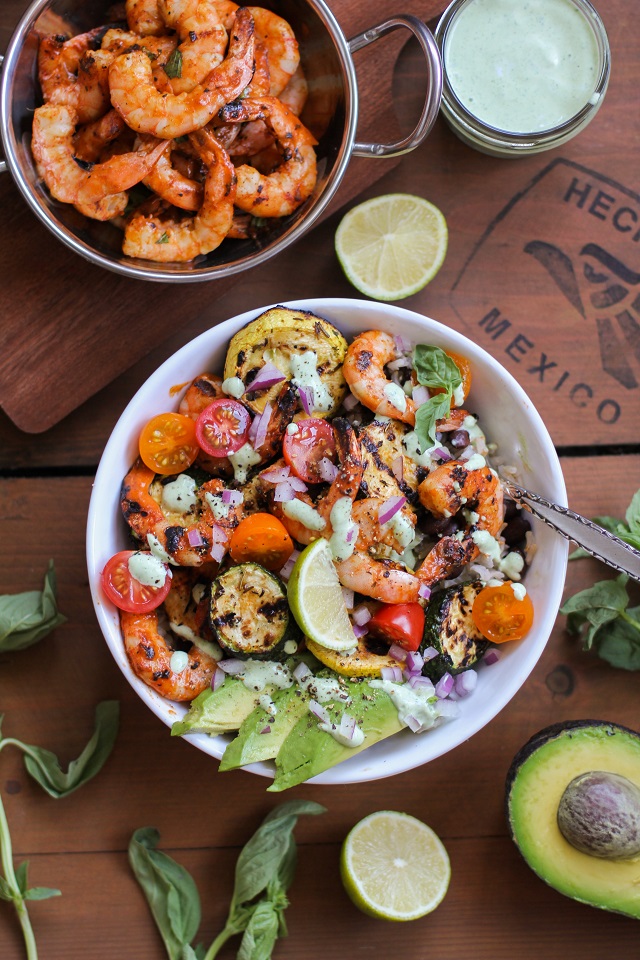 Thing.of.beauty.
We've got protein, we've got veggie variety, we've got healthy fat, we've got carbs, we've got rhythm, we've got music, we've got basil. What could be better than a mix grill bowl of colorful food that covers all of your essential food groups? It's a one-stop shop until your next well-rounded meal.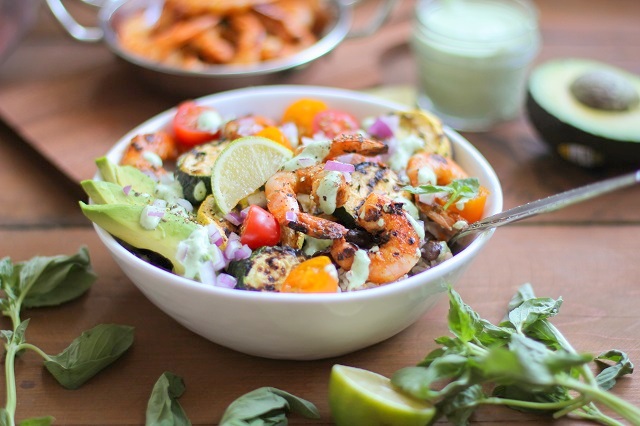 Easy like Monday morning.
Okay, false. These bowls are intricate.
…which is my fancy way of saying, this is the most complicated multi-step thing I've made for us in quite some time.
But just like most complicated things in life, they're worth it.
Worth the challenge, worth the perseverance, worth the inner-boob sweat while hovering over your million-degree grill while it's a million degrees outside, because: happy ending.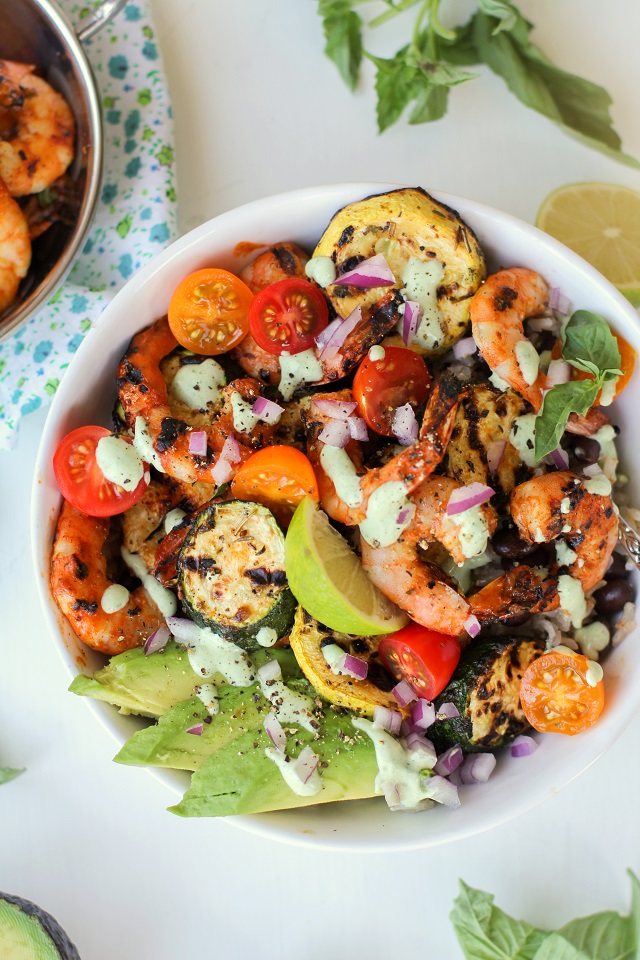 You see, underneath all those grilled bits of charred sensory overload is a pile of rice and beans. Just like a burrito bowl, just like you're fueling up for a big race, just like you're at the Copacabana sipping on caipirinhas, eating a mix grill bowl of flavor, while getting your back massaged by some otherwordly human, and reading the best dang work of fiction you ever laid eyeballs on.
Where was I going with that?
Oh yes.
I got a little out of control with the grill, had leftover rice and beans that were begging to be bowl-ed, on top of loads of yogurt and fresh basil. What was I to do? Mix it all up in a fiesta of color and flavor, that's what! Sure, it took a little more time to prepare than my standard dinner, but the heart wants what it wants.
The shrimp gets marinated in this pretty swell sauce of coconut milk, red curry paste, and paprika. The skrimplets soak up all sorts of flavor and really are the star of the whole dang bowl.
The grilled zucchini aaaand the grilled yellow squash, though. My favorite way to eat zucs and squash is straight off the grill. Plus, there's something about grilled squash combined with a refreshing herby yogurt sauce – have you tried this mixture? It's so on fleek.
And then the heirloom cherry tomatoes go pop in your mouth, with tangy red onion, and creamy avocado adding freshness that is SOFRESH.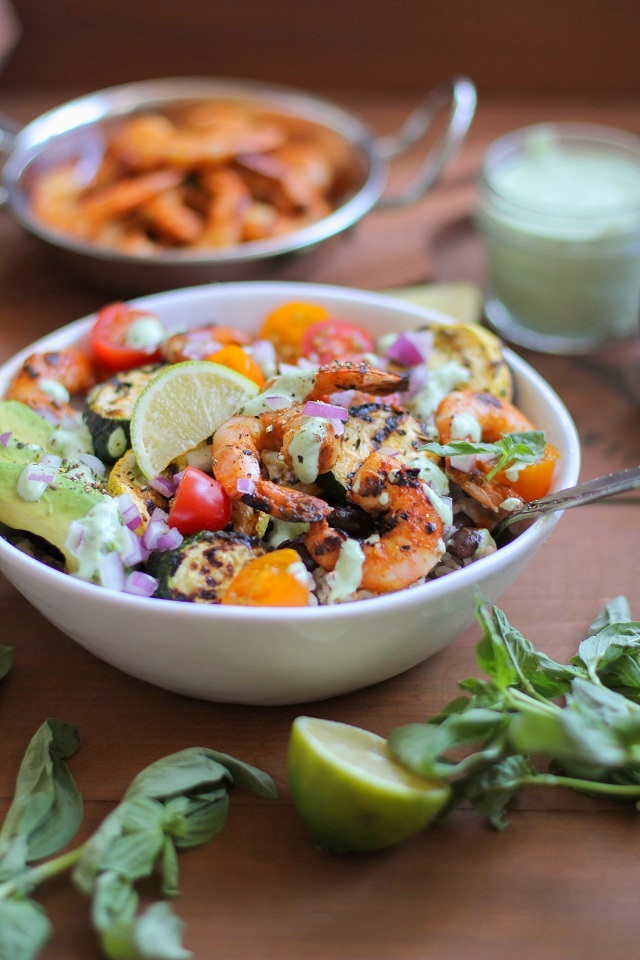 Annnnnnnnd BOWL!
Grilled Red Curry Shrimp with Grilled Squash and Basil Yogurt Sauce
Fresh, flavorful Grilled Red Curry Shrimp with Grilled Squash and Basil Yogurt Sauce are is amazing meal during the summer months
Ingredients
Coconut Red Curry Grilled Shrimp:
Grilled Zucchini and Yellow Squash:
Basil Yogurt Sauce:
8

ounces

whole milk plain yogurt*

2

tablespoons

lime juice

1/3

cup

basil leaves

chopped

1

tablespoon

pure maple syrup
For the Bowls:
3 to 4

cups

cooked rice

1 14-

ounce

can black beans

drained and rinsed

2

cups

heirloom cherry tomatoes

halved

½

red onion

chopped

2

ripe avocados

peeled and chopped
Instructions
Prepare the Shrimp:
Add the coconut milk, paprika, curry paste, and sea salt to a small blender. Blend until completely smooth.

Peel and devein the shrimp. You can remove the tails or leave them on. Place shrimp in a bowl (or sealable container) and pour in the red curry marinade. Use your hands to toss all of the shrimp in marinade. Cover the bowl and refrigerate at least 1 hour (to overnight).

When ready to grill, preheat the grill to medium-high and thread the shrimp onto skewers. Note: if using wooden skewers, soak them in water for 20 minutes prior to threading the shrimp so that the skewers don't burn.

Place shrimp skewers on the grill and cook for 2 minutes, or until grill marks appear. Flip skewers using tongs and cook until shrimp are cooked through, about 1 minute.

Transfer skewers onto a plate and set aside until ready to use.
Prepare the Zucchini and Yellow Squash:
Add the chopped zucchini and yellow squash to a bowl. Drizzle with olive oil and sprinkle with paprika, Herbs de Provence (or Italian seasoning), and salt. Toss everything together until it's well coated.

Place the squash onto the hot grill, careful to not let the rounds slip through the cracks. Cover the grill and cook until grill marks appear, 2 to 3 minutes. Use tongs to flip the squash and cook an additional 1 to 2 minutes, or until squash reach desired done-ness.
Prepare the Basil Yogurt Sauce:
Add all ingredients for the basil yogurt sauce to a small blender and blend until smooth. Set aside until ready to use.
Prepare the bowls:
Fill bowls (this recipe feeds 4) with rice and beans. Top with grilled shrimp and squash, tomatoes, onion, avocado, and drizzle on desired amount of basil yogurt sauce. Serve with fresh lime wedges.
Notes
*I used Siggi's Icelandic-style yogurt
Nutrition