Green chili chicken tacos with chipotle mayo and Mexican street corn makes for a fresh, vibrant, filling meal perfect to throw together any night of the week.
I partnered with Plated to bring you this post.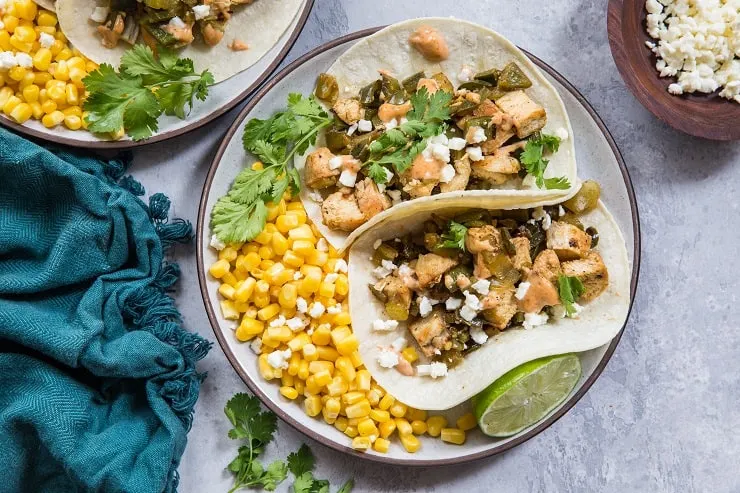 Have you tried a meal delivery service? While I have heard of many meal delivery services over the years, I had never tried one until a week ago.
Plated is a meal delivery service that caters to the adventurous palate. Whether you are new to meal delivery services like I was or are a seasoned subscriber, I trust you'll find Plated very appealing, as the company takes a unique and thoughtful approach to the whole process.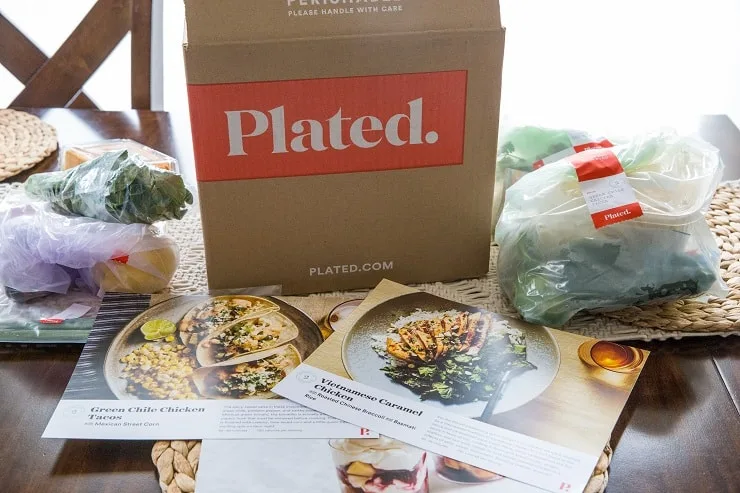 In this post, I'm offering up my full and honest review of Plated's meal delivery service and also providing their recipe for green chili chicken tacos so you can see for yourself how delicious their meals are prior to even ordering. So let's dive in! I'm going to tell you how it all works, give you the pros and cons, some tips on being successful with this type of cooking, and my overall impression of the whole experience. Not to mention, I have a discount code for you! Get $20 off your first three orders by using the coupon code: ROASTEDROOT20 when ordering HERE.
How it works:
Mix and match from 20 recipes and dessert to create your own customized menu for the week. There's a different menu you can choose from each week, so you'll never tire of your options.
You have no commitment to place a specific number of orders under a specific amount of time – you have the freedom to skip weeks and the flexibility to only order when you want a delivery.
Once you have placed your order, your package arrives quickly.
You don't have to be home to receive the package – no signature is required. The box comes well insulated with ice packs so you don't need to worry about spoilage.
When you select a meal while ordering, there is a plethora of information given for each meal. You will know ahead of time any additional ingredients (for example, olive oil, salt, pepper) you will need to prepare the recipe as well as the cooking tools you will need (for instance, a skillet, cutting board, baking sheet, etc.).
Plated offers options for gluten-free and vegetarian meals, and you can filter based on dietary needs or type of animal protein preference.
Each meal requires between 20 – 60 minutes to make from start-to-finish, and you can of course select your meals based on cook time if that's important to you.
The macronutrient breakdown is available for each meal so you can select your meals based on the amount of protein, carbohydrates, fat, and/or calories you're trying to achieve.
Every ingredient as well as potential allergens (such as shellfish, peanuts, soy, etc) are listed for each meal, so you can easily avoid ingredients you're allergic or intolerant to.
Plated has a support team to help you through the process, so you can reach out to them with questions.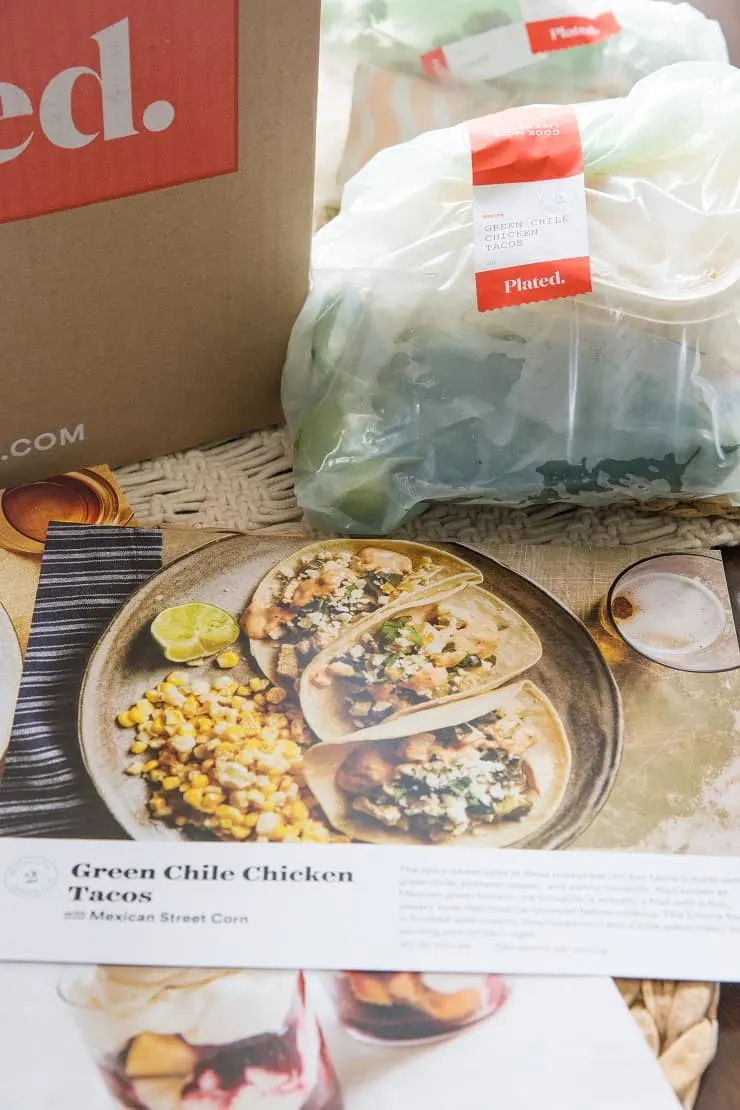 I selected the Green Chili Chicken Tacos, Vietnamese Caramel Chicken, and Raspberry-Lemon Parfaits. I followed each recipe card to a T and was so pleasantly surprised when they worked out perfectly (I'm often skeptical about following other people's recipes 😉 ). The flavor of both meals was incredible, and the dessert was a definite crowd pleaser. All in all, you'd never in a million years guess everything came in a package prior to mealtime.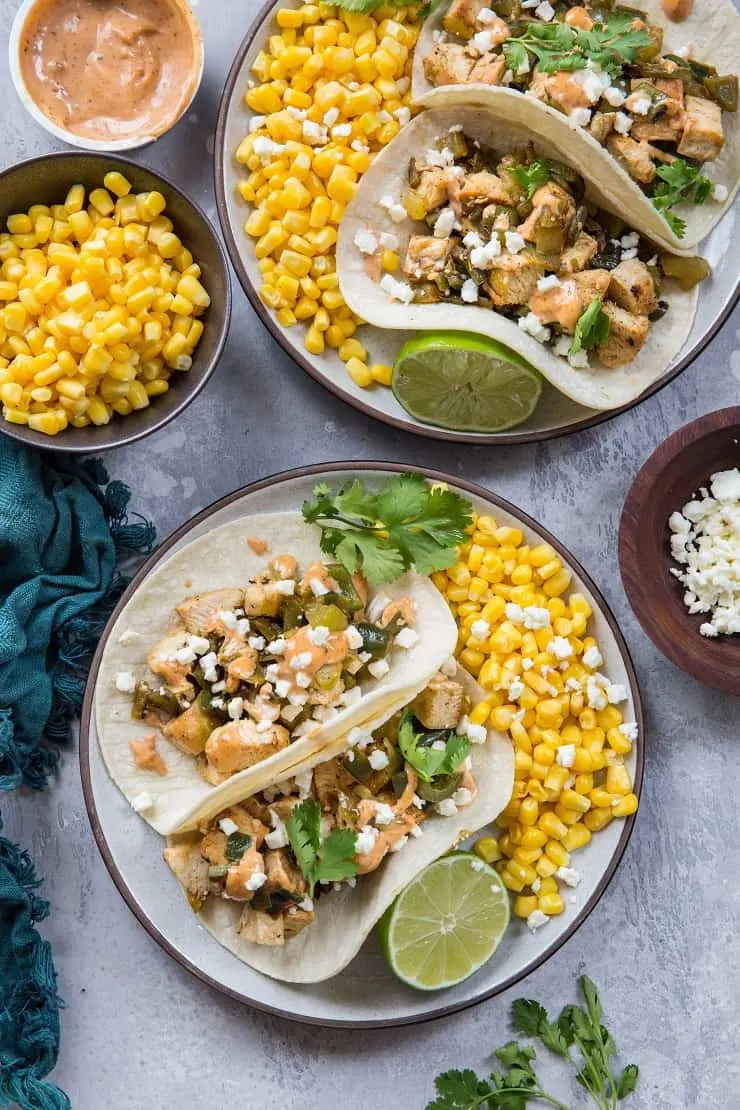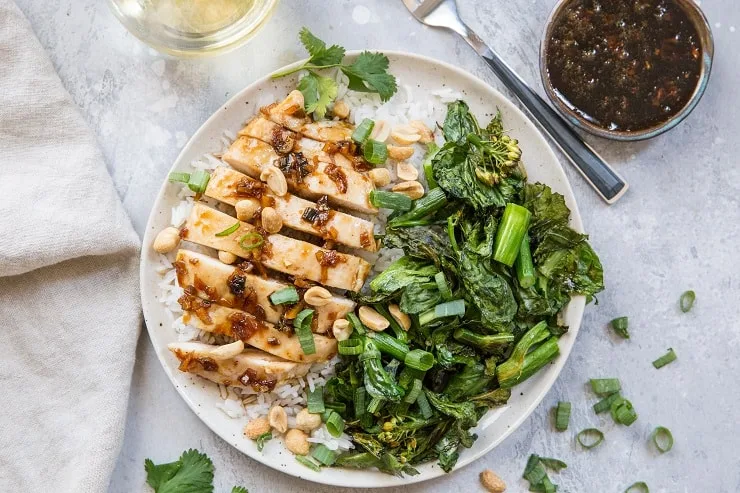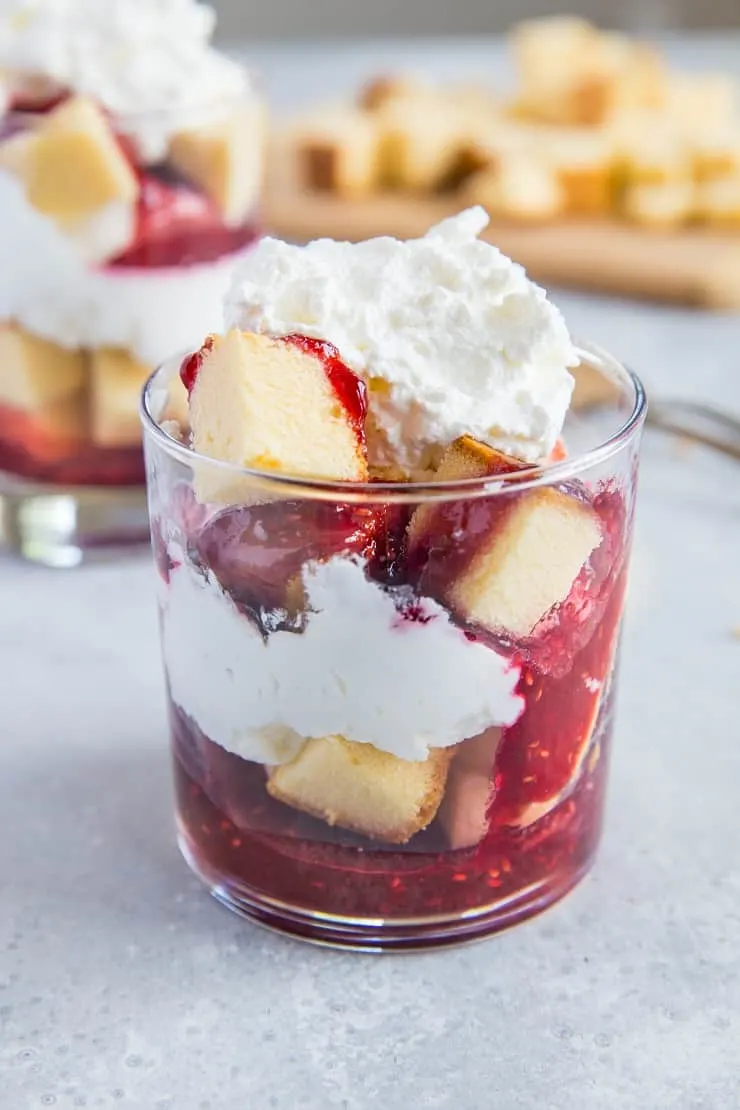 Tips:
Read the instructions all the way through before starting a recipe, because Plated gives awesome tips for multi-tasking to minimize prep time (for instance, prepare the salsa while the chicken is cooking, etc.)
Place your orders when you know you'll be in town for at least a few days following delivery to ensure you're making the recipes when the ingredients are still fresh.
Make the meals that are produce-heavy first to maintain freshness.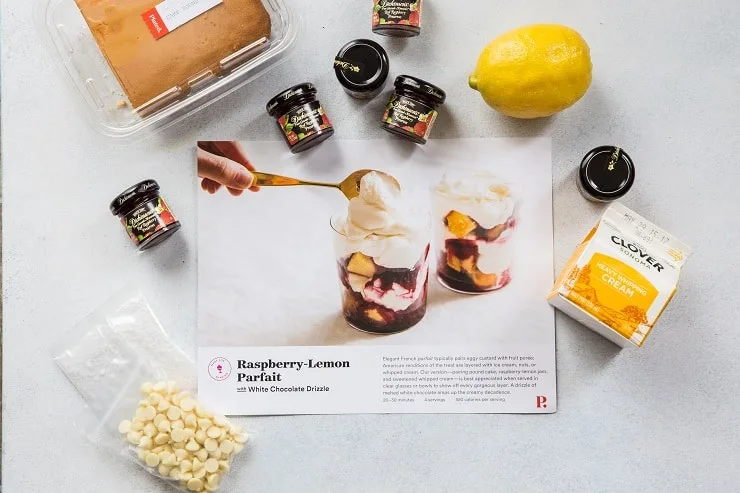 Pros:
All ingredients are already portioned out, eliminating much of the time, effort, and thought process.
Recipe cards have step-by-step photos showing exactly what to do with each ingredient.
Instructions are easy to understand and follow in order.
Fresh, healthy, simple, tastes great!
Recipes can be made from start-to-finish quickly or made in parts.
Leftovers keep well.
Filling, well-balanced, and not overly calorie-dense or heavy
Plated is perfect for all skill sets, and you can choose your meals based on the level of difficulty.
Each meal is unique, vibrant, and different from your ordinary dinner. The selections are a nice change-up if you are looking for variety and spunk.
A great gateway into learning how to cook ethnic food on your own.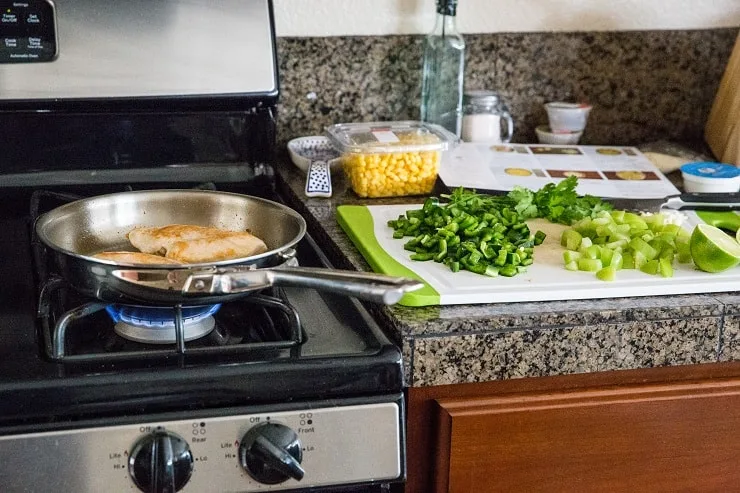 Cons:
The downside to having everything already measured out for you is there is quite a bit of packaging involved. If you're environmentally conscious like me, this may be disheartening.
While ingredients come fresh, you'll need to prepare the meals soon after they arrive, as the produce will begin going bad soon. The upside to this is you can meal prep – cook what you need to for the week and keep the food in sealed containers until you reheat and eat.
While there are plenty of options to cater to your dietary restrictions (for instance, gluten-free, vegetarian, dairy-free, low-carb, low-calorie, etc), there are minimal options for squeaky clean, paleo meals. This isn't a problem for me because many of the meal options are very close to paleo or can be modified to fit your restrictions (for instance, you can omit the cheese in the tacos, etc).
Ingredients are not organic and you have very little information about how they were sourced.
My Takeaway From the Experience:
Plated is ideal for busy households where you enjoy cooking healthy meals at home but don't have a lot of spare time. This meal delivery service eliminates the preliminary research time (so you don't have to look up recipes), the grocery shopping, the chopping and preliminary prep work, and the shuffle of going to and from the recipe, refrigerator, and stove top. If you know you have a busy week coming up but want to be sure you don't go off the deep end with ordering takeout or making less than stellar food decisions during your busy stint, Plated is absolutely perfect.
I love that Plated offers so many unique meals with all sorts of variety (and color!) because I personally enjoy meals that are big on flavor. Plated brings a little something different to the table with their authentic, adventurous meals yet all meals are also quick and easy to make, and the instructions are easy to understand. This service is also great in the sense it doesn't leave you with heaps of leftovers that you have a difficult time getting through the rest of the week, so the food waste is minimal. For those of you with smaller households, you can stick with the standard 2-person portioned meals, or double or triple up if you have a larger family.
My main criticism of meal delivery services in general (not just Plated) is the amount of packaging involved. For those who try to minimize the packaging they use, you may see the amount of packaging as wasteful.
Overall, I enjoyed my experience with Plated and can see the appeal of a meal delivery service. It takes away much of the time and stress surrounding mealtime yet enables you to still enjoy the cooking process.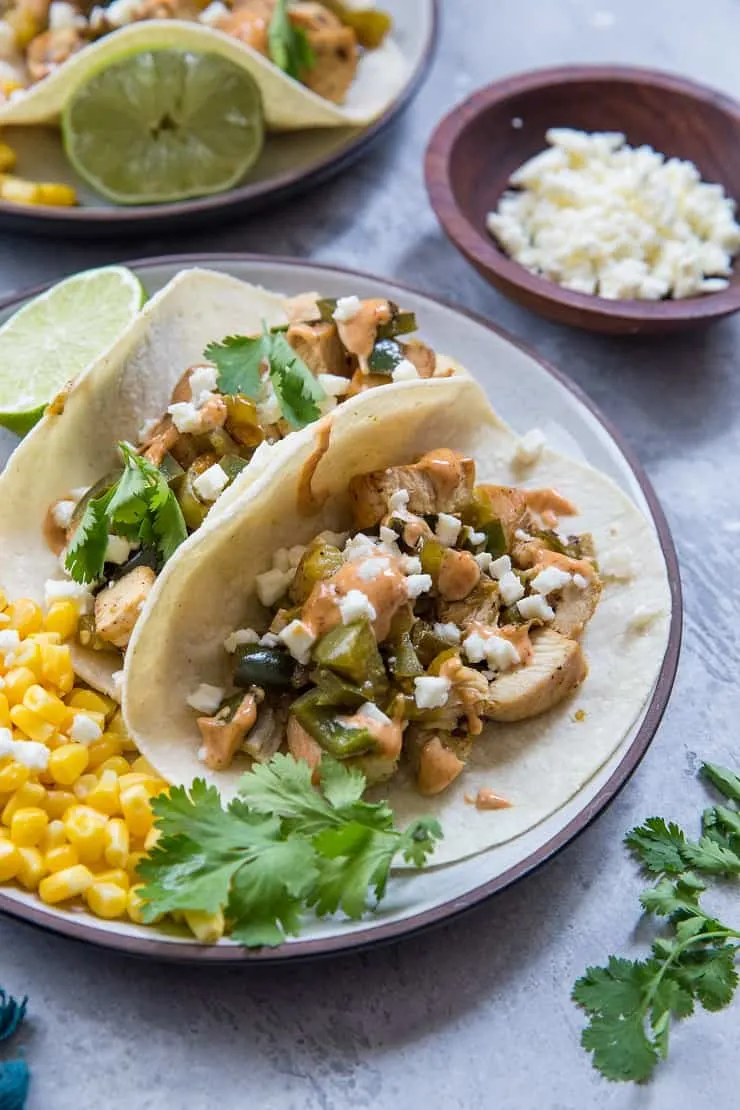 Get $20 off your first three orders by using the coupon code: ROASTEDROOT20 when ordering HERE.
Enjoy these insane-o delicious green chile chicken tacos!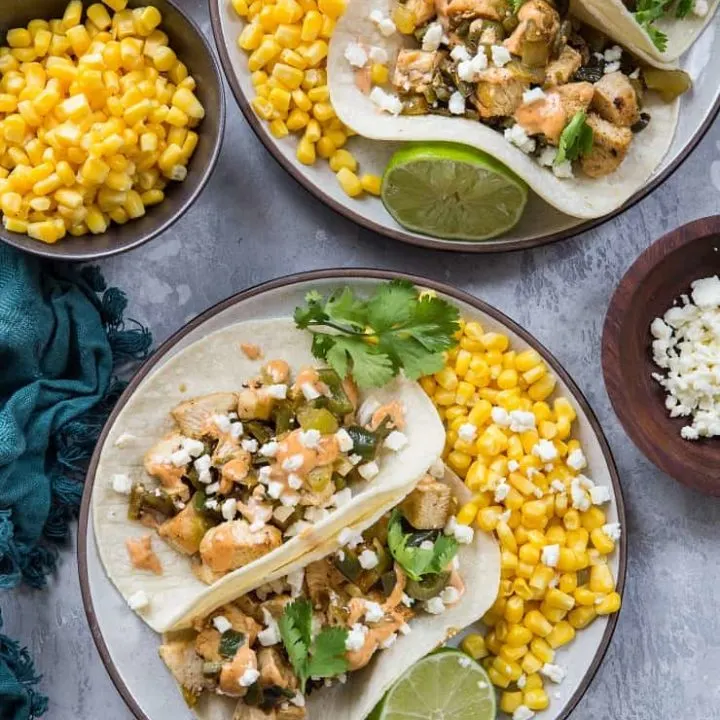 Green Chile Chicken Tacos
Quick, easy, flavorful Green Chile Chicken Tacos make for a speedy and delicious bite!
Ingredients
2 boneless skinless chicken breasts, about 1 pound
1 lime, cut into wedges
1 clove garlic, minced
6 ounces tomatillos
1 poblano chile
1 (7-ounce) can diced green chiles
2 cups corn
1/4 cup avocado oil mayonnaise, or mayo of choice
1 chipotle chili in adobo sauce, finely chopped
6 corn tortillas
2 ounces queso fresco
Instructions
Cook the Chicken:
Season the chicken breasts with sea salt and black pepper. Head 1 tablespoon olive oil in a medium pan over medium-high heat. Place the chicken breasts on the hot skillet and sear until cooked through, about 6 minutes per side. Transfer chicken to a cutting board and set aside to rest 5 minutes. Wipe pan clean to use for preparing the salsa.
Prepare the Salsa:
While the chicken is cooking, cut the lime and mince the garlic. Remove and discard husks from the tomatillos, rinse well, and cut into 1/2-inch pieces. Core and chop poblano chile into 1/2-inch pieces. Once rested, roughly chop the chicken.
Return pan from chicken to medium-high heat with 1 tablespoon olive oil. Add garlic, tomatillos, and poblano. Cook, stirring occasionally, until tomatillos are soft and jammy, about 6 to 8 minutes. Reduce heat to medium and add green chiles and chopped chicken. Simmer until liquid is fully evaporated, about 2 to 3 minutes. Season to taste with sea salt and black pepper.
Make Mexican Street Corn:
Heat 2 teaspoons olive oil in a large pan over medium-high heat. Add corn and saute, stirring, until warmed through and beginning to brown, about 5 minutes. Stir in half of the queso fresco and season with sea salt.
Make the Chipotle Crema:
Stir together the mayonnaise and chopped chipotle chile. Season with sea salt to taste.
Make the Tacos:
Heat corn tortillas according to your favorite method (microwave, oven, stove top). Divide tortillas between plates and fill with the green chile chicken mixture. Serve with chopped cilantro and queso fresco with a side of Mexican street corn.
Nutrition Information
Yield

2
Serving Size

1 grams
Amount Per Serving
Unsaturated Fat

0g