An easy recipe for gluten-free sandwich bread made using straight-forward ingredients. Easy to prepare and low-FODMAP!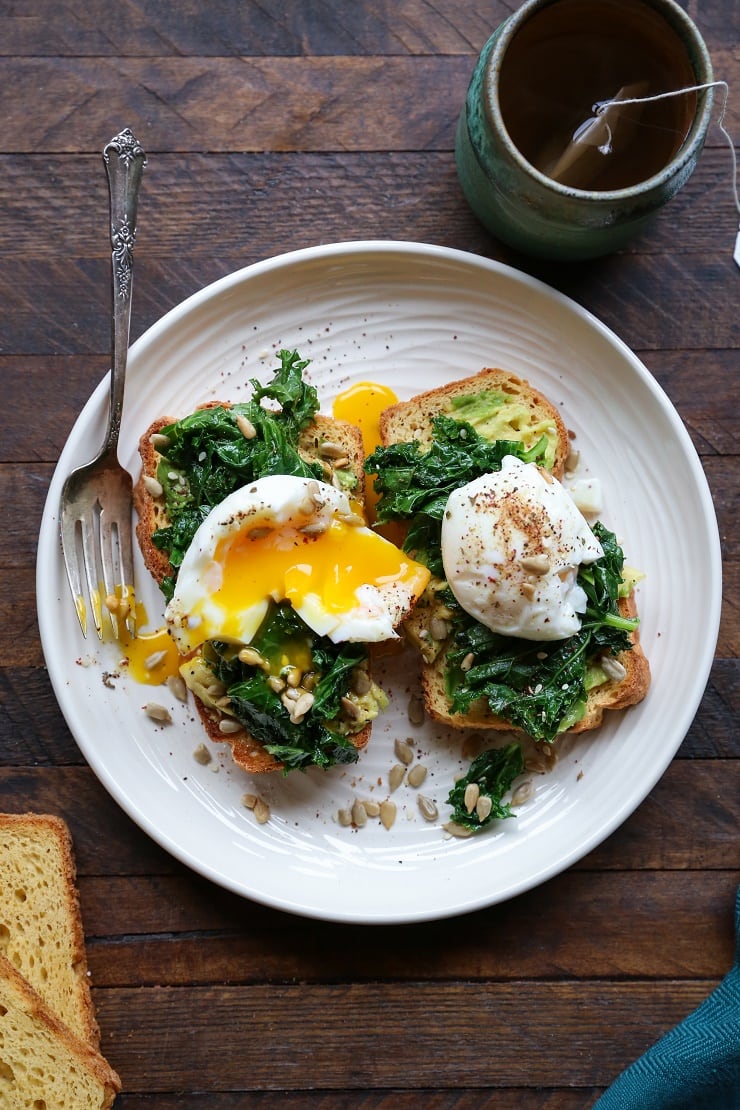 I whipped up this toast last week and teased you with it on my Instagram story, because what better place for a runny yolk than Instagram? Spoiler alert: it's nothing more than mashed up avocado, a sprinkle of sea salt, sauteed kale, a soft boiled egg, and sunflower seeds. By now, I'm sure you have all manners of avocado toast down to a fine art, so I'm not including an actual recipe for the toast in this post, because…
The real recipe here is the loaf of gluten-free sandwich bread from which das toast was plucked. Can you believe this is my first time posting gluten-free sandwich bread on the blog? I feel like we should have gone over this eons ago. But as they say, better late than never…Truly, I think you guys will absolutely love this recipe.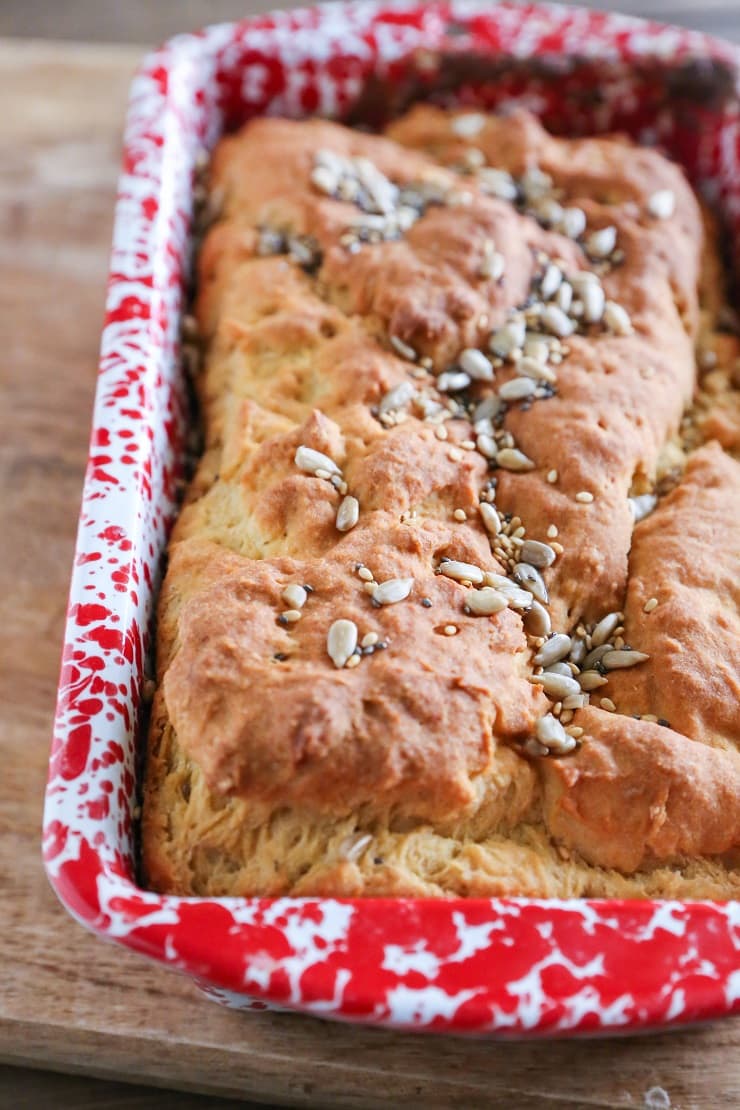 I adapted this recipe from Gluten-Free Baking's Gluten-Free Sandwich Bread recipe. It's such a simple approach! Most homemade gluten-free bread recipes I've seen include 3+ flours, as well as 2+ starches and 2+ leavening agents. It's no wonder many of us gluten-free-ers rely on store-bought GF breads!
Well great news, this recipe is straight-forward in the realm of gluten-free breads. To the extent that it may even become a staple in your home. It has in mine!
One of the things I love about this recipe is the ingredients list isn't very intense. I used both millet flour and brown rice flour, but truthfully you could get away with using all millet flour or all brown rice flour (or any combination of the two). Note: if you use sweet rice flour, you'll end up with a sweeter bread, which I think would be quite tasty.
That said, I wouldn't go willy nilly replacing millet or rice flour with other flours such as oat, chickpea, sorghum, cassava etc, because they don't always react well as 1:1 replacements for one another, and depending on what you use, the flavor can taste odd and the texture can be off as well. What I'm trying to say is I recommend sticking with millet and brown rice for your first go with this recipe, and if you're feeling adventurous, you can take it from there on your next loaf.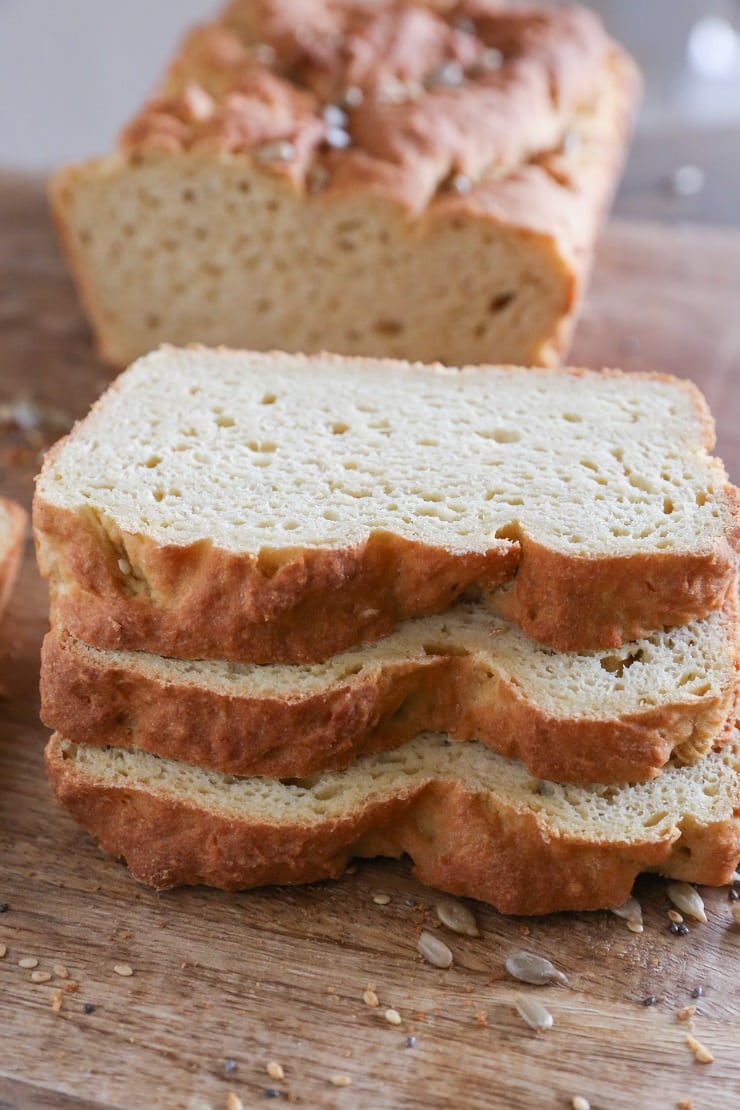 Have you all ever thought about the perfect piece of toast? Perfectly golden, crispy but still soft and moist on the inside. Oh my gawl, let's have words. I used to use the broiler in my oven, because I've literally never owned a toaster. That is, until Wolf Gourmet sent me their Four Slice Toaster a few weeks ago, along with their 10" Serrated Bread Knife. As I've found with Wolf Gourmet's products over the years, these two tools blew other toasters and bread knives out of the water.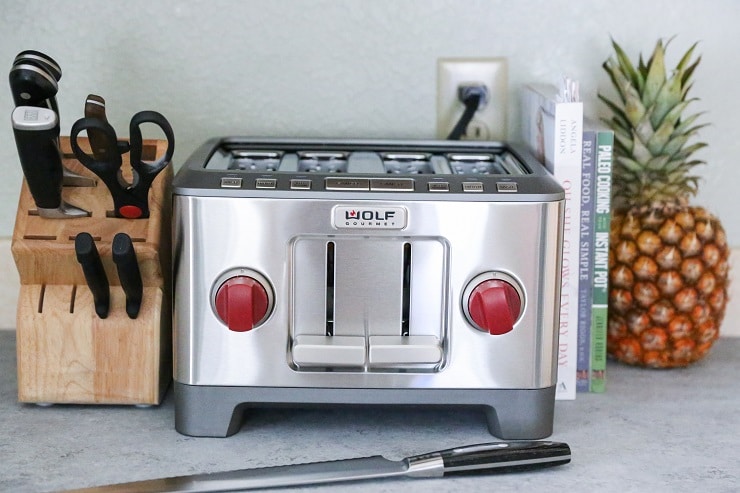 The toaster includes extra wide bread slots – perfect for homemade loaves – self-centering bread guides for optimal toasting, a slide-out crumb tray to keep your counter clean, and more! On a scale of one to 10 for toasting mechanisms, this is an infinity. I never in a million years would have thought there was such thing as the perfect toast on a piece of bread. Spoiler alert: there is, and Wolf Gourmet's Toaster delivers it. The knife is made with Forged high-carbon stainless steel, and comes with a beautiful pakkawood handle. It sliced through the loaf of bread like a dream…no squishing or tearing at all!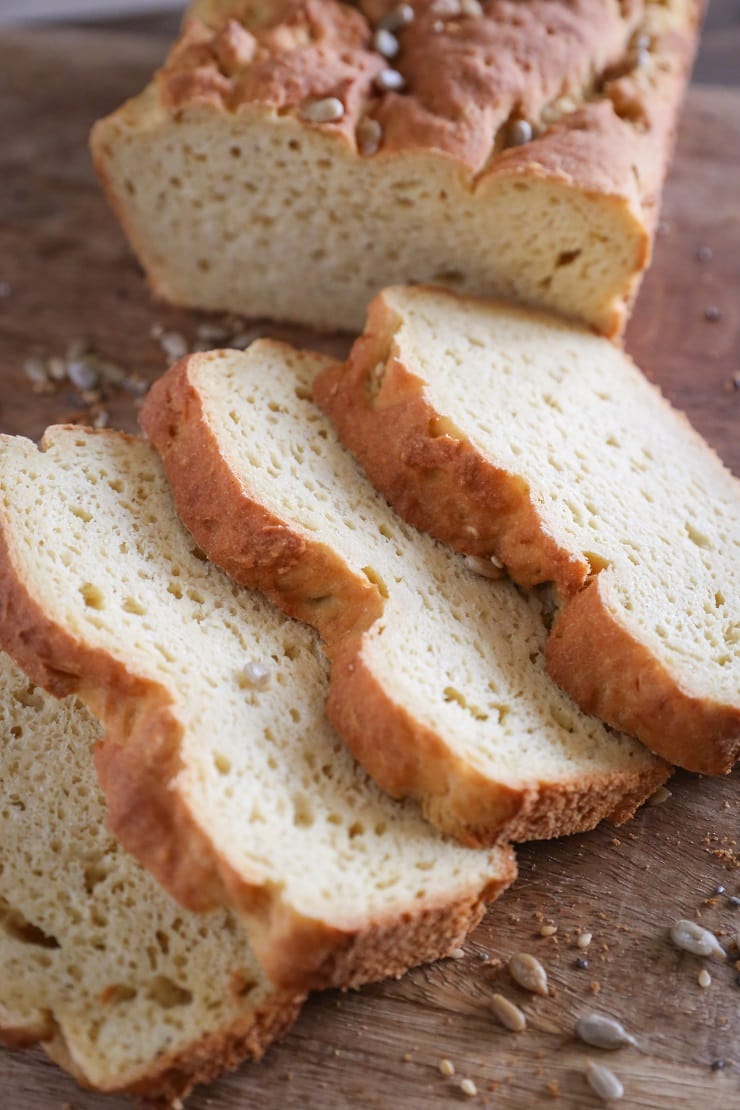 Suggestions when making this recipe:
Use level measurements of all dry ingredients.

Pay close attention to the yeast. If it doesn't foam up a bit and smell yeasty, it may not have activated. Be sure you're using yeast that isn't expired, and make sure the temperature of the water is between 110 and 115 degrees F.

Use Quick-Rise yeast to get your bread fermenting instantaneously. I love using Quick-Rise because I know whether the dough is working almost immediately.

You can get creative by including nuts and seeds within the bread dough, and/or topping the bread with nuts and seeds.

If you don't own coconut sugar, you can easily replace it with 2 tablespoons of granulated cane sugar, no probz.
Gluten-Free Sandwich Bread
Easy gluten-free sandwich bread perfect for your morning toast and sandwiches!
Instructions
Whisk together the yeast, water, and 1 tablespoon of the coconut sugar in a small bowl. Allow the yeast to activate for 8 to 10 minutes, or until it smells very fragrant or looks a little bubbly.

Add the dry ingredients (millet flour, brown rice flour, tapioca flour, xanthan gum, sea salt, and baking powder) in a stand mixer fitted with the paddle attachment. Turn the mixer on for a few seconds to mix the flours.

Add the yeast mixture, eggs, olive oil, and cider vinegar to the stand mixer and mix until the dough is combined. Note: the dough will be very sticky and won't resemble regular bread dough.

Transfer the dough to a lightly oiled or greased 9"x5" loaf pan. Smooth into an even layer with a rubber spatula. Cover with plastic wrap and store in a warm spot for 1 hour, or until dough doubles in volume.

When ready to bake, preheat the oven to 350°F. Bake on the center rack of the preheated oven for 30 minutes. Remove from the oven, cover with foil (to avoid the top of the bread burning), and bake another 15 minutes.

Allow bread to cool 10 minutes before releasing it from the loaf pan. Cut into large slices and enjoy!
Nutrition