Crispy pan-fried chicken made sans gluten.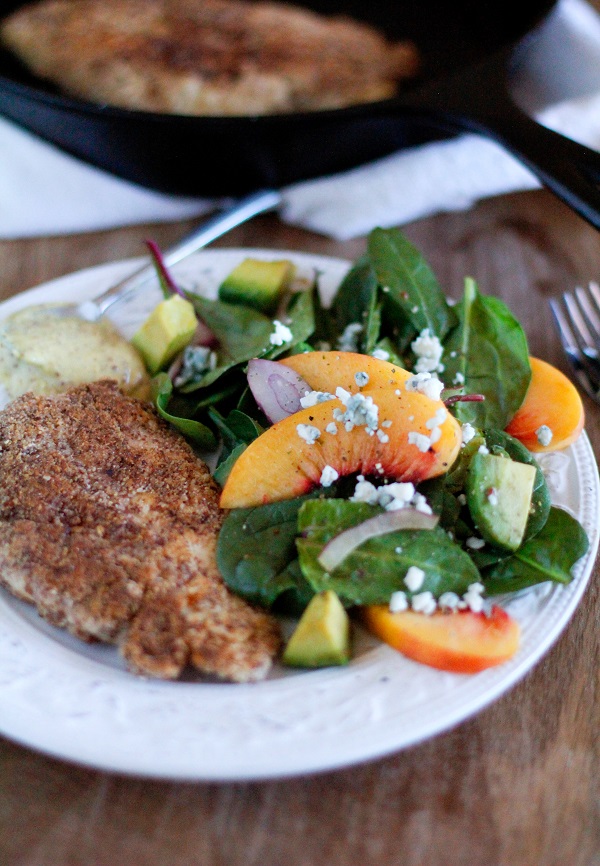 Why didn't we do this sooner?
Okay, I know why.
Because I was a gluten free fried chicken naysayer and thought it was impossible to make a crispy, tender, succulent, satisfying fried chicken in the gluten free form. But, spoiler alert: it is possible. We done did it!
And it isn't rocket science, either. I simply used gluten free all-purpose flour and almond meal for the breading. Boom clap, fried chicken.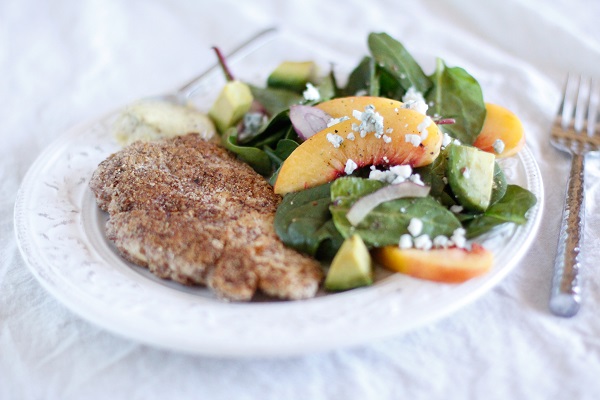 I almost baked this chicken instead of pan-frying it…you know, on account of baaaaking being the heeeealthier method. But then I remembered my cast iron skillet hadn't yet gone through its rite of passage (the rite of passage being the act of frying chicken), and I shuddered at the thought of what the other cast iron skillets would say.
So I was doing my skillet a favor, is what it boils down to. This process had nothing to do with the fact that I was craving something crispy fried to submerge in a vat of stone ground mustard (read: it had everything to do with the fact that I was craving something crispy fried to submerge in a vat of stone ground mustard).
If you've never fried chicken in a skillet, no sweat, it's a cinch. Here'w how we do it:
Slice your chicken breasts length-wise from the thickest part of the breast to the thinnest. Don't you love it when I show you raw meat?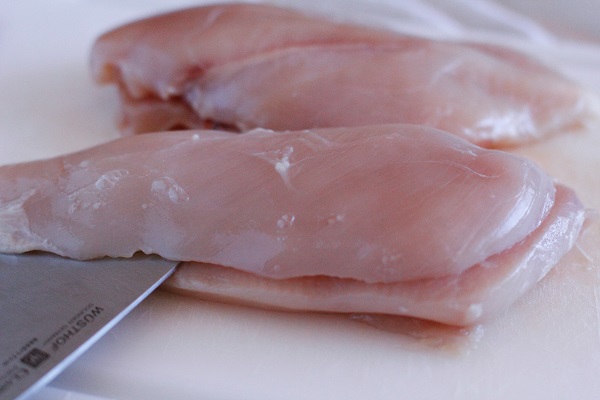 Add some kosher salt, cracked black pepper, and garlic powder (+ any dry herbs of your choosing) to your favorite gluten-free flour blend, and give it a stir.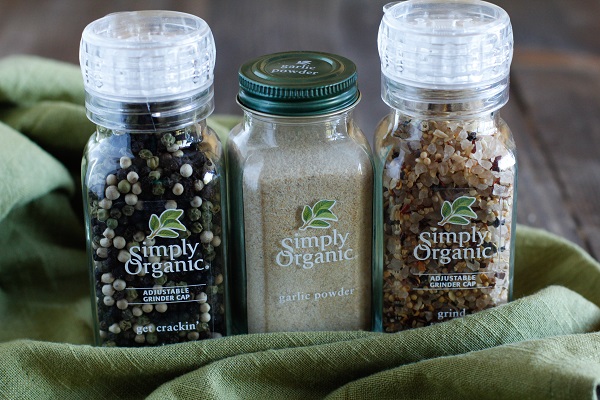 Make yourself a work station and do your dunking. Start by coating the chicken in egg, followed by the flour mixture, and then the almond meal.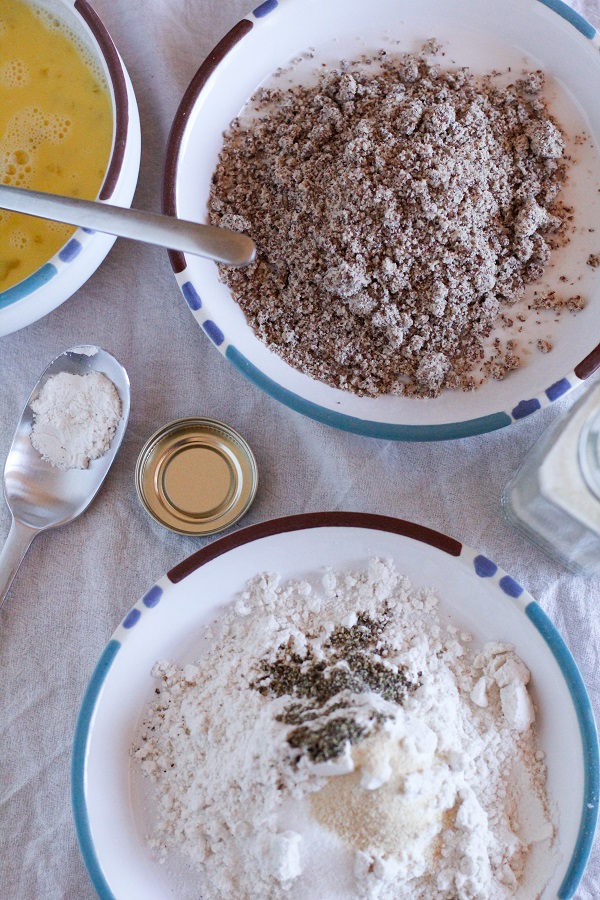 Sear those chicken strips in a hot cast iron skillet for a few minutes on each side, and then calculate the velocity of a canoe traveling downriver in relation to a person on shore who is walking at 2.0 m/s in the northwesterly direction as the canoe accelerates at a rate of 3.5 m/s2 for 3.8 seconds, hits a rapid and then accelerates at a rate of 8.25 m/s2 for 2.13 seconds.
Juuuust kidding…you're done. You don't need to calculate velocity of anything, excuse me while I tuck my TI-83 back in my shirt pocket.
Moving…right along.
Because we eat vegetables at alllll our meals, we serve the chicken with a vibrant green salad. And because we require adequate mustard submersion, we make sure there's gobs of it on our plate for the dipping.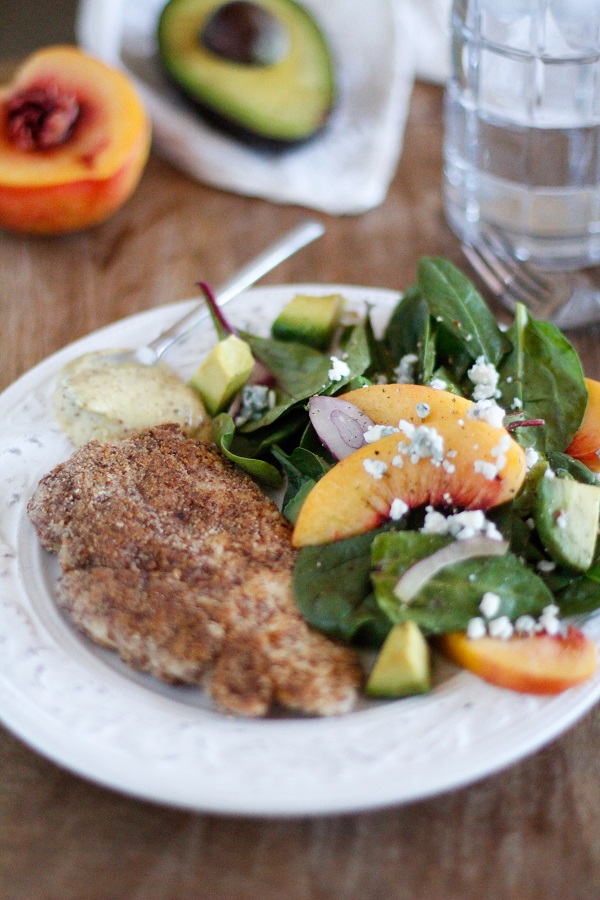 Gluten free fried chicken. It really is a thing.
Please do.
Gluten Free Pan-Fried Chicken
An easy gluten-free pan-fried chicken recipe that results in perfectly crispy and tender chicken!
Instructions
Place chicken breasts on a cutting board and carefully slice them length-wise, starting at the thicker end, moving toward the thin end.

Combine the gluten free all-purpose flour with the salt, pepper, and garlic powder. Mix together and put on a plate.

Add the almond meal to a separate plate.

In a small bowl, lightly beat the two eggs.

Bread the chicken by coating it first with the egg mixture, then the gluten-free flour, followed by the almond meal. Repeat for all of the chicken cutlets.

Heat enough coconut oil (or high-temp oil of choice) in a cast iron skillet to medium until the skillet is completely hot.

Carefully place breaded chicken cutlets on the hot skillet and allow them to cook 2 to 3 minutes on each side (longer if the chicken is thick), or until crispy and cooked through. Internal temperature of the chicken should be 160 degrees F.

Serve the pan fried chicken with a green salad or your favorite side dish.
Notes
*Use high-temperature cooking oil of choice if you don't have coconut oil. Canola or grapeseed oil work great.
Nutrition