Gluten Free Lemon Poppy Seed Bread with Honey-Lemon Glaze: the bread for which you willingly walk 500 miles.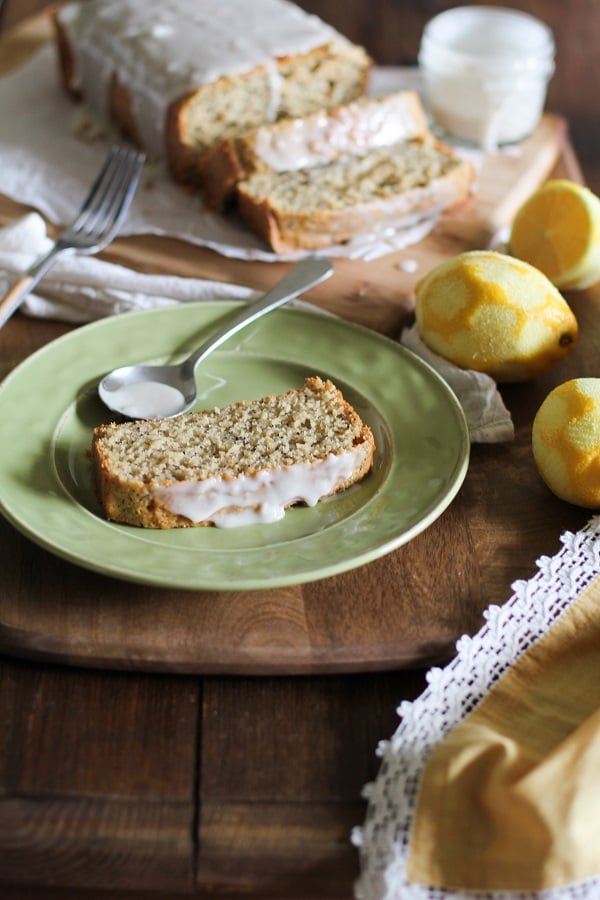 I'm not trying to tell you how to live or anything, but…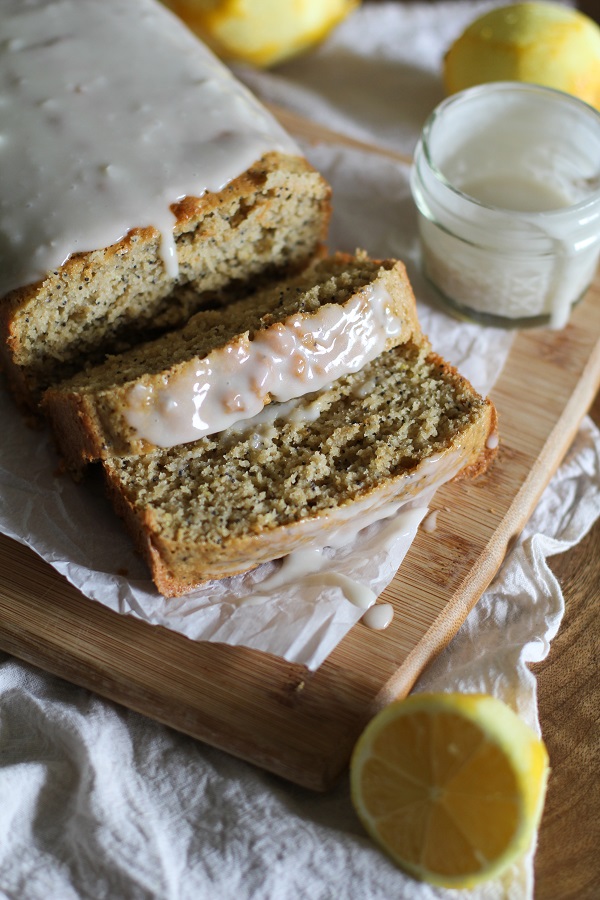 If you're going to walk 500 miles, it might as well be because of this bread. If there's a door you want to fall down in front of, it's this bread's door. And if you're going to walk 500 more miles…you get the point.
I double whammied this lemon poppy seed bread pretty hard. As in I made it two days in a row. This is what you do when you're terrified that somehow someone will rob you of your loaf. You make a backup loaf. This is what you do when you have food paranoia. Which I don't have. Except I do. Anyway: two loaves, two days, delicious.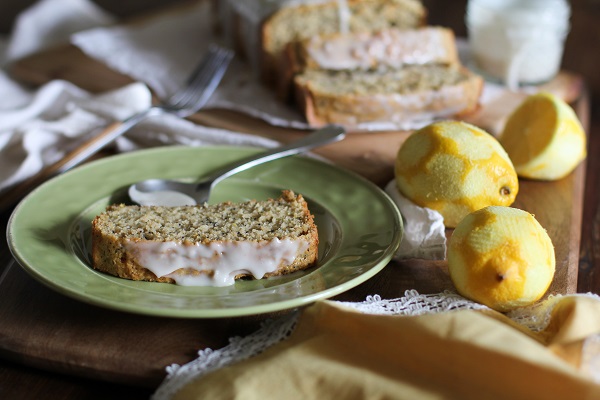 I made the bread gluten free using oat flour and used full-fat coconut milk to make the bread ridiculously moist. By itself, the bread is a sassy hunk of sumptuous sultry lovin, but the honey-lemon glaze really brings the whole thing full circle. As in it completes you, Jerry McGuire. I made the glaze by reducing coconut milk, then adding honey and some lemon zest. Bangity boom: healthy glaze. All the other glazes are green with envy.
After receiving this super awesome assortment in the mail, I used Nielsen-Massey lemon extract in this bread. As all lemon poppy seed bread should, it turned out lemon-y, heavenly, and will forever and always be swaddled in the ventricles of my heart.
I'm beyond choosy when it comes to the extracts I use – in fact, I normally don't use any besides pure vanilla – but all of Nielsen-Massey extracts have wriggled their way into my kitchen and have made me change my tune about baking with extracts. They're great quality and they liven up your bakery oven!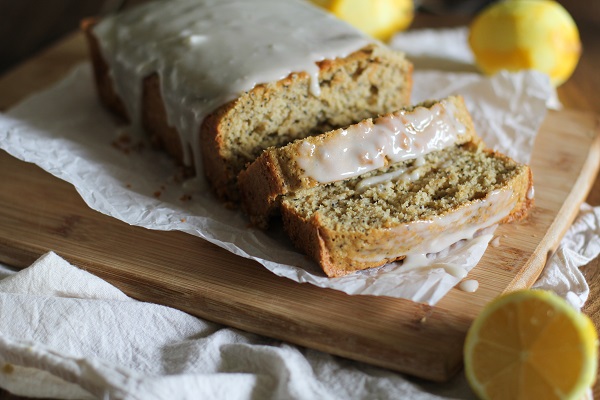 Giveaway!
Nielsen-Massey can wriggle its way into your home, too! For a chance to win a bottle of their vanilla paste and lemon extract, simply leave a comment on this post. A winner will be selected Friday, April 4 and will be notified via email. Keep tabs on Nielsen-Massey through Facebook and Twitter.
Double whammy this bread. Because someone will steal your loaf. It's bound to happen.
Gluten Free Lemon Poppy Seed Bread with Honey-Lemon Glaze
Zesty Gluten Free Lemon Poppy Seed Bread with Honey-Lemon Glaze is a marvelously moist loaf!
Ingredients
Gluten-Free Lemon Poppy Seed Bread
Instructions
To Prepare the Gluten-Free Lemon Poppy Seed Bread:
Preheat the oven to 350 degrees F. Lightly oil a bread loaf pan.

Add all of the ingredients for the lemon poppy seed bread to a blender except for the poppy seeds. Blend just until smooth and well-combined. Stir in the poppy seeds.

Pour the batter into the prepared loaf pan and place on the center rack in the oven. Bake for 50 to 65 minutes, or until bread tests clean.

While the bread is baking, prepare the honey-lemon glaze (see instructions below).

Once bread has finished baking, allow it to cool for 30 minutes before turning it out onto a cutting board.

Drizzle the honey-lemon glaze on top and serve thick pieces!
To Make the Honey-Lemon Glaze:
Add the coconut milk to a saucepan and heat to medium. Bring the coconut milk to a gentle boil and continue to allow it to boil gently (adjusting the heat as necessary), whisking frequently for about 30 minutes or until very thick and creamy.

Add the honey, zest, and salt and stir well. Remove from heat and set aside. The glaze will thicken as it sits.

Pour the glaze over the bread and serve in large hunks of poppy lovin.
Nutrition