This decadent dessert will surely take your taste buds to all new highs! Gluten Free German Chocolate Brownie Sundaes are a true joy!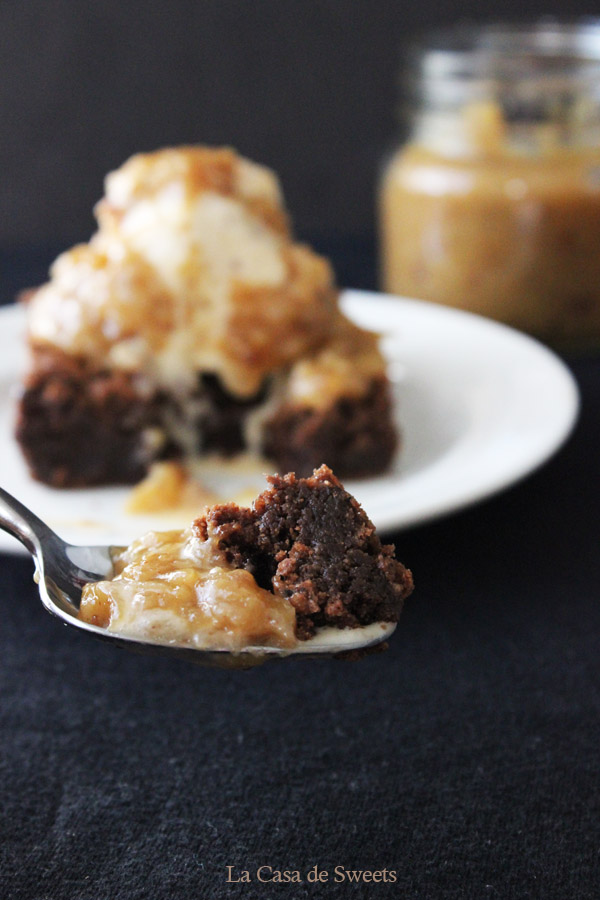 I have a super special treat for you! Special times a million! Jackie from La Casa de Sweets is guest posting on my blog today (YES!) with a Gluten Free German Chocolate Brownie Sundae recipe (Whamo!) AND it's for a great cause (gloooory!)!! Can you even wrap your brain around that trifecta? I'm still working on it.
Jackie blogs for a good cause. She bakes and blogs to raise money for charities, making her my greatest blogging role model ever. She puts a lot of hard work into her recipes and amazing photos, and she does it all for other people. She is the dose of perspective each and every one of us need.
If there is one thing on this planet that is better than a brownie, it's a brownie with a cause. And that's what we have here. Brownie + cause major. LOVE me that Jackie! Without further adieu, I'll let Jackie tell you all about it!
TAKE IT AWAY, JACKIE!
Hi, everyone! I can't tell you how excited I am to be sharing this recipe on The Roasted Root. I've been a big fan of Julia's site for quite a while, and now that my family and I are jumping headfirst into the world of gluten-free baking, I'm finding the recipes on The Roasted Root even more inspiring!
Now, let's talk about these brownie sundaes. Boy, oh boy, are these brownies good.
They're rich, fudgy and totally gluten-free.
The best part? They're made with everyday ingredients that you're sure to have in your pantry. No need to run out for brown rice flour or tapioca starch for these puppies. Nope, chocolate chips, butter, sugar, eggs, cocoa powder, and a little cornstarch are all you need!
That's the brownie part.
But, as the recipe title says, these are sundaes.
So, on top of that rich, fudgy easy-to-make gluten-free brownie, you add a scoop of your favorite ice cream. (The ice cream can be homemade or store-bought…we're not here to judge.)
Then, comes the German Chocolate topping. Mix a little evaporated milk, chopped pecans and coconut together, and the result is a creamy, buttery topping. Oh, yes.
German Chocolate Brownie Sundaes…rich, chocolatey, and decadent. Exactly what gluten-free sweets ought to be!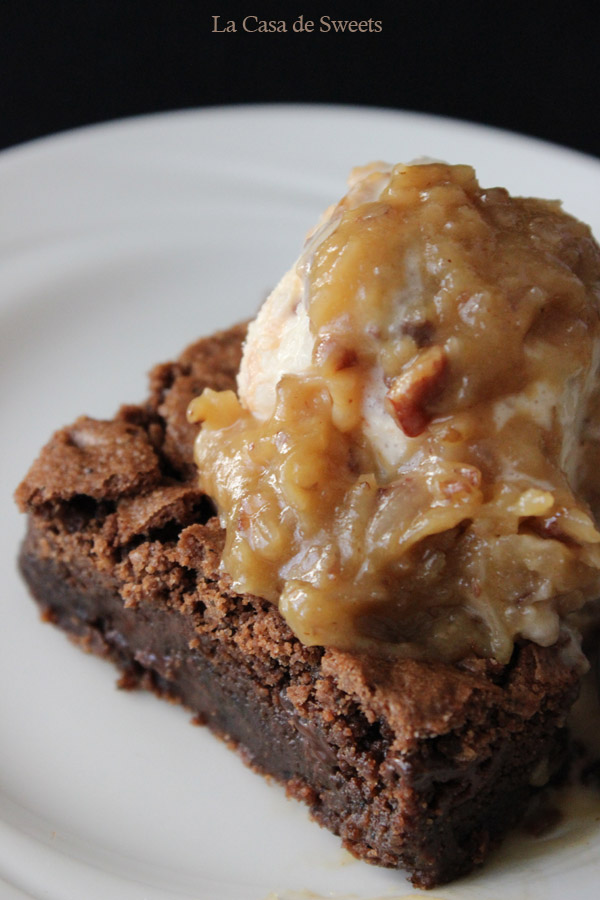 Gluten Free German Chocolate Brownie Sundaes
This decadent dessert will surely take your taste buds to all new highs! Gluten Free German Chocolate Brownie Sundaes are a true joy!
Servings:
9
Brownie Sundaes
Ingredients
For the German Chocolate Sundae Topping:
½

stick unsalted butter

cubed

1

egg yolk

½

cup

brown sugar

½

cup

evaporated milk

½

cup

chopped pecans

½

cup

shredded coconut

1

quart

ice cream

flavor of choice
Instructions
To Bake the Brownies
Preheat the oven to 350° and grease an 8x8 pan.

In a large, microwave-safe bowl, combine the butter and chocolate chips, and microwave at 30-second intervals, stirring after every 30 seconds, until the chocolate chips have melted. Let cool slightly, then stir in the sugar.

Stir in the eggs, one at a time, beating well after each egg. Stir in the vanilla extract.

In a small bowl, whisk together the cornstarch, cocoa powder and salt. Add the cornstarch mixture to the brownie batter, and stir for 1-2 minutes, until well-combined.

Pour the brownie batter into the greased pan, and bake at 350° for 35-40 minutes, until a tester comes out with a few crumbs attached.

Let the brownies cool completely before serving.
To Make the German Chocolate Topping:
Combine the butter, egg yolk, sugar and evaporated milk in a small saucepan. Cook over low heat, stirring occasionally, until the sauce thickens (about 6 minutes).

Remove the saucepan from the heat, and immediately stir in the chopped pecans and shredded coconut. Serve immediately, or transfer to a glass jar and refrigerate until ready to assemble the sundaes. (If serving later, warm the topping in the microwave for 1-2 minutes.)
Sundae Assembly
To assemble the sundaes, top each brownie with a scoop of ice cream, then top with a few spoonfuls of the warm German chocolate topping, and enjoy!
Nutrition