Almond Flour Chocolate Chip Cookies made dairy-free and refined sugar-free with coconut oil and coconut sugar. A healthier gluten-free chocolate chip cookie recipe!
Lookit these lumps.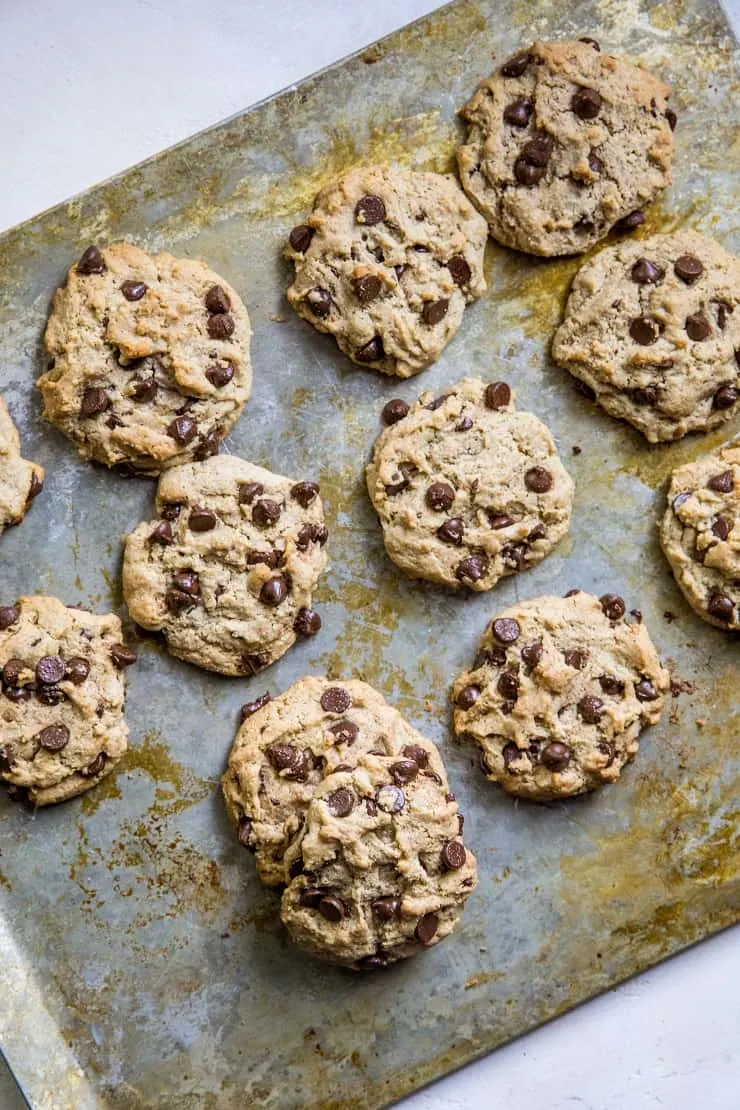 I've been on the prowl for THE perfect gluten-free almond flour chocolate chip cookie recipe for many moons, and I daresay, I have found it!
In my opinion, there's absolutely nothing that compares to a fresh-out-of-the-oven chocolate chip cookie.
Thanks to Nicole Morrissey from Prevention RD and her newly released cookbook, Prevention RD's Cooking and Baking with Almond Flour, I am back on the cookie-dough-for-dinner freight train.
Just get a load of the cookie details: These cookies are made with almond flour and coconut oil – no gluten, no butter.
While the original recipe calls for brown sugar, I replaced it with coconut sugar and the cookies still turned out great.
Basically this means we have a dairy-free, gluten-free, naturally sweetened, healthier chocolate chip cookie recipe with a nice little omega kick.
Which by my calculations can only mean one thing: feast.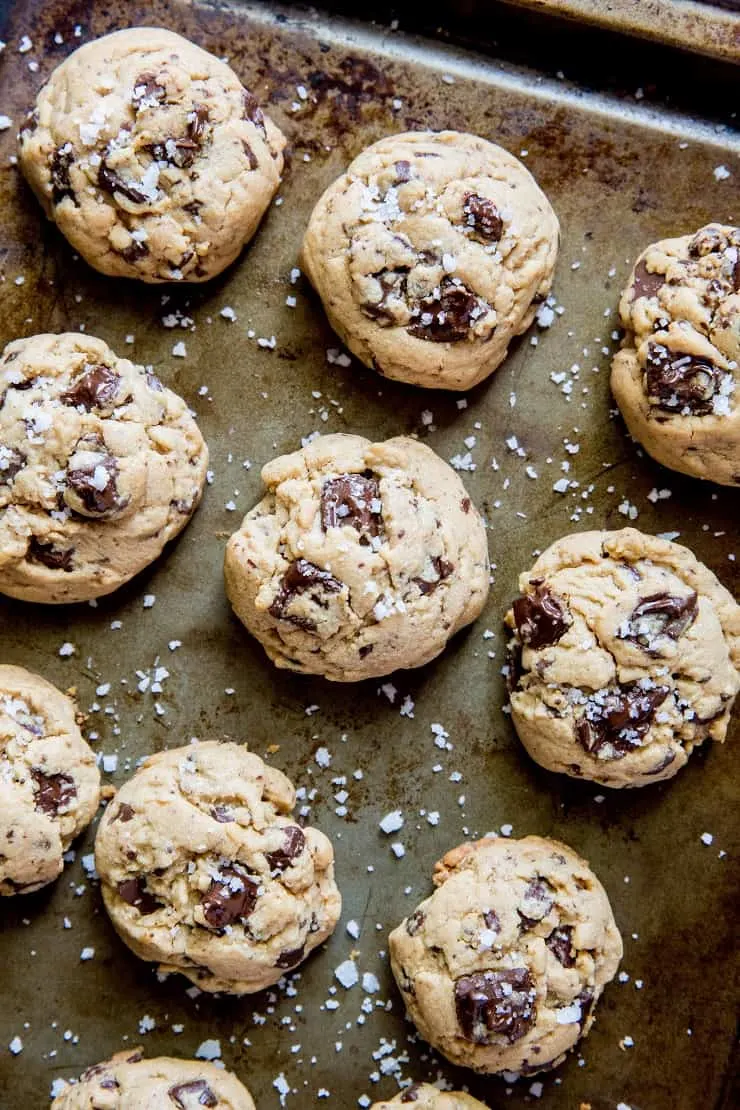 It's time to eat the doughs for dinner.
Just kidding. 😉
Be sure to check out Nicole's cookbook and in the meantime, make this recipe in triplicate.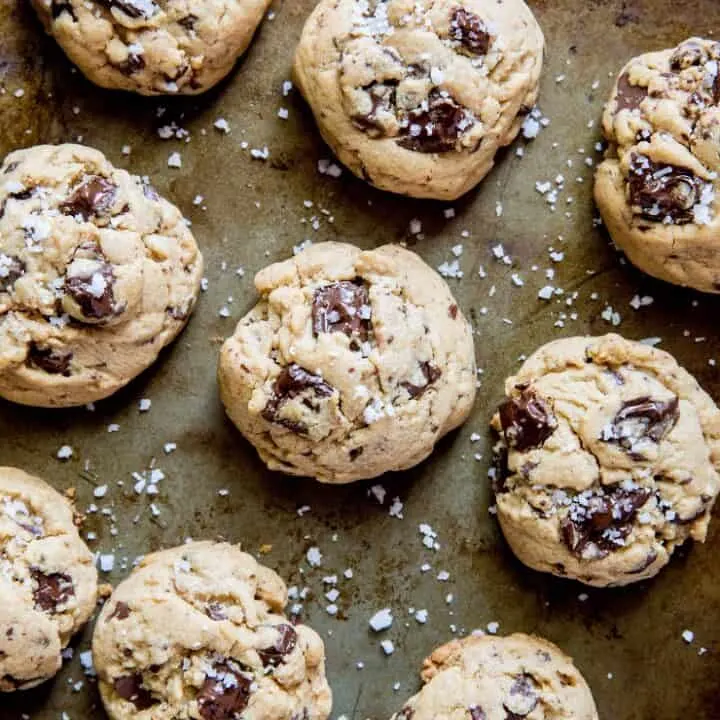 Almond Flour Chocolate Chip Cookies
Egg-free, dairy-free, grain-free chocolate chip cookies that taste absolutely amazing!
Ingredients
1 1/4 cups almond flour
1/4 cup ground flaxseed
1/2 teaspoon baking powder
1/4 teaspoon salt
1/4 cup coconut sugar*
1 egg, lightly beaten
1 teaspoon pure vanilla extract
1/4 cup coconut oil, melted and slightly cooled
1/3 cup dark chocolate chips
Instructions
Preheat the oven to 350 degrees F.
In a mixing bowl, combine the almond flour, flaxseed, salt, and coconut sugar (the dry ingredients) and stir.
In a separate bowl, whisk together the egg, vanilla extract, and coconut oil (the wet ingredients).
Pour the wet ingredients into the bowl with the dry and stir well.
Add the chocolate chips and stir to combine.
Scoop the dough onto a baking sheet and form cookies with your hands - these cookies aren't like regular ones where they spread out - they keep their form going in the oven.
Bake for 7 to 9 minutes, or until cookies feel firm when poked and have browned around the edges (see note below).
Notes
I bake live at high elevation, so it took my cookies 12 minutes to bake. If you live at lower elevation, 7 to 9 minutes in the oven should work just fine.
*Replace the coconut sugar with regular brown sugar if you'd like.
Nutrition Information
Yield

12
Serving Size

1 of 12
Amount Per Serving
Calories

163
Total Fat

13g
Unsaturated Fat

0g
Carbohydrates

10g
Fiber

2g
Sugar

7g
Protein

4g